Yay, I feel much better now! :) But just to be on the safe side, I have decided to quarantine myself in my room. And as my only reprieve is my laptop, I shall recount the tale of my day out in the city yesterday. :)
*****
Every Sunday, you'd find me in the city. Firstly, 'cause it takes about an hour just to get to the city, and we poor students just can't afford such luxuries during weekdays. Secondly, and most importantly, on normal days, you would have to pay approximately AUD6 plus for bus/train/tram fares to get to the city; but on Sundays, we have a savior called the Sunday Saver, which enables us to get to the city for only AUD2.50! :P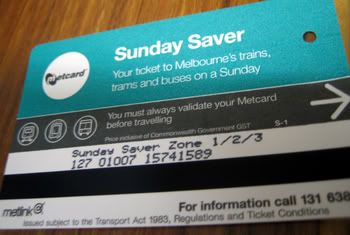 Our hero... *insert swooning noises*
Our plan today was to go to Bridge Road, which is somewhere near the city, and meet up with Jaclyn and Lionel there. Bridge Road is renowned for small cutesy boutiques, and also loads of places to get ball dresses!! I am in dire need for a ball dress, as I hope to attend the ball organised by the halls on the 10th of August, and being the smartass I am, I didn't bring a dress here!! *kicks self for my stupidity*
But before we headed off to Bridge Road, Mey and Smalls brought me to meet another new love of my life. Everybody, meet Valley Girls. :P
I totally went crazy in Valley Girls, everything there is so freaking nice and cheap!! And the best part is, quality is not compromised. :) I actually got a cardigan for AUD9.90---What the hell?? ;) But of course, we all stepped out of the shop with bagsfull of stuff... :)
Oh, Melbourne economy, you owe us so much. ;)
Next stop! Bridge Road! :)
Flinders Street Station. We had to get to Flinders to take a tram down to Bridge Road.
We had a couple of minutes to spare till the tram's arrival... So we got down to doing what we do best...
Picture-taking! ;)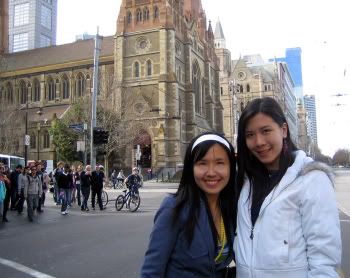 Touristy... :P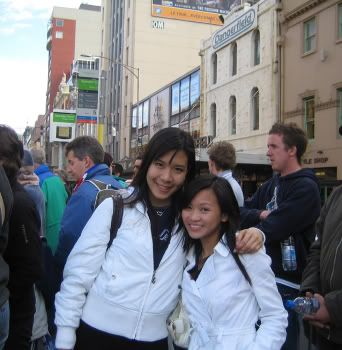 Kit Mey and Smalls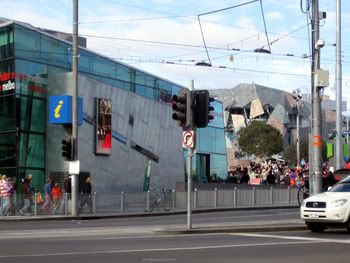 Federation Square, opposite Flinders station.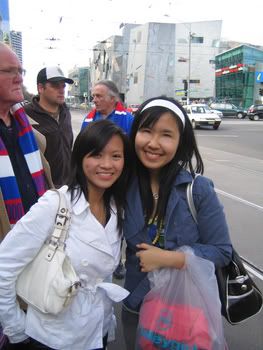 We shorties have to stick together... :P
Trams!
Melbourne skies. :)
As soon as we got to Bridge Road, we got our hands onto Jac and Lionel, and it was tummy time!! We were so ravenous, that we ignored our wandering eyes that lingered on the rows of shops ahead of us... :P
We decided to go to Subway....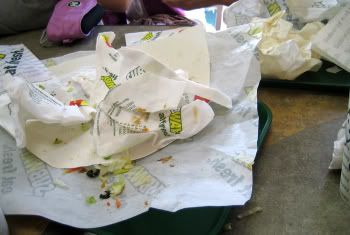 Not a single crumb left... ;)
Oh, by the way, although I have never tasted Subway back home, but I have to say, Subway in Aussie is GOOD!! Kit Mey and I shared a footlong together, and we were super greedy, we just told the lady to put everything into our sandwich!! Needless to say, we had very painful jaws from trying to fit the hugeass sandwich into our mouths... :P
The loving couple who has been so nice to chauffeur us around... :)
After hitting the shops on Bridge Road for awhile, Jac, Lionel and Smalls went to Smythe Street as Smalls wanted to invest in a Crumpler bag, whereas Kit Mey and I decided to stay on Bridge Road for there were just too much too see.. :) Oh, by the way, prior to this, I had no idea what Crumpler bags are!! I just did a google on it... ;) Check it out here---
Crumpler
! :)
Lookie, what I found on Bridge Road!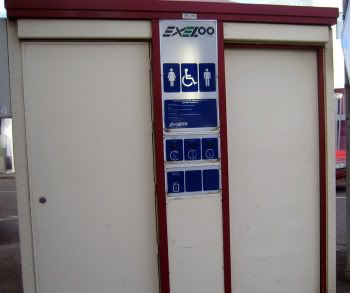 Not just any normal toilet...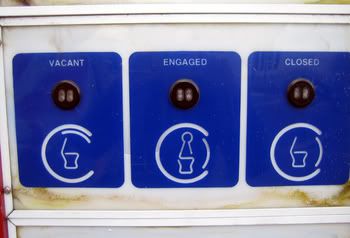 Look, you actually have to press a button to open the toilet (
ala
automatic sliding doors), and if someone is in the toilet, the ENGAGED light will be on, and vice versa if the toilet is vacant. You do the same thing if you are in the toilet-- there are buttons for you to click to open/close the doors!
Open Sesame!
:P
(Sorry la, I am suck a jakun.)
And oh, I am so happy! *glee* We found this shop that sells the most delectable clothes!! A cross between Topshop, Selfridges, Forever 21, and a little bit of Zara and MNG, it is WONDERFUL!!! :D It is not very expensive, especially where Aussie prices are concerned; the prices are very similar to what you would have to pay back home. :) And I got my ball dress there!!! For a measly AUD49!! MUAHAHAHAHA.
All hail to Claude d' alban! (pardon the wannabe posh name) :P
As usual, Melbourne shops just HAD to close at 5pm (GRR GRR GRR), leaving us high and dry. As we waited for the tram to bring us back to Melbourne Central to meet up with the others (public transport come by very rarely on Sundays), Mey and I found ways to occupy ourselves... :D
We started challenging each other to do miang poses..=p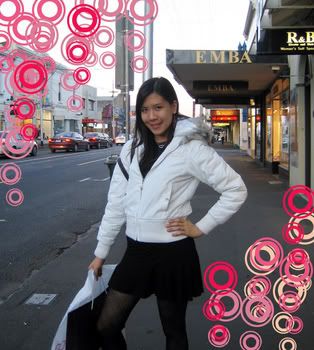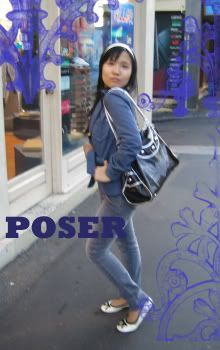 Making doe eyes...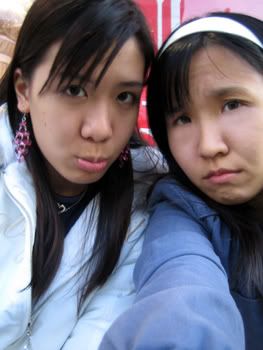 And this is just a fraction of the pictures that we took, but I shall refrain from embarrassing us further... ;)
Once we were back in the city, we decided to have dinner at chinatown... After much deliberation, we had to forego spicy fish (something hot, spicy and tasty recommended by Jac), 'cause poor Lionel avoids chillies like the plague.
So, Dessert House it was!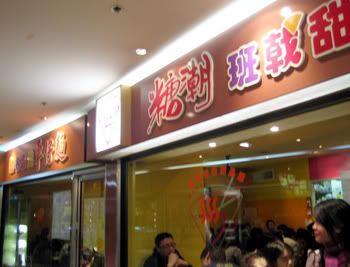 Dessert House. Spot Jac! ;)
Apparently Dessert House is quite a popular Chinese restaurant, and judging from the fact that the shop was packed to the brim, this notion is correct. Dessert House sort of reminds me of Kim Gary... :)
Such intensity... in ordering food. -_-
Wheeee, I havn't had chinese tea in AGES! :P
*sniff* I miss teh tarik so much..*starts bawling*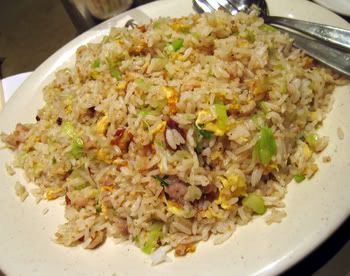 Chinese fried rice! Yes yes, I am a deprived child. ;)
Because we are greedy people, after our fulfilling chinese dinner, we decided to go to Max Brenners for dessert. We walked over to the Max Brenner at QV(also known as QVB); the one I previously visited is located in Melbourne Central.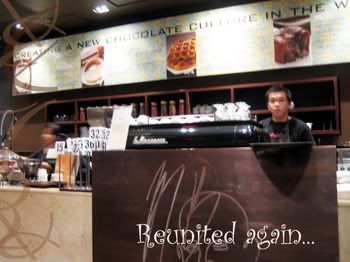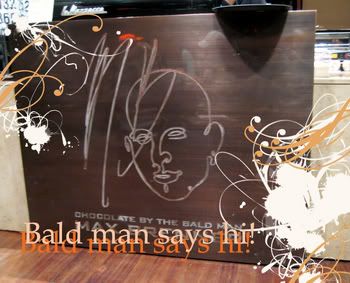 The assortments of chocolate products in Max Brenners...
After we found ourselves a table, we just sat down and started taking pictures. Mind you, each of us had a camera, and poor Lionel had to snap pictures of us using each and every camera, and as we were fussy ladies, he had to take a few shots before we are satisfied... *sheepish*
After we were done with our photography session, we happily sautered to the counter to order. OOooHH, can't wait for the delicious chocolate sauce to slide down my throat!!!
"Sorry, our counter is closed."
What. The. Fuck.
It was only 8pm!! Bloody Melbourne.
So what choice did we have, but to walk over to Melbourne Central for the other Max Brennners branch. A lesson learnt-- only camwhore at appropriate times! :P
At the
other
Max Brenner....
I ordered Suckao, one of the trademark drinks in Max Brenner. Basically, it consists of milk being warmed over a candle, and little chocolate beans that you'd have to melt yourself to your own hot chocolate! *heart*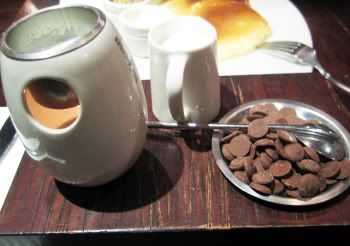 My suckao! :P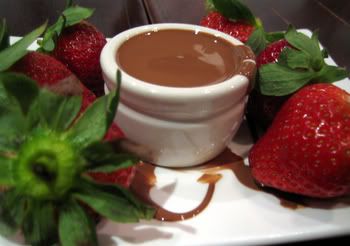 Aphrodisiac. Strawberry dip.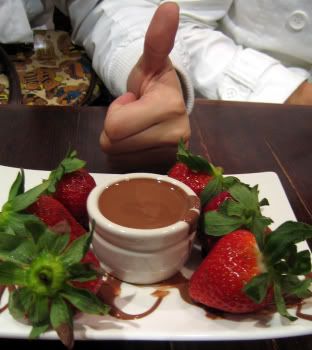 Kit Mey says "Thumbs up".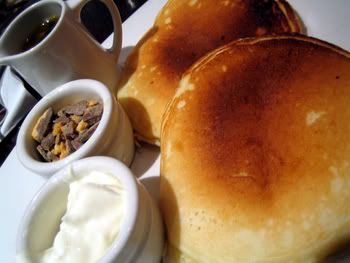 Passionfruit pancake. Comes with honeycomb pieces, maple syrup and sour cream (???). Kind of regretted ordering this though, it wasn't fantastic... And the pancakes didn't come with chocolate sauce!! How can you go to Max Brenners without consuming chocolate sauce????
Ooooh, I just realised that that both of the foods that we ordered are very aphrosidiac-ish, haha. Yeah, there's this private joke among Smalls, Kit Mey and I that we are boyfriend-deprived. *shy* :P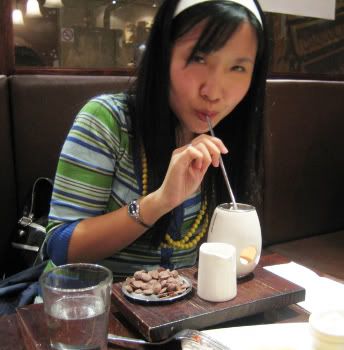 Yupps, that is a metal straw! :)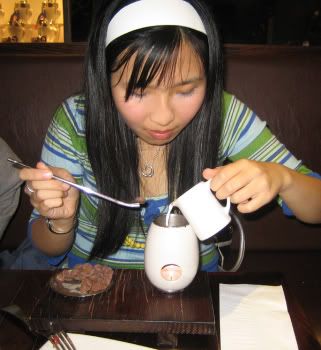 I love playing with food... :P
Oh, and you can ask for refills for milk for the suckao! This means that if you ration your chocolate beans carefully, the drink can last you for pretty long!! Perfect for a looooooong yum cha session! And oh-so-fun! :D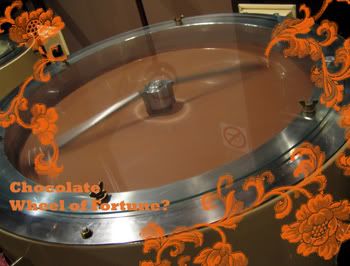 Doesn't it make you feel like jumping into the chocolate sauce?
I know I do. ;)
Oh, and when I snapped pictures of the chocolate sauce spinning thingy above, one of the staff actually came over and asked me not to take any pictures of Max Brenners... What the hell?? You are afraid that I'd engineer a huge chocolate spinner and create competition for you is it??!!??
Sheeesh.
After that, Lionel and Jac were so nice to fetch us few huge elephants (yeah, chinese carbs plus chocolates tend to make you look
and
feel like one :P) back to the halls again. :) I think it was during the walk to the car through the rain, and whooping winds that made me caught a chill....*sniff*
But anyway, all in all, the day was a kickass success. Laughs, fun, shopping bags, and good food.
I am blessed. :)