Saturday morning are usually spent on grocery shopping at Brandon Park's shopping mall, as we are total cheapskates, and Monash offers free shuttle bus rides to the mall.
A bus ride costs AUD1.80 k, so I may not be such a big cheapskate after all. :P
Life constantly provide challenges, and it paired me with a cooking partner that believes in starting the day early. I was coerced into meeting Eunice at the bus stop at 9.30am.
I slept at 4.30am yesterday. -_-
I started my day with a honeycomb muffin that I have eyed savagely at Brandon Park. Oh my goodness, it was so delicious, that I actually stopped eating halfway so that I could bring it back to my room and slowly savor it over an episode of Desperate Housewives. :P The muffin had a buttery taste with a tinge of honey tang, and as you nibble around the muffin, there are spots that honey would ooze out, and there was also parts where there were melted chocolate chips... I love melted chocolate chips, y'know..*blissful smile* Oh oh oh! And there was a huge dollop of cream cheese on top of the muffin, with a generous sprinkling of Hershey's chocolate chips!
*licks muffin crumbs off my fingers* ;P
I wanted to take a picture of that sinful muffin, but I devoured it before the thought struck my head, so hee, your loss. :P
I think we went totally overboard with grocery shopping, 'cause we could barely lug the bags back to the bus stop. We even had to stuff grocery bags into our handbags, as we couldn't possibly carry everything by hand!!
In the van back to the halls...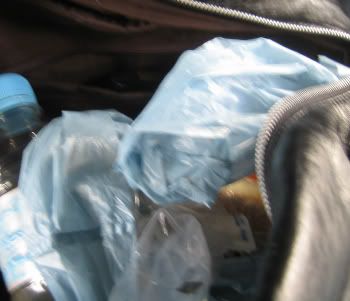 The grocery bags in my bag.
The grocery bags next to me, and check it out, there were
some more bags on the floor!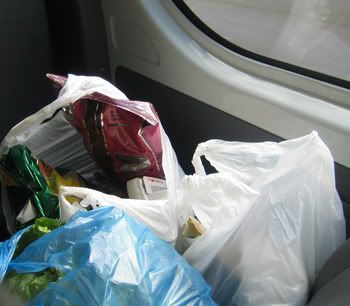 More grocery bags with Eunice.. Mind you, she had some
more grocery bags in her handbag k...
ERRR, if you spy potato chips and TimTams in the bags, just ignore them k. Girls need comfort food. :P
Speaking of comfort food, while I was in K-Mart, i went on a chocolate spree. :)
I bought all the chocolates that are renowned in Aussie, the chocolates that I have heard so much of, but never tasted before.
May I present you with...
Pods
. The choccies that
Jaclyn
swore were orgasmic. Eunice too summarised it in one word, "BEST".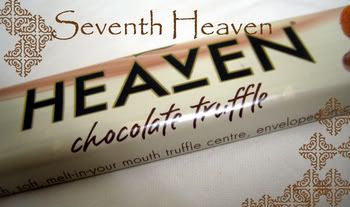 Heaven
. This is the chocolate that Eunice's sister absolutely L.O.V.E.S. And with a name like Heaven, how could you resist? ;)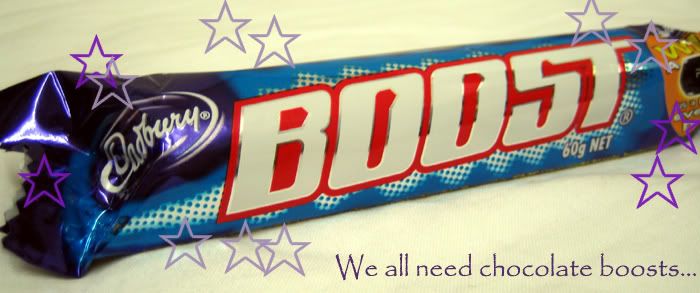 Boost
. Despite its name sounding more like an energy drink, the fact that my friend Wilson, a
guy
, mind you, is addicted to this chocolate is truly intriguing. Furthermore, I havn't tasted Aussie's Cadbury chocolates in my stay so far. And I can never say no to biscuit pieces in chocolates! :P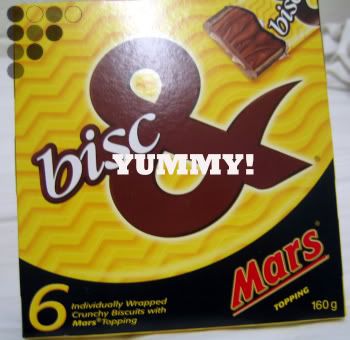 bisc&
. I've no idea what the name, bisc, means, or how to pronounce it, but I've tried the bisc& with Twix topping, and I LOVED it!! But I felt so cheated, 'cause I accidently took the one with Mars topping!!=( Just pray for me that this one tastes as good as the one with Twix k!! *crosses fingers tightly* :P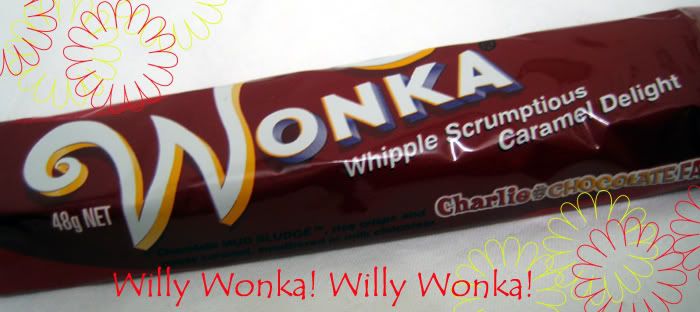 Wonka
. Whoopeee, I found Wonka bars from Charlie and the Chocolate Factory!! *victory dance*=p I just might not eat it, and keep it for memorabilia purposes! :P But I don't know why, the stupid song from the movie keeps on playing in head, "Willy Wonka! Willy Wonka!....." -_-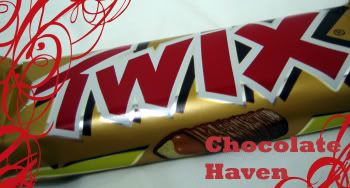 Twix
. As I mentioned before, I have tried bisc& with the Twix topping, and I felt compelled to try Twix in its full glory... :)

Twix. :)
I am a happy girl. =)