May I introduce you to my true love.
A love so deep and pure, a love that I only discovered last Sunday.
Let me recount the tale, of me and my love--Max Brenner.
Let's just start from the very beginning, shan't we? ;)
I've made plans to go to the city with Charmaine last Sunday, and when Sunday finally arrived, I was literally bobbing with excitement. Firstly, I havn't seen this babe since she has left for Melbourne in February; and secondly, our big day out in the city was arranged for one noble intention--SHOPPING! =)
We were supposed to meet at Flinders station in the city at 12.30, and I left my place at about 11.30, as it takes a bloody one hour from Clayton (where I am) to the city, for I first have to take a bus to the Clayton train station, and from there hitch a train to the city. Just as I stepped into the train, *beep beep*, I received a message from Charmaine, telling me that she was going to be late, as she wanted to catch a quick bite with her boyfriend after her church services, and she told me to do the same.
I replied her that I was already on the way, and I couldn't exactly fling myself out the train to catch the quick bite that she suggested, and thought what the heck, I'll just stroll by myself for awhile if she really was late. And as it turned out, I
did
reach the city at 1230 sharp. -_-
I texted Charmaine to ask her roughly what time she will arrive, and she replied me, saying that it would be another hour before she reach, and that she was so sorry, and that she swear she'll make it up to me. With a deep sigh, I trudged out of the train station.
It was kind of daunting intially, actually, as it was the first time that I was in the city all alone. People streaking past, a blur of colorful scarves, woolly sweaters and heavy jackets; the picturesque lowrise buildings scattered in peripheral rows, each with their individual architectural magnificence and their vibrant signboards; the roads that lay in between the shops, main roads and the little ones, enticing me to explore every nook and corner. With the crisp cool air whipping my cheeks gently, I took my strut, and did my thing.
I hit the shops, hee. =p
With two belts, a cropped pullover, and a Quiksilver shirt for the boyfriend in hand, I finally got a call from Charmaine, announcing her arrival. And remember she said that she'd make it up to me?Guess how did she do it????
Krispy Kremes.
If you are not aware of it, Krispy Kreme is only the MOST famous doughnuts in Australia. Just the two words itself cause sane beings to morph into salivating gluttons. Prior to this, there were no Krispy Kreme franchises in Melbourne, and apparently, some people from Melbourne actually go all the way to Sydney just to stuff their mouths with a few Krispy Kreme doughnuts. And, supposedly, the average queueing time for these doughnuts is 2 hours. Nevertheless, a new Krispy Kreme branch was opened in Melbourne recently, and although the bloody place was at least an hour away by train, Charmaine took the trouble to go there for lunch and got herself a box of Krispy Kremes. And, yeah, she bribed me with the Krispy Kremes to not be mad at her for being late.
It worked. :P

Me and Krispy Kremes... :)


With the knowledge of yummy Krispy Kremes as supper, I happily skipped off with Charmaine to conquer all the shops! :)

Fast forwarded to a few hours later, with bulging shopping bags and lighter wallets, we decided it was time for bulging tummies too.

And this is when the story of my true love comes in.

Charmaine had been planning to bring me to Max Brenners, a chocolate specialty shop that sells nothing but all things chocolate.

Click here for Max Brenner's website, a chocolate culture. :)

When we reached Max Brenners (after asking a few people for directions, getting lost, asking the information desk, getting confused, and asking a salesperson in the mall), we got a shock-- the place was packed to the brim!! We actually had to wait for almost half an hour just to get a seat.
Whilst I was waiting for someone to give up their table, the kepo in me kept my eyes peeled on what people were eating.

I got so disappointed when I caught sight of the food that people were gorging on!! The chocolate sauce was a shade of pale muddy brown, which gives me the impression that it was just thick syrupy Milo. :(

When we finally got a seat, I just looked through the menu halfheartedly, as I was disheartened by what I saw. Although, I have to admit, their drinks do sound fantabulous, what with toffee shakes, white chocolate shakes, strawberry and cream with white chocolate... :) But anyway,when Charmaine suggested the belgium waffles, I just went with the flow and agreed to it.

It took bloody long for even just our drinks to arrive, and we, or at least, I, was getting agitated (I didn't have lunch). But when our waffles came to our table, all was forgotten. :)

Although the same dull colored chocolate sauce was perched next to our waffle in a small bowl, there was something with the presentation, that just screams "I AM SO FUCKING YUMMY! EAT ME ALREADY!"

So what could I do, but heed this little voice. ;)



Tantalise me, you yummy thing...


No words are sufficient to describe how GOOD it was. In fact, good is an understatement of the century. My tongue practically orgasmed, and there was goodness in every single bite. The waffle was of a texture that is entirely different to those that I have tried before. Oh, darn you, commoner waffles. Oh god, how to describe it... Hmm, the best way I could put it is that the exterior is sort of like biscotti, crisp and firm, and when you bite into it, it tastes like dense spongecake. And if you chew slowly, I could feel the crunching of tiny sugar crystals. And oh, the chocolate sauce.

That's where I want to be... :)


O Mighty chocolate sauce, I beg for your forgiveness, I will never judge on appearances again.

IT WAS SUPERB. Overflowing down the bowl, it was thick and smooth, and the milkiness of it just astound my tastebuds, and sent me to cloud nine. It was not too sweet, for I hate chocolates that are too sickeningly sweet, and with the gooey mess coating the small chunk of the fragant waffle, you could relish the feeling of the chocolate melting in your mouth, fusing with the waffle, and swirling across those sugar crystals...Besides that, the waffles cames with slices of strawberries and chunks of chocolates, and they made the palate even more endearing, as they added dimensions to the already unsurmountable taste and texture. Heaven is a place on earth, after all. :)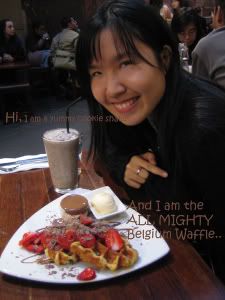 If it tastes any better, I swear, I could fly.


I had a cookie shake, for I have an indispensable love for all things cookies; however, it was just so-so, especially for its price of AUD6.50. Nevertheless, I am definitely a Max Brenner fan now, and I am so gonna come back for more!! For instance, their chocolate pizza, with chocolate sauce as its base and marshmallows as toppings! And their self-made fondue, whereby they give you chocolate beans, and you have to melt them into chocolate sauce yourself!! How fun for a person who loves to play with food! Like me!!! =p And although the waffle was quite pricey (AUD12.50. which is nearly a whopping RM40 back home), especially for a poor Malaysian like me, it was really that good, and my tongue told me that it enjoyed the adventure. :)


Thank you, babe, for bringing a lil Brenners' lovin into my life! ;)
Wheeeee, Sunday is coming already, I can go to the city and have MORE Max Brenners! *bounce bounce* =)