Night of Tinseltown was the name.
Thursday night was the date.
Monash Residence Ball was the event! :P
*****
Kit Mey and Eunice came over to my room to get ready together...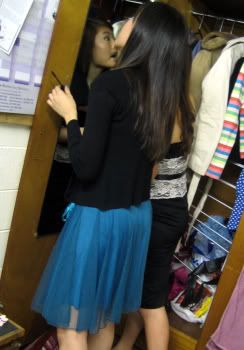 Bad bad idea... Three girls fighting for one mirror is not a pretty picture, hee. :P
Oh, and can you believe it, I didn't bring much make up over to Melbourne: no foundation, no gloss, no lipstick, no eyeshadow, no eyeliner. SIGH.
I actually went to the ball like how I normally look like, i.e. a little concealer, blusher, and *gasp* lipbalm instead of lipstick/gloss... Thank god I had Eunice, who expertly helped me apply some eyeliner. ;)
If anyone has asked, I would say I went for the nude look. ;)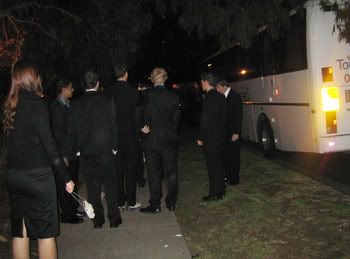 Lining up for the bus...
Dresses with jackets. Winter-
mah
. :)
Joleen, and Nikky, with a very, very racy neckline. ;)
Being the vainpot I am, I
had
to carry a teeny weeny small clutch, which meant that I couldn't fit my wallet into it.
And being a vainpot
scatterbrain
, I actually forgot to bring my ticket out!!!
And of course-
lah
, I didn't realise. Just happily continued to camwhore.
UNTIL I saw some dude with the ball ticket in his hand...
A little lightbulb went off in my head. And everyone had the good fortune to see a girl hitching up her floral skirt and dashing back to the halls to retrieve her ticket.
Gah.
In the bus...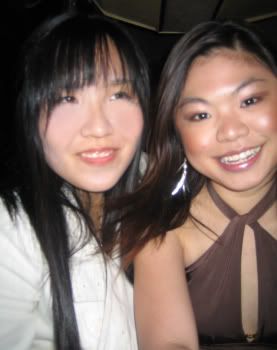 Still in the bus. Blur case. Didn't know people were taking pictures of me.
Group picture, outside Princess Court.
Speaking of Princess Court, (which is the venue of the ball, you blur
sotong)
, we all expected this posh hotel, but turned out it was something like a restaurant-ish court house. Kinda
potong stim
. -_-
We had to
queue
to get inside!!!
Oooh, but while we were in the queue, we actually had waitresses coming up to us to offer us hors d'oeuvre!!! :) I know, I know, it's damn
jakun
of me, but it made me feel so posh!!!
That is, until we gobbled down the hors d'oeuvre and licked our fingers clean. ;)
The main area of Princess Court...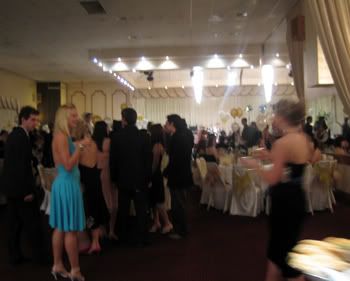 The ballroom! :)
Ok, word of warning, beyond this, there's gonna be TRUCKLOADS of self gratifying camwhore pictures. Venture on only if you dare.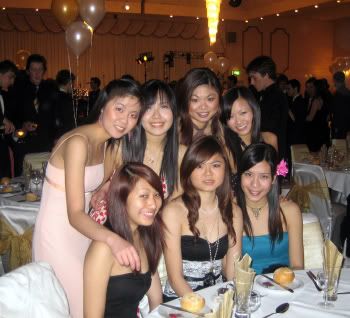 All the girls at the table.. :)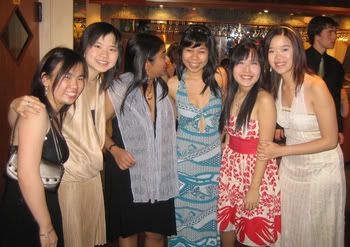 Su Ann, Bambi, Citra, Alya, me, Hui Li. I love Alya's smoking hot dress! =)
What event'd be complete without a miang pic...
Another miang one with Joleen.
They arranged us according to height. If you dare to point out that I was third in the line, I'll break your bones.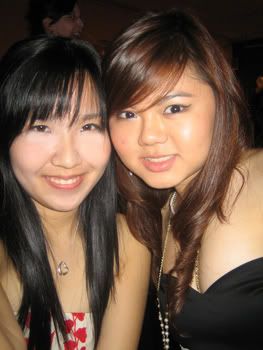 Darling Eunice, who primped me up with her precious MAC eyeliner. ;)
I personally felt that this is one of the times where my make up looked the best. So far, usually when I go for formal events like this, I always visit professional make up counters to do up my make up for the night, but I always end up looking cake-faced and un-natural. Guess less is always more. ;)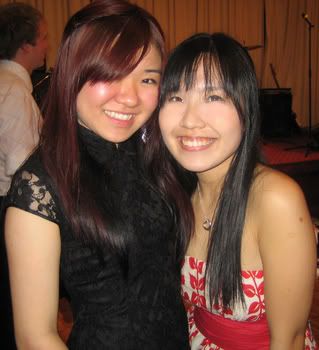 I saw Audrey!!! She's my classmate from my pre-uni days. :)
Just feel like showing off the flower in my hair...
*vain vain vain*
The wonderful company at our table.. :)
Speaking of our table, one table seats 12 people, instead of the usual 10 to a table! =p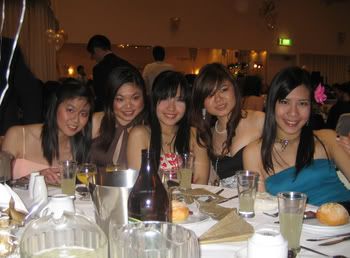 Notice how some of our eyes are not focused on the camera? That's 'cause there were a gazillion cameras clicking away off at the same time.
I really pitied the guys
-lah
, 'cause everytime we wanted to take a picture, all the girls would shove their individual cameras to one poor guy, and the poor thing would have a bundle of cameras dangling from his hands, while he diligently clicked away one by one.
Thank you, boys. ;)
I am not the least bit feminine man.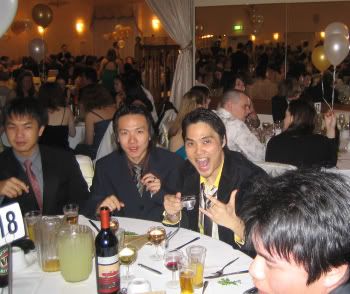 Joel imitating my expression.
Fail
punya
act cute face.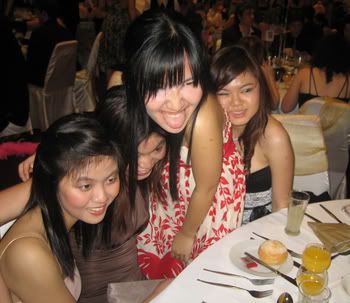 Someone taking pic of me taking a pic.
Narcissism is my middle name.
We got bored of taking pictures the usual way, and decided to take pictures of reflections.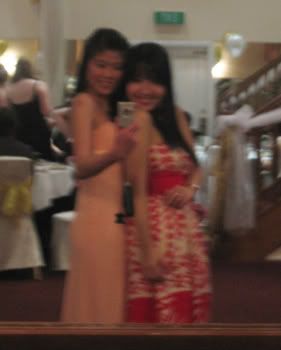 La.
Di.
Dums.
Word of caution. Never let your camera fall into the wrond hands. Because this what happens.
No shame one
ar
, this people. :P
I don't know why, but there seemed to be some conspiracy against our table. Our food always came last. We were at table 18, but
there were 32 tables okay
. And I hated the way they served our food. It was a 3-course meal, but they gave different dishes to people in alternate seats.
For instance, the entree:
baked fish, spinach lump, baked fish, spinach lump...
You get the idea.
*eeeeueech* I had to get the green lump
la
.
Why couldn't they just gave everyone the same food..??? If you want to give people variety, give a smaller piece of fish and a smaller lump of spinach
-lah
!!! Idiots.
Green lump makes me green, so I went dancing instead! ;)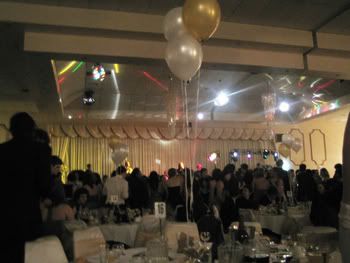 Shake your hips at the dancefloor, please.
Dancing was so fun. :) Back in Malaysia, the minute the host announced that the dance floor is open, everybody starts trailing out the exit. Here, people boo when the deejay said that food is served! ;)
I love to dance, and being a non-frequent clubber back home, and dancing in my shower just doesn't quite cut it, I was just dancing and dancing on the dancefloor and basically letting loose of myself and just enjoying myself. Someone actually came up to me and asked me whether I drank alot!!! -_-
Hell no, I only had one glass of champagne k!!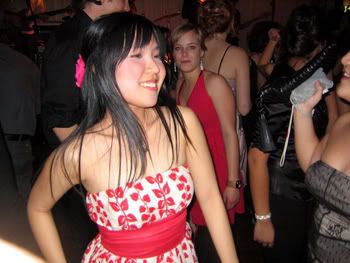 Kit Mey caught me 'in action'. ;)
Guess what dropped on our table. A silicone pad.
-_-
Poor uneven boob girl.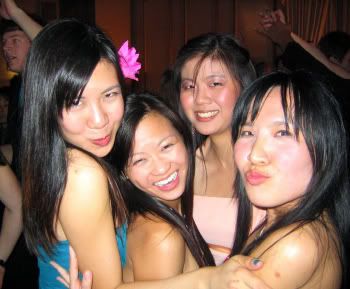 Sweaty bodies at the dancefloor. *wrinkles nose*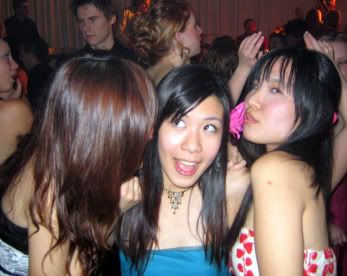 Dancefloor also can camwhore k? ;)
It was fun to just relax and allow the music dictate you... :) We did the macarena, we slut danced, we attempted the
las ketchup
, I tried to teach people the
canai
dance, we huddled in a circle and do the can can, I tried to teach people the driving-motion dance, we square-danced, we did the Saturday night fever move... Basically, we just acted silly, or rather, I acted stupid.. But it was FUN!! =)
My thigh muscles still hurt till today k. :(
Oh, and it was so enjoyable to watch out what the Australians girls wore!!! They have such beautiful dresses, I'm telling you... :) LOW LOW LOW V-necks and backless dresses, and there were so many vibrant colors, as compared to the boring black dresses we always see at M'sian events. And they have such big boobs
ler
...
*jealous jealous*
Nikky and Joleen even spotted a girl with boobs that were so huge that she had to grab them and stuffed them back into her dress again! o_O
Bet the guys were in seventh heaven that night. ;)
Hee, but inferiority complexes aside, the array of nice dresses make me feel like getting a super super hot one for the next ball! ;)
One of my favourite pics of the night-- taken at the dancefloor! :)
Thumbs up for THIS ball! :P