"You do some more, Mummy sell you to the Indian man one ar...."
When I was very young, this was something that I used to hear whenever I disobeyed my mom. It never failed to get me shaking in my shoes and hence morphing into the most angelic girl around.
It does sound kinda racist, doesn't it?
Well, my two best friends now are Indians.
****************************************************************
What's the point of all these, you ask me?
Well, I decided to participate in
Project Happy Malaysia
, which is a voluntary project for bloggers to write about heartwarming tales about Malaysia/being Malaysian, in conjunction with National Day.
Happy naked kids.

However, never did I expected the humongous blog block (don't I have a way with words?) that I'd face!!! I was just staring blankly at my screen for ages, without a single inkling of a happy Malaysian thought.
I mean, there is the food.... ;)
But I shan't digress.
I've had my share of my inefficient government servants: IC, driving license, passport, renewals... Government services are a bitch. I have experienced being asked for a bribe by a cop (hee, I was speeding-
lah
), though I stupidly refused to. I have had countless encounters with shitass dangerous drivers on public transport. I have been left starving at wedding dinners because everyone is always, always late. Heck, I was even forced into paying cops because they insisted that the boyfriend and I were having some hangky-pangky in the car, when in fact we were just talking!!!
When I put things into perpective like that, it's really difficult for me to brandish out a happy thought.
But, for the love for my country, i shall strive on. ;)
For the moment, I can't seem to pinpoint one exact incident or moment which I can label as a true blue (
wowee, national color!
) "AWWW" Malaysian moment, however I do have some things that I want to share. :)
*****************************
I have a gang of friends back home, and we represent the majority races of our country. I've always been so proud of this, especially when I see people who only hang out with those who are of the same race. I mean, we're practically a paragon of MUHIBAH-ness! ;)
We invite each other over during Deepavali, Hari Raya, Chinese New Year open houses. We drool after each other's costumes, such as the
lengha
,
sari
,
cheongsam
,
kebaya
. I always make sure I have chicken
bak gua
(grilled meat slices, don't know what they're called!! Very prominent during Chinese New Year) for my Muslim friends. We talk 'bout which foundation best compliments our individual skin color. We try to teach other our mothertongue (I sure had fun teaching my friends to say "sex life" in Chinese!;) ).
We have shared laughter and tears. We have seen each other at our finest, and also when the situation called for tatty shirts. We have witness breakdowns and shrieks of joy, sloppy moments and hyper ramblings. We shared dreams, ambitions, hugs, clothes and cheesecake.
We see each other as individuals. We accept each other's flaws and weaknesses, but not skin color, as it simply wasn't an issue to begin with.
8 years and counting. I love you guys. :)

********************************
And this, is from a Malaysian abroad's view.
I've been in Melbourne for almost 2 months. First time away from home, first time being away from people I love; make that everyone I love.
It was really tough initially. In my first week, I thought that I could never survived till the end of the year. The first few nights, I weeped myself to sleep under my blankets.
Thank god for Malaysians.
The Malaysians who have been already studying in Melbourne previously really welcomed us with open arms. I was brought to eat the best nasi lemak around, I was invited to hang out in rooms-- to throw grapes into agape mouths, to hog the kitchen and play bridge, people inviting me over for dinner for a home-cooked meal.
They always have a ready smile for you, a cheerful greeting. And seeing a friendly face just made homesickness that much easier to deal with. :)
Update:

AND.... Us Malaysians made plans to meet up at 12am of National Day to sing our national anthem! ;)
We even have flags... (I really have no idea how they got them in Melbourne! o_O)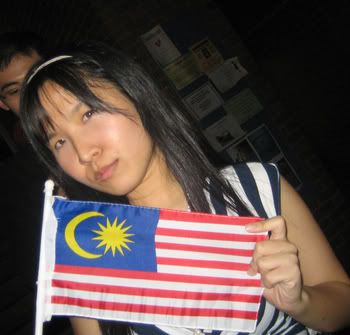 Kibar-lah!
At about late 11pm, we gathered at this mini hilltop in the middle of our halls...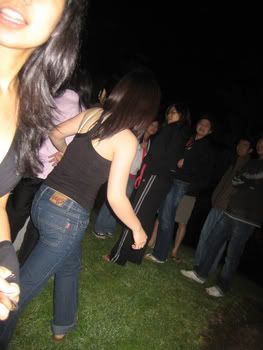 Ambush of people...
We counted down to 12am...
10...8...5....3...2...1...
"MERDEKA!"
"MERDEKA!"
"MERDEKA!"
Three loud cries. And after that, we sang Negaraku.
LOUDLY.
By this time, we were creating such a racket that alot of people actually came out to see the hell was happening.
And when the guards came running out, we took after and ran down the other side of the slope! ;)
Lots of laughs and breathless giggles, more fun than I've had in a long time, but, the moral is clear.

Malaysians do stick together. :)


******************************


And actually, there are many other happy things in Malaysia. :)

Like the time I got a really sweet, sincere lady who served me when I was registering for my MyKad.

Like how there are still nice clean beautiful beaches in Kuching, with white powdery sand.

When I went to my favourite nasi kandar mamak, and I took extra heaps of dishes, and the guy still charged me the usual price.

Like how I was in a taxi, and the taxi driver was honest and chatty.

Teh tarik.

The fact that we can spinkle -lahs, -mahs, abuthen into our conversations like nobody's business.

How I feel when I step into a clean public toilet.

Like how Malaysians can speak more languages/dialects as compared to other nations.

The fact that you have some place to go no matter what time it is in the night, or rather, day-- good old mamaks.

The fact that our culture is the rojak culture. And by this, I mean you have to have all the ingredients to make a good rojak. Even without one, it's just not the same good old rojak anymore.
Well, I am not sure I made a happy enough blog entry about my beloved country, but hey, if all else fails....



This will keep you happy! :)
HAPPY BIRTHDAY, MALAYSIA! :)