It has been exactly one month since I've been in Melbourne.
Funny, how time flies. I remember, my first week here, time just didn't pass by quickly enough. Each day seemed to feel like an eternity, and each day, I willed every moment to whiz past... All I wanted was to go home.
Things havn't changed that much. Home is still,
home
, for me. But now, I don't wake up dreading how excruciatingly slow my day will pass for the following day to arrive. I skip on the long pathway all the way to university. I concoct dishes to cook every night. I enjoy sifting through my wardrobe to look for new things and ways to layer my clothes. I say hi to random strangers, and they greet me back. I gorge on yummy Aussie chocolates like my life depended on it. I bounce happily on my bed with its bright flowery comforter whenever I take a breather. I appreciate the fact that TimTams are always a
Coles
away. I make new friends everyday.
Melbourne isnt' home, but it is somewhere that I can build memories and experiences on, and I ain't going to waste the opportunity.
Looking through some pictures taken on the day that I left...
Note: Please do pardon the extreme bad shape I am in in the pictures, the sallow skin, the puffy eyes... Cried so much before I left... :(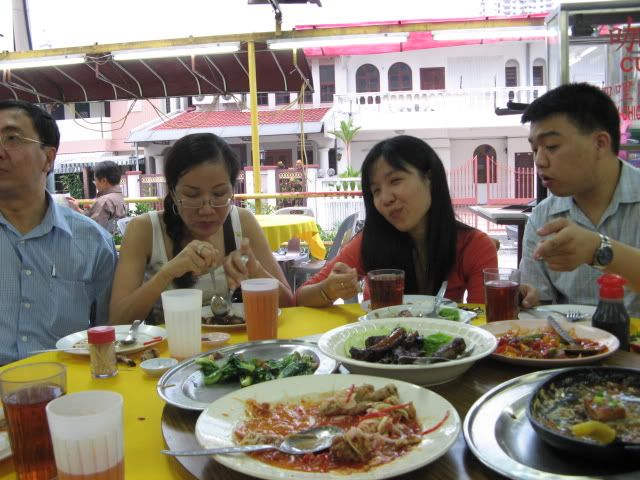 Dinner with my family before leaving for the airport. Hee, saw my sister aiming the camera at me, hence, the narcissistic pose. :P
Dinner was exceptionally difficult. Every kind word from my family or my boyfriend threatens to trigger off my tearbuds all over again. I keep on telling myself, "Don't cry, don't cry, you've cried enough already", but the sight of the people I love, the fact that they won' be around me, washed over me again and again, and before I knew it, tears were spilling over my eyes again. All I wanted to do was to cling on to someone and beg them, please, don't let me go, let me stay here with you all...
I had a dinner of rice with 6 dishes, alongside with tears seasoning.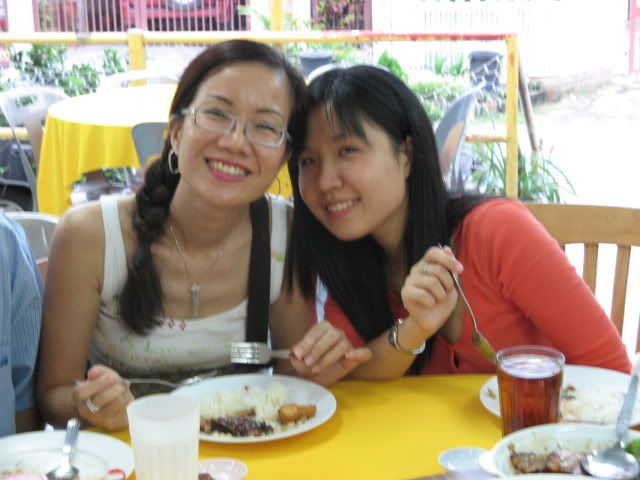 Mummy and I... :)
Erm, one last poser pic before I go? ;)
(LOOK at the "raised-eyebrow
I don't know her man
" look on the boyfriend's face!!! *hmmph*)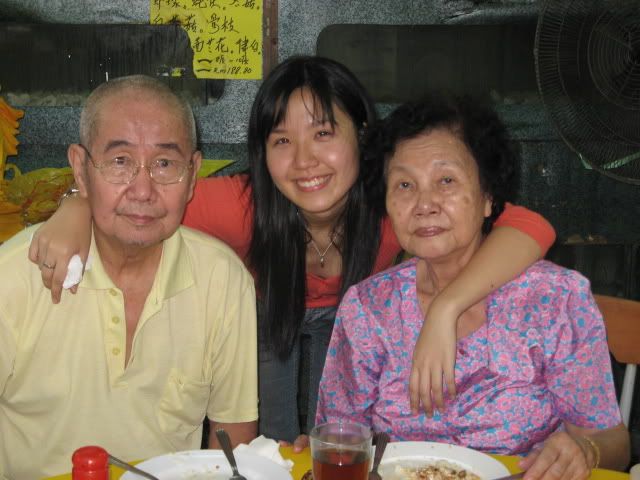 Yeye
and
Mama
(aka grampa and granny)
I think this is one of the pictures that betrayed my puffy red eyes the most.
My idiot of a sister
had
to take this picture
-lah
. Traitor!
My annoying brother. He didn't go to the airport with us 'cause he had
homework
.
I suspect he wanted to play PS2. -_-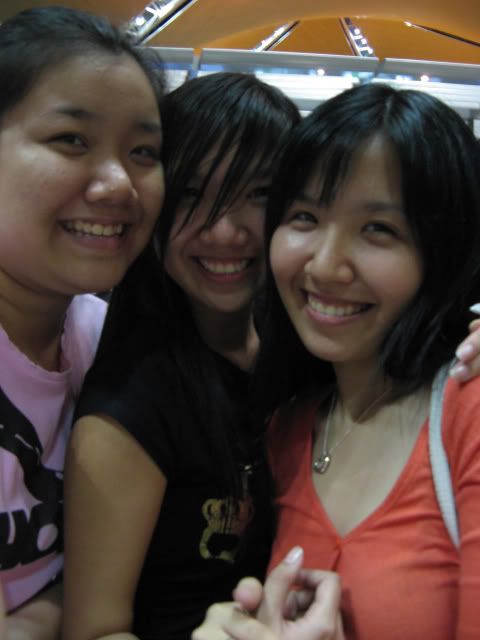 At the airport...Teeny and Jing, my lovely sisters *muahks* :)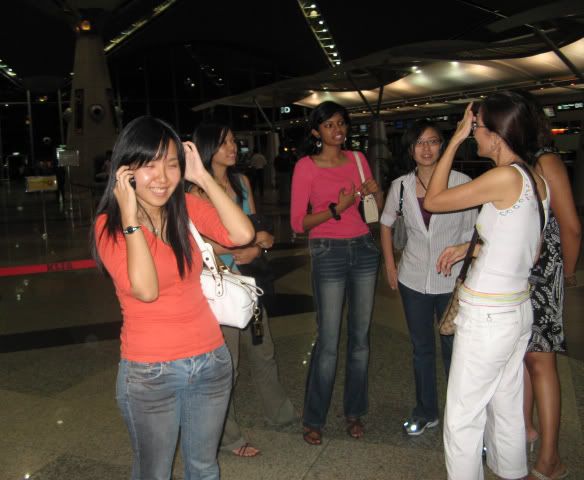 A couple of people called me in the airport, each one opening the floodgates all over again...
*shy*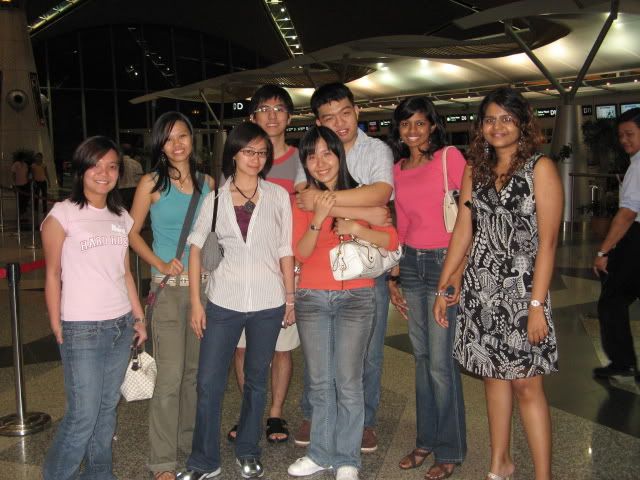 Thank you, guys, for sending me off....*BIG BEAR HUG* :)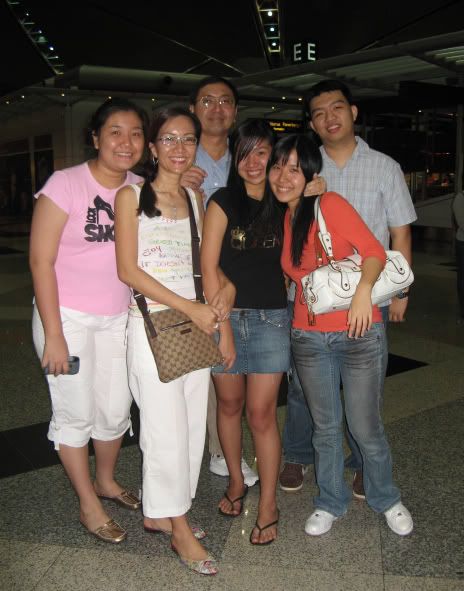 Taken just before I had to check in...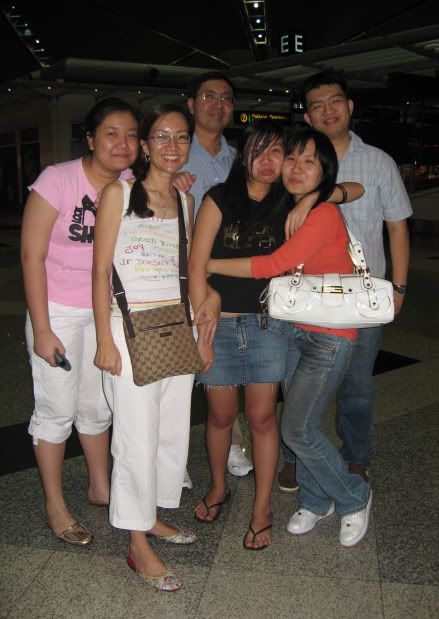 I forced my sisters to put on sad faces, 'cause like,
duh
, the most inspirational person in their lives are leaving! Muahaha.. =p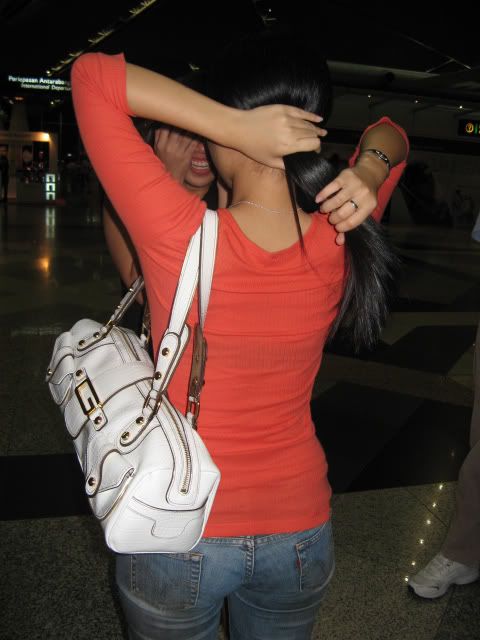 My sister and I, dabbing at the tears that flowed freely... :(
Don't cry, baby.. Four months is gonna fly...
(Ignore the fact that my butt looks like pork lard now, I am warning you.)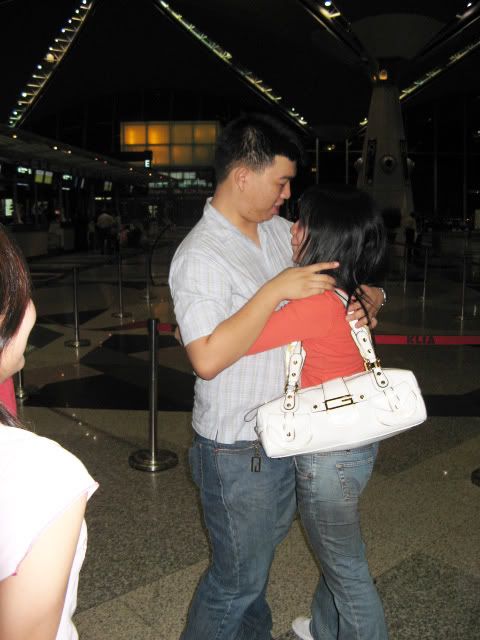 I love you, baby...
Home is still home, and it is waiting for me. :)