Saturday was a looooooooooooooooooooooooooooooooooooong day for me.
Footy (Australian football) in the day, and All American Rejects in the night! ;)
We were supposed to meet at the bus stop before 11.30am, as the bus will leave at that time sharp. However, if you've read my previous post, we "charaded" till the wee hours, and I only slept at 4 something IN THE MORNING. Please gasp in horror with me now please. So, obviously, it was a
teeny weeny
little difficult to wake up in time right???? :)
Yea-
lah
, I ran like an idiot at 11.35am to the bus stop....
All out of breath, to
this
....
Damn little people!!
Plus one Smalls smiling spastically. ;)
Idiot!! The bus was still waiting!! True, the first bus has already left, but heck, there was one more bus waiting patiently for us!! I could have caught another few more precious minutes of sleep. *grumpy*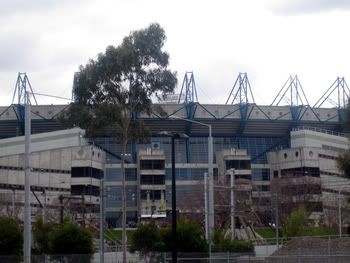 The stadium--MCG (don't know what it stands for ler)!!
(Update: The boyfriend informs me that it stands for Melbourne Cricket Ground)
Looks like Bukit Jalil right? ;)
Intense hug. ;)
Congregating for instructions which no one bothers listening anyway.
Fuiyoh, futuristic-looking building! ;)
'Cause the guys excitedly snapped pics with the Vodafone building, we girls followed suit.
Kit Mey: "
Why Melbourne liddat one?? Always got something suddenly pop out in the middle of nowhere!!!"
The hall representative of the halls was our guide for the day, and we kept on getting left behind, and she had to run back to us and herd us back to the main group.
Why we got left behind?
Immortalise our surroundings-
lah
.
Which one is the most alike?
All also fail. -_-
Then, we witnessed a beautiful love story right in front of our eyes...
You can so imagine this on a romance novel cover.
Where's the gun, babe???
We gleefully agreed to pose as Charlie's Angels, with 'guns' and all. AND, apparently, while we were posing, Joleen who was taking the picture for us saw that Smalls wasn't posing, and Smalls actually lifted a finger to her mouth to shush Joleen from telling us. Hence, this
potong-stim
picture. Traitor!!
Hmmmph.
The only point of this picture is the dead leafless trees.. End of winter!!
Spring is coming!! *birds starts chirping all round*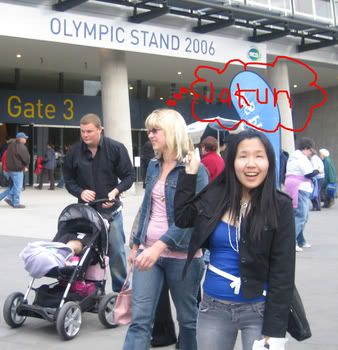 Hehe, Olympics.
Tada!!! The stadium in its full glory!
Stadium lights! Damn nice right, the hue of the sky.... *hugs self happily*
First time camwhoring in a stadium. Oh crap, I
have
done that before.
Fine, first time camwhoring in a Melbourne stadium. ;)
Lunch time!
*sniff* Kit Mey got a hotdog, which I think is such a perfect match for a sports game in a stadium. Unfortunately, I don't fancy hotdogs in Melbourne all that much, they are just too salty.
Me pouting 'cause me no have hotdog. And I never realised that my nostrils are so big.
Oh, and the team that we supported was the Western Bulldogs (Western Australia), and they played against the Adelaide Crows. Since we are on the subject, can someone tell me why the hell are their names so silly???!!! Why animals???!!! Do you know how disturbing it is to hear a whole stand shouting "GO, CROWS!!!" ???
The Western Bulldogs doing their warm-ups before the game.
The game begins!!
A footy game goes like that:
- Two teams of 18 players each.
- Game is divided into 4 quarters of 20 minutes, plus extra time.
- PLayers pass the ball to each other using a kick and handball.
- See the 4 poles in the pic above? Kicking the ball through the tall inner posts, will score a goal (6 points), whereas kicking the ball through between a goalpost and either of the smaller outer posts, will score a behind (1 point).
~plagiarised from the
Welcome to the AFL (Australian Football League)
booklet given to all spectators~
And please don't ask me about penalties or fouls, 'cause I know shits about that. Football is hard enough for me! ;)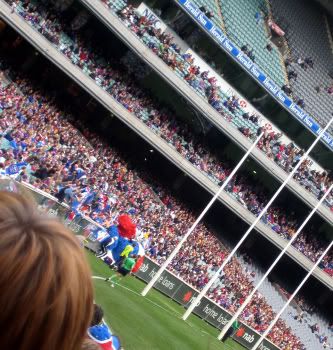 Check out the crowd... And the giant pompoms! :P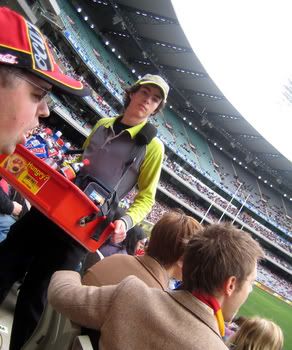 A vendor in the stadium!! Sorry-
lah
, I am really damn jakun. ;)
I sucked at watching the game live... I'd be watching and watching, and suddenly, I just lose sight of the ball, and I get confused... So I ended up watching the big screen...
I went to a live game, just to watch it onscreen. -_-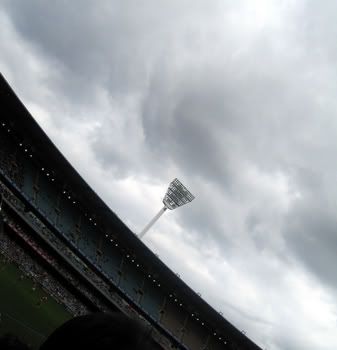 Look... This picture is straight out of a sci-fi movie, isn't it???
Yup, I can totally imagine it..
Errr, at first we were still cheering and whistling, but by the time the first quarter finished, we were all eager to leave already. I guess it's very difficult to muster so much passion for a game that I've just came to knew about. Furthermore, I honestly do think that football still beats footy hands down-- so much more excitement and adrenaline-pumping. Aah, the boyfriend will be proud of me. ;)
As the stadium was very near to the city, we thought to leave for the city (anyway, our concert was held in the city). Nonetheless, guilt held us back, and we only left after the 2nd quarter! *proud*
The score right before we left...
During the break after the 2nd quarter, (in which we were all packing up to leave already), they had little kids dressed in football uniforms running out to kick footballs, some sort of performance, I guess...
And guess who got excited?
Paedophiles in action. ;)
Mandatory group pic! :)
Front row (left to right): Joel, Joleen, Thean Aik, Totti.
Back row: JC, Smalls, Kit Mey, me.
After that, off we marched off to the city... And there WILL be more upcoming tales about the day and the All American Rejects concert! Till then, tata!
Update: The Western Bulldogs won the game after al!! Woohoo!!