Guess where did I go on Monday? ;)
*****
Last week, after our Company Law tute, Smalls, who was on the phone, turned around and asked me "hey, Jac on the phone now, she's at the ticket booth, you wanna go for Jason Mraz's concert?"
At that split second, I just answered back, "yeah, sure!"
*****
Come Monday night at 6pm, Lionel and Jac zoomed into the halls carpark, and there we go, to my first ever concert! :D
We went to have dinner before the thing first...
Reminds me of my favourite Centrepoint MacD's drive-tru... :)
McChicken Burger set.. God, how I crave for McChicken Deluxe... =(
After dinner, we quickly went to the Price of Wales Bandroom, and oh boy, what a shocker.
Shit!!!
And it was blistering cold k...
Me, Chris, Smalls (hee, Smalls so cute, her eyes become very small when the camera flash is on :P)
Smalls with bigger eyes, me, Jac and Brave Lionel, who had his hair cut by Jac the day before.
Smalls struggling to close her bag. Totally random, but just to show what girls would do to look good, for instance, ridiculously small bags. (hee, I am guilty of the same thing too! ;P)
After what felt like an eternity, just as we are nearing the entrance, we found out that we were in the wrong queue all along!! The line that we were in were for people who wanted to get tickets last-minute!!! The queue for people with tickets already was actually very fast-moving!!
Lookie, Geek in the Pink and Mraz Goes Down shirts for sale!
They were going for AUD30 for one, but I was actually quite tempted to get one, to commemorate my first ever concert and such, and you gotta admit, the pink Geek shirt is pretty cute right... ;) As I was lining up with Smalls who wanted to buy a shirt for her boyfriend, my mind was swinging to and fro on whether to get it or not... But turns out it was wasted hassle for my brain,'cause the pink shirts for girls were all sold out by the time it was our turn! -_-
The interior of the Band Room... Pink lanterns, I like! :)
The crowd building up...
As you can see, the event was held in the band room, and thus, it was a more small-scale affair. So I guess it's not so much a concert, but a gig. But no complaints there! :)


Damn freaking the many people...
The opening act was this guitar-cradling woman, who, to her credit, sounds like a cross between Sheryl Crow-Alanis Morrissete-Jewel. None of us caught her name. However, her voice just gets more and more grittingly annoying; perhaps it has something to do with the fact that every song sounded horribly morbid and depressing. Or the fact that she wailed her way through the songs. Or the fact that she sang, i don't know a total of 8 songs?? What the fuck. Like sing whole album like that.
Shuddup already, woman!!!
Amidst the darkness and all the denim-clad legs, this pair of killer red shoes caught my eye. ;)



Although we were standing quite behind, but as we were standing on elevated ground, we could still catch a pretty good view of the stage. But then suddenly, this mister who is easily more than 6 feet tall stood RIGHT IN FRONT OF US. GRRR!!!
Speaking of tall people, I think there should have some rule to ban tall people from blocking other innocent people's view at events as such. It is always so annoying, cause we paid the same amount of money for the tickets, but I don't get to see anything 'cause your stupid head is blocking me?!!?? It is bloody unfair that we have to crane our necks and stand on tiptoes 'cause of YOUR inconsideration k.
Or maybe they should just instill a mechanism to remove tall people who stand in other people's sigh. You know those glass cases with many stuff toys in amusement parks? And you have this clipper thingy to grab whichever stuffed toy you're eyeing for?? They should have that!! And use a giant metal clipper to clamp away the tall culprit. BWAHAHAHA.
Yay! My prayers worked! He ciao-ed! ;)
Oh, that reminds me. There was this old lady who was standing near me. And I overheard her telling Lionel, "Oh, this is great!! This girls are so short! I could see so clearly!"
She was referring to Smalls and I (Jac was in the ladies). -_-
"My daughter asked me to go in front, but I said no way, I could see so clearly with these girls in front!! These girls are absolutely wonderful!"
The worst is not over yet. Throughout the concert, there people going out and coming in again, and they all tend to pushed through where Smalls and I were standing. The same lady actually looked at me and told me, "You are too small, that's why they keep on pushing through your way!! You should grow more!!"
o_O
The "shorties". *hmmph*
Lady wailing in the background won't stop us from taking pictures.
*whee* I havn't seen my arms for ages... ;)
Tada!! Wailing banshee, out! Jason Mraz, IN!! =)
I have to admit, I am not a huge fan of Jason Mraz. I mean, I know the choruses of his songs, and I don't mind his music that much, but in total, I am not really gaga over him. I came for the concert more because I wanted to experience the whole concert hoo-ha.
But he was so friggin fantastic.
His voice is SO SO SO GOOD!!! Very magnetic and electrifying. If you think his albums sound good, just listen to his voice in real life!! It blankets you in a cloud of his soulful baritones, and it really twangs at your heart strings. And he can rap so well!! I just can't do that without getting my tongue in a mass of tangles. -_-
And he was everything an entertainer should be: engaging, entertaining, funny, interactive, and a little hyper. :) He is quite quick-witted, and he comes up with sudden quips that you just can't help but at least chuckle. He changes the music and some of the lyrics of his songs spontaneously, according to the mood and the responsiveness of the crowd. There was this one bit where he keeps on plucking at his guitar and ask the crowd to repeat the chorus...
"Ladies, sing!"
"Guys, your turn!"
"Now, those who think that they are sexy, your turn!"
Everyone sang along. ;)
"Now, sing it in the face of someone whom you came along with!"
"Sing it into the face of a total stranger!"
Hee, damn fun. :P
And he is just so talented. He can do so many sound effects!! He did this flute thingy as he strummed a song on his guitar, he could imitate drum sounds, he did cool echoing effects... Wow. :) And he didn't only do his own songs, he did Man in the Mirror (by MJ), oldies, rock songs... And there was also the exagerrated pelvical thrust, but I shan't go into that, hehe. ;)
Unfortunately, the pictures that I took weren't really clear. :(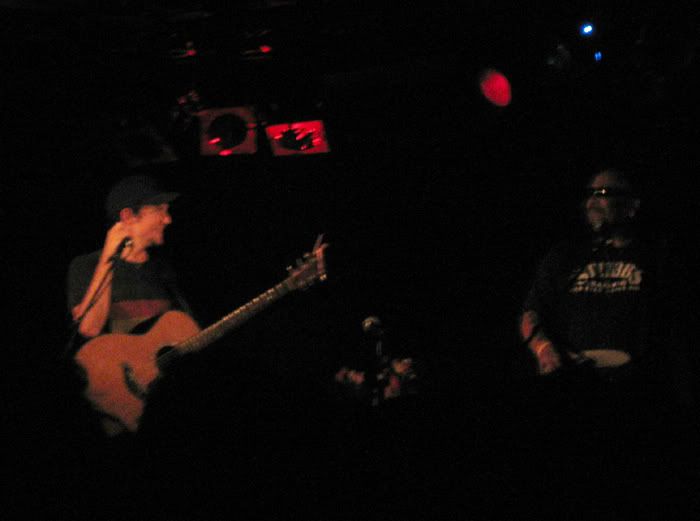 Jason Mraz and his counterpart on the drums, Mr. Sunglasses with Long Braids.
Mr. Sunglasses with Long Braids taking a peep. ;)
A clearer picture, courtesy of Smalls. :)
He actually sang a good solid 2 hours before he left the stage. But we smart consumers knew it's not the end, of course. ;)
The crowd just stayed put and started clapping and whistling and cheering. WE WANT ENCORE!!! The atmosphere was great! :) Before long, Jason Mraz was out on the stage again! And this time he brought someone along on the stage, and he told us that since he couldn't have all of us on the stage, the guy would represent all the Melbourne people there!
The guy on stage...
And this time, Jason Mraz chose to perform "I'm Yours", a song that's not on his album, but nevertheless, according to Smalls, a very, very nice song. She also told me that it's a song about a couple who's going to get married. So there I was, savoring the song that I am hearing for the first time, and suddenly, the guy picked to be onstage started singing too!!
He was good!! :) And the crowd started cheering for him and stuff, when suddenly, he sang the lyrics "I am going to go on a bended knee, to ask you whether you'll marry me..", and he really went down on a knee, and he reached out his hand for someone!! (sorry-lah, I stood too far behind..:P)
Mouth agape.
What's happening??
Oh my goodness, he proposed to his girlfriend!!! :) :) :) :) :)
He got the girl...
Isn't it so freaking romantic??? I teared a bit when I realised what was going on... It's just seemed to be THE bestest proposal, and we girls totally agreed that we could not accept any proposal that's less than this one..! ;)
You can imagine, the crowd literally went crazy. :P


I'm yours...
What a perfect end! It was such a climatic closing to an already wonderful concert! :)
And as if that was not enough, we went for supper after that, and I had this!
Roasted pork noodles
It was simply out of the world!! The roasted pork was tender on the inside, but the skin was crispy and fragrant, definitely one of the best that I have eaten! *rubs belly* ;)
Well, what can I say? My first concert is seriously great, and it was AUD50 well spent! :) I enjoyed every minute of it, and after I got home that night, I downloaded a few more of Jason Mraz's less well-known songs! ;)
Oh, and please please check out Jason Mraz's Life is Wonderful! It sticks onto you! ;)