If you're below 22 years old, knows what MSN is, you would notice that recently, there are some people who have changed their nicknames to include "Who's up for Royal Melbourne Show??'
Well, guess who just went??? :D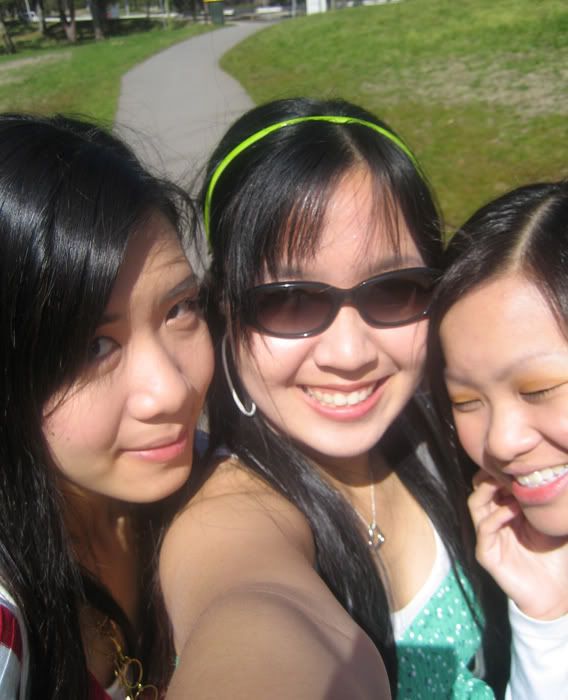 On the way to the bus stop.
We were more than half an hour late, *cough*Smalls*cough*, and we still found time for a little camwhoring. -_-
We met up with birthday girl, Victoria, at the train station...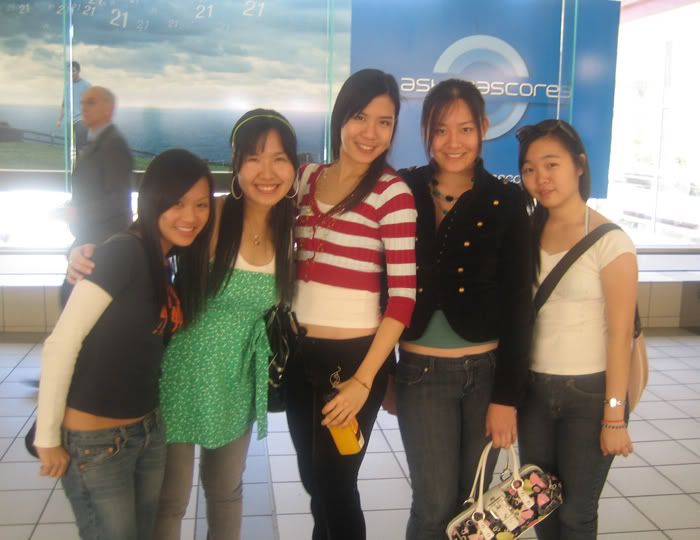 Smalls, me, Kit Mey, Victoria, Hui Loo.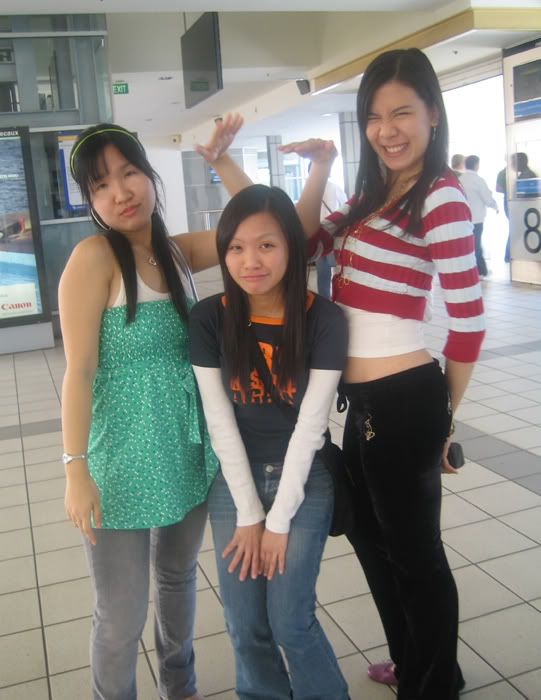 Tsk tsk.
Ooops, the train is here!!
And off we go!!!
Platform 9 and 3/4. Hogwarts. You'll only get it if you're a Harry Potter fan.
If you're not, SHAME ON YOU!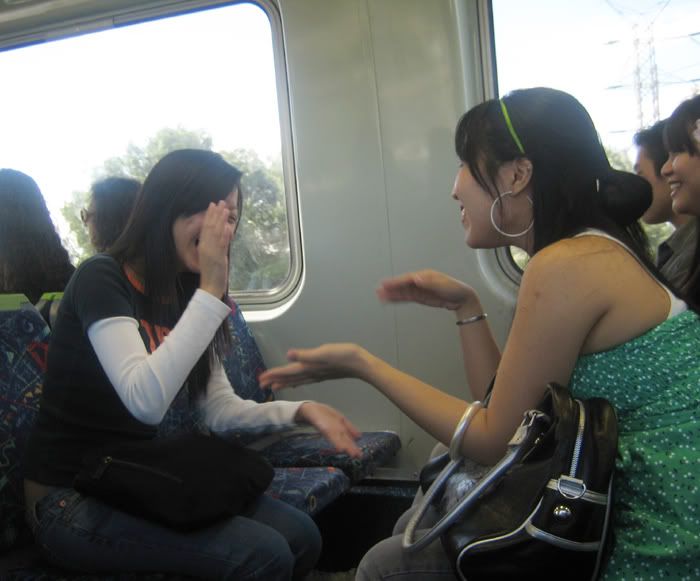 Playing "Under the rainbow" in the train, on the way to the Show.
Smalls complained I 'pom pom pom piang!!!' too soon. Ceh, just 'cause she is not as skilledful as me. :P
Oh, and the Royal Melbourne Show was held at a place called Showgrounds! It's a
real
place, like with a legitimate station and all...
Am I too jakun?
Showtime, at Showgrounds.
Bloody hell, those ang mohs just jumped into our picture for no reason. We don't know them. =p
Such a beatiful day out! :)
And I am damn sad, 'cause I thought the Royal Melbourne Show was a circus.... Turned out it was a giant carnival.
Y'see, I have never been to a circus before. :(
Laugh lah, laugh all you want.
But I was counting on going to a circus, so all my friends can stop calling me a 'deprived child'.
:(
As majority of the group were girls, we went shopping first! ;)
At the carnival, they have they call showbags, which are essentially bags of themed stuff, going for bargain prices.
For example, a bag of filled with Cadbury's products, going for AUD5. Or a Powerpuff Girls' bag filled with their merchandise. Or even Dolly (the fluff magazine for teenage girls) with magazines and nail polish and a bag in their showbag.
You get the drift.
And the thing was , i was so tempted to get some!!! Some of the stuff,
you just can't get it back in Malaysia
.
Like, there was this Happy Tree Friends show bag, which I damn wanted to get for my sister, but AUD20 ler...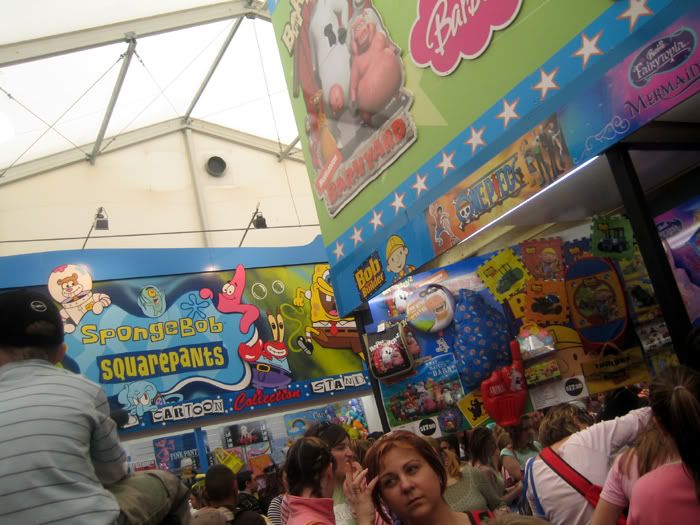 Endless arrays of colorful booths....
But I did get myself a headgear though... =p Almost everyone there had something on their head, be it cowboy hats, tiaras, antennaes, jester hearts...
We had to fit in. ;)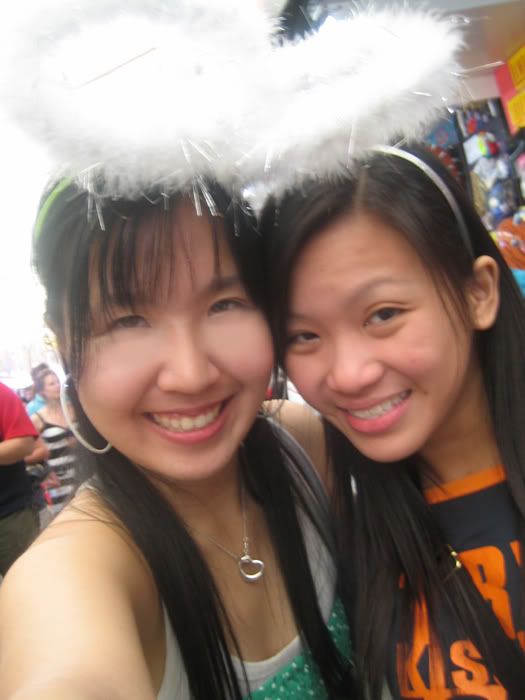 We were wearing two separate halos k. Don't know why it looked like we had a puffy cloud on top of our heads. ;)
AUD3 only! Quite cheap. =p
Jaclyn got herself a pair of devil horns, and she bought an inflatable pitchfork to go with it.
Which Lionel had the honor to put life into.
Haha, sometimes I really pity men, and the lengths they have to go for women. ;)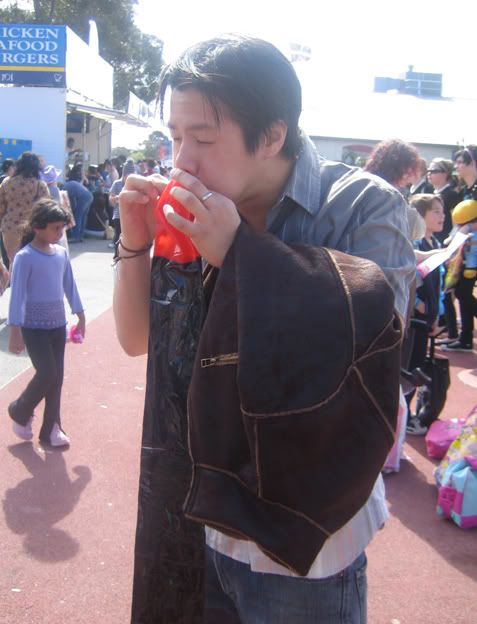 Huff and Puff.
All the people came out to play.
I saw these creepy mermaid dolls as prizes at game booths...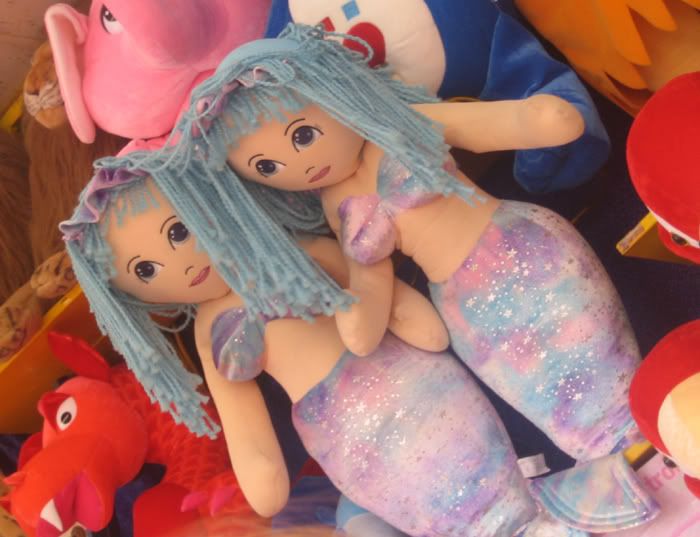 They wont't be winning any mermaid pageants.
And I wanted these My Little Pony stuffed toys!!!
But no one to win them for me. :(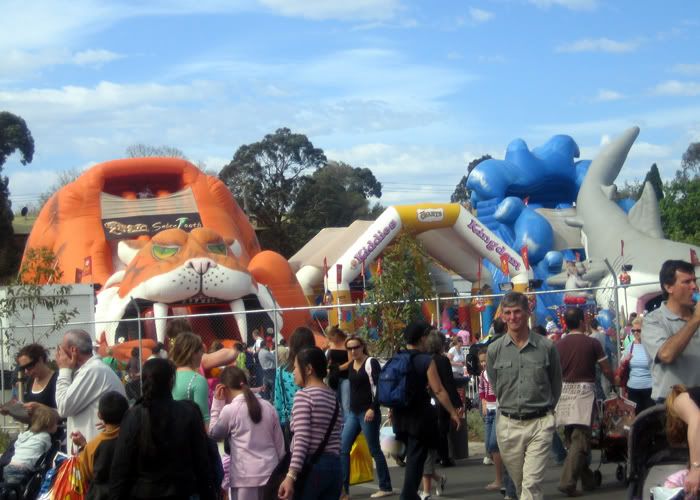 And they had those blowed up 'boing-boing' mini forts!!! I have always wanted to go into one of them and jump till the sun sets.
And now I can't go in 'cause I am overaged.
Bah.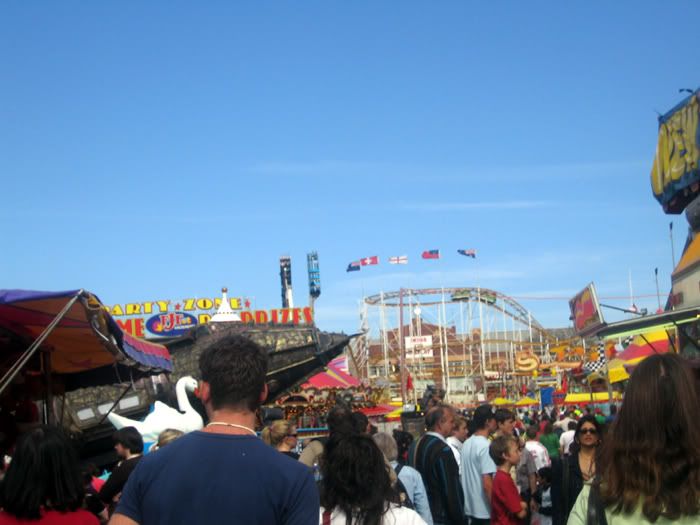 Another view of the carnival. I can't stress enough how beautiful the weather was.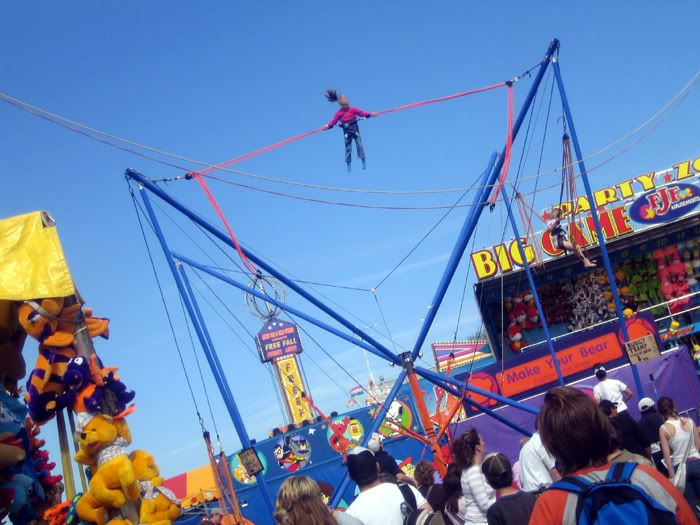 And the coolest game on earth!!!
It's almost like the concept of bungee jumping, where they tie a big rubber rope and harness onto you, and with a trampoline on your feet, you get to soar into the air.
Literally
.
You can even do backflips and somersaults while you're up there!
But for kids only. :(
Because I am lame like that.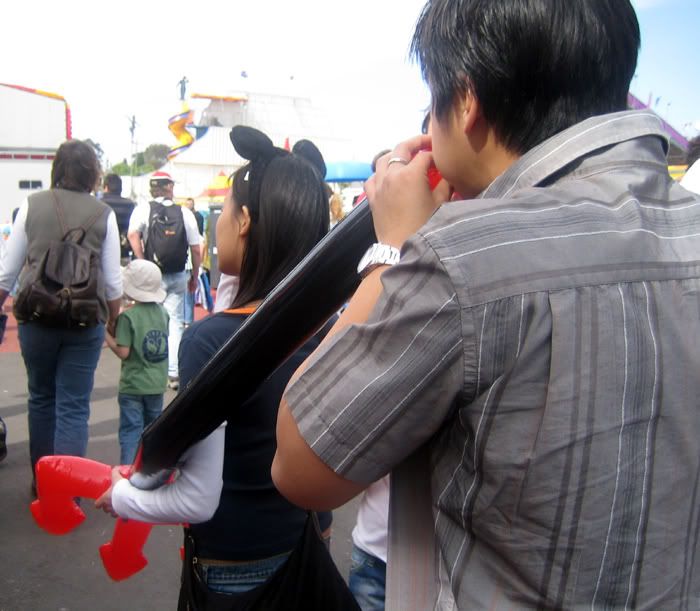 Wahaha, Lionel still blowing away! :P
Besides inflating obstinate pitchforks, as a modern man, he had to do more to win the heart of his lady.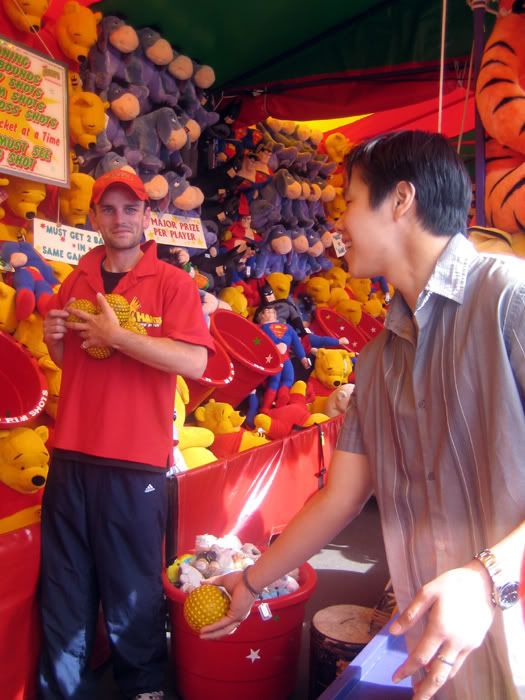 AUD20 for 4?5? tries. Crazy shit.
All to win a Eeyore. Jac, you're a lucky woman. ;)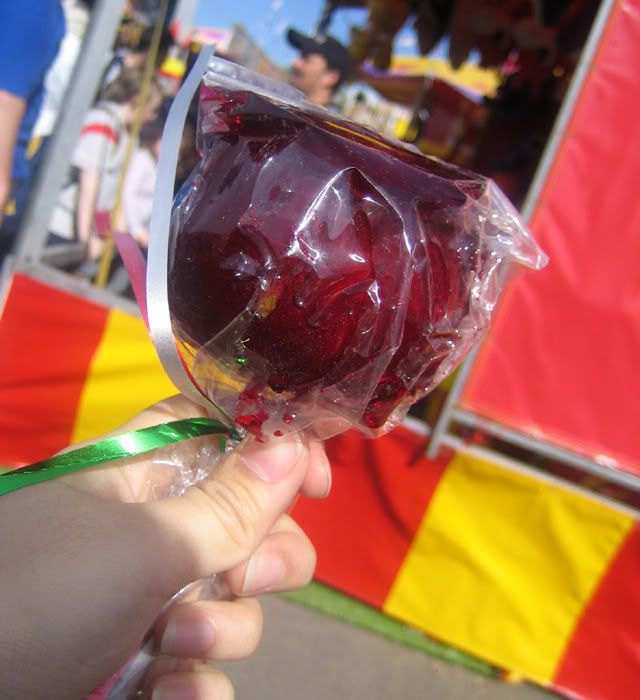 Toffee apple!!!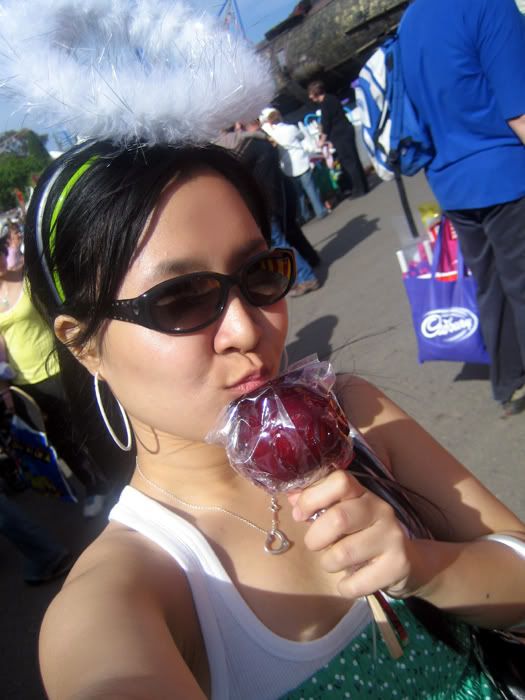 I have been meaning to try one since I laid eyes on them in Melbourne.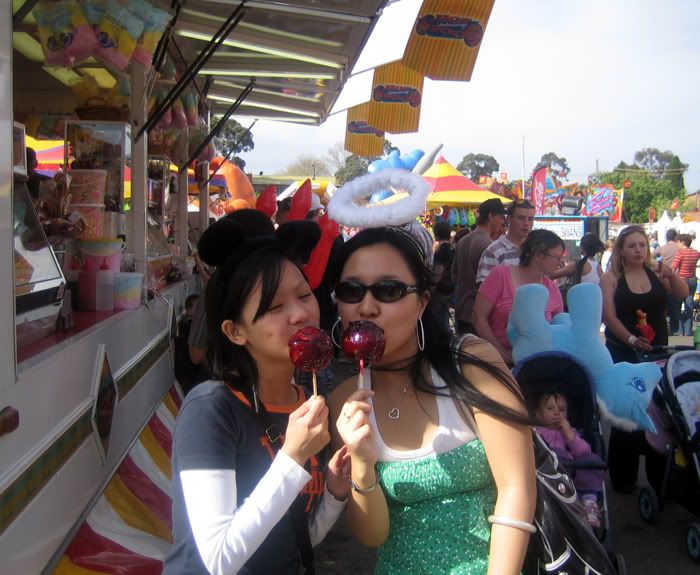 Lick lick.
And with that, ladies and gentlemen, is how I suggest you eat your toffee apple. It is no common feat to devour one, I kid you not.
You would be looking at the shiny red toffee coating, and thinking, "Mmm Mmm, yum yum", and then you sink your teeth into the apple.
And that's it.
Your teeth REMAINS in the apple!!!
The toffee is so sticky that it clamped my mouth shut. Or if not, it will get stuck all over my gums.
And this is how you would look like after the apple.
But damn yummy-
lah
. :)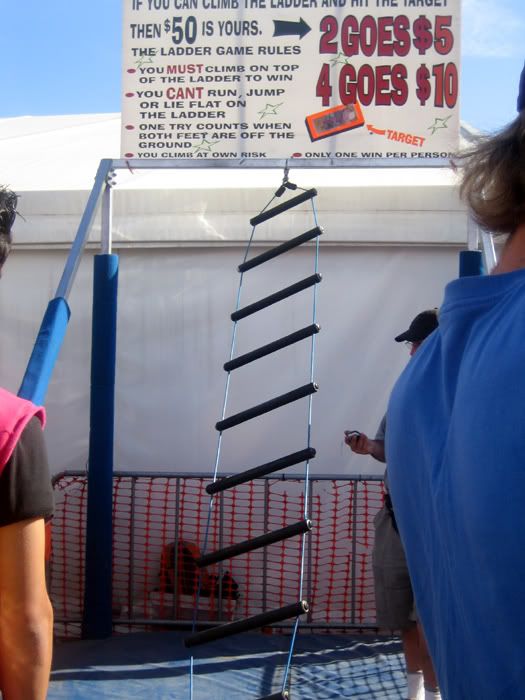 This game challenges you to climb to the top of the ladder, and as long as you can complete that, you get 50 dollars.
Bluff people wan. The ladder is actually very shaky and it twists and turns when anyone is on it, and confirmed you can't stay on the ladder.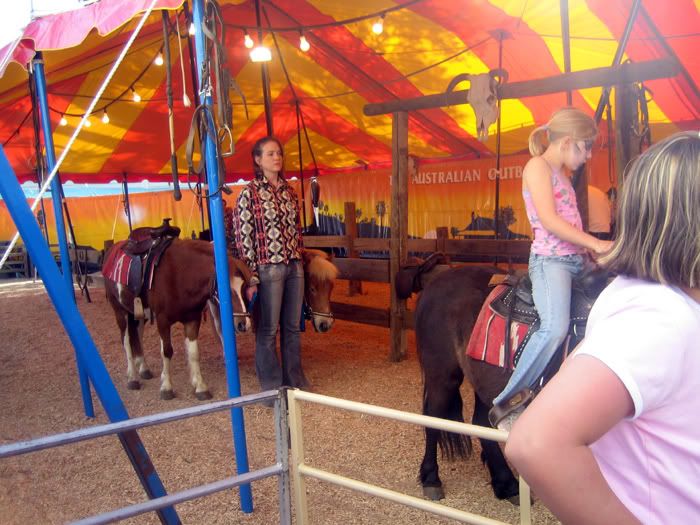 Ponies.
Which I couldn't ride, 'cause flattened ponies won't be that cute anymore.
Because Lionel and Jac havn't given up hope on big stuffed toys.
In this game, you get two tries for AUD8 (or one try for AUD5), and you catch a (toy) fish! Simple as that, under the fishes' fins are numbers, and consequently, your prizes will correspond to the number.
Hugeass My Little Pony is a number 20.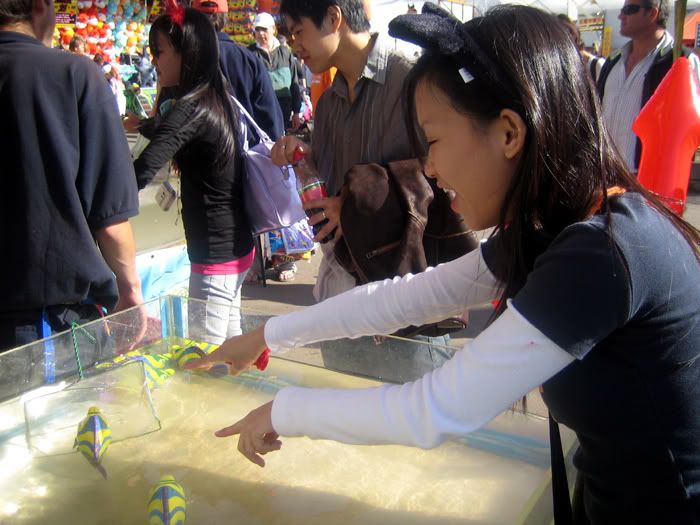 We played cheat.
Lionel and Jac went for four goes I think, and we tailed those fishes that they have already taken out, and were not number 20.:P
I laughed myself to death when Smalls had her two fingers following her designated fishes, and she got confused. ;)
But they didn't win. After that, we were so geram that while the staff member wasn't looking, we took out the fishes one by one, and checked whether there really is a number 20.
There wasn't. Bloody con job.
Next year, we are gonna bring our own number 20 fish, and we're gonna throw it into the tank 'accidentally', and catch it ourselves. ;)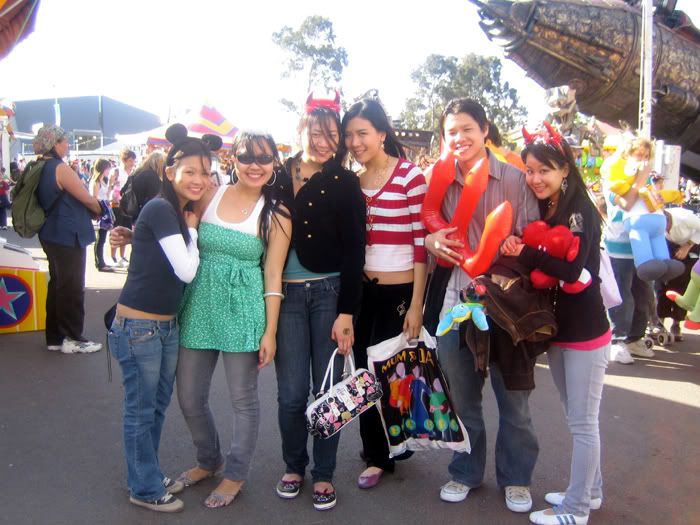 Next to the conman fishing stall.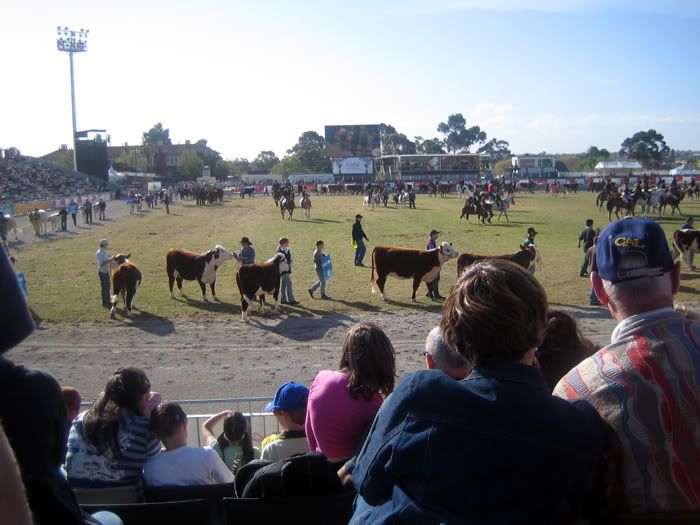 Livestock.
And then after that we paid almost AUD7 each to go on the Ferris Wheel. -_-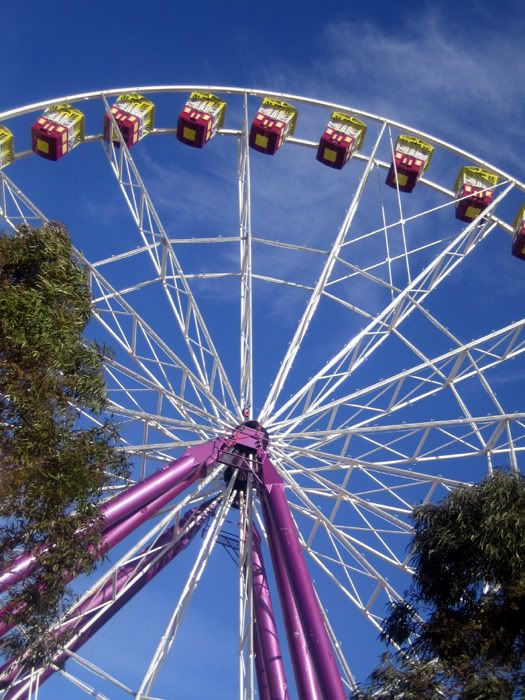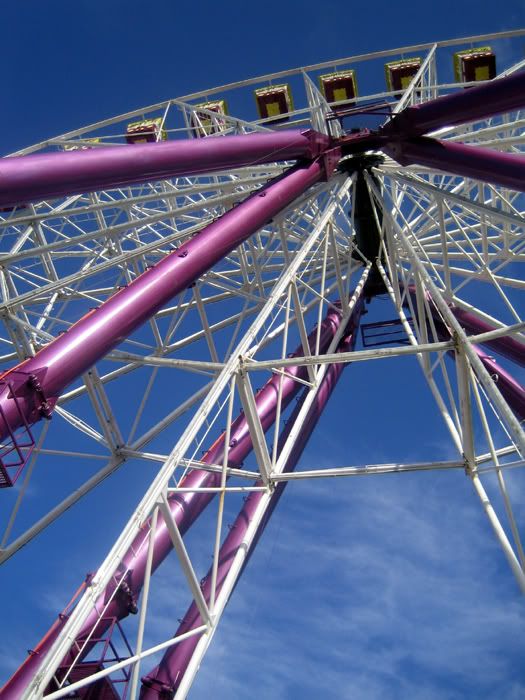 I love these pictures that I took. :)
And under this magnificent architecture...
Was this crazy woman.
Sometimes even I am ashamed of myself. ;)
And up, up, up we went!
Hello, ant-sy people!!
I am telling you, the ferris wheel was the scariest ferris wheel I have ever been on. EVER. It was so super fast, and as it was a very high ride, it felt like a roller coaster!!!
We screamed our lungs out.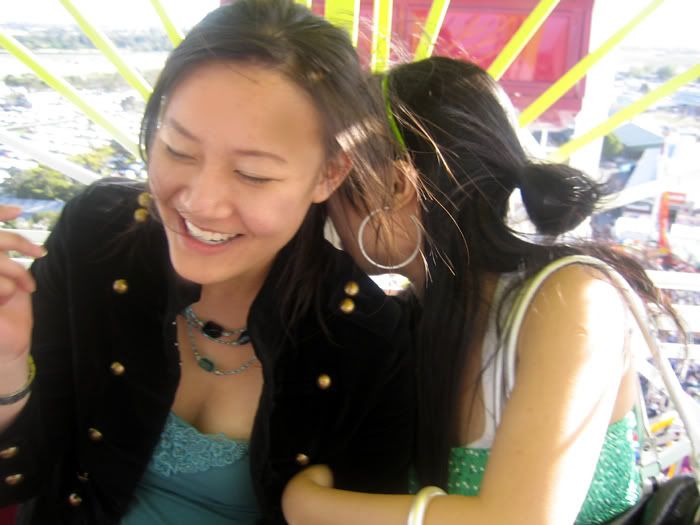 This is me clutching on to Victoria for dear life.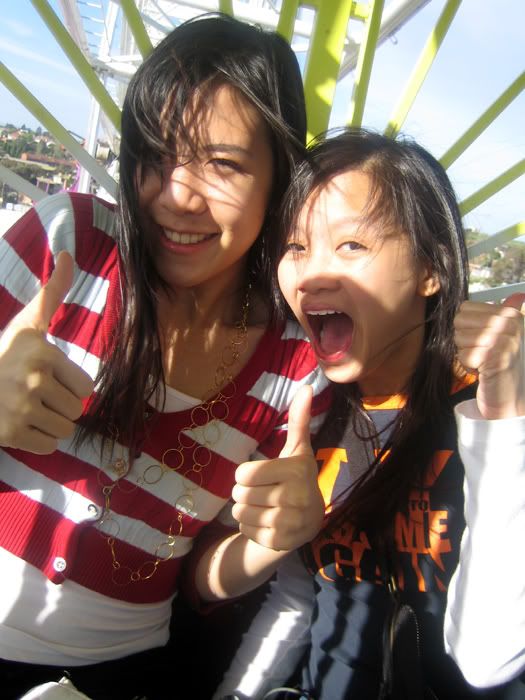 Kit Mey and Smalls. And Smalls was REALLY screaming!!
We were really jokers, we would be screaming and shrieking in terror, then for one brief moment, we would smile calmly into our cameras, then the moment the camera was clicked, hell would break loose, and we would start screaming with our eyes closed again.
True cam whores. ;)
Please appreciate my efforts. =p
And besides that, appreciate my efforts for blogging when I should be doing my assignment.
As Smalls put it, "Whip me". -_-
And before I go slog over financial accounting...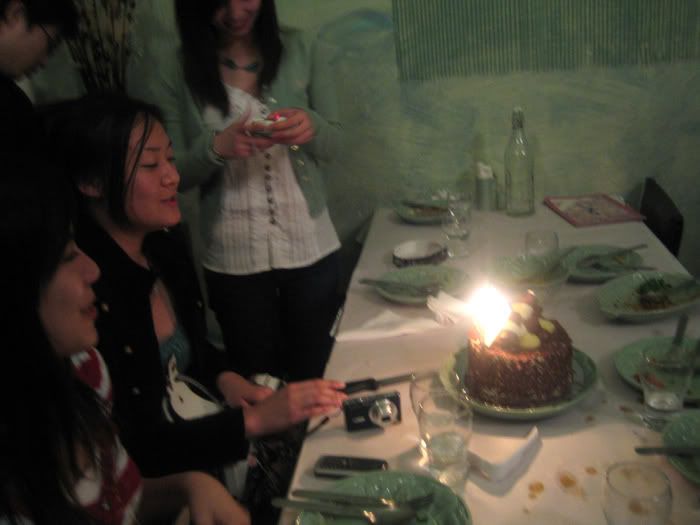 Happy Birthday again, Victoria! :)