If the picture above isn't obvious enough, I am blogging about last Friday, Mooncake/Tang Lung/Lantern/Full Moon Festival... :P

Yeps, it IS one week ago, old news, but when you are cooped up in your room faced with tackily designed textbooks and scribbled notes, you tend to blog 'bout anything you can think of.

Anyhow, this Mooncake Festival is a first for me-- the first time I celebrate in a place away from home. Thousands of miles away, in fact.


Luckily enough, I got to spend actually celebrate Mooncake Festival. :) We have planned since long ago, to actually do something for that night, and some of the final options were a barbeque (oh so apt for mooncake festival, as we would be bathed by the moonlight! :P), steamboat, and eating out...

In the end, we went out for a glorious meal, partly 'cause there were about 8 or 9 of us, hence, barbequeing and steamboat could get rather tedious.

That, and 'cause Lionel doesn't want to wash dishes, hehe. -_-

Mooncake festival, chinese food was obviously the way to go! :D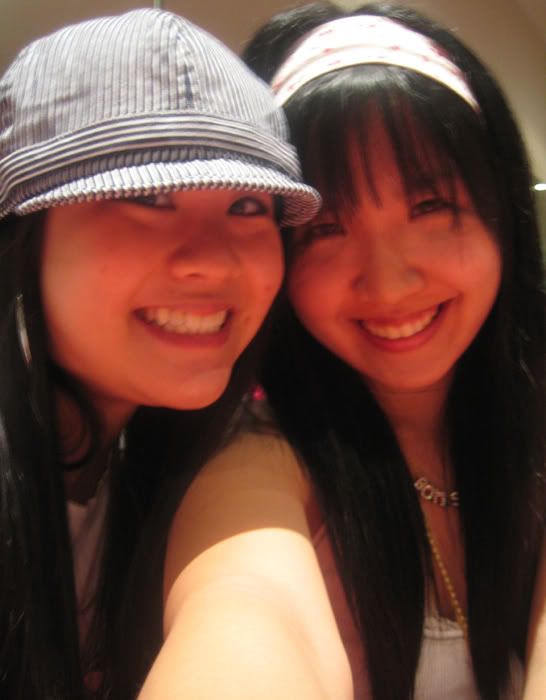 Jac, I'm so sorry that I've to post this picture, but I don't have any other pictures of you! :(
And though you insist that it's a 'bad angle', I disagree wholly! *challenging stare* ;)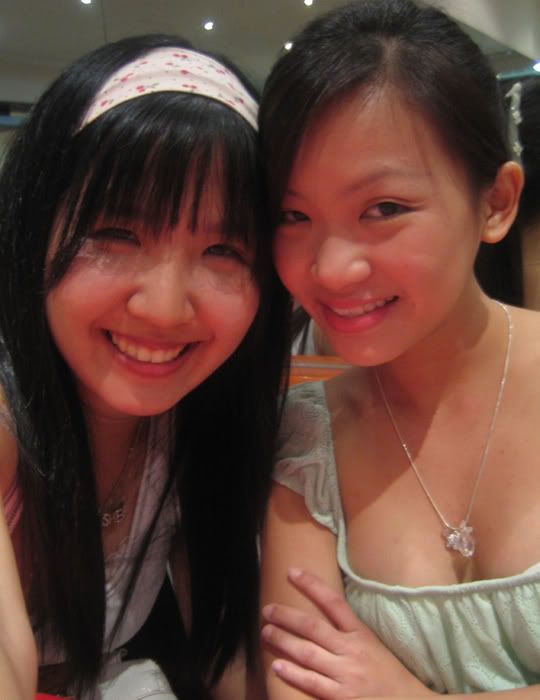 A hunched me begets a tall Smalls.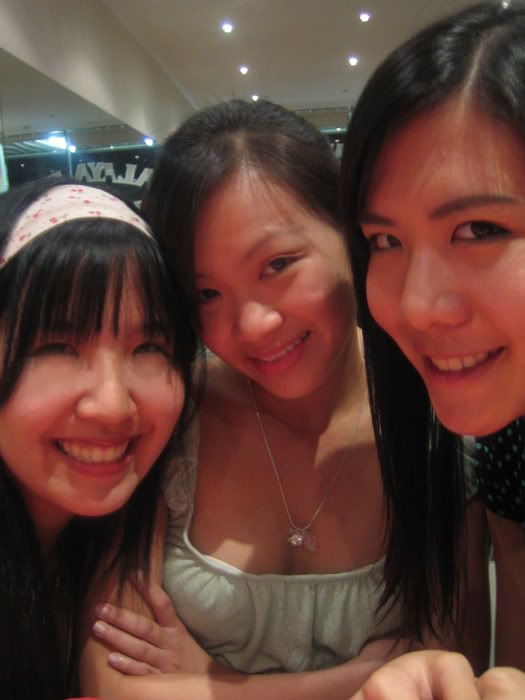 Camwhoring like nobody's business.




The others at the table, or more fondly known as the non-camwhores.
(Ki Jin, Woody, RandyandRebecca, Lionel)

Incidentally, the people at the table are the same as the ones at our ball recently!! *big grin*

Oh gosh, the food....

THE FOOD.

The meal sure did curb a bit of my food cravings! Although I was intially weary, as the dishes were really, really tiny, *shows pinky to depict the size*, there were so many dishes!! 10? 12?

I couldn't keep count. ;)

We had...

Kangkung belacan. (although I personally don't really favour kangkung, a girl misses her belacan! :P)
Hor Jian (oyster omelette). (Yummy until can die. All I need is ikan bakar to go with it!)
Lemon chicken. (*licks fingers clean* Nuff said.)
Pork throtter. (This is friggin chinese of me, but one of my favourite foods is pork throtter!! Fried, braised, claypot... Mmmm!!)
Curry fish. (Curry is a definite fix for us Malaysians.)
Yam basket. (One of my family's staple eat-out dishes.)
Braised duck. (Not one of my favourites, but the fact that I get to eat duck so rarely here made up for it! =p)
....
....

I can't remember already.


And, each one of got a free tong sui too!! Black glutinous rice (hak no mai), made me miss KTZ back home.


Definitely one of my more enjoyable meals in Melbourne! :)


Did you think that our night will end just like this..??

Of course not!! We had tang lungs to play!

And drinks to down. -_-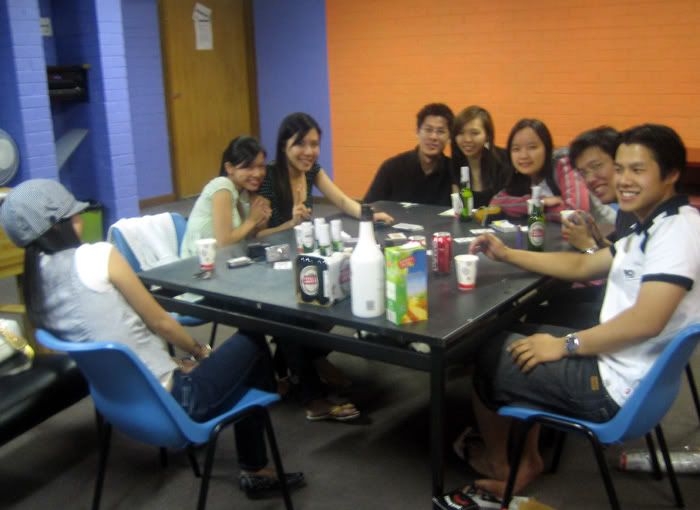 Drinking before we even started playing lanterns!! Bloody alcoholics.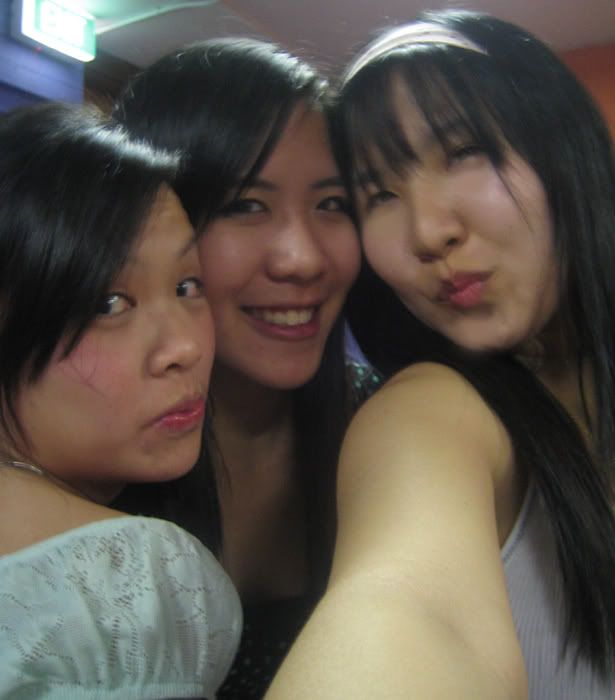 A bit high on Malibu.


I am damn touched, 'cause Jac went through all the trouble to get us lanterns...

Thank you, girl. :)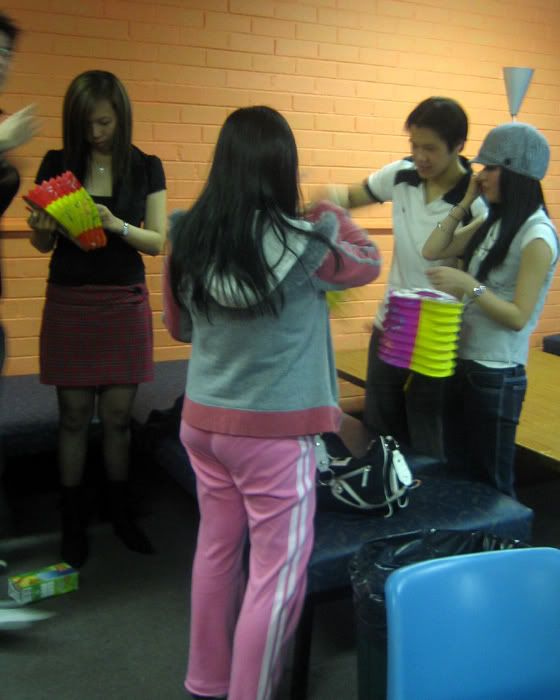 Fighting for lanterns.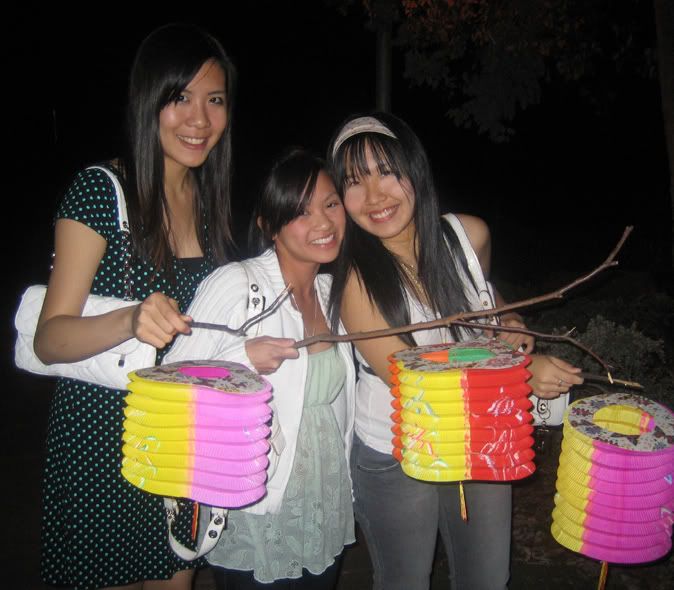 Off we go!!!




Super scary picture, I know, but I like the pink and yellow glow. :)
The lanterns did not come with a stick (to hang the lantern), so we had to look for branches as substitutes. I got a bloody twig. :(



Hmm, only girls got to play with tang lungs...
We took a stroll around the lake, under the yellow glow of the street lights and the pale moonlight, surrounded by animated chatter and threats to roast the ducks at the lake with our lanterns.
After satisfying the childish whims of ours, we moved back to adult play-- drinking games. -_-
We had vodka with juice mixer at first, and Joel, Jian Cai, Totti and Thean Aik who came to join us brought along shot glasses. The games we played required us to down anything from 2 shots to 10 shots at one shot, pun intended.
If I am not mistaken, there was one time where I had to take 8 shots at one go.
If you thought I was drunk, think again.
I actually soberly took pictures of myself being 'high' at different stages.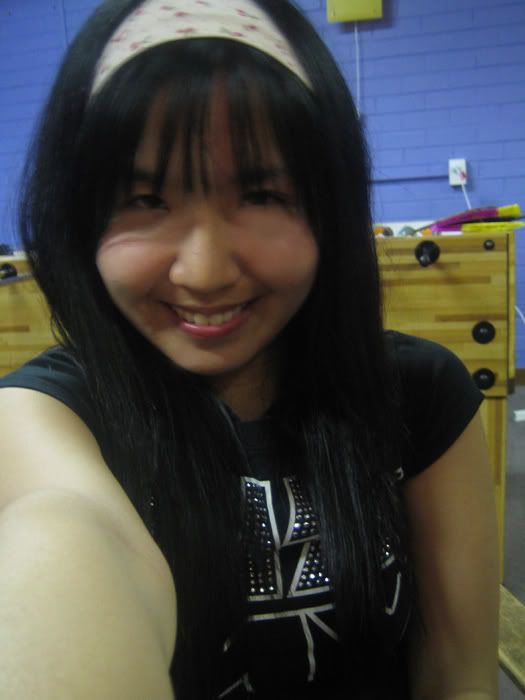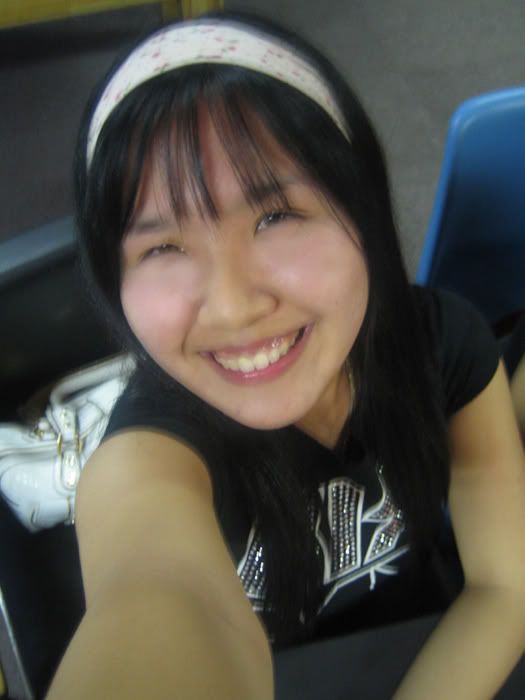 Alcohol ain't stumping the photoslut in me.

Jaclyn downing 10 shots at one go. o_O
Smalls, half gone.

After that, it was Jack Daniels with Coke, and no ice. *eew* We even played foosball drinking games, whereby the loser team drank.
I wasn't drunk, but remember being lightheaded and semi-high (that's the problem with me, I am high without alcohol too, heh), and a lot of dancing, singing, and uncontrollable laughter. :P
And Smalls, I have a video in my camera of you spinning around! ;)
Nevertheless, the girls stopped drinking after awhile, and just sat around to girl-talk, while the guys happily drank the whiskey, neat. -_-
They got *quite* drunk.
(Bottom to top: Thean Aik, Totti, Joel.)
Boys and girls, do not try this at home. Gay humping is not advocated.
Although we were merely drinking at the halls, I only got back to my room at 'bout 5 something. Crashed onto my bed, non-high on alcohol, but in spirit. :)

There is a chinese proverb that says that the moon back home is always brighter and rounder.

This, is true. Or at least to me.
But you know what?
The moon over here in Melbourne is not bad.
Not bad at all. :)