The final climax of my break came in the form of vibrant blooms.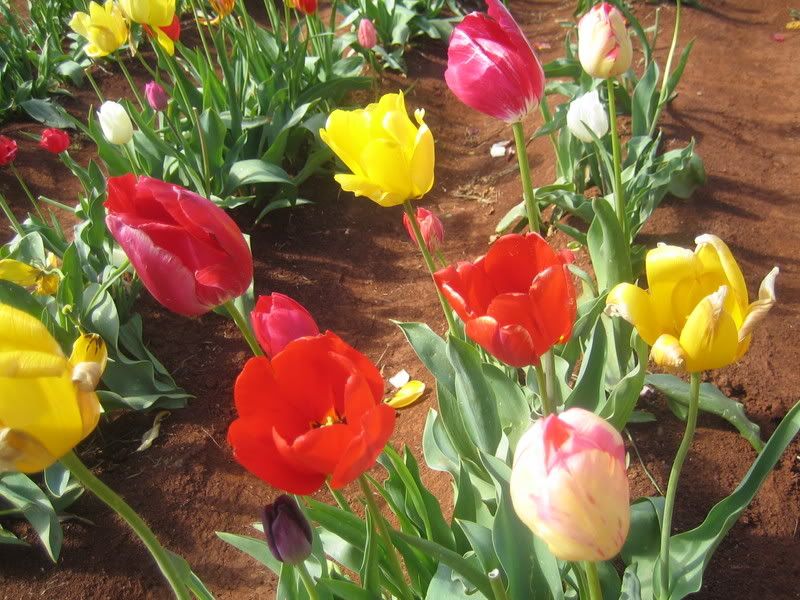 Tulip Festival! :)
The Tulip Festival is quite a big thing in Melbourne, and rumor has it that there are more tulips here than Holland itself.
It took us an hour's journey to get to the tulip farm, which was on top of a hill, at the countryside.
An endless view, waiting to be explored.
After we drove into the farm, the stupid bus took ages just to park. So I was pressing my nose against the window, looking at the view depicted above, practically bursting with excitement.
Yea, give me bright colors and loads of flowers, and I'll orgasm in delight.
Being gluttons that we are, flowers could wait, the tummyies could not.
We got conned.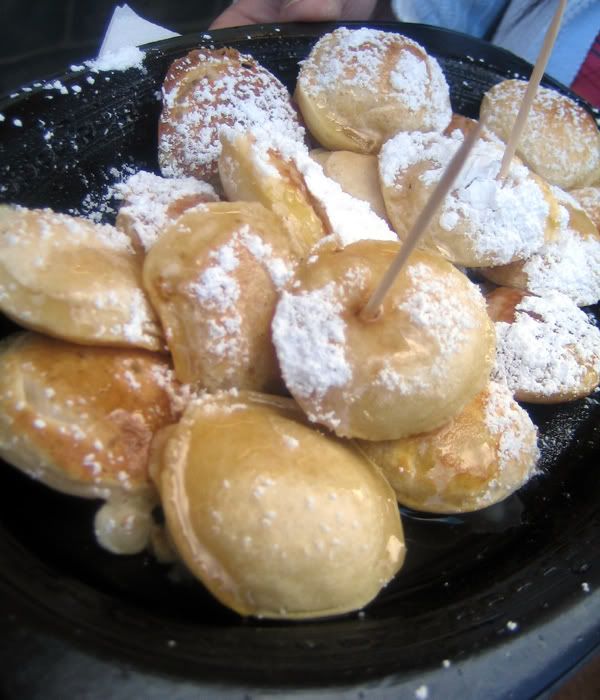 Poffertjes, with icing and maple syrup.
Bloody rip-off, I am telling you. AUD5.50 for a few lumps of flour.
And I can't even pronounce the bloody name.
Speaking of that, don't you find that you always fall for food with unintelligible names??!!!
Gnocci, foie gras, pate...
*scowl*
Mona Lisa of flowers.
Kit Mey pointed out that these flowers seem to have 'faces'. Check it out, they seem to be looking at you! ;)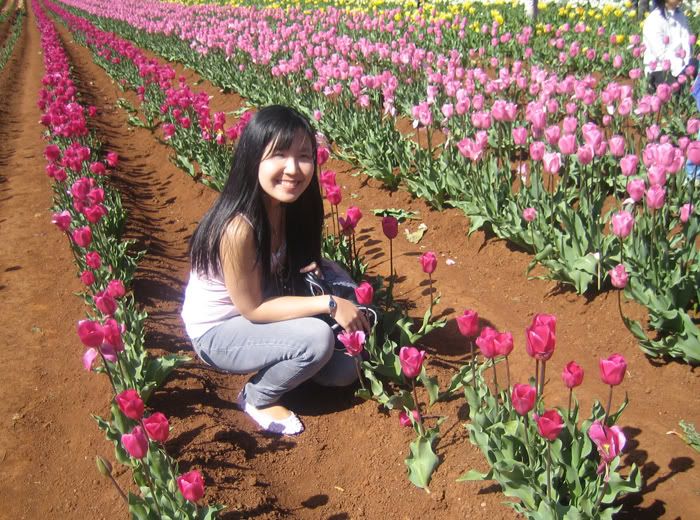 Heh, even I have enough decency to admit the flowers are prettier than yours truly! *teehee*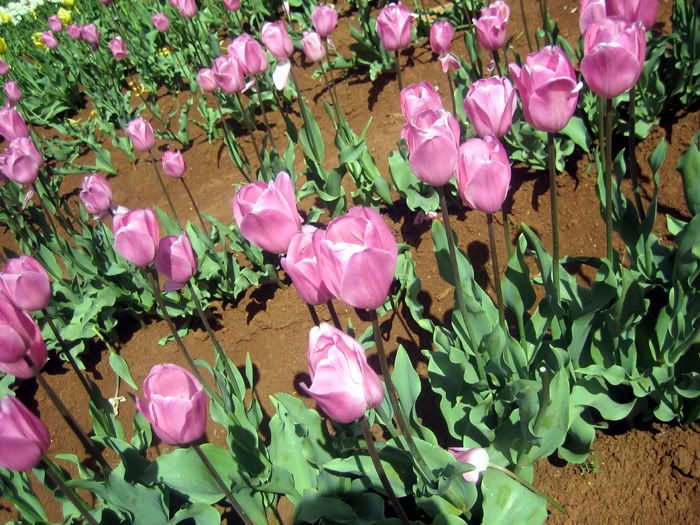 Standing proud in the sun.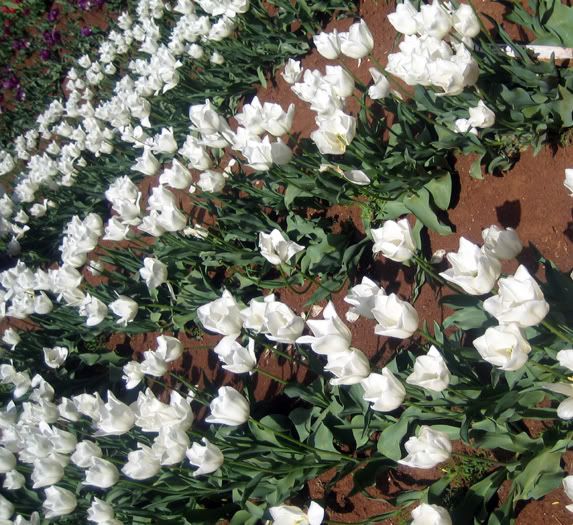 I didn't even know there are such thing as white tulips! Gorgeous they are. :)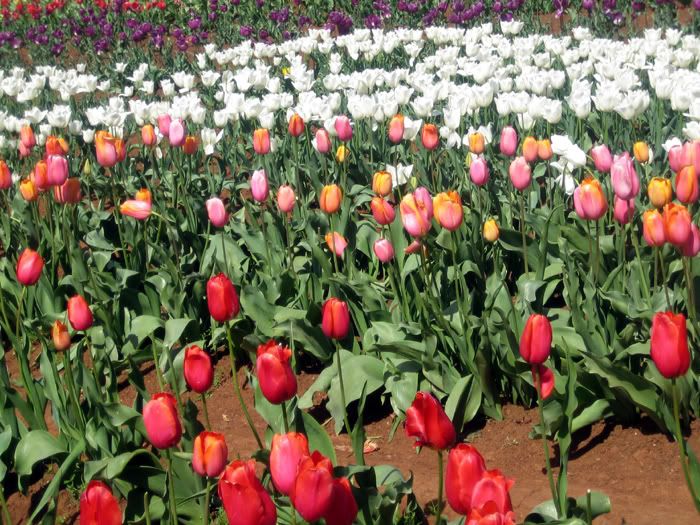 Virginal white, sweet pink, and hot red *RAWWR*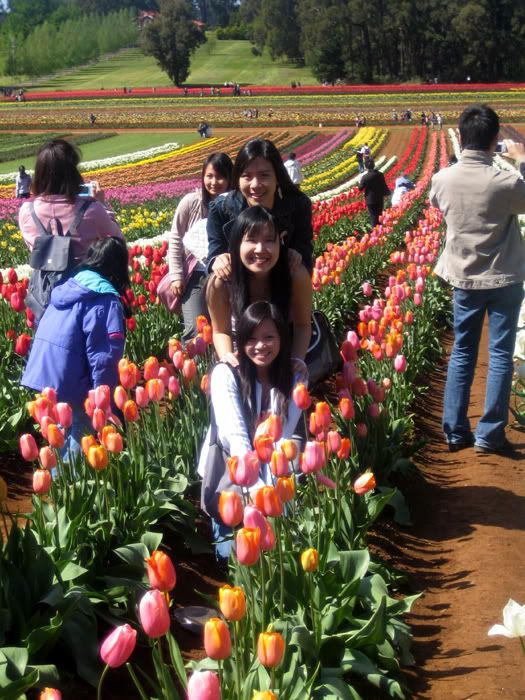 Si Kecik, Si Sederhana, and Si Besar? o_O
(Sorry, Kit Mey! :P)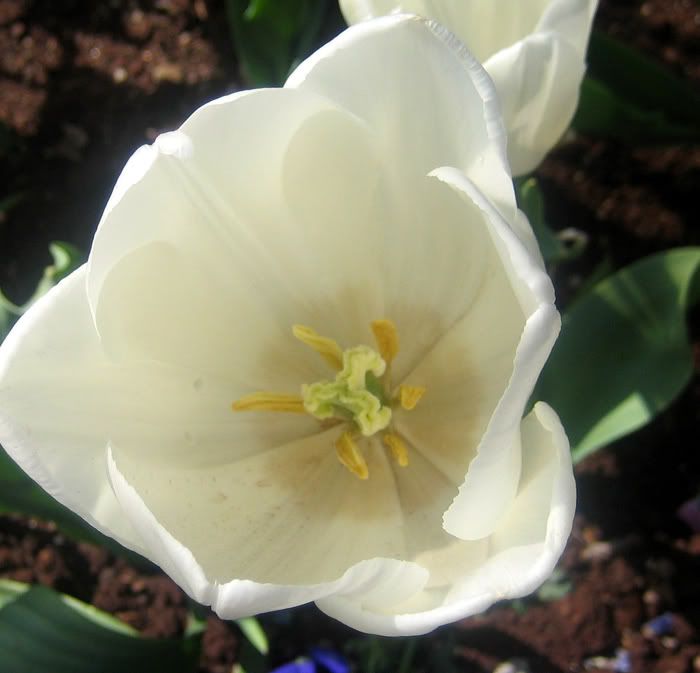 Ever wondered what the interior of a tulip looks like?
Spot Thumbelina! :D
Emphasising my innocence. ;)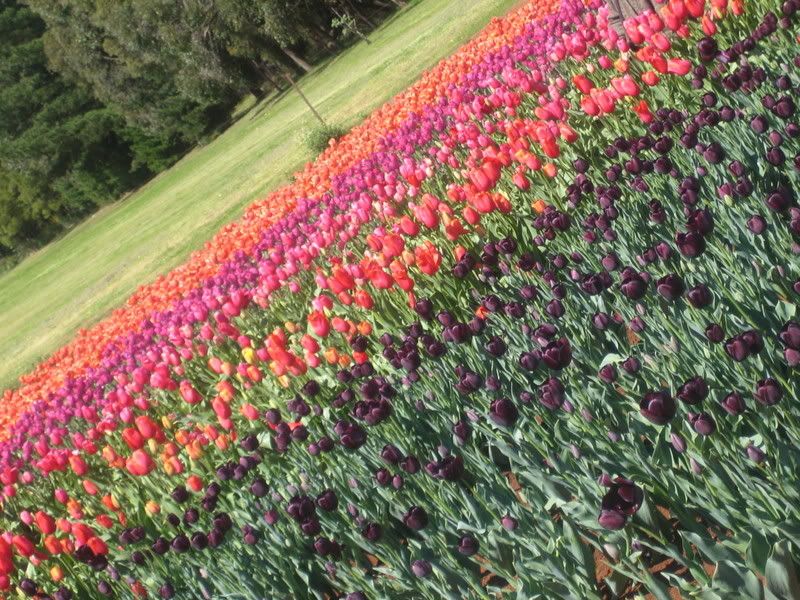 Literally a meadow of tulips.
Check out the dark purple tulips, they are the tough goths! :P
Aaaah, I just wanted to flop myself onto the flowers...
Totti, Thean Aik and Jian Cai embracing their feminine side.
I've been plotting for us to do the 'tulip' pose since I knew we are going to the tulip festival.
That was before I knew that the pose makes my face look like a
tai pau
. -_-
Blowing kisses (Smalls, intent me, Nikki, Joleen, Mey).
As you may notice, all the girls are in the picture, so obviously, the guys were the ones taking the pictures of us right?
Leave your camera with men, and here's what you get.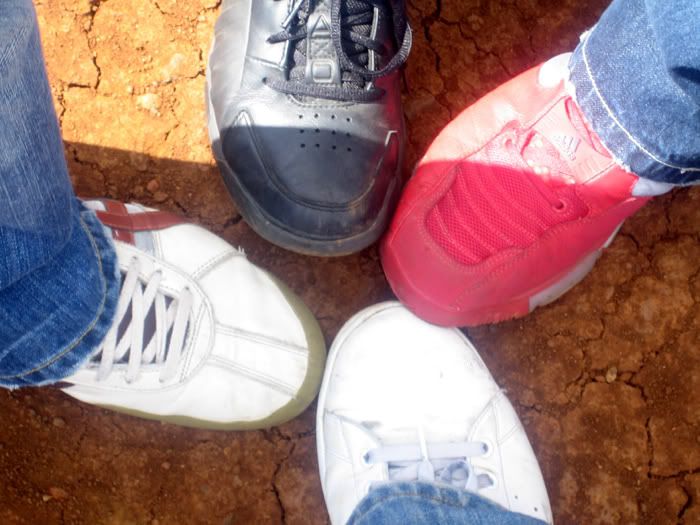 And even a picture of a crotch.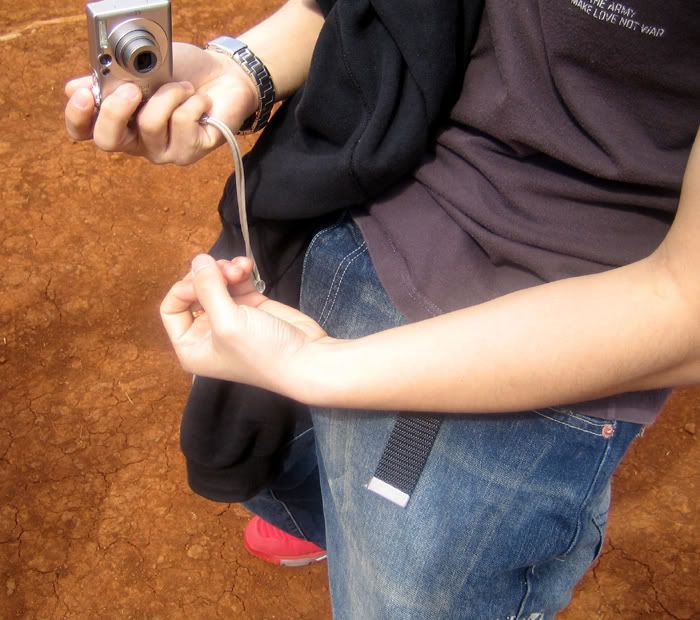 -_-
And I found it so amusing, 'cause the guys were completely befuddled as to how they should pose with the flowers, without looking gay.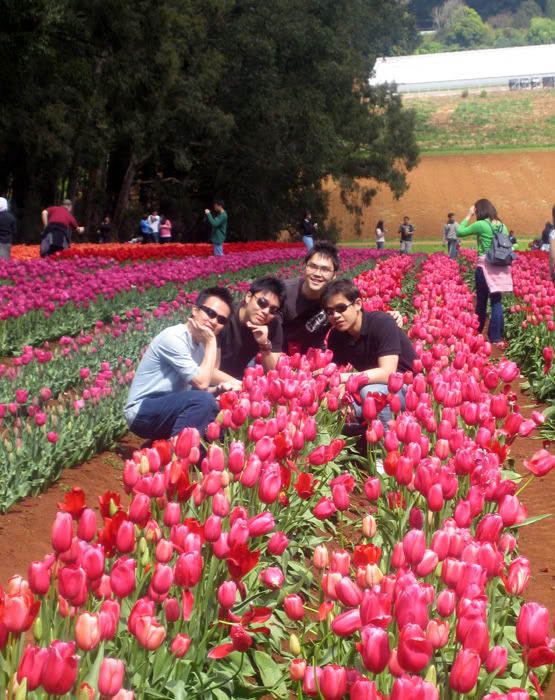 You can't say they don't try. ;)
Looking gay is not a worry for us! :D
And the guys were absolutely jokers. As a way to,
ahem
, appear more desirable to women, they came up with this line.
"Why is it so easy for girls to take pictures with tulips ar?""'Cause they are as pretty as the flowers."
And they just happily announce to anyone who passed by. o_O
I don't think they got lucky. ;)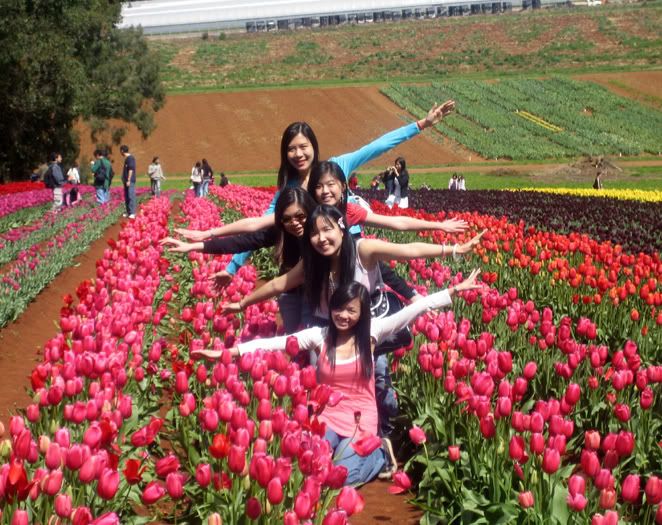 We were supposed to look like those funky dance formations, with hands appearing out.
We ended up looking like deformed scarecrows.
They still havn't given up.
Chicks rule. 'Cause we are nicer to look at.
Alya and I.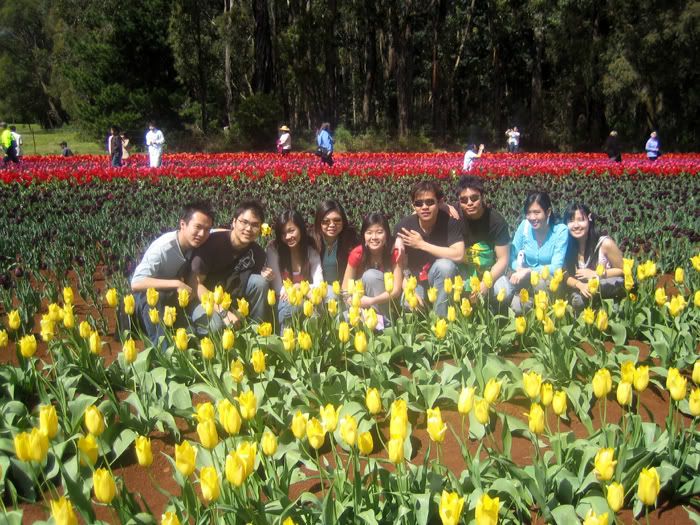 'Cause group pics are in, and we are cool.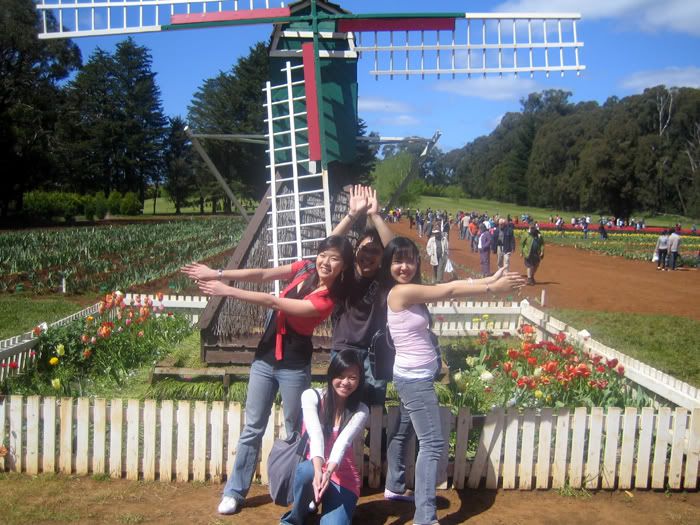 Heh. Windmill duplicate.
Lunch time!
Sun. Garden umbrellas. White patio tables and chairs.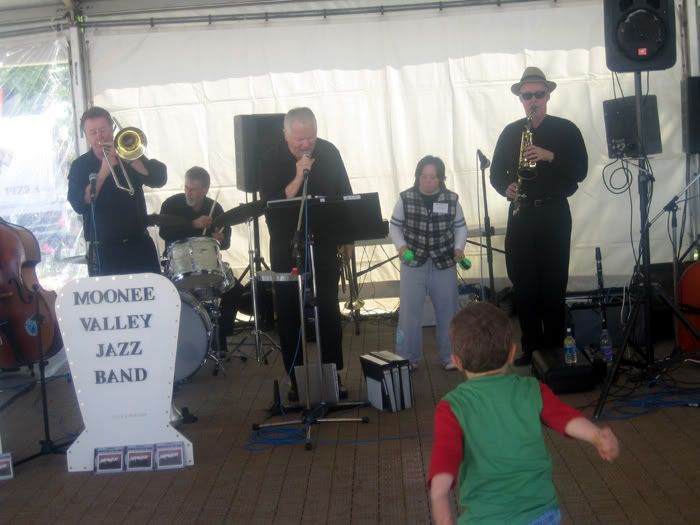 And jazz music. (the kid is dancing! :P)
What more can I ask for? :)
And wine!
Life is good. :)
I pose with anything I can get my hands on. ;)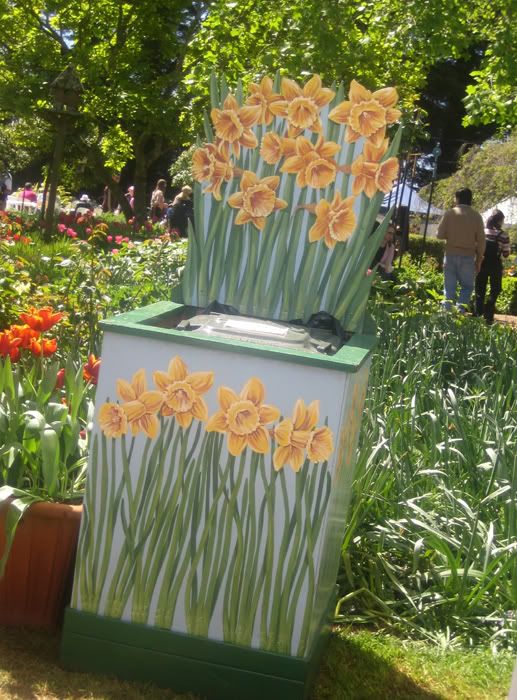 Tulip dustbin! Keke.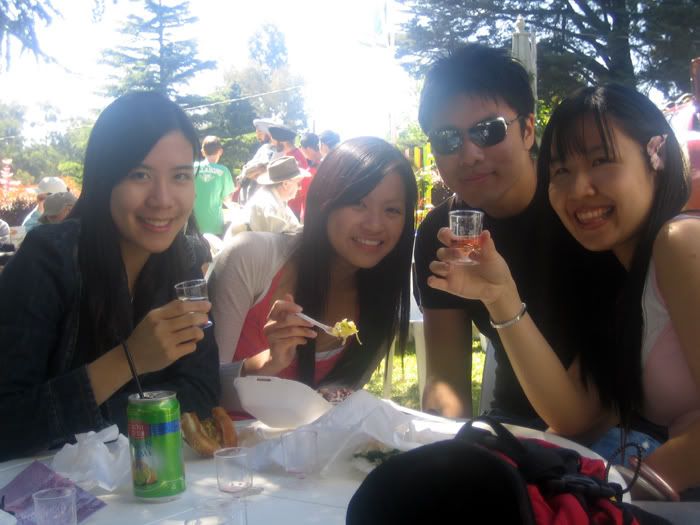 Because life is worth making a toast to.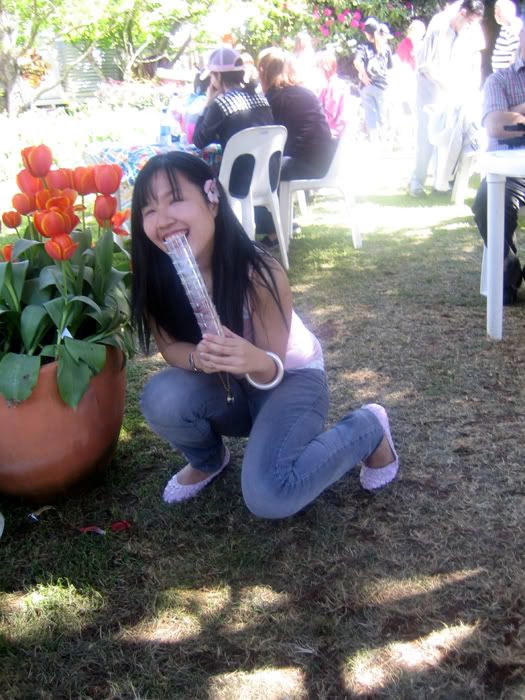 I was trying to act drunk in the picture.
I just looked high. -_-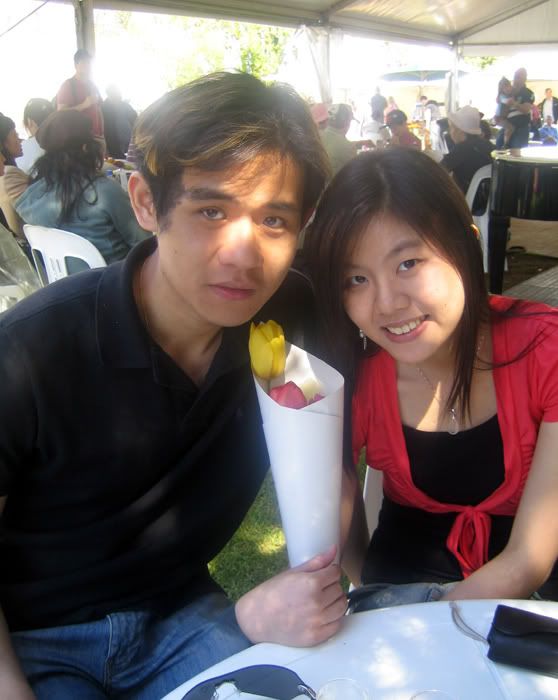 Totti and Joleen, the girl lucky enough to be given tulips. :)
Oh, and when you buy tulips here, you literally
pick
it! You get to cut the tulips of your choice in the garden.
I also want. :(
Sunbathing.
Fairy princess!!*waves
ala
beauty queen*
But the tulip farm wasn't only about pretty things...
Hey, anyone saw my body? I need my hands to give myself a new haircut.
Pinnochio look-alike with twisted limbs.
He wished he didn't take up gymnastics.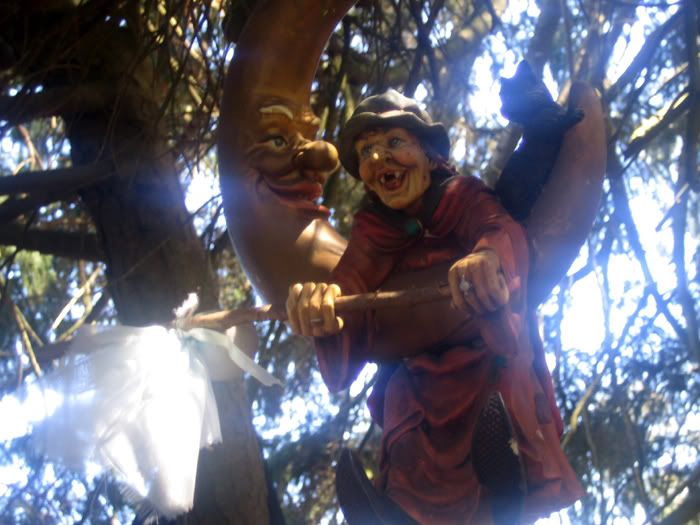 I am gonna get you!
*evil cackle*
I used to want to stay in a toadstool.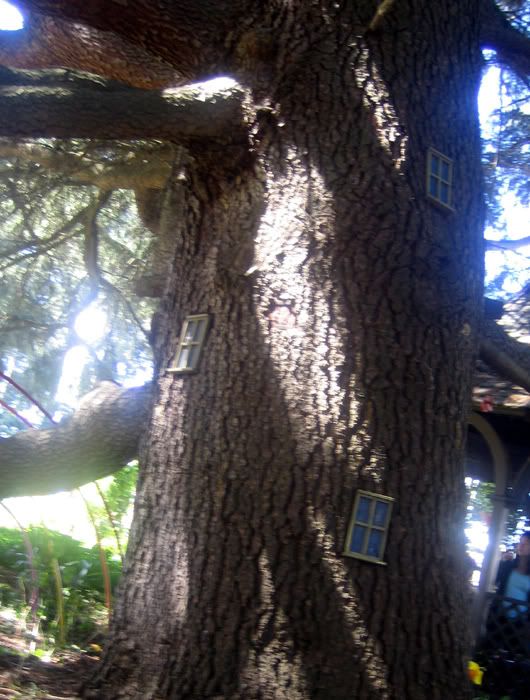 A scene straight out of an
Enid Blyton
book.
Then we went to a wishing well.
I didn't know wishes come in package deals.
If I drop in, I'll just steal the money. ;)
I made two wishes, one for my honey, and one for me. :)
Smalls claimed that we threw away money. -_-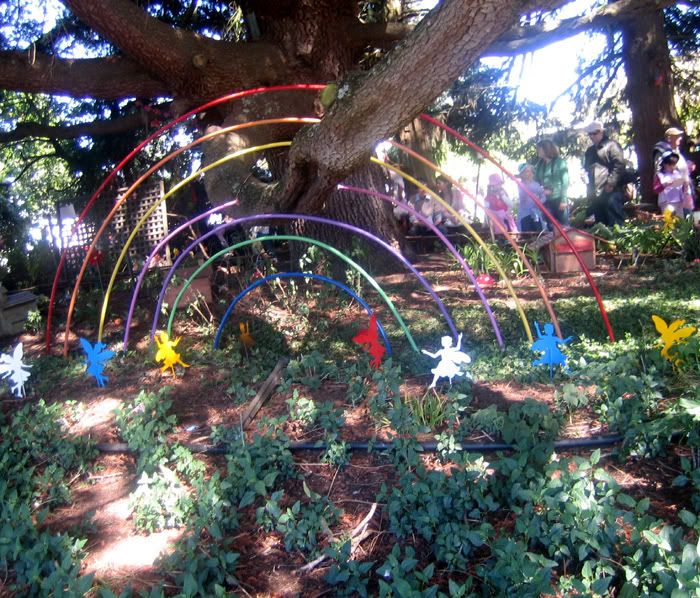 Who wants to come with me to look for the pot of gold at the end of the rainbow?=p
Fairies in the woods. :)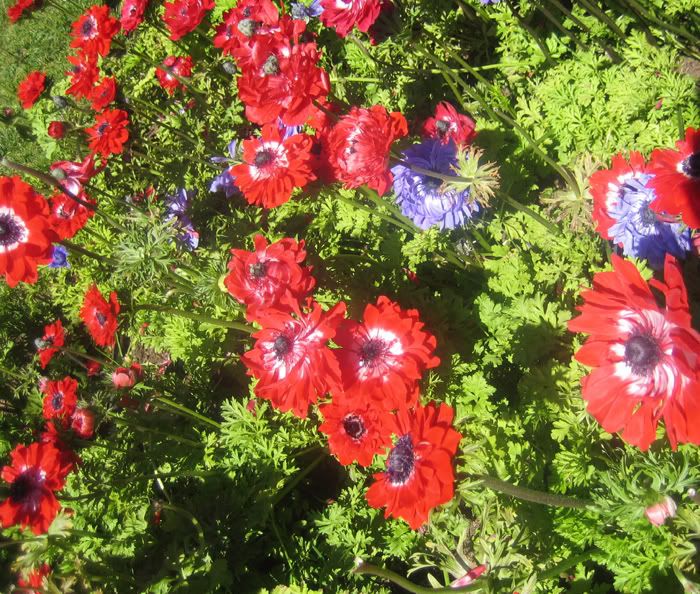 Tulips aren't the only pretty flowers.
There were chocolates and cheese tasting too! But I have nothing to show for besides my toothpick.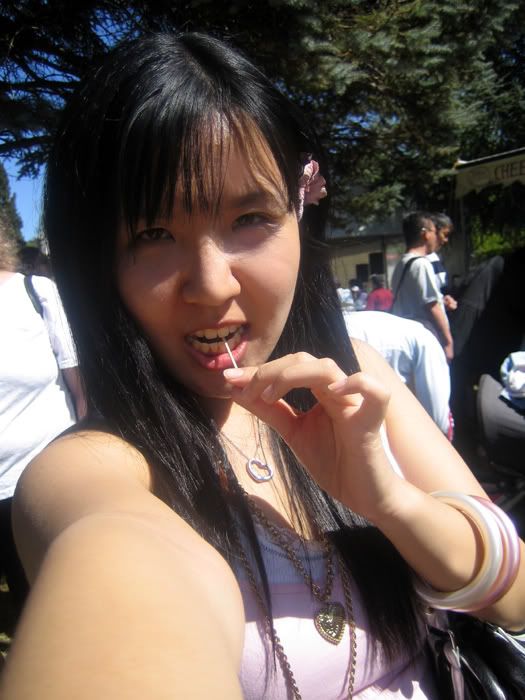 Damn, I look like a tauke. o_O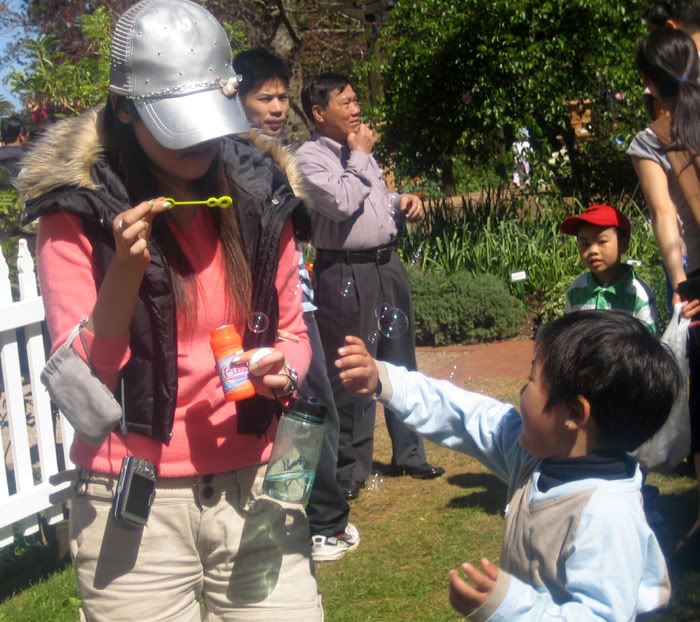 Bubble fun. I wanted to join in too. :P
Happy Dutch family: Papa Smalls, Mama Mey, and Cheeky Wen.
(Everyone complained my head senget. :( )
Peekaboo!
Maze of hugeass straws.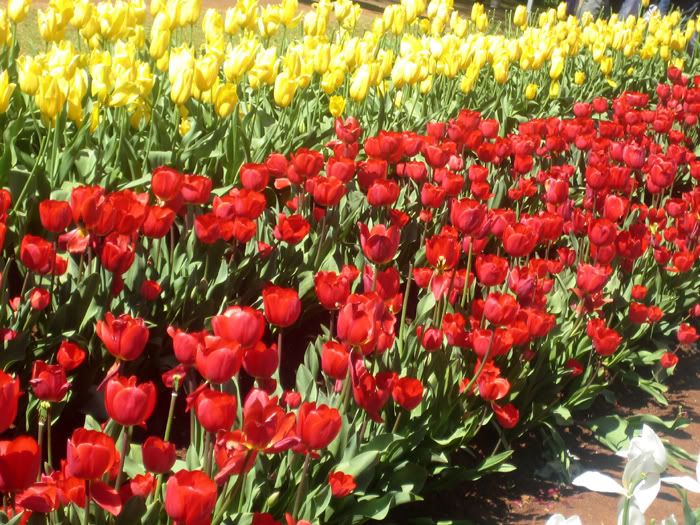 Tulip petals spread on bed, anyone?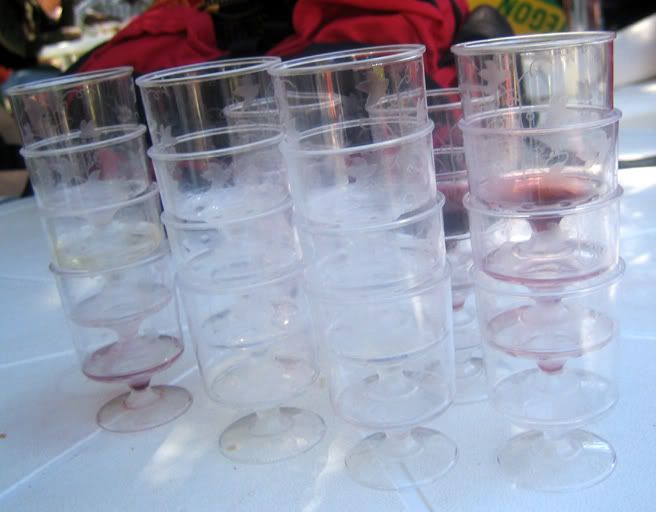 Look at how much wine our table consumed. ;)
And Thean Aik was so sweet!! He bought each a girl a tulip. :)
Thean Aik and my yellow tulip.
WAHAHAHA!!!
I found it utterly hilarious that Small's tulip was damn SMALL, compared to the rest of ours'! :D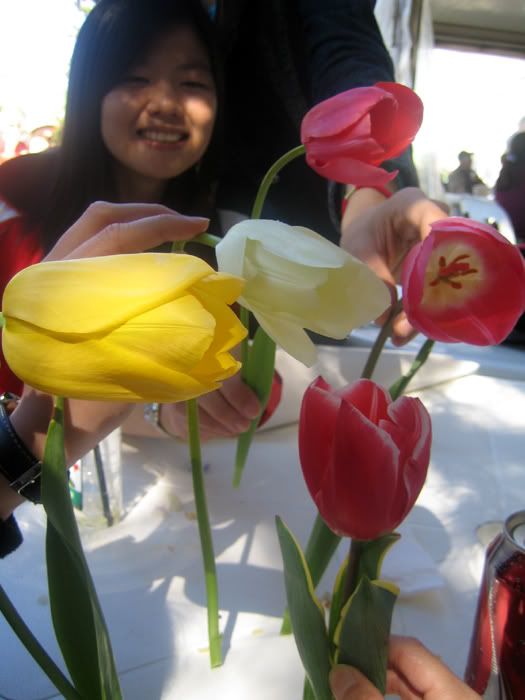 Big Adult Tulips:
Hello, Small fry!
The most breathtaking day ever. :)
Oh, and please check out this video at the end of
Joel's
blog!!!
Hint: Tulip farm with a Bollywood tinge.
Trust me, you don't want to miss it. ;)
Before I end my post, I just want to add, that tulips are special for me.
The boyfriend got me tulips especially from Holland for our 2-year anniversary.
Which was why I was constantly reminded of him while I was surrounded by all the tulips.
Tulips for me. :)
Needless to say, I miss him. :)