FINALLY.
I am blogging about my Sydney trip.
And that's because I am sick, and for the first time since I got back, I am staying in. ;)
At the airport.
The speakers were blaring for us to board the plane.
But we *had* to take a few more pictures
lah
. ;)
I had a window seat. :)
We whipped off our coats the moment we got off the plane! :D
Glorious oh glorious warm sun.
And after that we hitched a cab to our hotel, and that is when I
lost my handphone
. :(
Chinatown.
We had lunch, and the boys went back to the hotel, while the girls continued to improve Sydney's economy!! ;)
The plan for the night was to dine next to Darling Harbour, which translates to Girls Night Out plus dressing up.
After much primping, Smalls, Kit Mey and I waited in the lobby for the rest to show up.
The first thing that came out of their mouths was:
"Why so formal wan??? You all go ball ar???"
-___-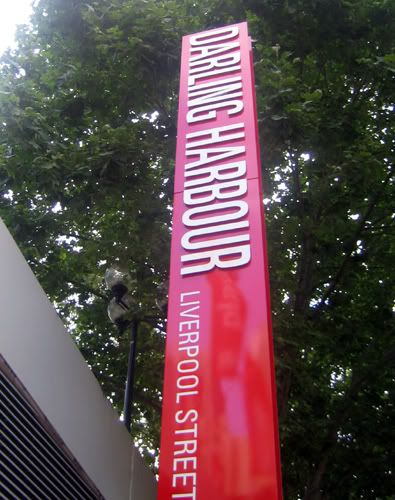 Darling Harbour!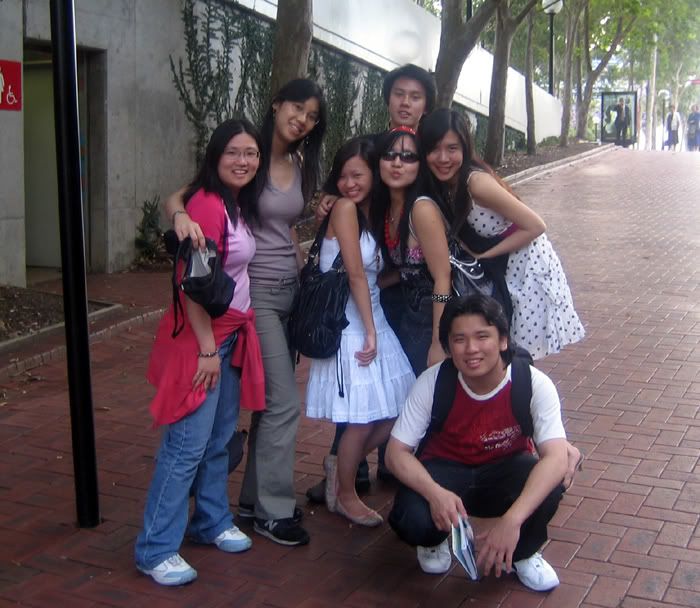 We forced everyone to take pictures with us. :D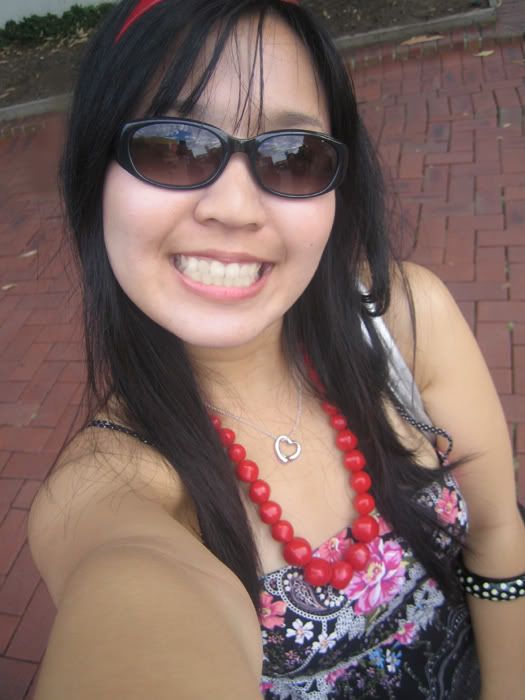 Layan diri
individual camwhoring.
I like this setting, very
tai-tai
!
And I was a huge jakun, I thought

this

was Darling Harbour. -_-
I stalked this bird, ehehe.
Ran around just to get a good pic of it.
Scared the wits out of it, I think. =p
Chris and I.
First full group pic!
And the
real
Darling Harbour.
Back (left to right): Jolene, Chris, Chung, Lili.
Front (left to right): Kit Mey, Smalls, me, Marc, Yen Hou, Hui Kean.
Before dinner, we went for our first tourist thingamajig-- the Aquarium, which was situated on Darling Harbour! :)
They had this really cool entrance, shaped like a shark's jaws, and all of us posed really well too.
UNFORTUNATELY, the pictures turned out extremely blur. :(
*cough*Kean*cough*

We can pose
as
anything. :P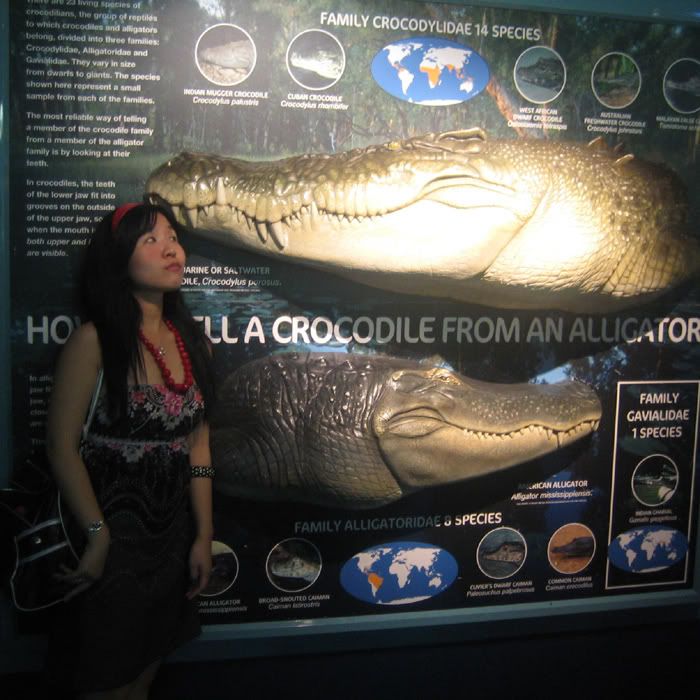 And pose

with

anything. ;)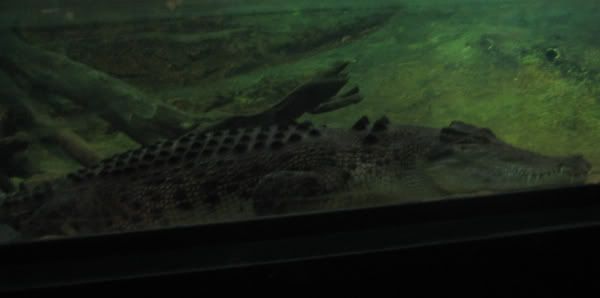 Bloody long crocodile which was floating so unassumingly and scared us all çause we didn't expect a bloody long crocodile at our

foot

level.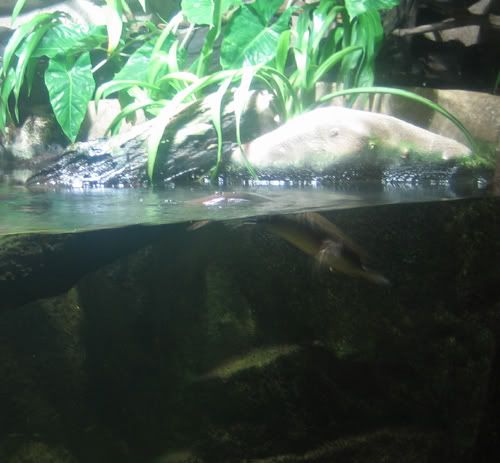 Platypus.

The idiot was zooming so quickly in the water, I couldn't get a clear shot of it!
You on steroids ar.
They should so showcase a platypus that is poser in nature, one that is willing to strut its stuff, and model all angles for us. Hee.





Nah, close-up of platypus.



And I hate eels. To be more accurate, I hate anything without legs (fishes and other yummy seafood are excluded), hence my irrevocable fear of snakes, worms, and EELS.

But

unagi

, I don't mind eating, heh.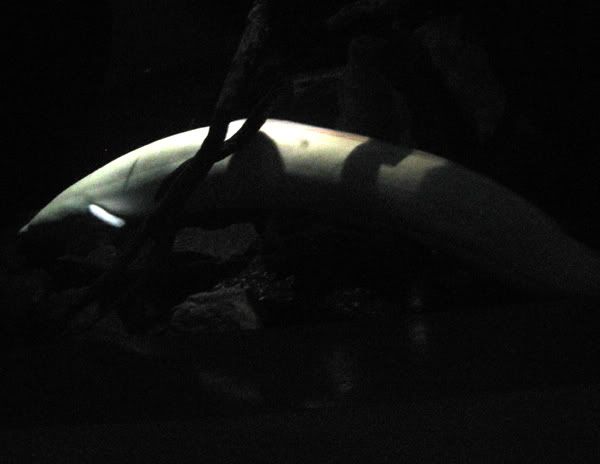 Damn gross.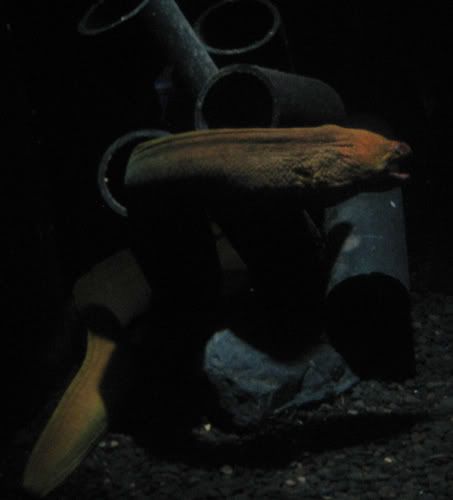 DAMN SCARY.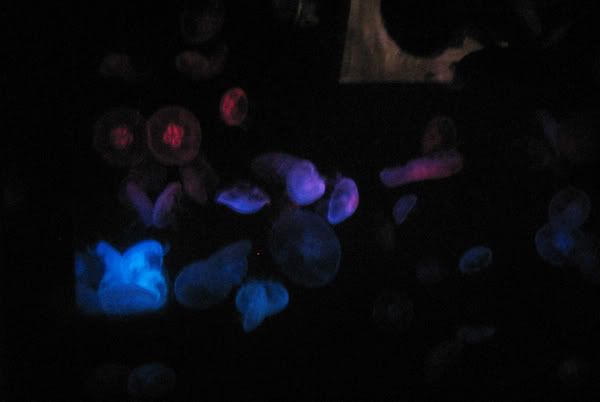 Jellyfishes in disco-like psycadelic tank.
What a funky life they lead.




Underwater tunnel.
One of my favourite pics of the trip. :)




Spot the seahorse! =p




DORY!!! :)
Now I know why it is portrayed as a forgetful, blur fish.
As it was swimming in the tank, its eyes were unfocused, its movements were frantic, and you could almost see it muttering under its breath to remember its name. :P


Sharks up next!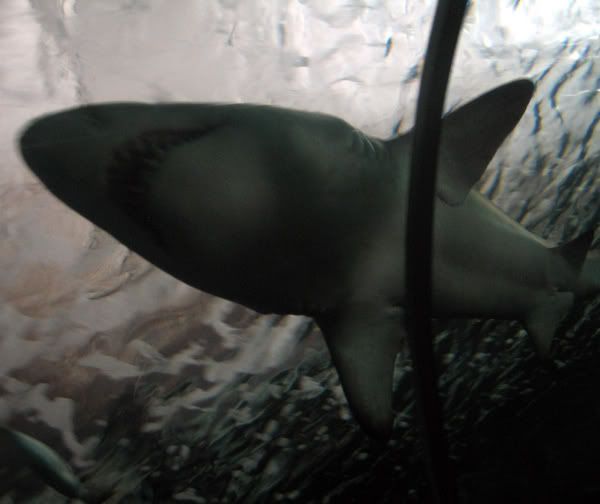 Sharks need a good orthodontist, me thinks.


To see the sharks, we had to go into another underwater tunnel, a dimly lit one, with eerie music playing.

Quite scary

lah

.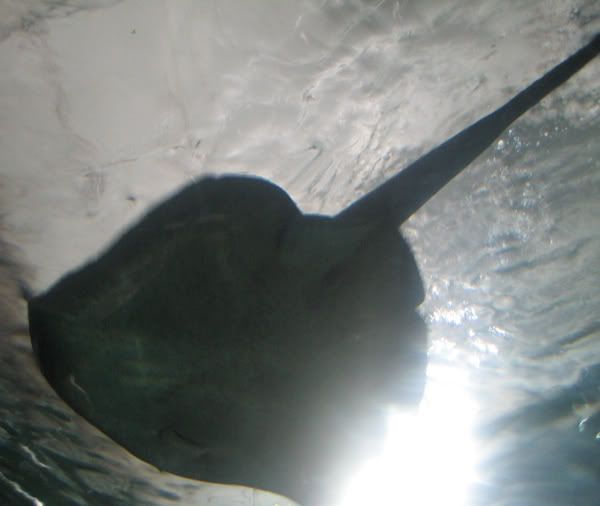 One of the biggest stingray I have EVER seen.
(Sorry, the picture just isn't sufficient to portray its sheer enormosity.)

Portugeuese style, yo! =p





Waaaaahh....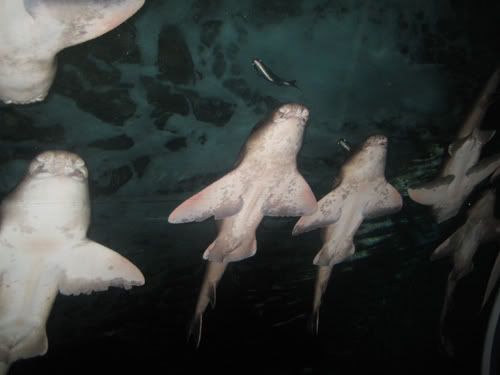 And they had these horrible ugly fishes at the end of each tunnel!
WHY???
Can anyone enlighten me on what fishes they are???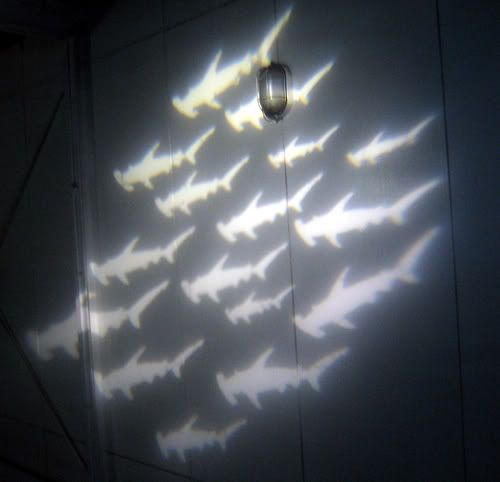 Cool fish shaped lighting.



We went into this room with very tropical like tanks, heck, it resembles sandy beaches k!
We got so busy camwhoring, that we didn't look at the fishes. o_O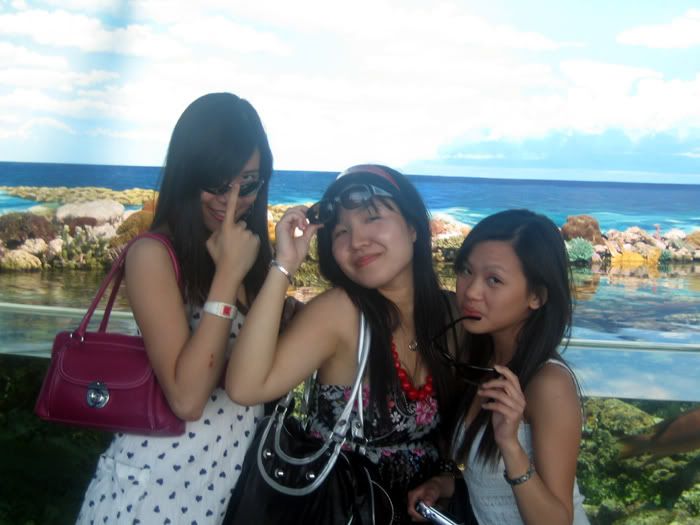 Aloha!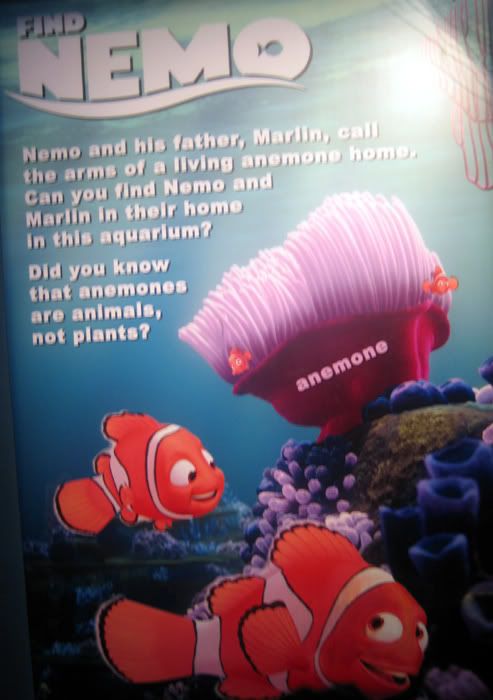 Did you know? ;)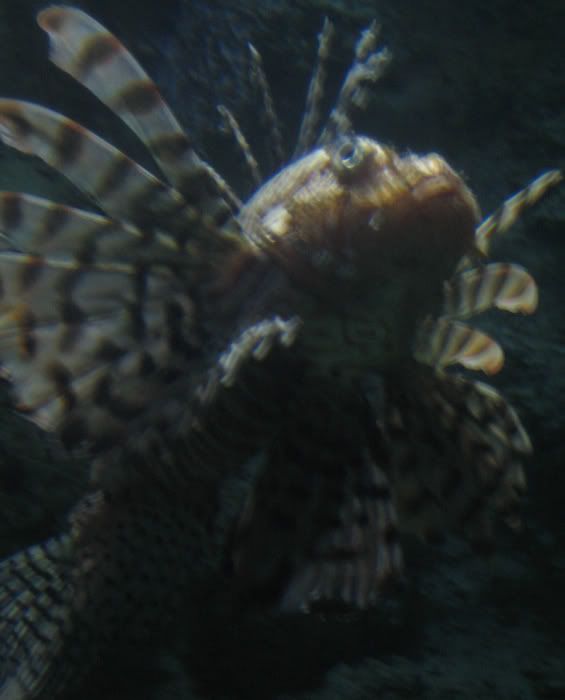 Hootie and the Blowfish.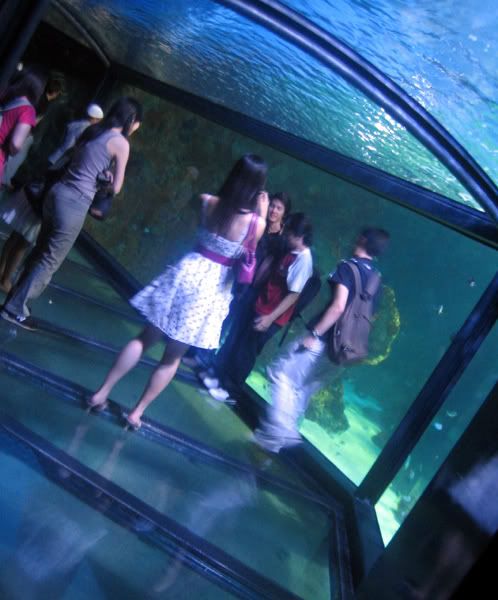 I like the effect of the fully made-of-glass enclosing. :)


Who wants to go take the glass-bottom boat with me in Redang? :D




All the girls (left to right): Jolene, me, Lili, Smalls, Kitty.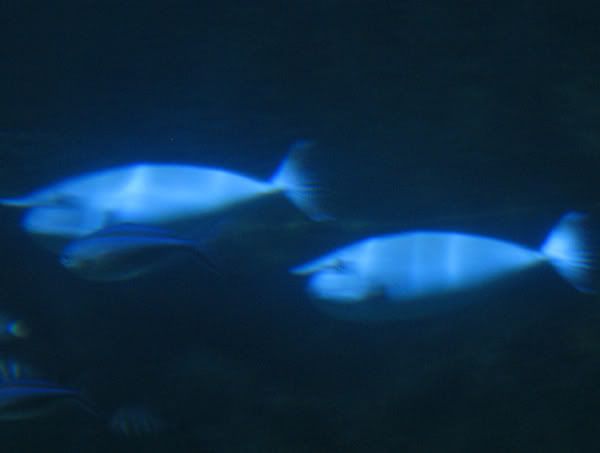 Another animal that I stalked that day.
I ran from left to right, chasing after them!
This is easily one of the strangest looking fish I have seen!
The picture is blurry, çause these babies swim damn fast, but just imagine a dugong with a fish tail and a horn on its head.
Way out. ;)




In the souvenier shop.
Beat that, Angelina!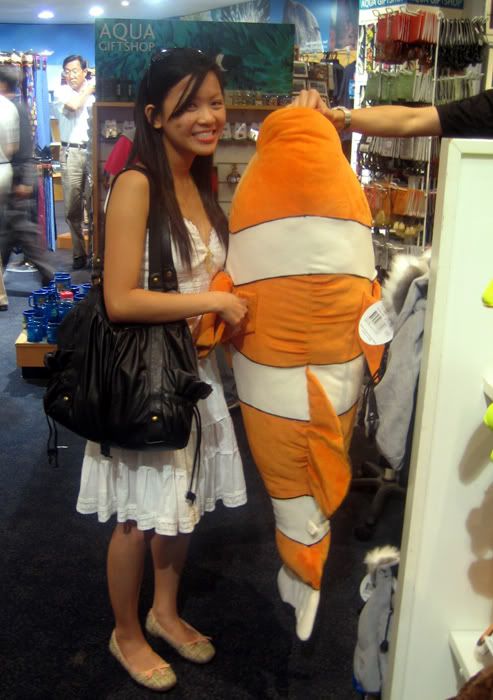 Smalls is

slightly

taller than Nemo!!!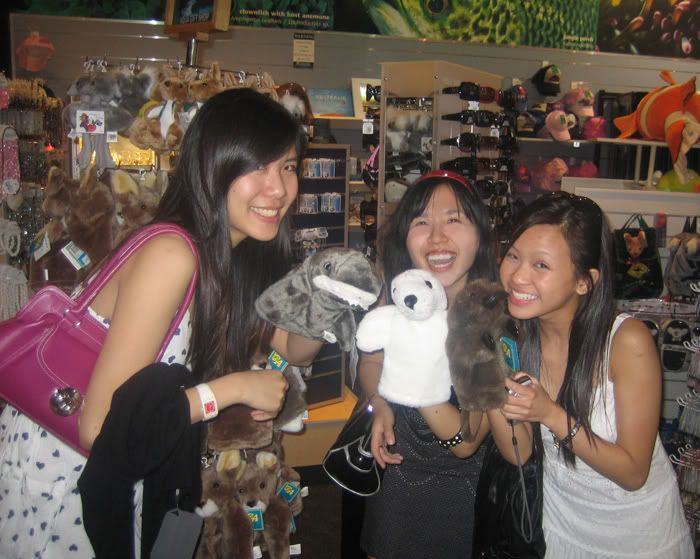 Underwater Kingdom: Undecipherable Animal Mey, Snowy Seal Wen, and Furry Platypus Smalls.

Dinner time!

Darling Harbour has such a wonderful array of restaurants, all hip and swanky. We went to a restaurant called George, a restaurant that is minimalistic yet sophisticated with a touch of class. :)

Sitting by the sea, with the breeze blowing carelessly through our hair...

That is life. :)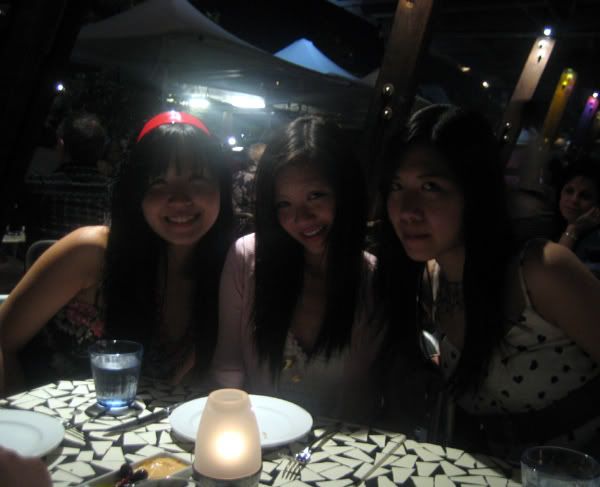 Self declared Girls Night Out. :)




Everyone, minus me.


Unfortunately, everything on the menu costs around AUD30. :(





Roasted spring chicken with an obviously more refined name.


I basically got 4 mini pieces of chicken, out of which 2 pieces were wings. Aaah, but such is fine foods.
It came with a layered potato cake, very finely done, and very yummy too.
The sauce was the ultimate bomb, very tangy, very fragrant. Went very well with the sauteed mushrooms, and the roasted to perfection chicken (all 4 pieces of it) too.

Excluding the size factor, I give it a 8.5 for taste. :)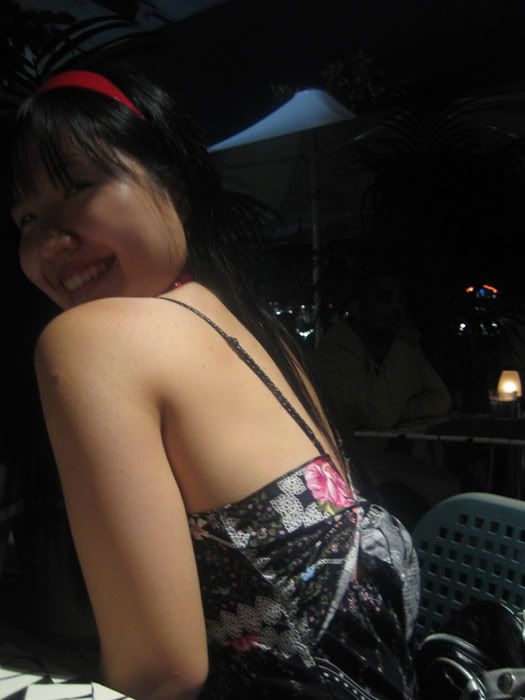 My new almost backless dress with a huge sash. :)


Okies, end of Day 1, Day 2 up soon! :P