Just came back from a meet-up with Smalls, Kit Mey, Jaclyn, Chris and Yen Hou.
Went to Asian Heritage row, partly çause we weren't sure where to go, partly çause it is supposedly hip, and everyone knows we are hip.
We went to dinner at Kristao, a Portuguese style restaurant that I have been to once before with the boyfriend.
I actually wanted to take pictures of the place, çause I would like to recommend more places to eat through my blog, unfortunately I forgot to do so. :(
Pictures of me will suffice then.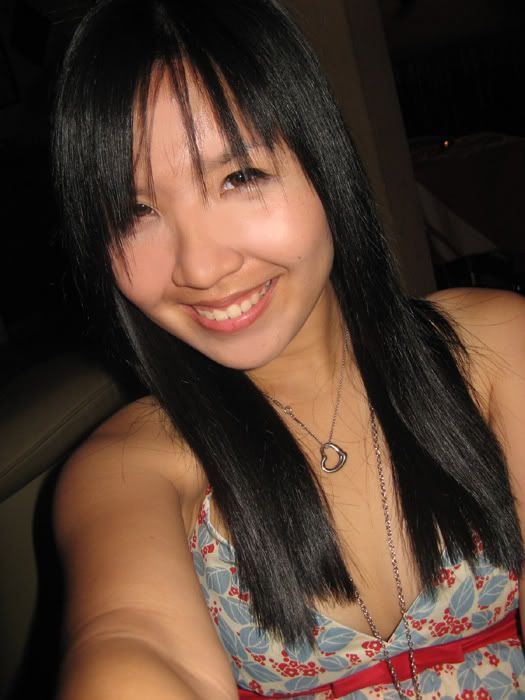 It was supposedly a girls night out (GNO).
Common rule for GNO: Dress up.
I wore a
dress
, geddit!!!
Ha ha ha.
Not funny l
ah
.
Jac uses her camera to aid her in applying eyeliner!!! -_-
And Yen Hou had a new haircut! (He didn't cut his hair at all in Melbourne. o_O)
He looks so much better. :)
Before.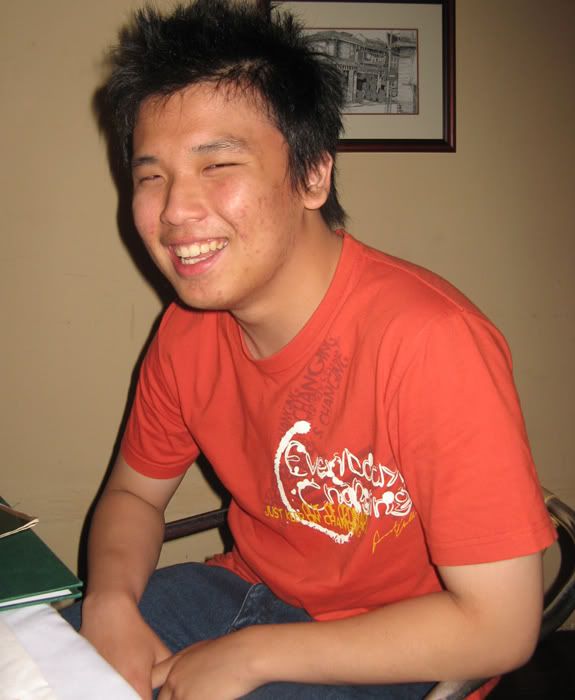 After: Thumbs up!
We paid him so many compliments on his new haircut until he blushed. :P
Jac fetched Smalls and I, and we were there
on time
.
The rest, who I might add, stay in KL, or very near to Kl, all came LATE!
Pui.
So us girls ordered an appetizer first.
PORCUPINE!
Porky ain't pokey.
The Porcupine is basically diced prawn and chicken balls fried with crisps and spices, giving it a porcupine-y exterior.
Not really porcupine meat
lah
.
By the way, did you know porcupines eat worms???
Wait, or is that hedhehogs...
Either way, it is bloody disgusting! *bleagh*
Yen Hou ordered the fried chicken balls, which was very yummy. :)
(I stole one of his balls! =p)
Eeek, sounds so wrong. -_-
All of us had fried rice (Portuguese fried rice and the Kristao fried rice), no pictures taken, cause we were so hungry that when the food came we dived straight into it.
I personally felt the food is reasonably good, and the prices are extremely affordable, especially when considering that you are dining at one of KL's trendiest and snazziest areas. Prices range around RM10 plus. :)
After that we went to Maison, which is french for
mansion
.
It was only 10 plus at that time, so needless to say, the club was empty.
I say, better that way! :)
There was literally no one in the club, and we got to explore the place to our hearts' content, not to mention, we got to have any seats of our choice.
Including the VIP seats. :)

(At least, until the people starting coming in to claim their reservations.)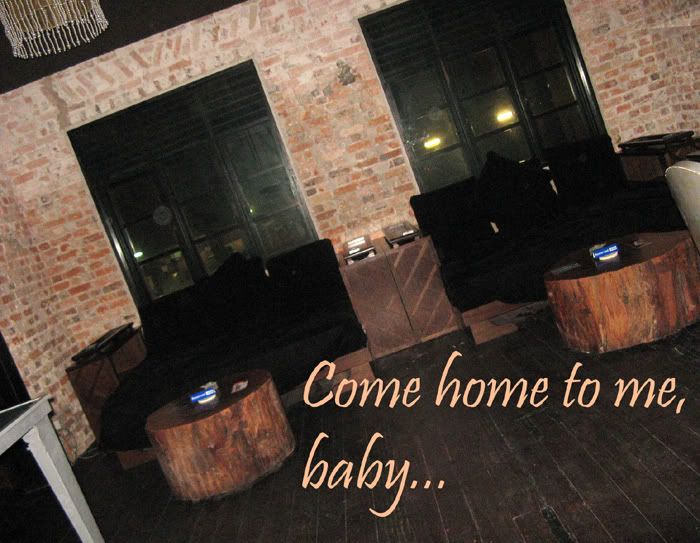 I love the big fat beds.
I love chandeliers.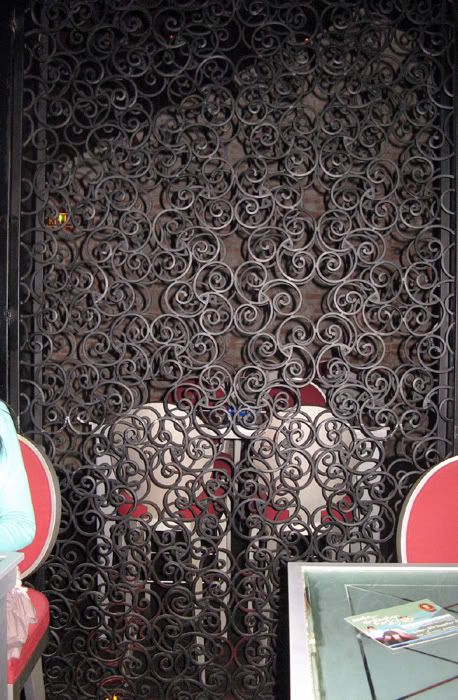 And everyone knows that I love spiral patterns.
I rally love love love the club! The interior is one of the best I have seen so far. :)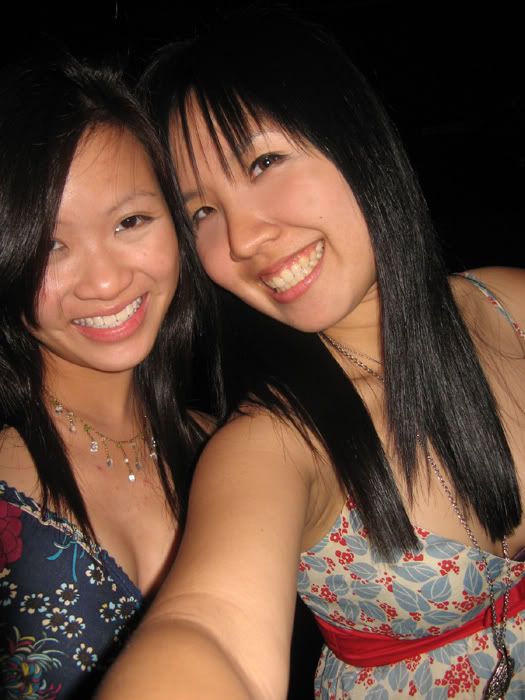 We both wore dress brought back from Melbourne.
The DJ. I like how the DJ was so near to the dancefloor.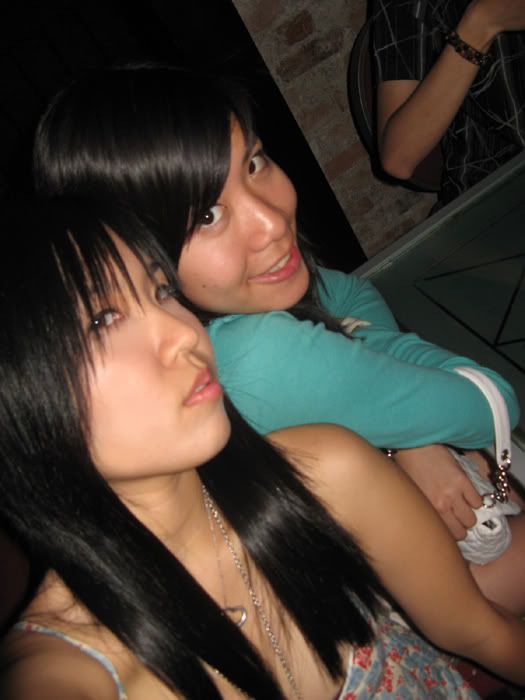 Me and the girl who was 1 hour late. :P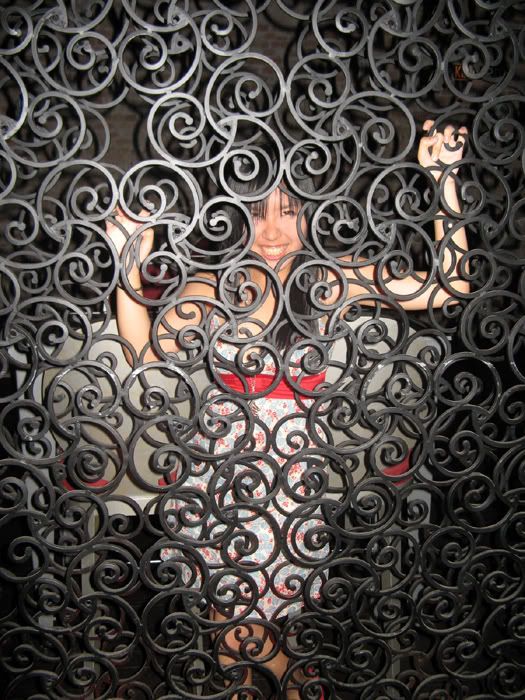 RAWWRR!
The purpose of this picture is for you to check out my cute red pumps.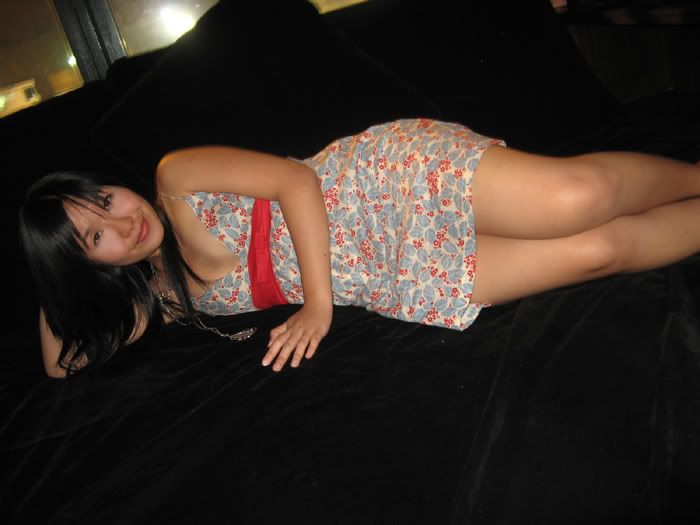 Me on one of the big beds. Told you I like them. :)
Oooh, I can never ever resist couches in restaurants or pubs or clubs or any hang out spots!
I am always the one running for the red velvet couches in Starbucks. ;)
We feel at home. :)
After that, Kit Mey had to go home, so we left the club at bout 11 plus.
Yea, I know, people havn't even started arriving at the club.
But we sure had fun giving the people queueing outside the club haughty 'We-are-leaving-already-now-only-you-are-here?' looks, hee.
But I'll definitely be back! :)
We went around looking for somewhere that can give us cake and icecream at 12 midnight.
Places scouted including 3 floors of Starhill.
In the end, we went to Starbucks at Bintang Walk.
Please don't even order the chocolate chip ice blended in Starbucks!
Anyway, time for my real bed.
Kinkiness might be blogged about, depending on my mood.