I am blogging now, because starting from tomorrow, I am going to get my beloved camera back!!
The tragic story:
I asked my friend to take a pic of us at the beach in Sydney, and my other guy friends pounced on him!!!
He dropped the camera
into
the sand, and to cut it short, sand actually got into the camera, and the optical unit was spoiled. :(
The worst part is, I have to fix it with my own money, without letting my parents know about the repairs.
Long story, don't ask.
Have to cough out almost 400 bucks. :( :( :(
Ever since I got back from Aussie, I have been using my family camera, a Canon Powershot A700, a more
canggih
camera compared to my obsolete Canon Ixus40, but
OH THE INCONVENIENCE.





There's always someone who wants to use the camera, and my dad has brought the camera to Rome for quite a couple of days, leaving our family high and dry, and many moments uncaptured (*cough* brother scratch butt *cough*).
But my baby is coming back into my arms tomorrow! :)
The other baby and I went to Vietnam Kitchen just now.
I always try to hog a seat at the private booths (the areas partitioned by the purple cheese-looking walls).
But the place was so full, I had to sit at the other side of the restaurant, against the wall.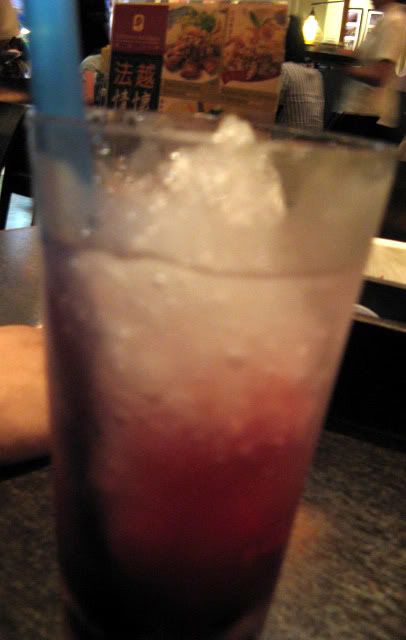 The boyfriend's drink, it came free with his meal.
It had a really fancy name, something
Romance
, I think.
But it was basically crushed ice with Ribena!
But nicer than Murni's
Ribena Special
though. ;)
The drink came with a slice of lemon perched on the rim of the glass, and as the suspected culprit of the boyfriend's allergy was lemon, before the waiter could even place the drink on our table, his arm already swooped out to take away the lemon! ;)
DIE LEMON DIE!
My lemonless drink, red bean and mung bean special.
I love red bean!

But I don't like red bean as in the

beans

though, I like red bean paste. ;)


The boyfriend asked me what is mung bean.
You know the nyonya kuih,

ang ku

kuih? The red kuih stuck on a a piece of pandan leave.
The filling is mung bean! Which is actually grean bean paste. :)

They used to pile cendol on top of the drink, but they gave me

green jelly

this time!!!

You think I am blind, is it???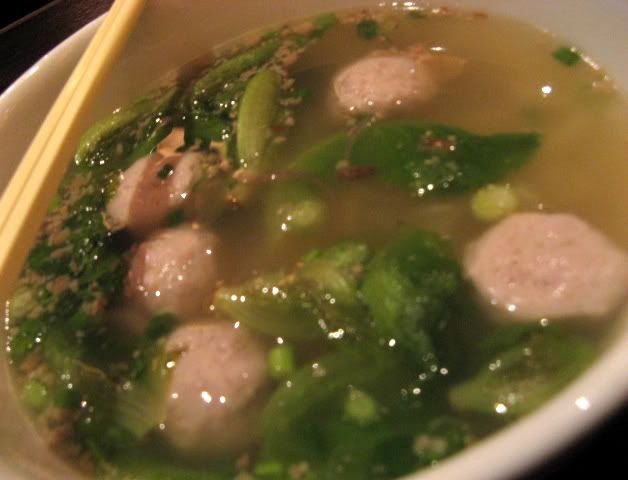 My chicken ball soup noodle.
Yes, I realise that the noodles can't be seen.
Trust me, I thought they gave me chicken ball soup at first too. -_-


The soup was very tasty, and the chicken balls were delicious too!
Except for the fact that the soup has small bits of parsley in it. YUCK YUCK YUCK.

But overall, a recommended meal of you feel like eating something healthy and non-oily! :)



The boyfriend's Riveria Chicken Salad.


The grilled chicken is omigod so fucking good!! And it tastes really similar to the salads in Chillis' and TGIF, definitely worth the RM13.90. :)







From topto bottom:

Relatively sane and beautiful thank you very much; Pouts and smiles don't go.


And speaking about pouts,

I AM SO FREAKING DISAPPOINTED.



Anyone who is anyone should know that I ADORE CHINESE PANCAKES.
You know, those usually served during Chinese weddings? With red bean or lotus paste filling.

And Vietname Kitchen sells seriously yummy chinese pancakes!
Or rather, they

used

to sell.

*runs amok and start breaking doors and televisions*

Heck, they served it with ice cream too k!

GRRRRRR.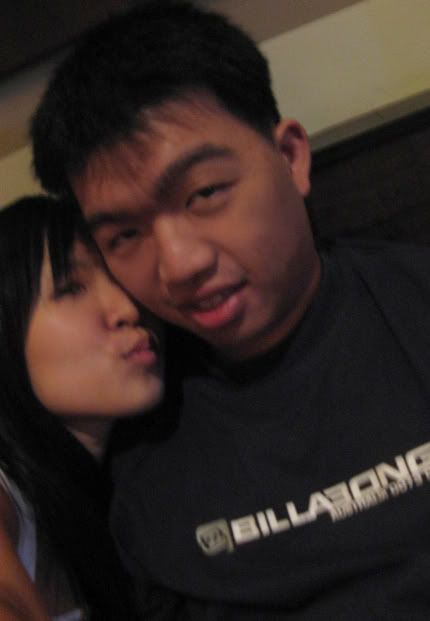 From top to bottom: Sane couple with bahagia smiles baby why your smile so small; Look up

ala

bangs

terkempit

; Kissy wissy yay you are not a frog.


Okies, please admire the pictures taken with the other camera, and tomorrow MY CAMERA would be back in action yo! :P




Compliments are most welcomed!