I am having a crick in my neck now, due to all the craning i have to do to look at the computer screen, because my computer table broke, I don't know who the hell tried to be funny and probably sat on it, and now we are using another computer table, which, obviously, is too high for me.
*massages neck*


Oh, and Teeny just came into the computer room to tell me that
America's Next Top Model
(
ANTM
, only my favorite TV show,
EVER
),
season 7,
is showing on 19th Feb. I told her with an anguished pain in my eyes that 'cause I would be leaving on the 26th, I would only get to watch one episode. My sisters and I always watch ANTM together, y'see, its our bonding session. Thus, I expected a dramatic emo moment with my sister, with music in the background and tearful hugs.
Until she replied, "HAH??? Then if I send you off on 26th, I would need to miss one episode of ANTM!"
o_O
As she walked away, I swear I could catch her muttering plausible excuses to not go to the airport under her breath.
****************************

Enough with traitorous siblings, and let's move on to pictures from Friday.
Now, if you stalk my friends' blog, I am so sorry that you have to see batches and batches of repetitive picture from the same outing. I find it a little silly myself, that I still bother to post up pictures, old stale pictures no less, when every single blogger friend of mine have beaten me to the punch.
Aaah, but when the punch comes in the form of camwhore pictures...
Just let me be. ;)
Last Friday...
There's something about me, La Bodega Bangsar and birthdays. The last time I was there, it was for my 20th birthday, and this time around, it was for Joleen's 21st.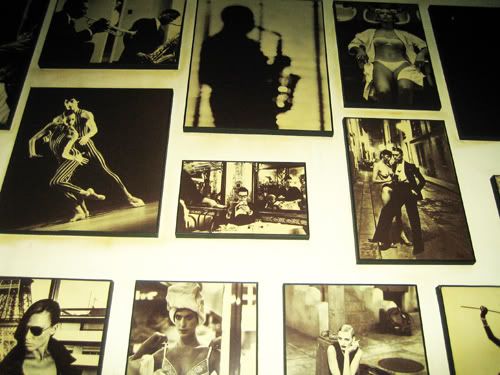 Nothing beats black and white pictures when it comes to evoking emotions.
Jaclyn, me, Joleen the birthday girl, Nikki and Pei Ryn.
Pei Ryn is one of the hottest engineering students I know. :)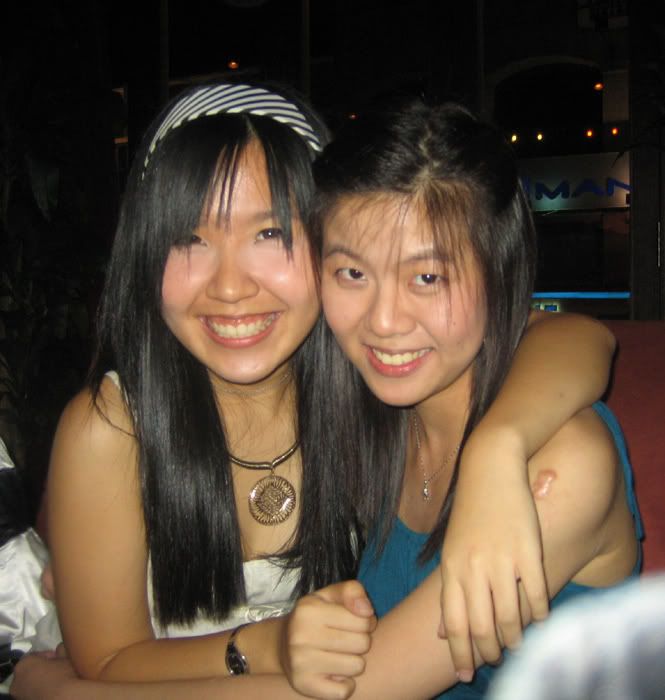 Birthday girl and I.
Btw, Joleen's one of the touchyfeely-iest friend I've known. Every single picture that I have of her and I seems to be of us hugging. o_O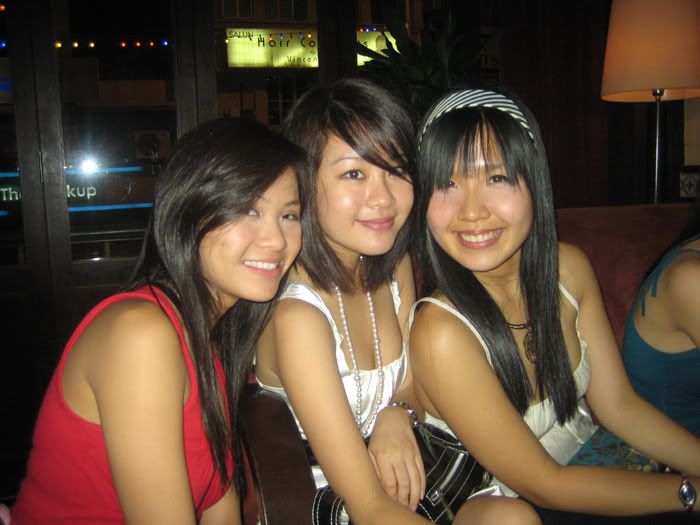 Chummy buddies.
I absolutely LOVED Jac's dress, and I was mentally formulating plans to steal her dress the whole night..
Jac, if you allow me to buy the same dress, please reply with a comment, wahaha.
And this ALWAYS happens.
Whenever you hand over your camera to Joel to help you snap a picture, he'll punctuate his favor to you with a snapshot of himself.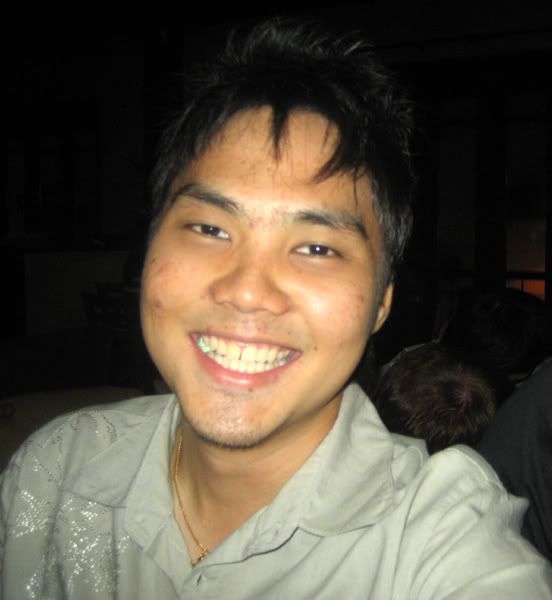 Waste camera space only
lar
. ;)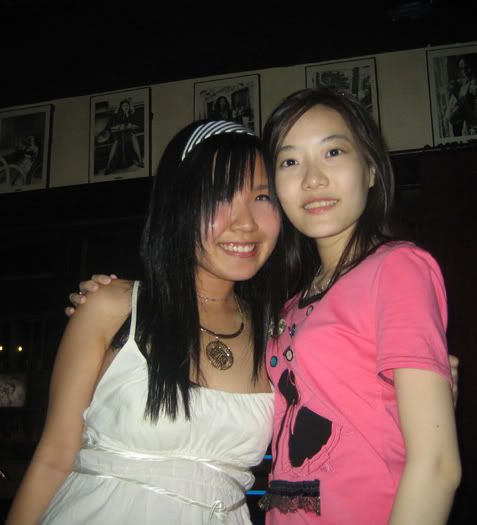 Guess who I saw there!
Rowena, girlfriend of bf's good friend, and ex-uni classmate.
She used to play with my hair in Financial Management tutes, while chiming about how soft my hair was.
Everyone!
I think
.
Back (left to right): Chun Yih, Jian Cai, Joleen's brother's gf, Nikki, Sern Liang, Joel, Adrienne, Rowy.
Front (left to right): Pei Ryn, Joleen, Smalls, me, Jac.
Utmost back: Forlorn and lonely Chris.
And bloody you, Joel, why got horns behind my striking head!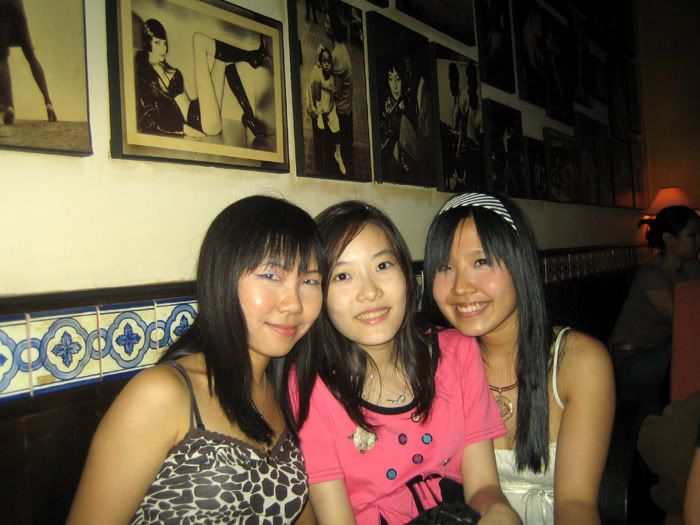 (left to right): Adrienne, Rowy, me.
I climbed over 3 couches (barefooted, of course; I am civilized) just to grab a shot with these girls. ;)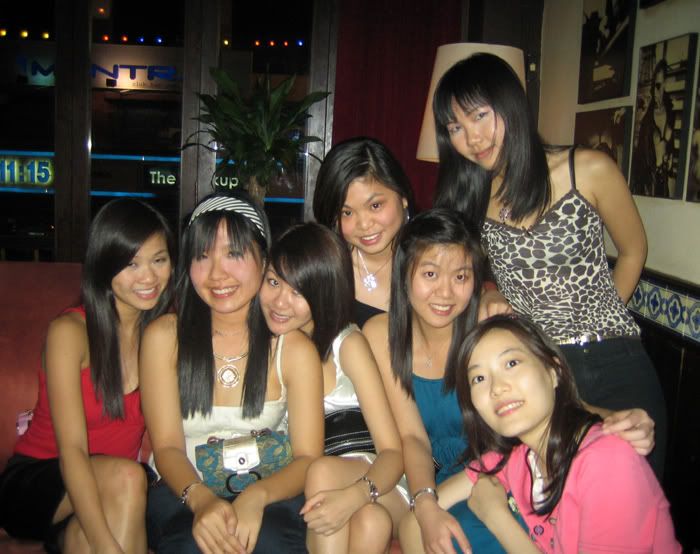 All the girls of the night.
Chun Yih and I.
He calls me 'little sis', although I'm older than him 3 months.
And he's damn funny!
He excitedly piped up,
"I saw a dress of yours that day! In Forever21!"
Puzzled, and a little confused, I was like,
"Uh huh..."
"Nah, I show you the picture!"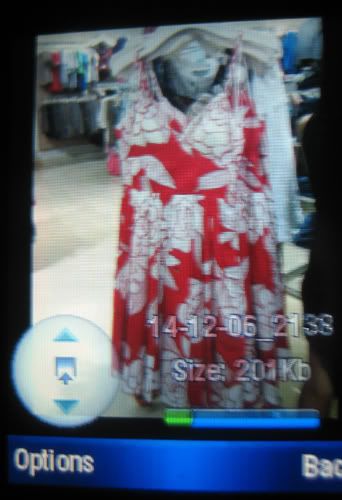 Chun Yih's handphone, and the dress I supposedly have.
Which I don't.
But
I do have something similar...
Seriously, girls, how many guys do you know who remembers outfits??!! ;)
And then the waiter brought over all these!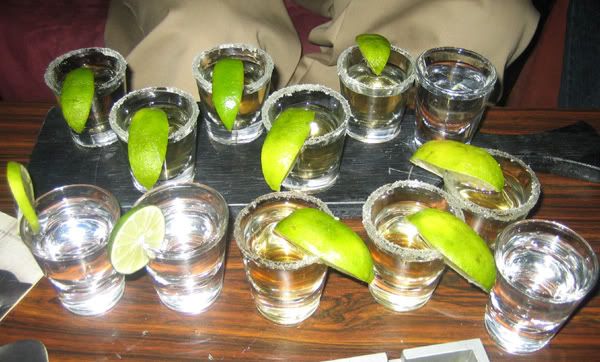 Tequila shots for Joleen!
Stunned.
Almost everyone toasted Joleen with a shot.
Or at least, those evil ones who wanted to get her drunk.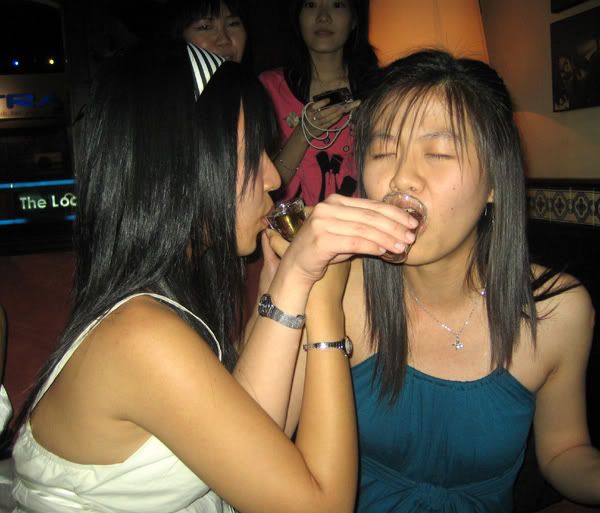 Including me. ;)
Bah, look at the way I down a shot. So dainty. =(
Once we got Joleen drunk enough, it was presents' time!
Much to Joleen's chagrin, though.
First presents, from the guys.
Yellow Fever.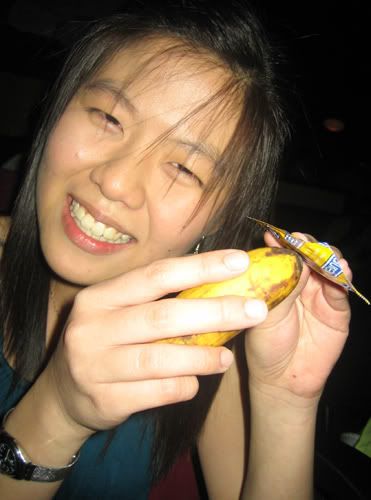 Banana and a condom.
-_-
The aim was to get Joleen to wear the condom. On the banana
lar
, what were you thinking?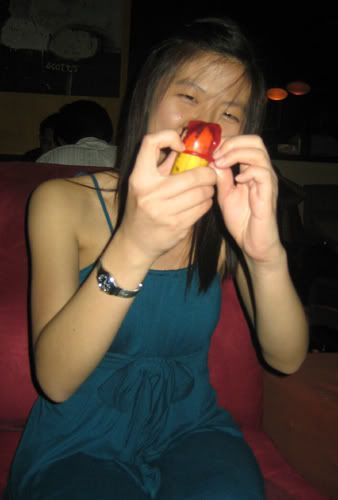 She whipped open the condom packet with flourish, and before you knew it, she was at it already...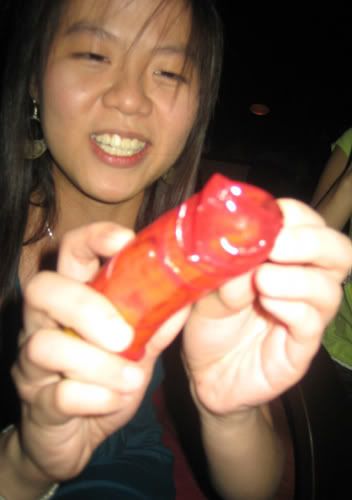 Erm, I guess she was adjusting it...?
Then, it got even worse.
Or should I say, mortifying.
They made her taste the rubber-clad banana to guess the flavor!!!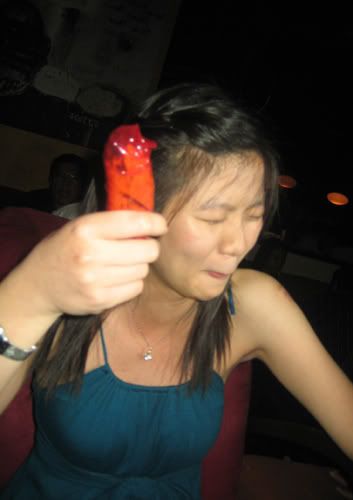 Tantalizing the tastebuds....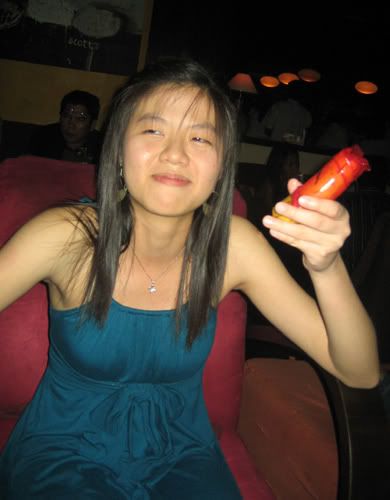 Oi, cannot guess larr....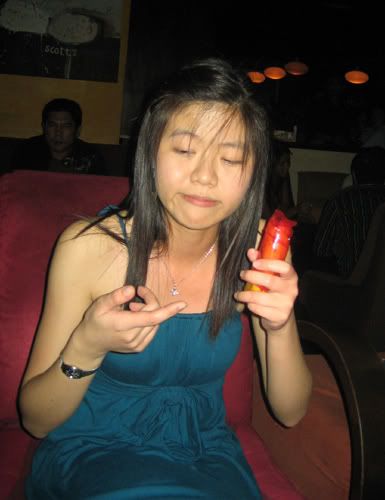 Ho hum... So easy only...
Joleen triumphs with the correct guess--
Strawberry
! :P
Joleen's
muka
maintain.
And there were more gifts to come from the guys...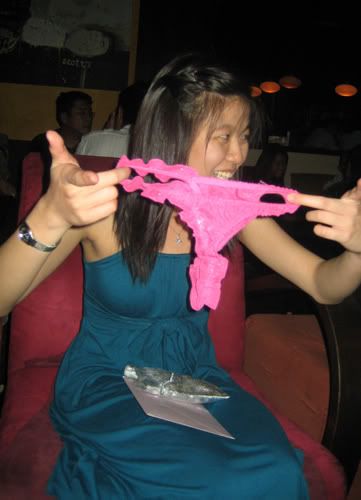 Sexy thong, one.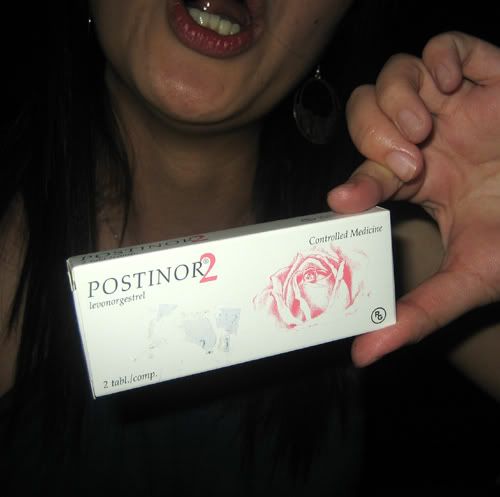 Pregnancy test kit!
Morning-after pills!
Or is it the other way round?
I am sorry, I have no knowledge of all these items. ;)
And guys, your gift-giving skills SUCKS. =p
No matter how drunk she is, Joleen finds
semangat
to take a picture.
Cake time!
When the cake (Baskin Robbins, yo!), along with the pretty candles was carried out, and everyone chimed into a beautiful rendition of "Happy Birthday", Joleen, being as high as she was...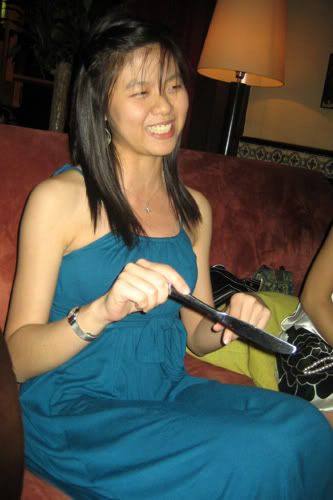 Starting waving a knife
ala
conductor-style enthusiastically.
Way
too enthusiastically.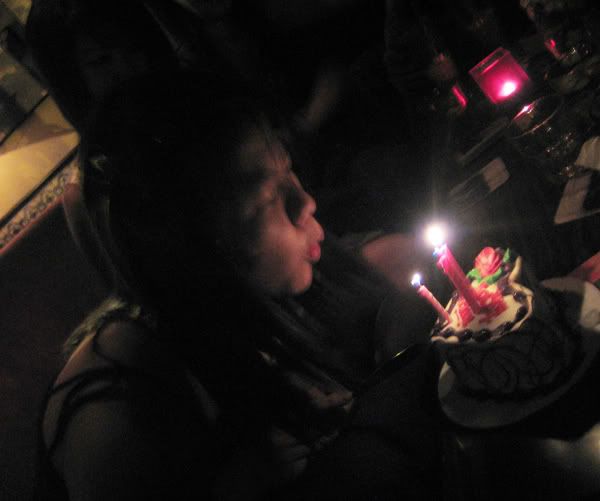 Happy birthday, sweetheart! :)
And the cake!!! Bloody Baskin Robbins cheated me, it was supposed to be
Strawberry Cheesecake
, but they gave us some damn fail coffee flavor instead!!!!
But I still love you long time, BR.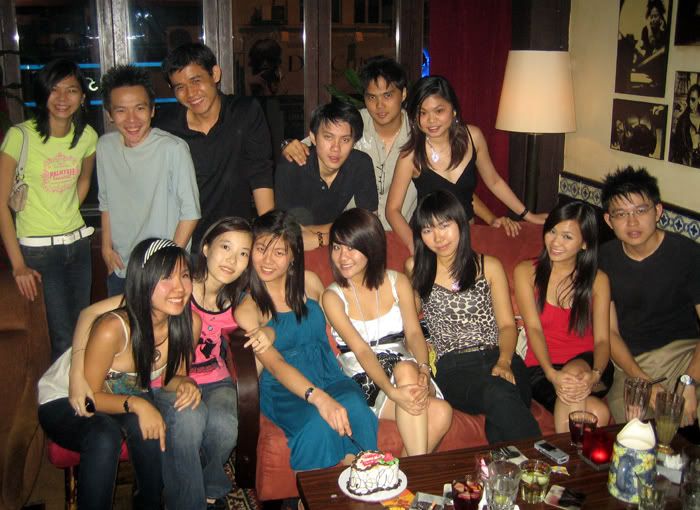 Another group pic!
I looked like I was seated on a toilet bowl, and I just realized that Smalls sits like a contestant in a beauty pageant in all her pictures.
Kissy-wissy!
Told you Joleen is touchy-feely.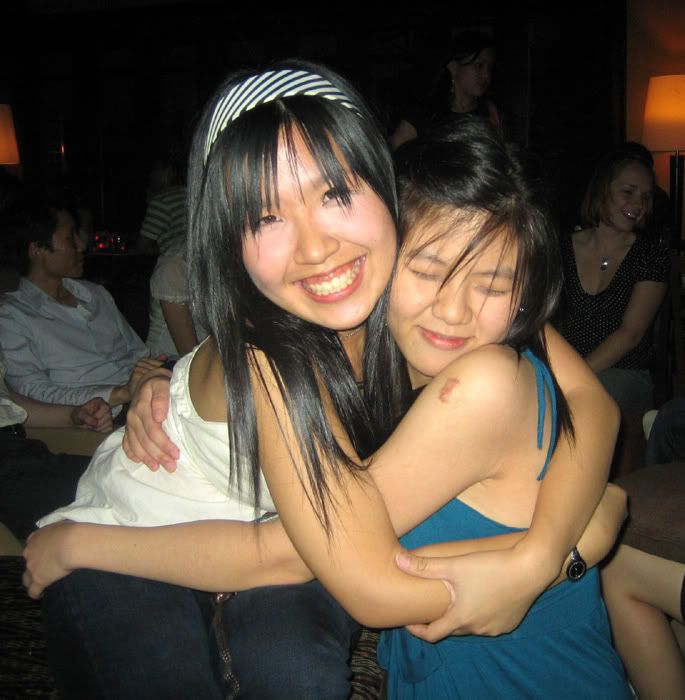 Anyway, Joleen, I sent you an birthday wish' sms yesterday, but you didn't reply. Either you don't love me no more, or I sent it to the wrong number.
Although your birthday is over already, I just want to wish you a HAPPY 21st YEAR k? :)
You're certainly well-equipped for adulthood, at the very least. *pregnancy test morning after pils* :P





Being the sporting and vibrant girl you are, everytime that we get together, confirmed, we would be laughing till our belly ached.
Big dreams, eh, girl? :P
I still remember I only knew of your existence by name during my first few weeks in Melbourne, then one day, during lecture, I sat next to you, and the next thing I knew, we were squatting on the steps in the lecture theater and giggling away, and happily exchanging numbers.
You're certainly one of the people in Melbourne that I can click with the most. :)
Thank god I've met you, crazy woman. =)
On another note, guess what ice cream my sister had on Saturday?
Banana suited in a strawberry-flavored condom.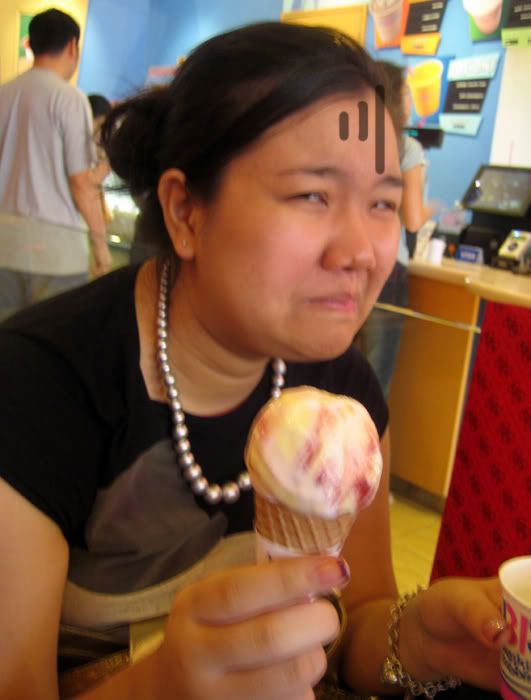 Banana and Strawberry ice cream.
WAHAHA!