So, today is my second day in Melbourne.
And I have already bought 2 pairs of shorts.
Eeps.
But it was on sale!
It's kind of mind-boggling that I fell right back into the rhythm. The long walks, the 3 hour difference, the cold weather (YES, it's summer, and it's COLD here!!!). Everything felt familiar.
Moved into our flat yesterday; the living room is much smaller than I expected (and wanted), but I am pretty pleased. It's bare and miserable-looking, but it's quite sizeable, and I know with a little TLC (Tendel Loving Care/ Creativity), it would be homely and cozy.
Which lead to my purchase of the day...
Pastel pink, florals, polka dots-- girly galore!
It's a teeny weeny feminine for my liking, but I was really desperate for pillows/bedsheet/ quilt cover. Yes, the very smart me neglected to bring along some bedspreads.
Hello, can bring a few more tops, can? ;)
It comes with lace too!
So far, my room's condition is
BATTLE-ZONE
. I have unpacked most of my suitcase, but I still have the things I left in Melbourne last semester to unpack. That's about 7 boxes/bags of stuff.
Fuck.
But overall, all is good. :)
I miss the boyfriend and my sisters badly, but sending 3-smses-long-per-sms to-and-fro with them have kept me sane. And happy.
Jing was so sweet, on the day I left, she brought a lump, turned out it was the tunic that I have been wanting forever, but which was sold out!!!
Super duper romantic. <3
Thank you, sweetie. :)
For my own savoring purposes, here are some pics taken before I left.
My darlings.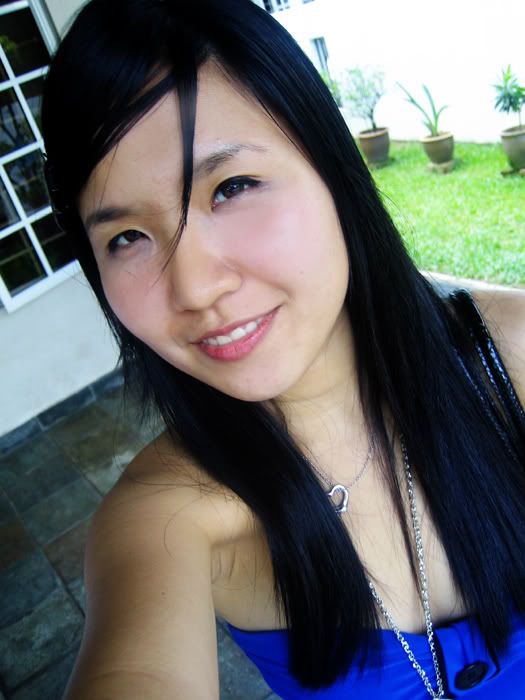 The boyfriend and I went to Manhattan Fish Market in the first day of his work.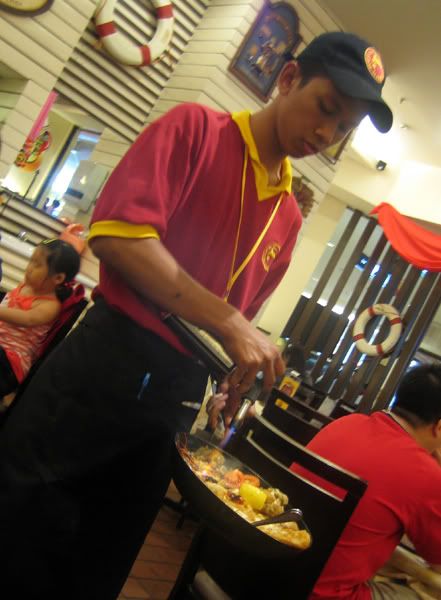 He was flaming our prawns!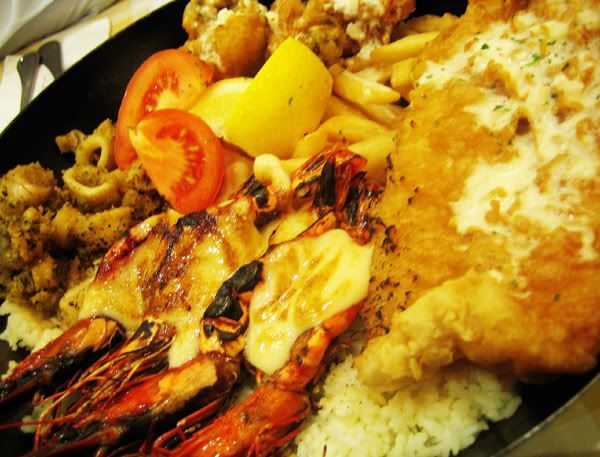 Fisherman Platter for two.
Don't be cheated by the prawns! Those are not cheese, it's mayoinnase! :(
I used to adore Manhattan Fish Market's food, but I feel that the standard of the food has dropped.
The garlic rice is still yummy, albeit a little cold.
But the deep fried oysters were smashing! I love deep fried oysters!! :D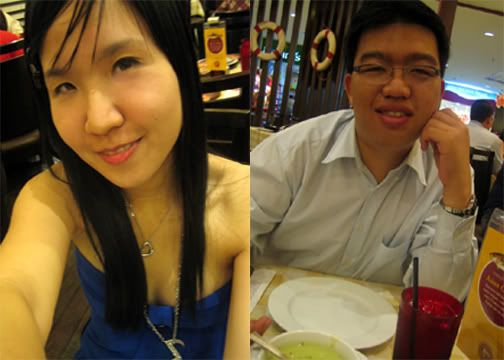 My man of a boyfriend
('cause working already mah)
.
Aww shucks, now I miss them more. :(
I have changed back my layout 'cause my new layout was screwing up-- I couldn't view my blog! :(