Went to Bakerzin's with mommy and siblings. Mommy's treat. :)
Everything in the menu looked so fucking good, we couldn't decide which one we we want. We wanted everything, dammit.
My iced mocha. Delicious! I could taste the chocolate! :)
They had something called dessert tapas, which was inspired by the Spanish translation of appetizers. Basically, they are mini renditions of yummy desserts. :)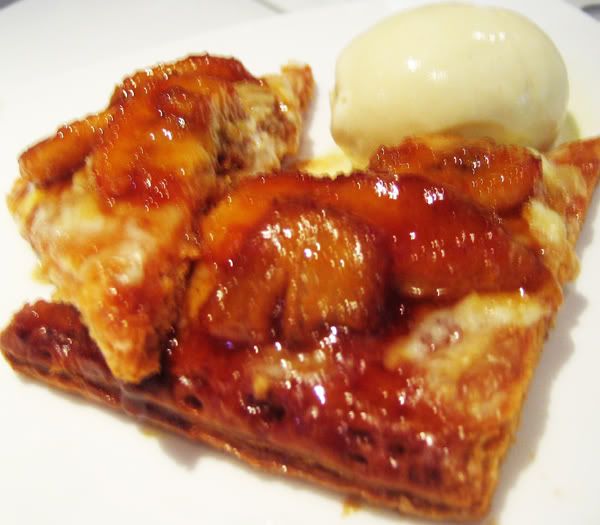 Tapas: Banana pizza with cinnamon ice cream.
I HATE bananas, so I calculatedly avoided the chunks of the fruit, and only picked at the caramel-covered pastry! And the cinnamon ice cream! Yum! :P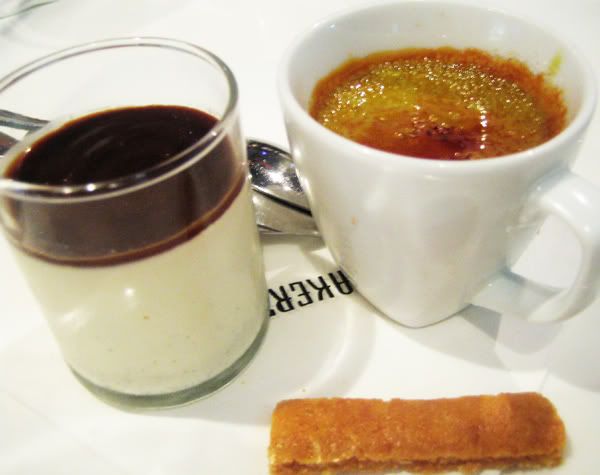 Tapas:
Panna Cotta
and Pistachio Creme Brulee.
The panna cotta was creamy and milky, just nice!
And I LOVED the burnt sugar of the creme brulee!!!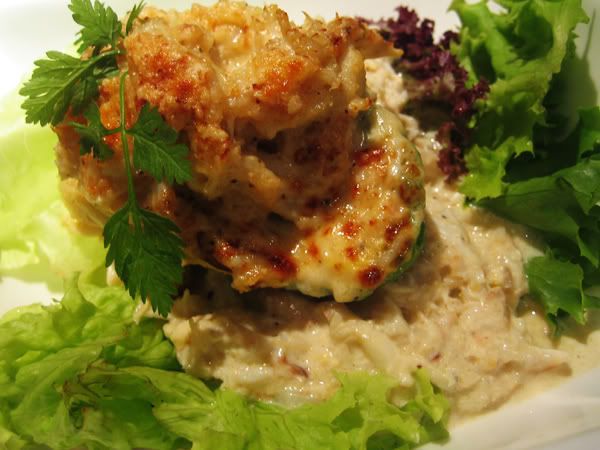 Crabmeat salad. Bestest salad.
Generous helpings shreds of crabmeat drenched in cream sauce, covered with melted cheese-- vegetables have never tasted better!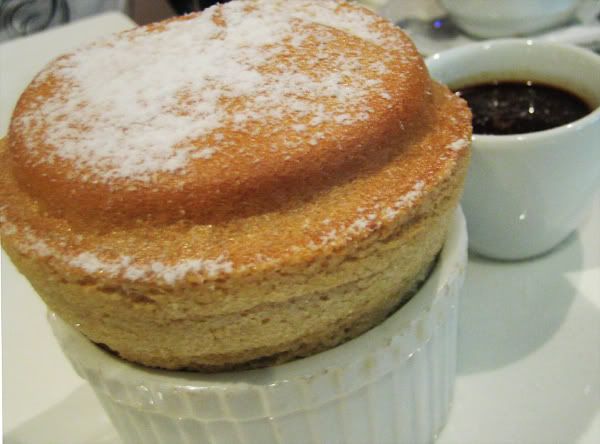 Souffle with Baileys and Irish cream.
I didn't really enjoy this, 'cause liquor and desserts should be two different terrains in my opinion, which is why I don't really fancy tiramisu that's dripping with liquor.
We had some Irish cream/ Baileys left over, so my mom added it to her English tea to see how it would taste like.
YES, my
mom
playing with food. -_-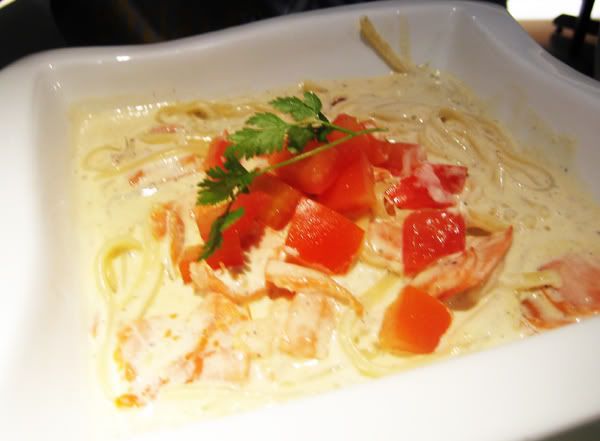 Spaghetti with smoked salmon in cream sauce.
THIS IS SO FREAKING GOOD. I love pastas, I really do, and only cream sauce does it for me. And this rates at least a 9 in hui wen's Italian food scale!!!
Light (I don't like cream sauce that is too thick and cloying, makes me feel
jelak
. And fat.), tangy, with a hint of garlic.
And smoked salmon!
Anything with salmon is goodness. :)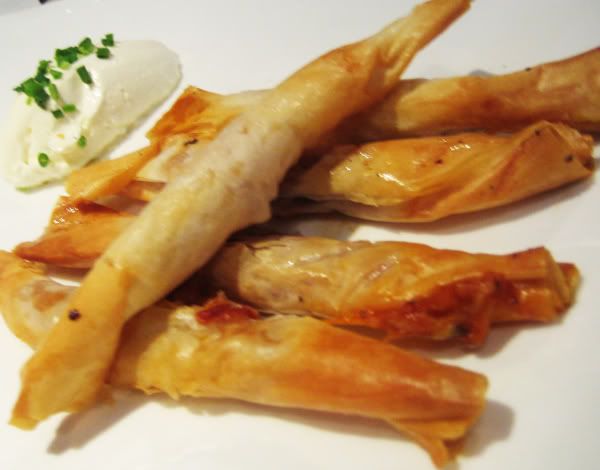 Vegetable sticks.
Now before you tell me off for temporarily losing my mind and ordering something that even sounds remotely like
vegetable sticks
, the menu made it sound so good k, something to do with "mozzarella cheese", "golden brown" and "baked to perfection".
But it was basically skinny spring rolls with vegetables wrapped inside. Not worth the 10 bucks we had to pay.
Roasted chicken thigh.
My mom highly recommended this, from the last time she had it at Bakerzin with her friends, but I didn't find it particularly fantastic. The sauce tasted a little weird, in fact.
Mushroom and ham pizza.
THE MOST DELICIOUS PIZZA! Pizza Hut, Dominoes, Canadian pizza, you all lose faster go away.
Their secret?
Pastry crust.
Crispy, buttery, melts in your mouth
crust.
And generous toppings! Chunks of mushrooms and ham, and
cheeeeeese
.
Definitely the best pizza.
And it comes in 4 big pieces, for RM20 plus, which is not too pricey if you share among 4 people. :)
New dress, new bag, big appetite.
Same old, same old.
And the day got better! Mommy let my sisters and I to sign RM200 each on my credit card! :D :D :D
Went quite crazy in Topshop and Forever21, but my sisters didn't let me buy this top in Topshop 'cause they said it look like a beggar's top. -_-
And I am eyeing 2 pairs of tights in ZARA, size S, am rushing to Midvalley tomorrow to snag it, don''t you dare to fight with me for them!
DON'T AR!