It was so spontaneous.
We were nibbling on cookies in our booth with the faux leather seats (a post coming up about cookies!), and he was flipping through some lifestyle magazine, when the page fell open to it.
"You wanna go?"
He asked.
"Sure!"
One hour later, we were at
Le Lanna Ginger
, which was set in the heart of KL, but yet hidden away from the hustles and bustles.
The moment we parked our car, a waiter rushed to my side to open my car door, much to my pleasant surprise.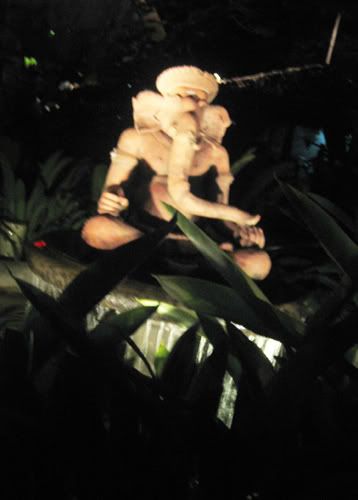 The fountain set at the center of the garden.
And as the solid teak wooden doors swung open...
Oh, how I love the careless charm of the restaurant. The restaurant has different wooden tables and chairs and stools and benches all strewn around, but yet, everything looks in place. Quirky ornaments are hung around, like the fisherman hat on the wall, the avant garde spiral metal piece on top of the shelve, the soft billowing curtains, the stream of gemstones, the odd branches jutting out at the most peculiar places...
I can't even begin to describe how your visual senses are enriched. At first glance, you just want to absorb as much as you can, and there are so many interesting knick knacks, you may not even know where you want to rest your eyes at first.
Even the lighting is perfect. :) Soft, and romantic. And even though I usually hate Enya with a vengeance, even the mellow Gregorian chants playing in the background seemed apt.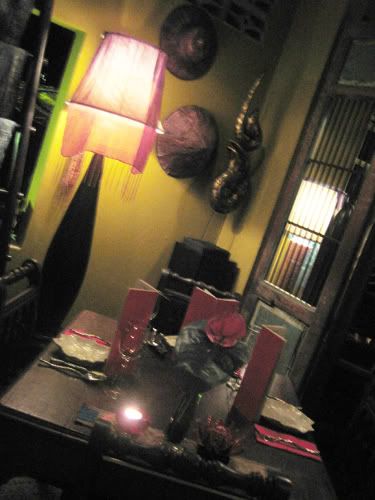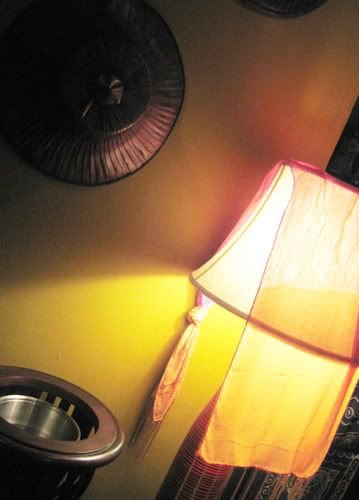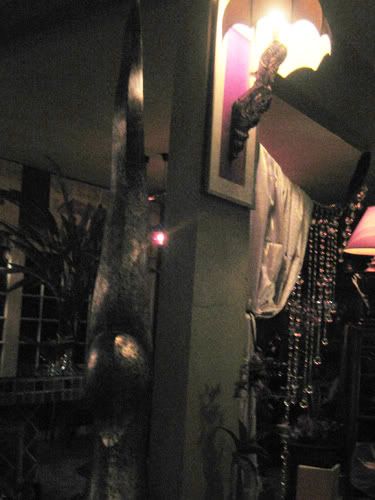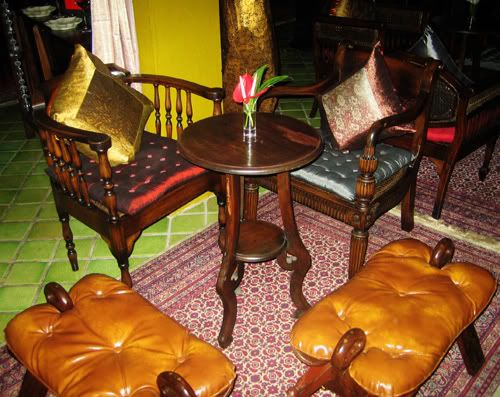 Pardon this picture, it was too dark, thus, I was forced to use the flash.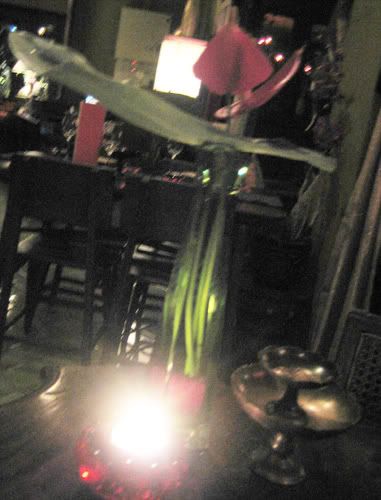 Every table had this flower as the centerpiece.
I forgot what this flower is called!
The waiter came over and poured water boiled with chrysanthemum and other spices into this weird dish thingy; it was supposed give off a light refreshing scent.
I was really touched that they even thought of such a fine, insignificant detail.
Pretty abstract-shaped cutlery!
Spontaneity at its best.
The restaurant serves Thai food...
Tidbit. Crackers with warm peanut ( satay) gravy!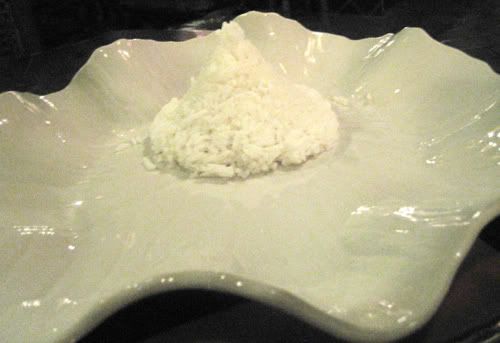 Cone-shaped rice.
Spicy eggplant with prawns.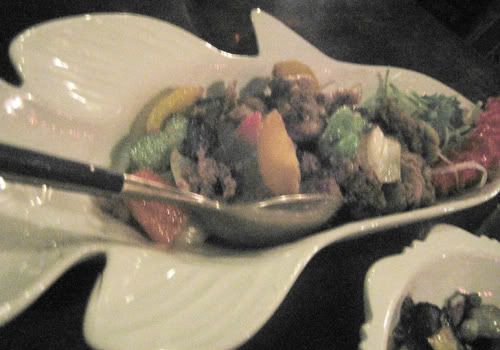 Fried butter and coconut chicken.
We only ordered 2 dishes, because we were still full from our snacks earlier in the evening. The eggplant was reasonably good, though beware if you bite into the fried salted fish bits-- it tastes like rubbish! ;) But the chicken-- oh my god! It beats all the butter prawns I've eaten flat! If you like savoury dishes, this is definitely for you. :)
And what Thai meal is complete without some Tom Yam?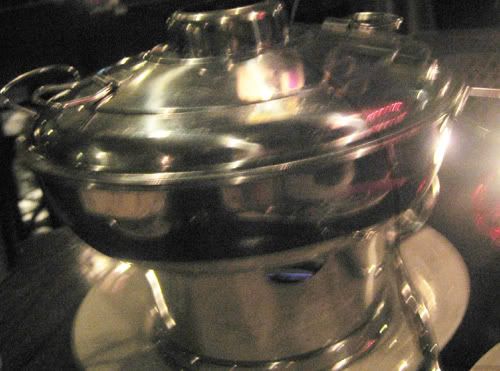 A fucking steamboat-like portion for RM9!!!
I ordered the
clear Tom Yam with seafood
, partly 'cause as much as I like spicy food, I would still like to feel my tongue, thank you very much. And also 'cause the boyfriend doesn't fancy anything sour or spicy.
Which is why this is also our first Thai meal together. -_-
Verdict?
Well, the boyfriend's words: "This is pretty good actually!"
Coming from someone who hates tom yam, I would say it's a thumb's up! :P
For those who prefer something with more of a kick, you can order other variations of their tom yam. :)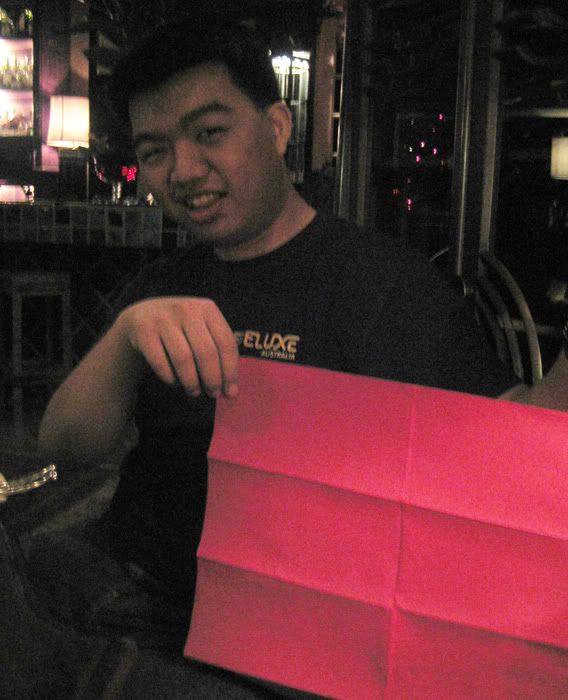 My boyfriend, the bullfighter.
Actually we were just fascinated by the sheer enormity's of the napkin.
Dessert time!
Waterchestnut with red rubies, otherwise known as
Thab Thim Grob
.
All in all, though the food here is tasty enough, you have to keep in mind that it's nothing spectacular. Nevertheless, the ambience and service here is a 10 out of a 10. The best part? It will not burn a hole in your wallet! Dishes here start from around RM7-8, until about Rm40 for prawns/fishes; so as long as you steer away from those items, you should be within budget.
In fact, I think it's a pretty good place to spend Valentine's day. :)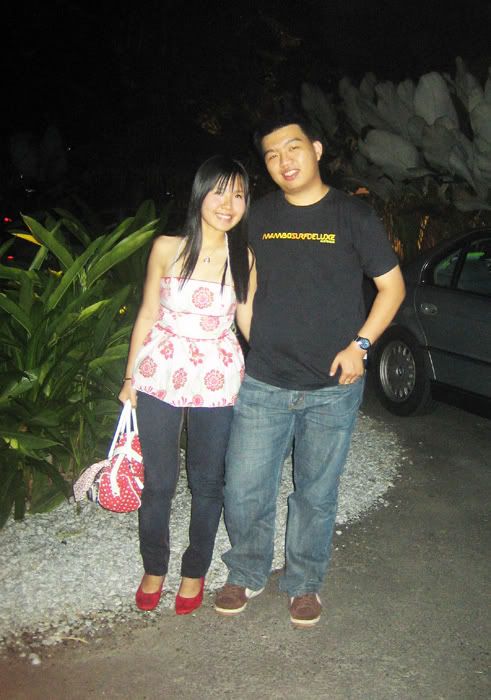 As we left, a waiter and waitress followed us out, and as we drove our car out of the restaurant's premise, they stood by the exit, and they both bowed and did the
wai
(imagine the classic thai 'sawadika' hand gesture).
Like I said, service at 10. :)
No.5
Lorong Yap Kwan Seng
50450 Kl.
(At Jalan Yap Kwan Seng, turn in at Kampung Pandan, and turn right after that).

Tel: 019- 3255 289
Le Lanna has a sister furniture shop right next to it, so if there's anything that you fell in love with in the restaurant, just drop by next door! :)