This is all about food, baby.
Food in Penang, specifically.
Yup, the boyfriend and I took so many pictures that I am just gonna split them up, thus, this post is all about the

nyam-nyams

. ;)
First on the list, well, it isn't really Penang, but we did stop by on the way to Penang. :)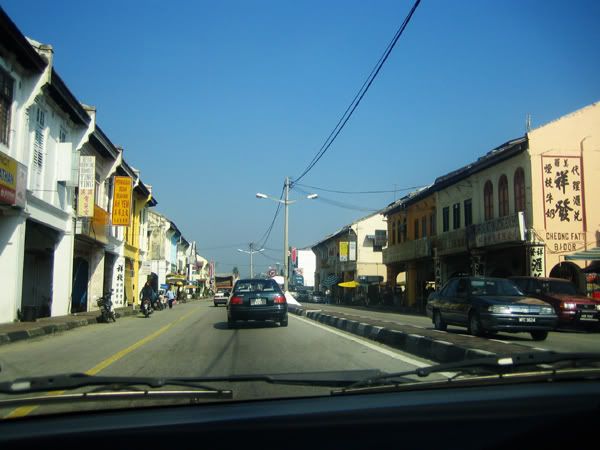 Bidor.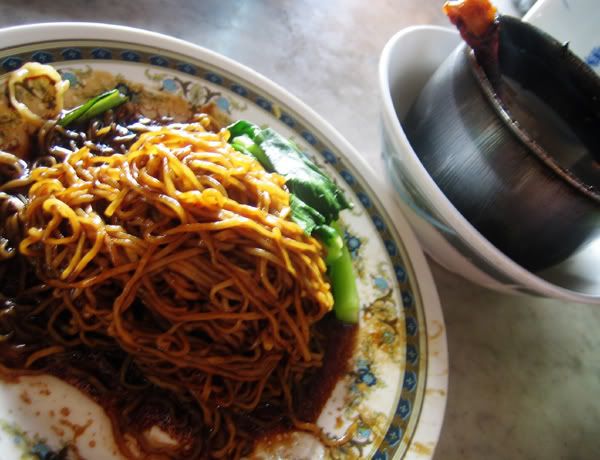 And the famous Bidor duck noodles!
I swear to god, I didn't know it was so famous. Almost everyone that I mentioned the word 'Bidor' to, will exclaim "
DUCK NOODLES
!!!". Not to mentioned I have seen these noodles featured in quite a number of M'sian food blogs.
The soup was absolutely heavenly! I love ginseng/herb soups as it is, and this duck broth really blew my mind!
I fished out the duck drumstick...
And the drumstick was so juicy and tender! That's how birds should be, nyeheks!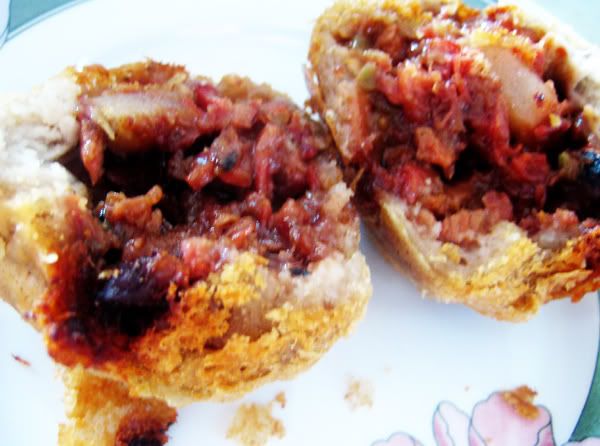 Wu Kok
(yam dim sum with meat filling).
Char siew
bits in it!
Don't forget to head to
Pun Chun
restaurant if you pass by Bidor, it's definitely worth a trip. :)
The shop sells native snacks too, and the
sat kei mah
sold is not bad!
The noodles was so good, we went back again on the way back to KL. ;)
And now, Penang goodies!
We did our homework before heading to Penang the food haven. ;)
The boyfriend actually bought 2 books that recommend the best places to eat in Penang!
Ice kacang
Located at Swatow Lane.
Sheltered from the sweltering sun outside, it was bliss to scoop the refreshing sweetened ice into our mouths. This
ice kacang
is good because the amount of syrup/
gula melaka
ladened is just nice! Don't you just hate eating
ice kacang
that lacks in syrup? It's like eating shaved ice,
bleah
. And if you taste it properly, you can taste a hint of mint. And they served it with a scoop of peanut butter ice cream! :)
I noticed the Penangites ordered fruit
ice kacang
... Hmm, someting for me to try the next time... ;)
Cendol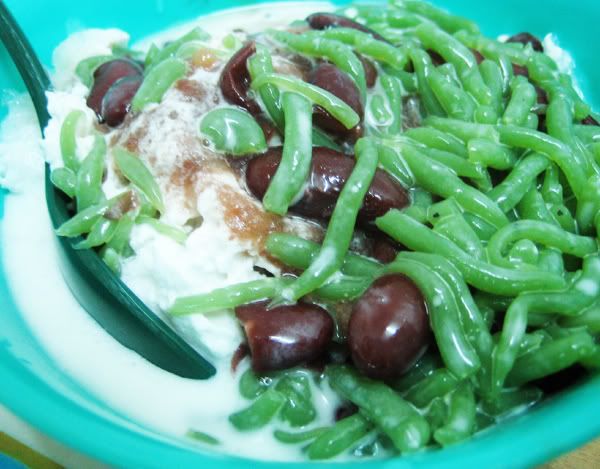 From the same stall as the
ice kacang
, I haven't tasted
cendol
as good as this for a long, long time. It was seriously full of
santan
, which of course, was probably why it tasted so good. But the
gula melaka
! The soft red beans! The green jelly slithering on my tongue! oh, heaven! Kl
cendol
s are usually too bland, they definitely have a thing or two to learn from this stall.
Penang lobak
I am not usually a fan of
lobak
, but I have to admit, Penang
lobak
is delicious-- probably 'cause it very crispy and crunchy. And I especially loved the
cucur udang
, the whole thing was filled with prawns! Kl ones are just flour. o_O
Seafood porridge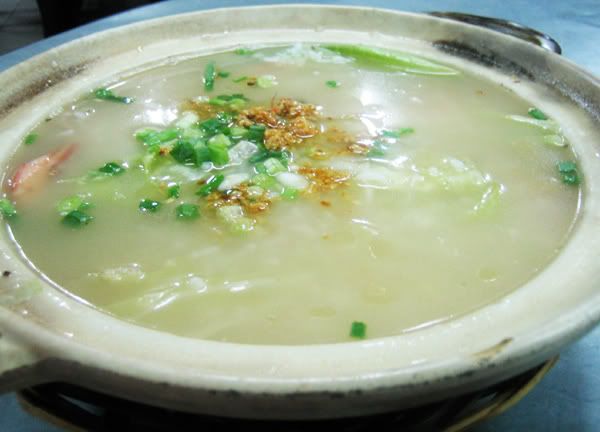 Loacted at a restaurant along Gurney Drive, this porridge is not like others. Cooked by a retired fisherman, this porridge is more like rice grains in some delicious broth, with fresh and succulent seafood.
The cook gets the freshest seafood from his fisherman friends everyday, and you can be rest assured that you are eating the freshest catch from the sea. :)
Chicken wings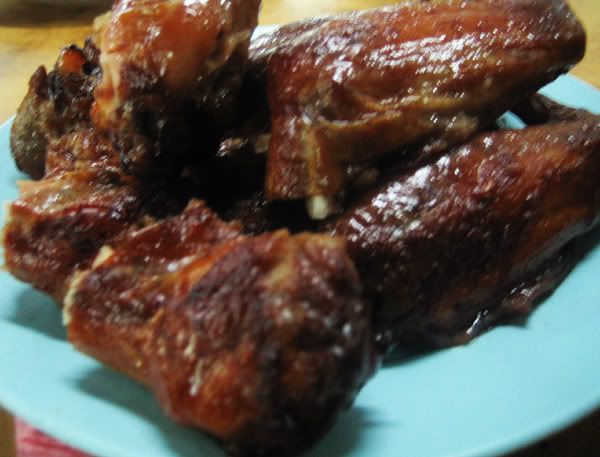 Restaurant Song River, along Gurney Drive.
Now, I know, chicken wings? Such a common food, and it's not even a specialty of Penang! But seriously?
The bestest chicken wings I have ever eaten, it came highly recommended by the boyfriend, who ate 70 chicken wings (chopped into 2 pieces, that's a whopping 140 pieces! -_-) with his cousins the last time.
The skin is so crispy on the outside, and I have no idea how it is done, but the chicken fats of the skin is actually melted away, leaving just the thin layer of crunchy chicken skin-- no guilt! :P It was like eating Peking duck, hehe.

We didn't order 70 wings

lar

.
Prawn mee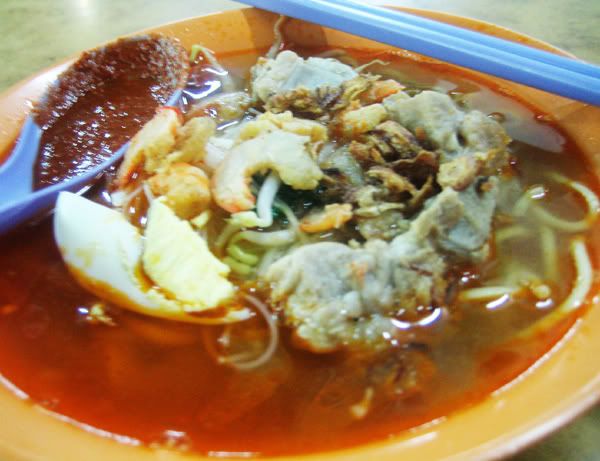 An interesting trivia-- Prawn mee is known as
Hokkien mee
in Penang.
This prawn mee came with pork ribs, I don't usually eat prawn mee, and neither do I favor said noodles, so I am not sure how this would rank in terms of prawn-mee-goodness.
Roti Babi
Also at Song River restaurant.
It looked deceptively like the french toast served in
Kim Gary
, and I have to admit, I was poking at it sceptically before digging in. But the
roti babi
, first soaked in egg, and the fried to perfection, and stuffed with minced pork, was surely something different, and even being the fussypot I am, I felt it was good.
And it was priced at RM2.50, which is a steal if you compare it to the
roti babi
in
Yat Kee
of KL(around RM7)!
Fried kuay teow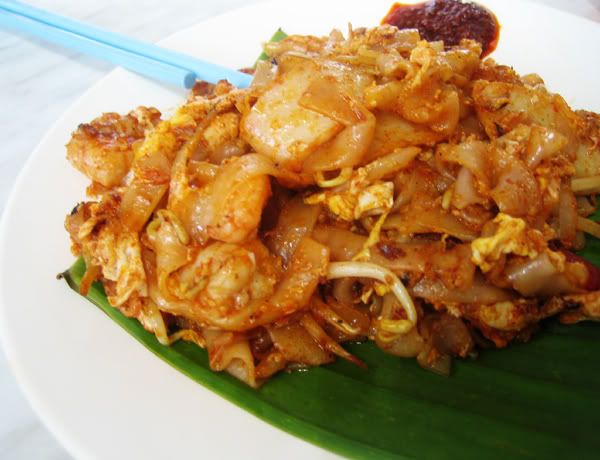 Lorong Swatow.
Now, usually, carbs are my enemy, and fried
kuay teow
is a no-no. But holy shit, this fried
kuay teow
was goooood! Penang fried
kuay teow
is different from KL's, which is fried with black sauce. I read quite a few recommendations on the best place to go to for fried kuay teow in penang, but hello..?
This is great already! :P
It reminds me of my favourite dish at
Chef Loong
SS2, the fried
chee cheong fu
n! :)
Curry Laksa
I took great lengths to ensure that my laksa wasn't served with coagulated pig's blood, which is how Penang
laksa
is usually served.
*shivers*
Fried Kuih Kak
At New Lane.
Very spicy! One of my favourite ta-pao dishes from the SS2 pasar malam when I was younger (and when carbs weren't my nemesis). :P
Assam Laksa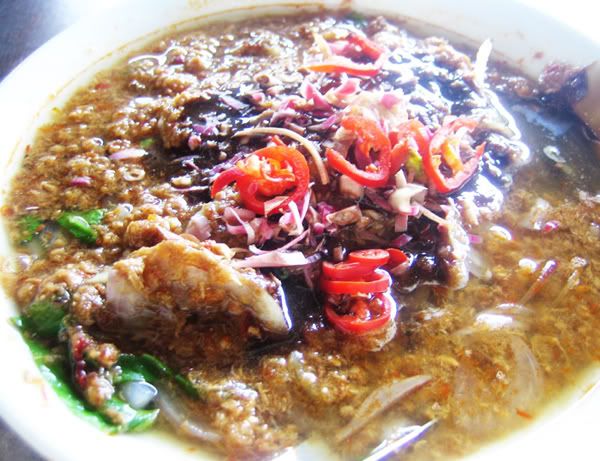 Air Hitam wet market, near Kek Lok Si temple.
I am personally not a big fan of
assam laksa
, but my inner food critic told me that this was good! ;) I think it's due to the fact that the soup is neither too sour or spicy, (I find assam soups which are too sour
jelak
) and the generous helpings of fish; and according to the boyfriend, the secret to this
laksa
is the prawn paste (the black sauce in the soup) used. Totally worth the 2 ringgit plus I paid! :P
Pig intestine's porridge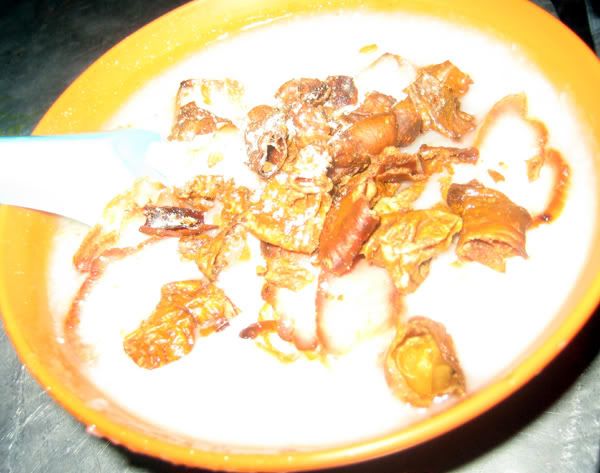 New Lane too.
This dish came highly acclaimed in our food books... But I do not take any internal organs!!!!!!
But according to the boyfriend, it was good. :)
I did try one piece

lah

. ;)
Oh Chien (oyster omelette)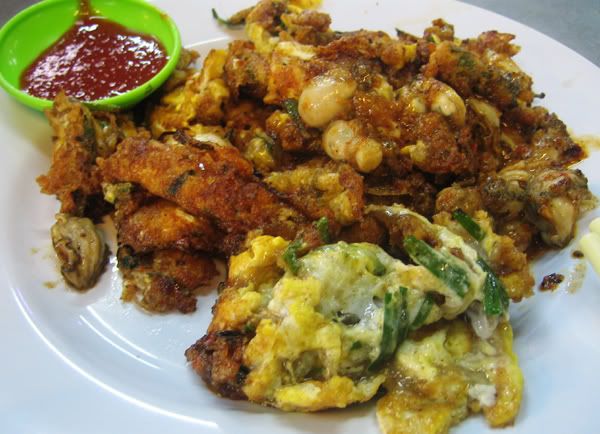 At Bee Shan restaurant.
The bestest
Oh Chien
EVER is in Sitiawan, but this comes a very close second. Apparently, the
Oh Chien
uncle has fried
Oh Chien
for 50 years already!!!
You can actually request the uncle to cook the
Oh Chien
to your liking, for example, extra crispy, more oysters etc. And it was obvious that the oysters used are very fresh, 'cause... Well, I am not to proud to admit this, as much as I love Oh Chien, I usually avoid the oysters; but the oysters in this Oh Chien were not one bit fishy!
We ordered a second plate, after gobbling down our first one. ;)
Well, this pretty much sums up most of the food that we sampled in Penang, though sample is probably a misleading word-- more like scoffed, devoured, gorged... ;) It was also really delightful to go to a few places for one meal-- eg. satay at one spot, laksa at another, the end up at another place for chicken wings. :)
The only downside?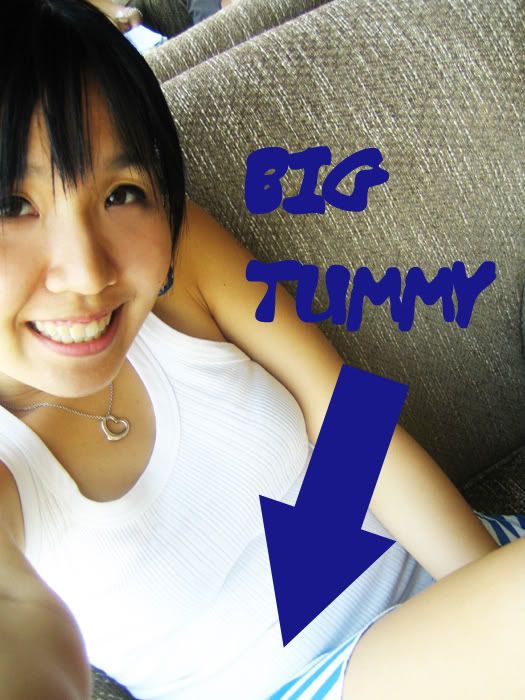 My tummy is damn big now.