Often, when you miss home, or when your heart is somewhere else, you just have to keep yourself busy, to do as much as you can, or what a friend calls "distractions".
Then, you'll find that time flies, and soon, you'll be back where you belong.
For starters, crashing at a pub is always a good idea. ;)

Enter Notts.
A Thursday on-going tradition of Clayton students.
There was crazily alot of people!
This picture doesn't even do the amount of people justice; it was literally packed, and you couldn't pass through without making "
excuse me/sorry
" your steady mantra.
And please, look at what we had to wear to Notts last semester during winter.
And compare to now.
SUMMER, STAY ON!
Although you make me sweat like a pig.
Smalls, who has the room next to me, and as her bed is perched right against the wall that my bed is placed against, technically, we "sleep together". ;)
Han Ting, from the same flats, whom I just got to know.
When I introduced her to other guys, almost all of them gave me the same line: "
Hunting ar? Hahaha
!"
-_-
Lord, salvage men's sense of humor please.
Jac, who wears size S items as oversized clothes.
Hahahaha, this part is super funny!
The M'sian guys drew out their beer mugs and shouted
YAAAAAAAAM SENNNNNNNNNGGG
at the top of their lungs...
And when the ang mohs saw that, they jumped in and yelled with the guys too!
International harmony, hee.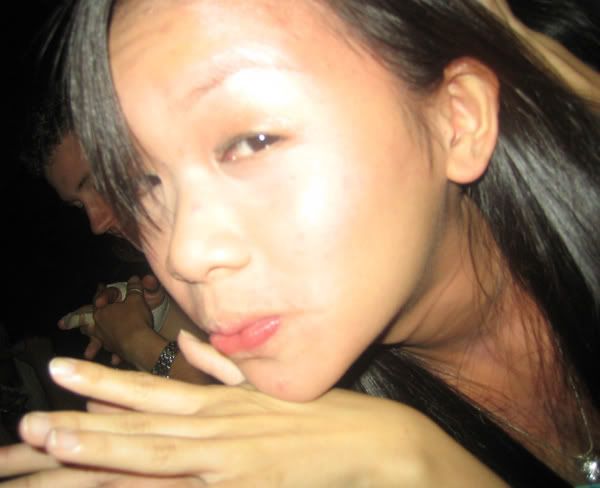 And this is Smalls after ONE cocktail.
ANd Jac taking advantage of Smalls' drunken vulnerability.
And I met this really cute drunk Russian girl!
She had a huge red gash on her thigh, so I asked her whether she was okay.
SHe replied me (with a really cute accent, by the way), "
Nonono, this is nuu-thiing, we arrrrre womenn, we hafffe to giffff burrrrth, this pain is nuuu-thiiing!
"
Damn cute! :P
And we starting talking some nonsense, about the number of kids we want (we both want three), whether or not to let her husband in to see her in labor next time (she doesn't want to), and how her girlfriend's labor went (good). ;)
This is the poor girl with the huge cut!
On the way home. Thean Aik Half-A-Face, Chun Yih, me.
I never knew that Chun Yih has such camwhoring potential!
Likewise. o_O
I swear, this was a completely candid shot!
And my goodness, we had to walk 40minutes? An hour? 2 days? just to get from our flat to Notts!
It certainly felt like 2 days.
We just crapped and sung and danced along the way.
With Chun Yih divulging his stashed up ass dildo, and his and Thean Aik's gay preferences (wrestling half-naked, walking around in undies and other horrifying details).
With us talking about sexual fantasies-- swings,(have you watched Sex and the City-- whereby Samantha sat on a swing, and had sex by swinging towards... Nevermind you get the idea), beaches, S&M, lesbianity (EEW EEW EEW) and masturbation.
I asked the guys, is it true that when a guy really loves a girl, he will wait and only sleep with her after marriage.
All the guys went "
Nooo
!" simultaneously.
Then, Thean Aik (who incidentally, was doing the
4th position
in ballet, only the
Cicakman/ Cacat Scarecrow
version) came up with an interesting philosophy.
According to him, if a guy really loves a woman, he will just want to sleep with her many times, whereas if a guy is merely attracted to the girl, he would sleep with her once.
Conclusion? Guys just want to have sex.
-_-
Remember I said that we need distractions to make time abroad bearable, and even,
good
?
This is what I need. :)