Because I got to talk to you for the entire day since I left,
because I got to hear your voice since the moment I woke up,
because we got to skype finally, and I got to see your silly faces,
because today you received the parcel I sent you,
because you straightaway putting on the Guess T-shirt in it,
because you strutted around proudly in the shirt, and you wore it during the entire time we were talking (until you decided to 'seduce' me and took off the shirt -_-),
I feel like blogging about you, about us.
On the night before I left, the boyfriend spoiled me again by bringing me to Hilton.
The original plan was for us to dine there, however, as I has a farewell dinner with my family on the same night, we decided to go to one of the cafes there for supper instead.
KL Hilton, lobby.
I love the twinkling lights!
SEXAY!
We decided on Cafe Cino...
A retro-looking cafe-- I love the black and white tiles!
Forgive me for scaring you with my white face.
The boyfriend rushed me (
*growl*

)

,
and I didn't have time to check myself before leaving house! :(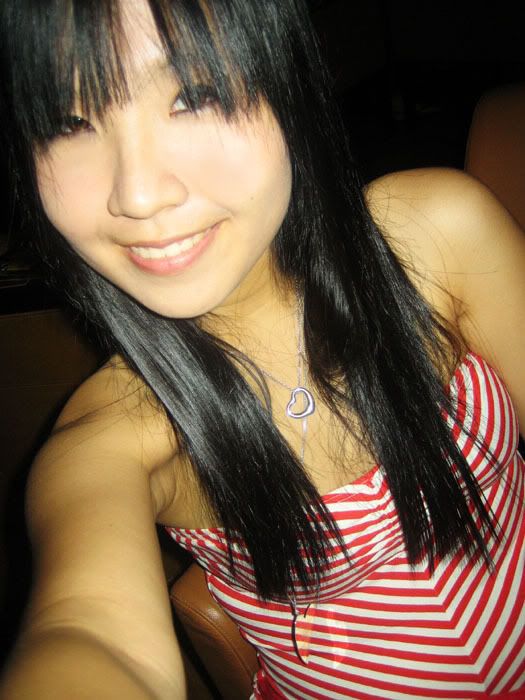 The whiteness is contributed by a mixture of bad precision in amount of pressed powder and the flash from my camera. Once again, I apologise for the fright.
My White Chocolate Caffe Latte!
20 bucks
wei.
-_-
The boyfriend ordered a Tiramisu Caffe Latte, and after trying both his and mine, I proclaimed that I couldn't taste the difference between the two drinks. Men, being men, must
lah
brag about how distinctive both the drinks are, and how obvious the tiramisu and the white chocolates tastes were.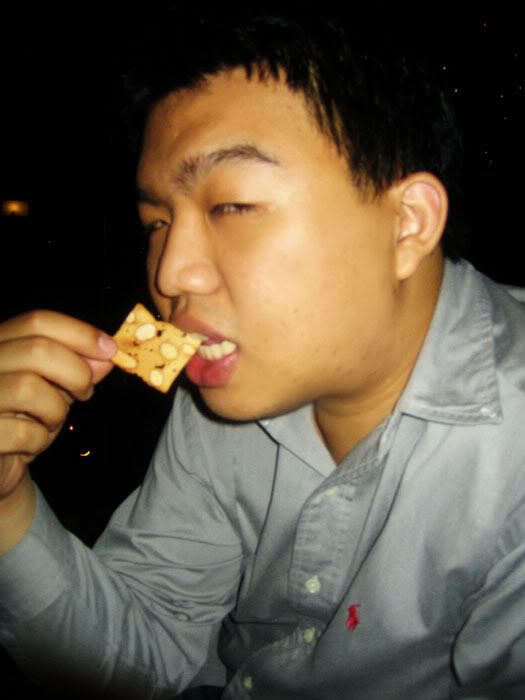 I definitely looked sexier with the biscotti! :P
Prawns wrapped in potato katafil, with dip.
I love how they presented it-- sort of like a fancy present in a
dim sum
basket.
I am sorry for the poor quality of the food pictures here, I usually take pride in taking delicious-looking food pictures, but it was too dark, and using flash on my camera just turned the food into a shiny blob of light. :(
The prawns were delicious!!! And kinda kinky too, 'cause you can unwrap the potato strings from the prawn... Slowly.. Unraveling... Stripping... ;)
But it was quite pricey, 30 over bucks for 5 pieces!!!
If you're dissatisfied with the object of this photo, do eye my sexy pins at the corner of the picture, haha!
I finally wore this dress after it sitting untouched in my wardrobe for almost a year! o_O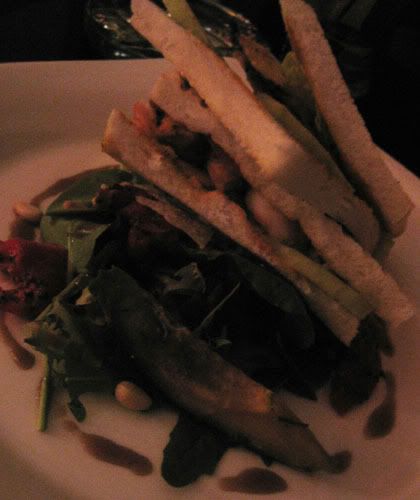 The boyfriend called this the best sandwich in the world.
Thin slices of toasted bread, crisp lettuce, spinach, slices of baby cucumber, chunks of avocado, sundried tomatoes, and curried shrimps and chicken, and shreds of cheese and dribbles of balsamic vinegar...
YUM!
The boyfriend asked me to surprise him with a dessert of my choice...
And I was spoiled for choice.
I finally decided on bread and butter pudding.
Which, my
jakun
boyfriend looked at with raised eyebrows.
He thought it was just bread and butter! o_O
I was glad to educate him.
The bread and butter pudding was good! A definite must-order if you don't feel like having something too rich or common.
I especially loved the vanilla custard sauce, though I didn't have much of it, as I was much more contented dishing dollops of it into the darling's mouth, He digs anything vanilla, y'see.
And at the very least, next time he won't go "HUH??!!" at bread and butter puddings! ;)
The night ended with hand-clutching vows to breeze through another 4 months apart, and promises to be understanding and trusting, especially what with him he just started work, and there would be times whereby we couldn't contact each other and stuff.
The vows are still going on strong. :)
**********************************
I am going to Grampians tomorrow for some outdoors/nature trip, for 3 days. And I am banging my head for temporary insanity in signing up for the trip. I am not a nature's person! The idea of wearing sneakers with skinny jeans scares me, and the fact that I am not bringing my pretty pumps is just plain depressing.
Smalls and Kit Mey laughed at me when I said that as I don't have a raincoat I will use an umbrella while trekking. They laughed even harder when they found out that I am bringing my large tote instad of a backpack.
I don't own a backpack what. =(
Why they laugh at me? :(
Sigh, let's just pray I survive this 3 days. And if I fall to my death on the flying fox, Jing, you can have my skinny jeans.