I am so excited, I am going to a flea market/bazaar tomorrow! It's such a huge deal that I am actually leaving home at 7 plus

AM

, so that we can get there to grab all the goodies. I am anticipating a morning of digging and bargain-hunting... Pray for me that I'll find many treasures and trinkets k! :)




Smalls:
Your shopping bags are going to take over your room.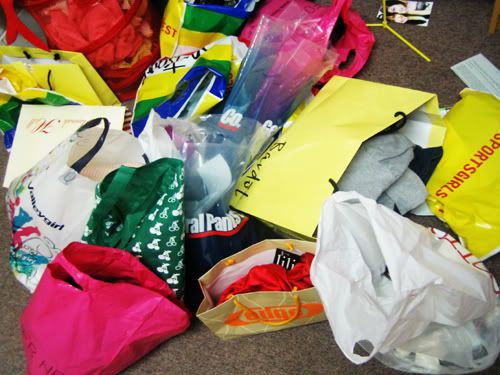 The amount of bags strewn on my floor.


And I have had a couple more bags added to this pile since I last took the picture!
I really don't know where to start to pack them up! -_-
Not to mention, I'm rapidly running out of wardrobe space-- I don't know where to stuff them to.
Guess I wasn't kidding when I said the floor is my new wardrobe.

*******************************************

The boyfriend:
You have a PHD in Material Science.

Me:
??!!

The boyfriend:
'Cause you're so materialistic!

Me:
...
NoooOOooo!

The boyfriend:
...

Me:
I don't have a PHD in it, I
invented
it. ;)