Last Friday, we went through hell.
In the disguise of a Sass & Bide warehouse sale.
Or quoting Mey,
war
house sale.
It was then, I understood what our forefathers went through-- to fight for your rights, to defend your glory. ;)
Sass & Bide is THE brand for jeans! Mischa Barton and Kate Moss wears them. <3
A peaceful moment with a random doggie on the street before we reached the town hall, where the sale was held.
We both look like we stepped out of an English ad, no?
*perasan*
And when we reached the town hall, this was the sight that greeted us...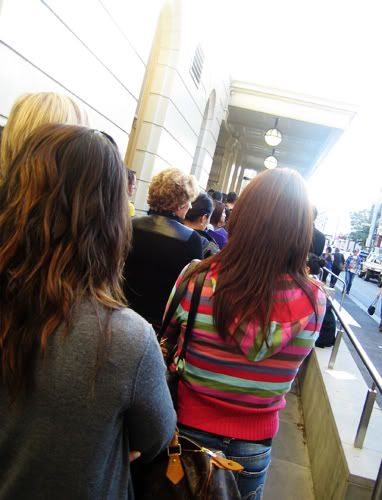 It brought back memories of the times I had to queue up for Jason Mraz and All American Rejects concerts.
??!!!??
There were actually police circling the hall. -_-
Stooping to your level. ;)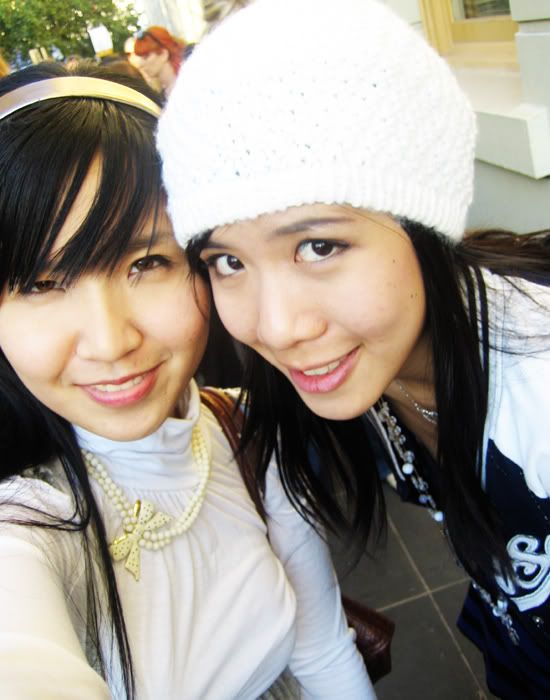 While she stooped to mine. o_O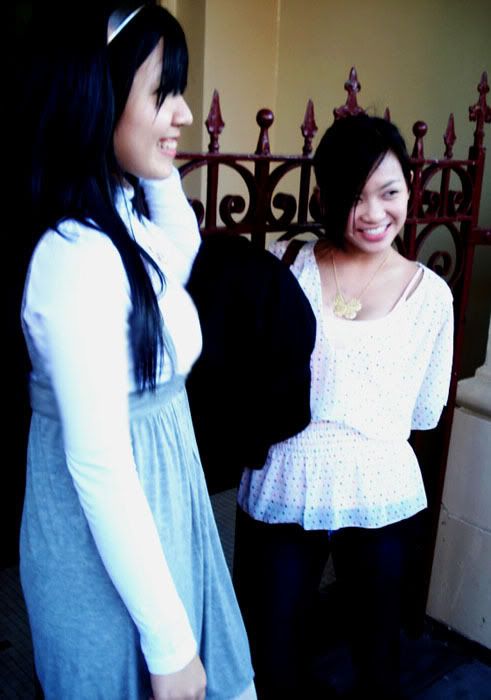 Caught on camera for posing for another camera!
What a mouthful.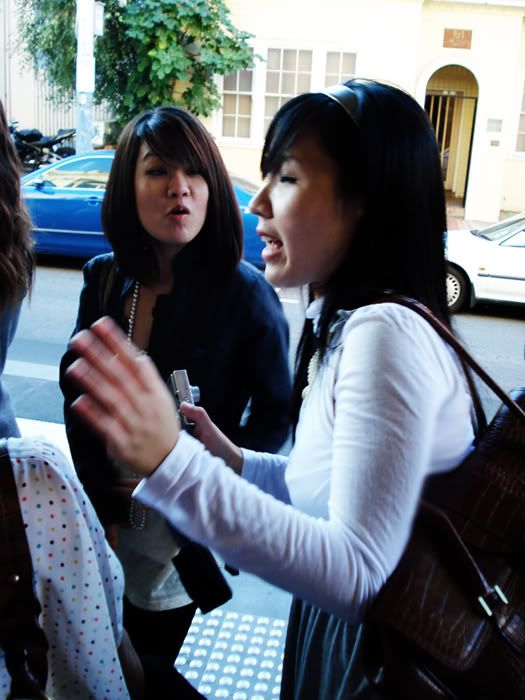 Devising our strategy.
Hey, it's a dog-eat-dog world in there.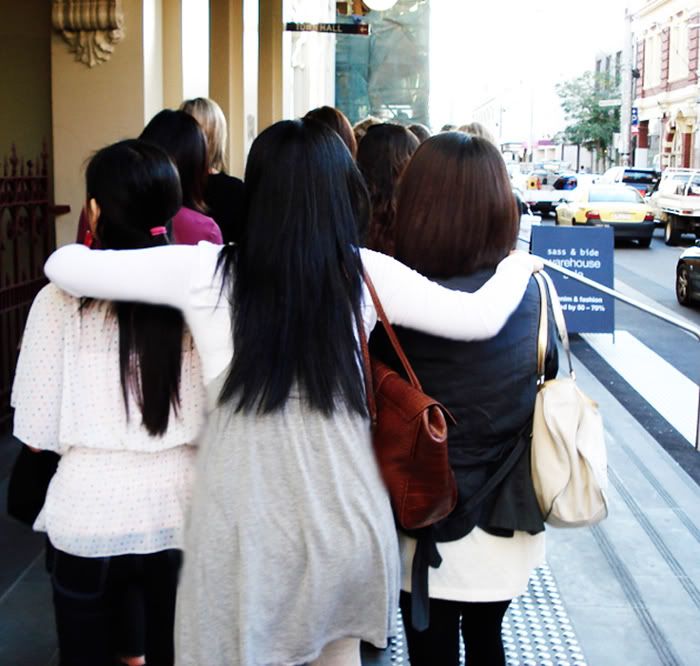 Teamwork.
You go left side, you, go right side, I will handle the middle part...
The sale was SCARY!!! As there weren't enough changing rooms, everyone just changed outside. In front of everyone else. O_O
All those grumbling boyfriends who followed their girlfriends were rewarded.
Everywhere you turned, there were sweaty women in their underwear. Like a bad porn movie, but filled with
very
aggressive women. ;)
Jac was lucky, she wore leggings (she could just tug on the jeans over her leggings), life was a little more tough for Mey and Smalls, for they wore jeans. I wore tights, but they were opaque (transparent)!! I don't know how many times I flashed people my butt. -_-
One of the clinching moments for me was when I dropped something, and I bent down to pick it, and when I looked up, a pink cotton panty-clad buttock was literally an inch away from my nose. o_O
It was so exciting! Fighting for your sizes, running around to find an available space in front of the mirror, losing your belongings (
shit, did you see my shoe????
), while trying to protect your modesty.
I felt like I ran a marathon after that, no kidding. My heart was pumping so quickly!
And I tore my nail apart while trying on the jeans, it bled pretty bad.
So I wasn't kidding when I said it was like hell k. :P
But at least I managed to snag a great pair of jeans, and 2 tops.
*wheee*
We had to rejuvenate ourselves after that. Y'know, let the heart have a rest and all. Wouldn't want a cardiac arrest. -_-
So a quaint cafe it was. :)
Cappucino with marshmallows!
It went surprising well together.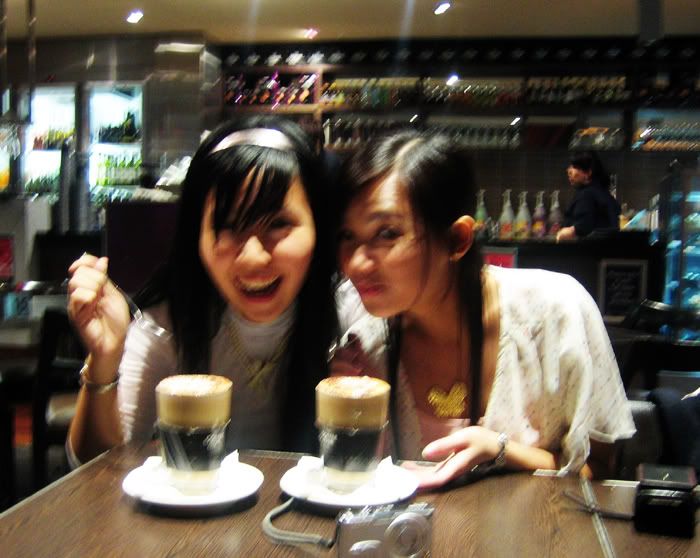 Marshmallows for both of us! :)
That's her height on Mey's jacket.
Yup, 83 metres.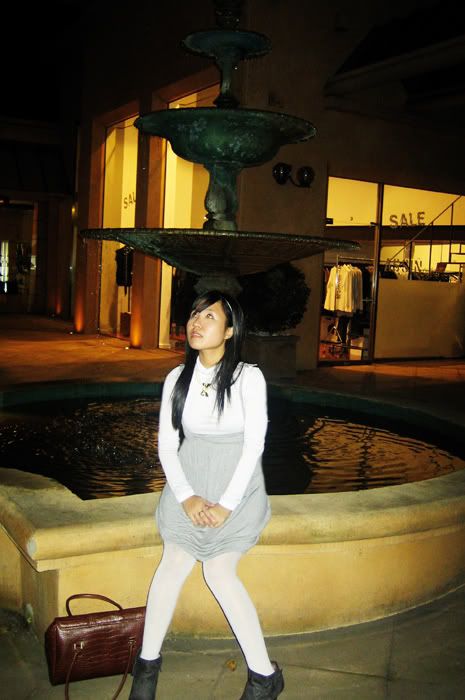 Feeling lost.
Do I really have to stay on the streets, now that I spent so much?
Thirsty for life and adventure.
And camwhore pictures. ;)
The next time I show face at any warehouse sales as such, I will have to go to the gym and train thrice a week and eat power bars wtf.
**************************************************

I wasn't kidding when I said I had plans for the whole week.
Almost everyday, I was out.
And Sunday wasn't an exception. ;)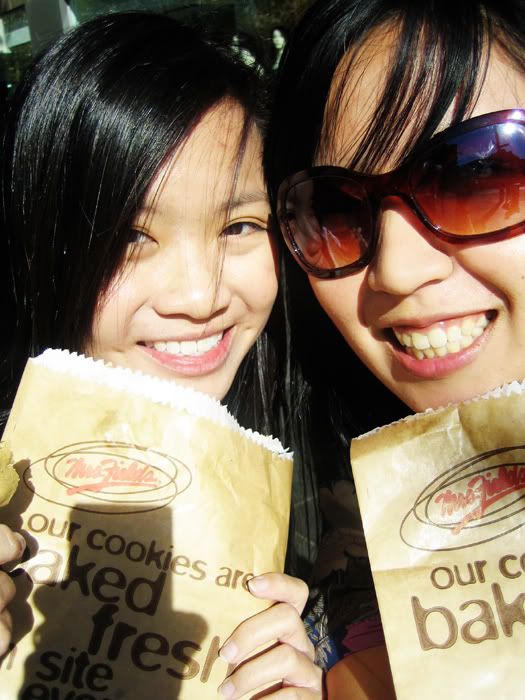 City with Smalls.
Our breakfast: Mrs. Fields soft cookies!
The best way to start a girl's day, gooey chocolate chip cookie. :)
After shopping to my heart's content and my wallet's detriment, we met up with Chris and Yen Hou for lunch at Dessert House in Chinatown, a Kim Gary-like place.
Call me a
cina-pek
, but I do miss Kim Gary. y'know. :(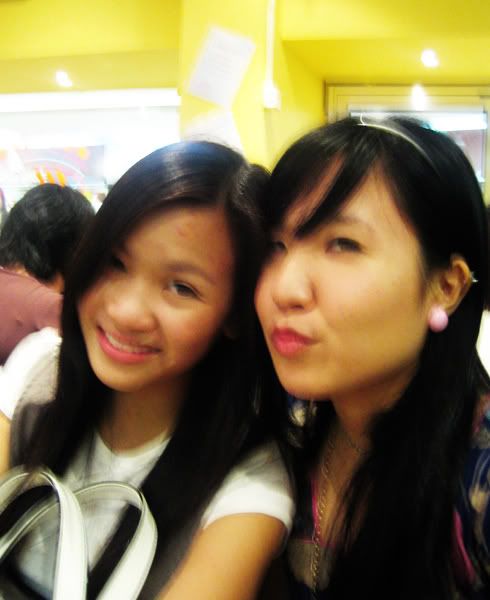 But I don't know why, I forgot to take pictures with the guys!
Maybe my subconscious only wants to take pictures with good looking people HAHAHAHA.
Kidding
la
guys! :P
Girls, Chris and Yen Hou are such capable men, that the day that they will be raking in huge wads of cash are not far away... Snap them up QUICK! :D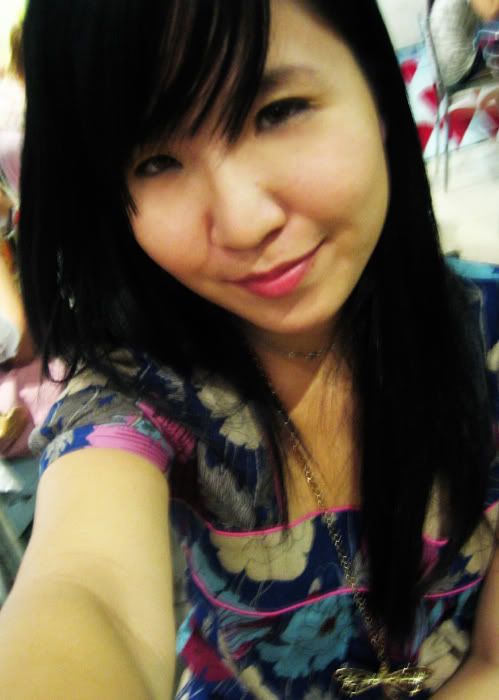 I was so annoyed for the whole day.
'Cause I was itchy handed the night before, and starting snipping my bangs.
So I was tuck with gross looking fringe for the entire day.
*emo*
I love my smock!
After buying it, everyday I was just waiting for a sunny (and warm) day for me to wear it... 'Cause wearing leggings wouldn't be as cute, and wearing a cardie over it will cover the adorable neckline.
Yea, I am a bimbo, I KNOW!
But I was so happy that the weather was glorious yesterday! I guess god likes my smock too. ;)
And I had my long-lost Max Brenner peanut butter iced chocolate! They took it off the menu once summer was over in April. :(
But now it's back! It is the bestest bestest bestest iced drink EVERRR. I don't care, people who are in aussie, you have to try it at your nearest Max Brenner outlet (it isn't on the menu, you have to ask for it); as for people in M'sia, faster get your air tickets and come to Melbourne to have a taste!!!

It's worth it! :D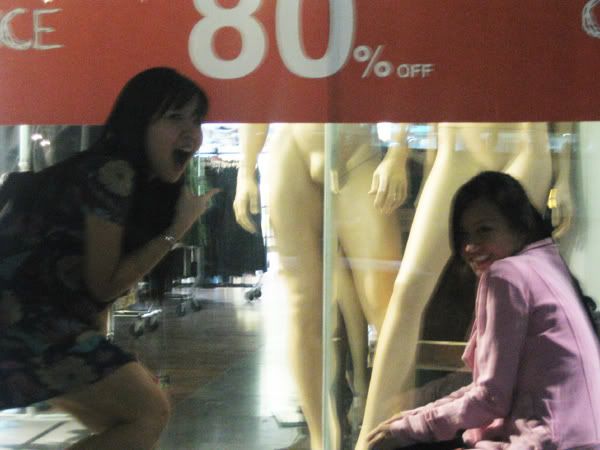 Male bits and lady bits. HAHAHAHA.
And meet my new friend, Ms. Gem!
Haha, actually, it's Jem, short for Jeremy.
That's my new hearts print cardigan he has on there! Worn halfway in fear of him stretching it, hee.
After listening into the conversations between Smalls and I, I think Jeremy is scared of our superficial lingo and our expectations in men. ;)
And, the best compliment I got yesterday was a Aussie guy who came up to me and called me "
leng lui, leng lui
!"
Yea,
leng lui
, not hot chick or anything.
LENG LUI
. -_-
And the ultimate compliment I got today was when Smalls and I were chatting online (
despite living right next to each other
) and looking through LV bags.
Smalls:
The

speedy

is so you!
Me:
But don't you think the

ribera

is more me???
Smalls:
Actually,

LV

is just

you

la.
Awwww! That's a sign that I must get my hands on a LV bag soon.
I have a purpose in life now! :P