They are gone.
Smalls and Mey should have touched down a couple of hours ago, should have long been enveloped into familiar scents, familiar faces, familiar embraces.
Jac just left a little while ago.
I feel... sad. It's going to be so different without three noisy girls entertaining me. It's barely 2 hours, but already the house feels empty. Cold. Quiet. Barren.
I am telling myself to not be affected by the humming silence. To not be slightly disturbed by the fact that the three other doors along the corridor are locked shut. To not look at the shoes and slippers that are scattered outside their room doors.
Concentrate on the positive things, concentrate on the positive things.
I could use this alone time to concentrate on studying for my 2 papers next week.
And hey, I could walk around the house naked for all I care! And shit with the door open. -_-
*********************************************

Thank goodness for the boyfriend. Immediately after Jac closed the door behind her wheeled suitcase, I messaged him to tell him that everyone was gone. And he replied me almost immediately, and promised to
teman
me from afar. :)
Better than my stupid sister, who when I told her online that I am all alone at home and everyone has flew home already, her reply was "

Y

ou not scared ar? *scary eerie music starts playing

*" -_-
And even though he was dead tired from work, he still talked to me on the phone for a freaking long time. We just hung up, and now he's back at the office, to work through the night.
Happy thoughts for the day:
I messaged him this afternoon, to tell him that I was eating Hello Panda, and that I was thinking of him, 'cause he's always making fun of me about Hello Panda, Hello Kitty, Mashimaro and goodness knows what keropok Keropi.
I have a phobia of all these things.

He replied me, "
Bee, why so ngam wan!! I just bought you Hello Panda
!!!"
:)
A stupid picture of us and Hello Panda.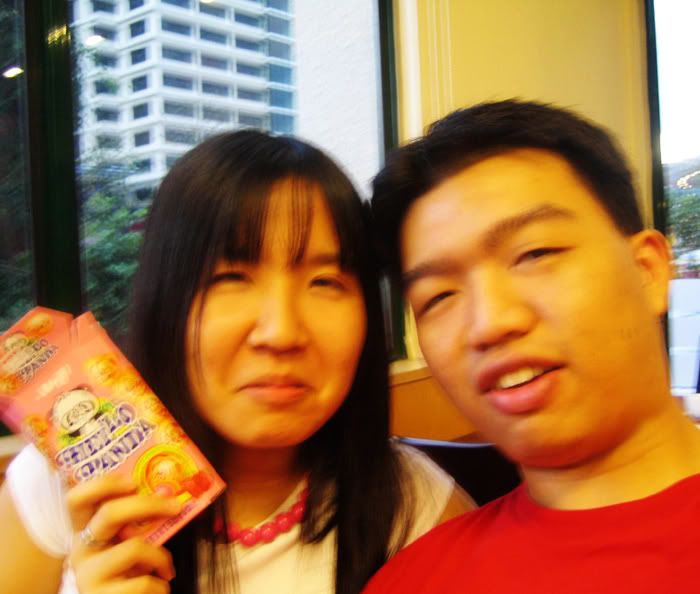 This was taken about 2 years ago, I think?
The idiot forced me to pose with Hello Panda, 'cause of my aforementioned phobia.
Hey, I like to

eat

it, but I am not proud of it k? =p
And while we were on the phone just now, I told him I cried earlier in the night.
Him (sympathetic/worried voice): Why, beee???
Me: 'Cause I watched Friends!!! :D
Him: Hah? All your flatmates flew back already,
so you watched Friends, then you cry 'cause you have no more friends is it?????
Me: -_- NO LA! Rachel gave birth to her baby but she and Ross cannot get together!!!
Another time:
My sms: Beee, I LAAAAAP YOU!
His reply: You lap me? Or you want to lapdance for me???
-______________-
I love you because of all these. :)
Wait.
I love you
in spite
of all these! ;)