Ok, damn a lot of picture, 'cause photobucket is behaving itself today! :D
But I resized my pictures to be really tiny now, 'cause I finally experience the sheer agony of slow internet connection in M'sia. -_-
TGI's Fridays on Friday. Geddit geddit! :)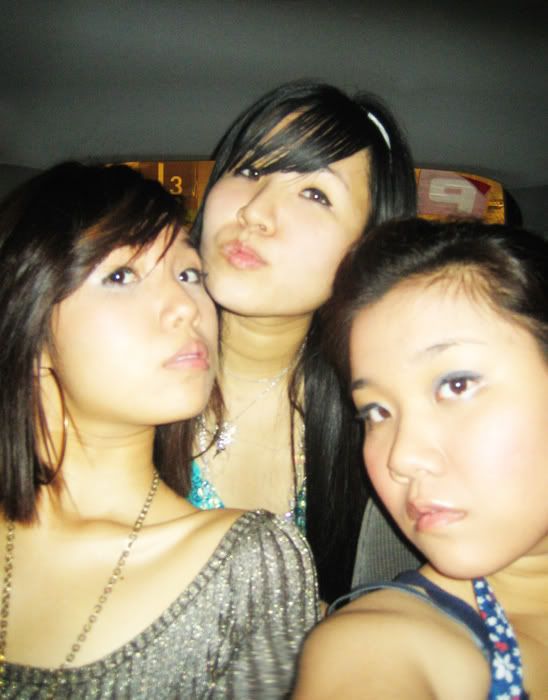 In the car before getting out of it.
Which I might add, it the umpteenth time that Jing forgot to off the lights of the car.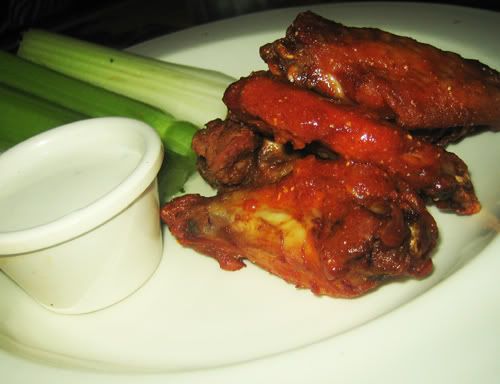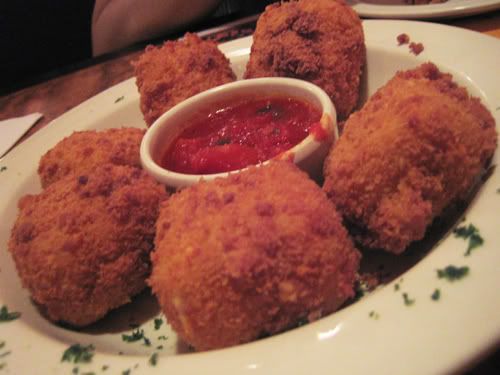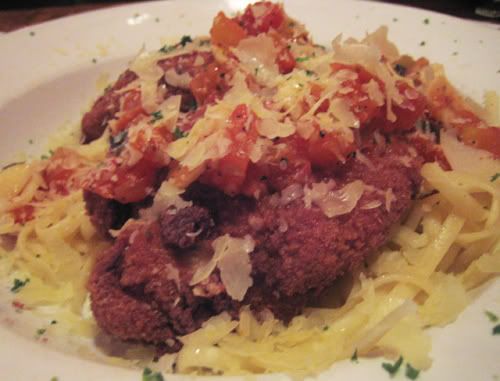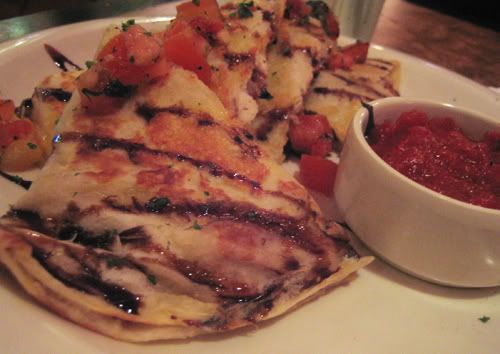 Our food! (clockwise (starting from picture on the left): Buffalo wings, Mac and Cheese, Parmesan Chicken Quesidellas, Parmesan Chicken Pasta).
The buffalo wings sucked! But the Mac and Cheese was actually deep fried balls of macaroni and cheese goodness-- super creative can!
And you could see the theme of our dinner that night-- Parmesan chicken, cheese and all things deep fried.
Our favourite diet yo! -_-
Dessert: Cookies and (ice) cream!
It was ok, you can't exactly go wrong with a heavenly combination like that. ;) But we actually wanted Mud Pie though! Very yummy! Or it is, as far as my memory can recall
lah
.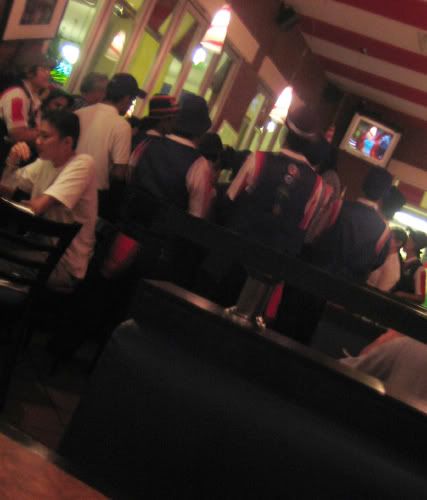 And the restaurant was so noisy that night! GRRR!
Averagely every 5 minutes, there would be a birthday cheer going on (it's TGI's policy to cheer for the birthday gal/guy along with a complimetary dessert).
BLUFF ME AR??? Where got so many people having their birthdays on the same day, at the same place! They just want the free dessert!
*cynical wtf*
We were damn bad, we say one of the birthday families having some presents and flower on the table, and we were like "
wah, not bad ar, for the free dessert, they actually brought along props..
" hahaha I know, we are going to hell.
As I was saying, it was so fucking noisy, you couldn't even hear yourself think, so...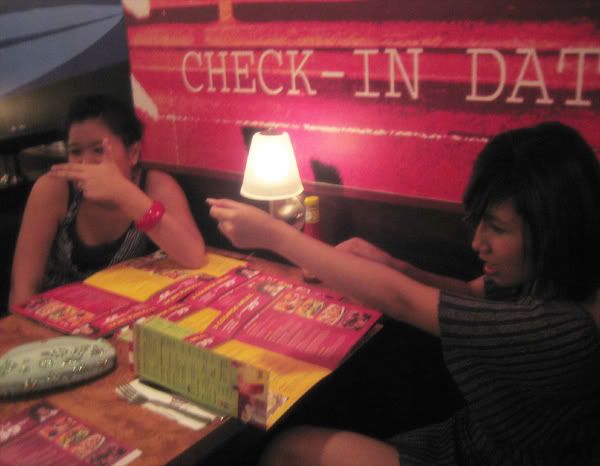 Hahaha!
And as I mentioned in my previous post, I met Samantha (an old uni mate), and the boyfriend was also at The Curve with his colleagues!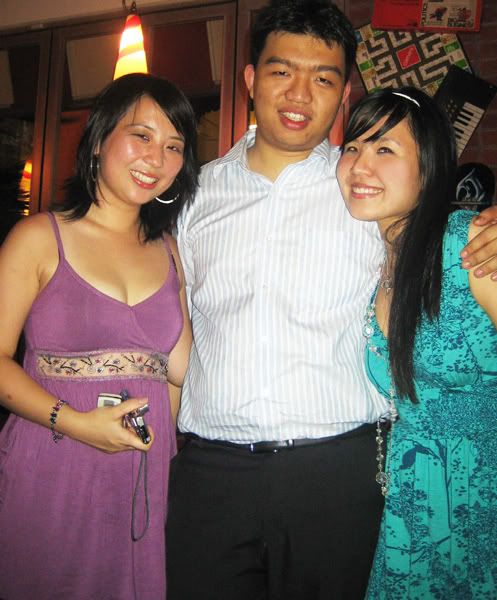 Was the whole world there too. -_-
Our camwhoring moments! :)
Haha, we have reached new heights! We made it a little game. ;)
Basically, any one of will just say a term (
any
term!), and we pose accordingly (up to our own interpretation/creativity), and
snap
it goes! After that we'd pore over the shot and laugh at our poses. :D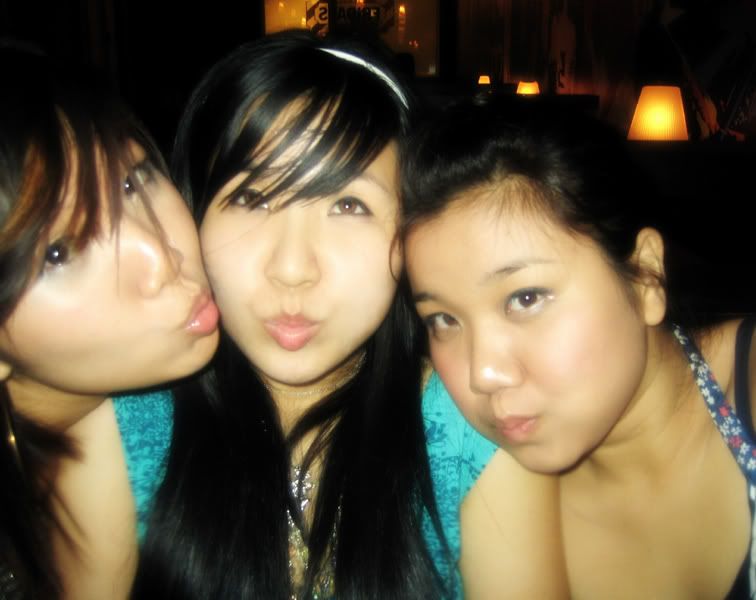 Pufferfish!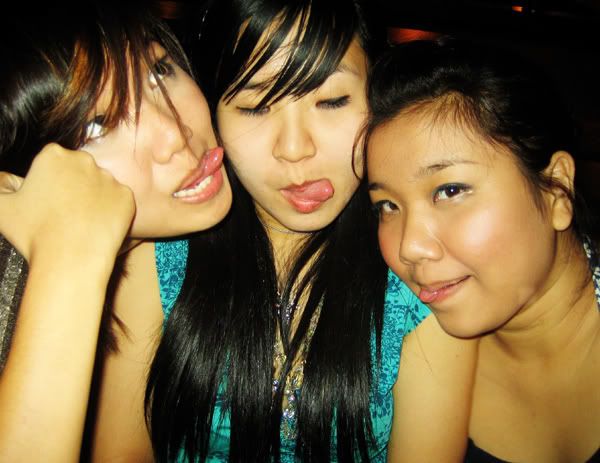 Tongue!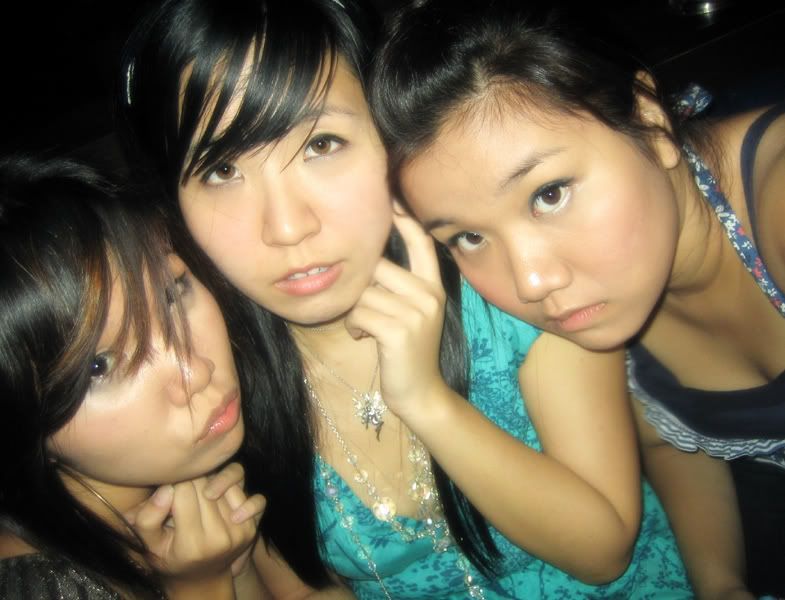 I forgot what this was, but I am guessing Melancholic Miang.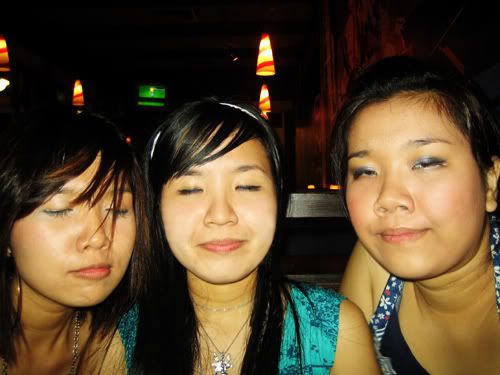 Pei face! (ie,
-___-
)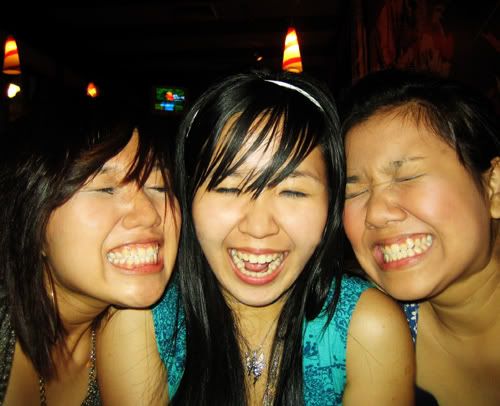 This was
Hamster!
Which I have zero idea what it was. Jing told me, '
just close your eyes and smile with your mouth open
!
But it was actually eyes closed with toothy grin.
HUH??? What's the resemblance with hamsters????
If you win Miss Malaysia!
I thought my impression was quite good!
Good enough for Miss Universe even.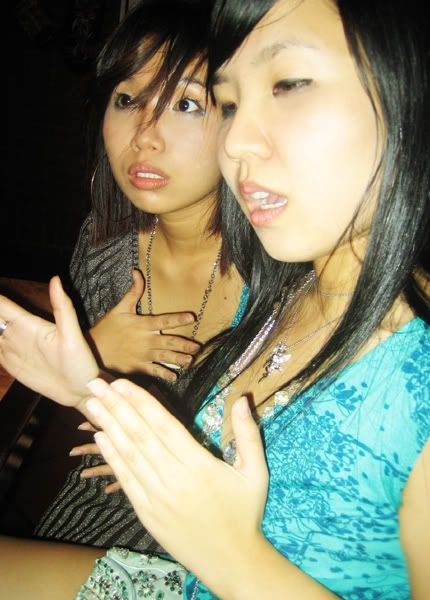 Robot!
But Jing looked more like "
Don't rape me
!" -_-
Teeny with her new guitar-shaped clutch, doing her best Mat-Rock-on-overhead-bridge impression.
And there were so many pictures! We were so intent on taking pictures ourselves, that the TGI's staff kept on coming up to us to ask us whether we need any help in taking pictures! And we'd just shake our heads bravely and before the waiter could even begin to walk away, and the flashes'd go on again! :P About a hundred were taken I think. But I was made to swear that I will never post them out. -_________-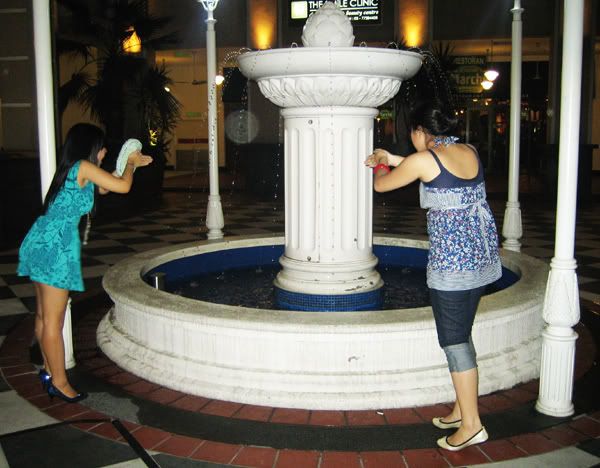 Fishies.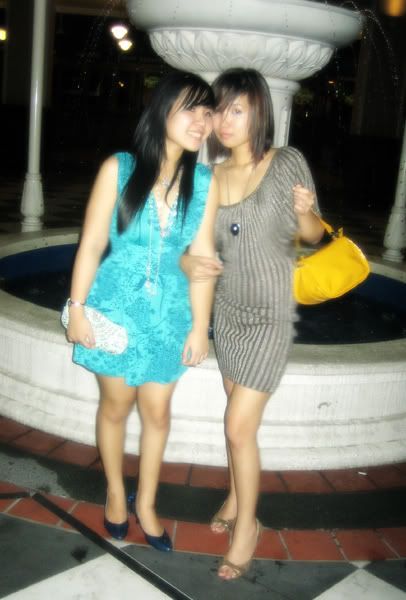 She is not that much taller than me, why does her legs look so much longer than mine!!!
And some pictures from yesterday. :)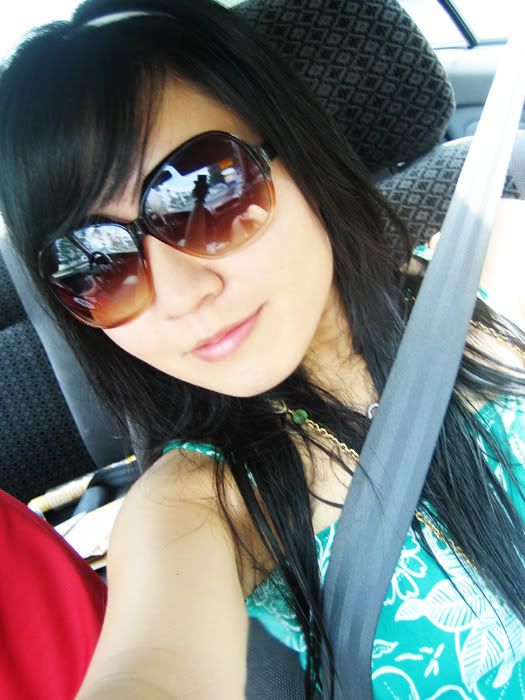 On the way to KLCC.
Because that was the only place showing Shrek 3!!!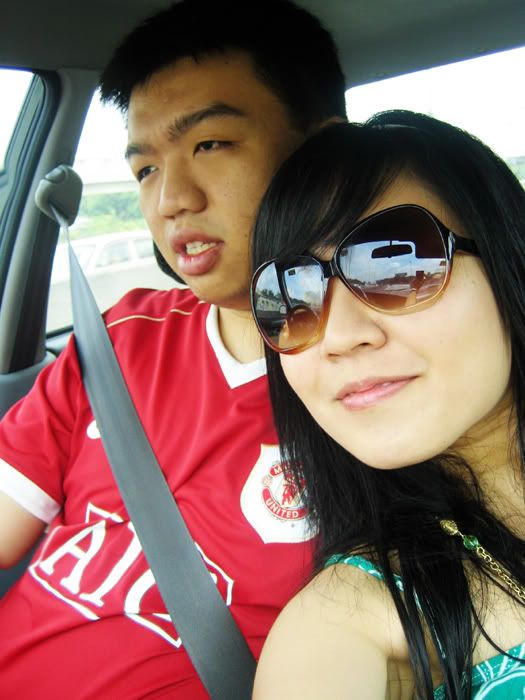 I was proudly exclaiming to the boyfriend that I wore
green
, for
Shrek
!
And he asked me, "
But I wore red wor, how
?"
I told him dismissively, "
Aiya, you represent the fire from the dragon la
."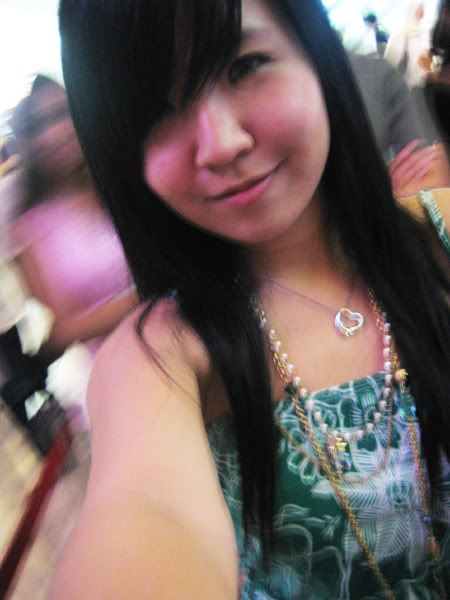 Queuing for tickets.
My photography skills astound me!
Why else do I look sustained in a realm of movements and pace. ;)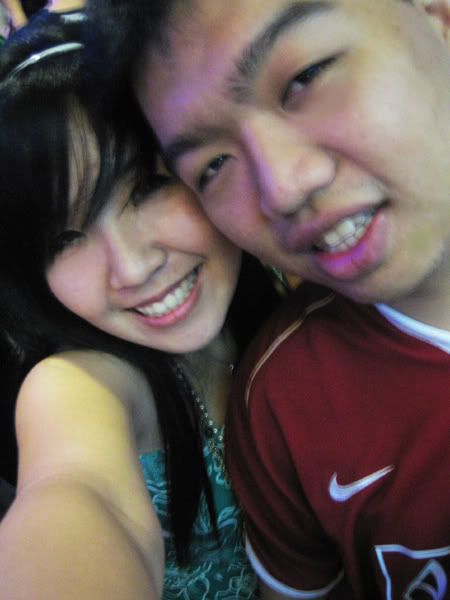 Trying to act nonchalant, 'cause we were making racking jokes, and we realized that there were people of said race right behind us. -_______-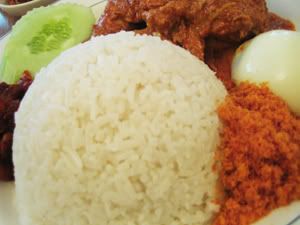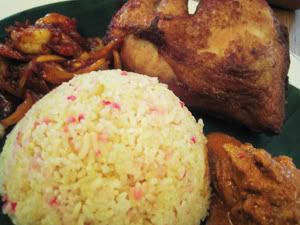 Madam Kwan! I have been craving for it for ageeees. Best nasi lemak in town for me. :)
Left to right: Nasi Lemak, Nasi Bojari.
The Nasi Bojari is to die for too! MUST EAT!
And please try the
Espreskis
in Dome! It's basically frapuccino with different types of toppings-- think honeycomb, chocolate chunks, wafers! :)
We had the Caramel and peanut crunch espreski and the Fluffy Koala (for kids), because I wanted to try the both of them, and the boyfriend, being the sweetie he is, always insists that I order whatever I want.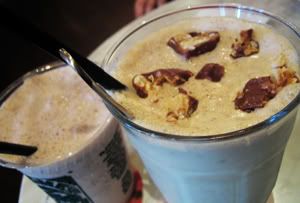 Waiter and I.
Me: I would like the Caramel and Peanut Crunch.... And one Fluffy Koala for the gentleman here!
Waiter gives boyfriend funny look.
Waiter tries to contain laughter (and snicker).
Boyfriend shoots me -_________- look.
Me gives boyfriend angelic face.
Me bursts out into laughter.
Hahahaha!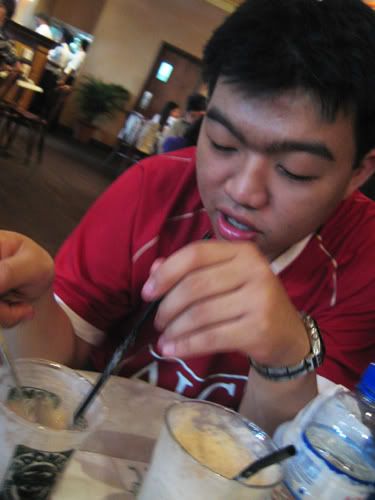 The boyfriend digging for koala bits...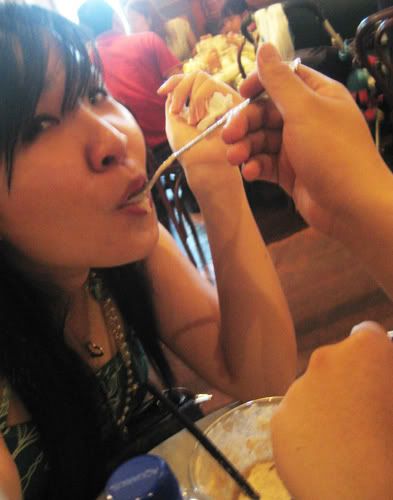 .. to feed me! :)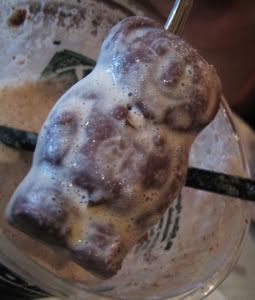 This is the Koala... Looks like a mummy. -_-
And he satiated another craving of mine in the same day itself!
*commends him*
Bangsar chicken rice!
It's one of the best chicken rice in town k. :)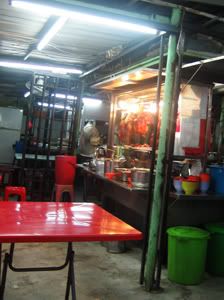 Located in Lucky Garden, Bangsar. Only open at night!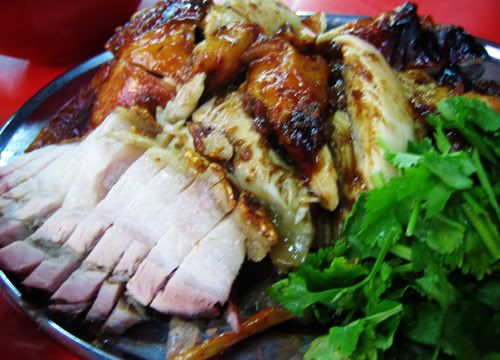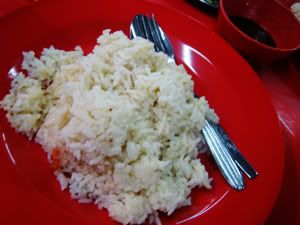 YUM YUM YUM YUM YUM.
Please do go there if you feel like having some chicken rice with
heart
! :)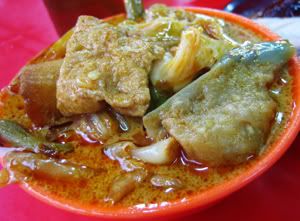 And they also serve one of the best vegetarian curry.
Some random bits of information:
1. Why is it so FUCKING HOT in M'sia. I sear to god, I can just melt like the Wicked Witch from the West (as in the Wizard of OZ for you less literate people). I SWEAR TO GOD, I WANT TO WALK AROUND NAKED.
2. I could always count on my mother for a vote of confidence.
Mom:
Wah, you go there thin thin, come back fat fat
!
-______________-
3.What hairstyle should I take on! Suggestions and advice most welcomed! :D
Okies, I have to go meet the boyfriend for lunch in KL tomorrow, and I am nervous as hell-- I suck at Kl roads. May all gods of navigation be with me, hallelujah!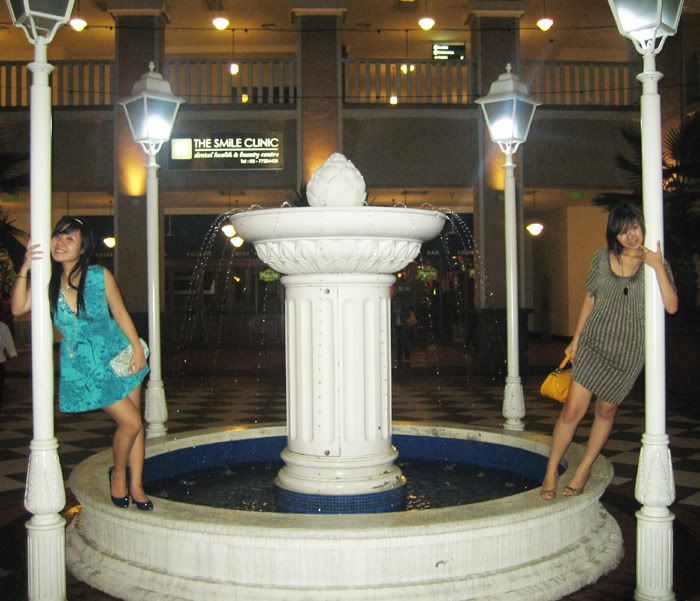 I love being at home. :)