Someone else was sick besides me.
Christina Aguilera.
Yes, she's not well, and she has postponed tonight's concert to tomorrow. And though my flatmates are less than thrilled by this news, I am secretly quite happy, 'cause today, I am just not in the shape to enjoy the concert. :(
Aiming to feel better by tomorrow though.
*hopeful*
***************************************

As promised, my wizardry day on 21st July, i.e. debut of Harry Potter and the Deathly Hallows, only one of the biggest, most significant days for Harry Potter fans all over the world.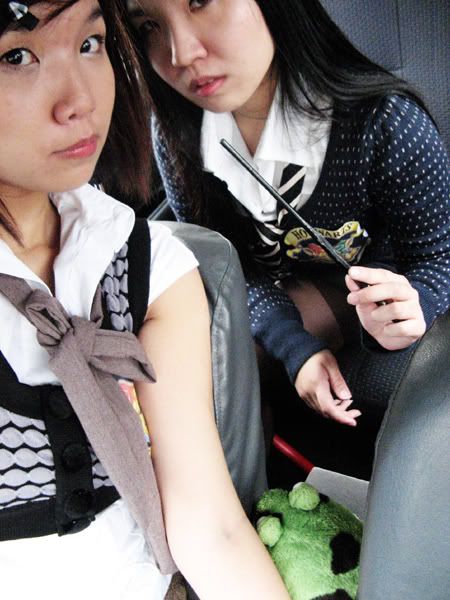 Are you ready for the wizarding world?
Hee, I think my stance in this picture is straight out of a movie poster! :D
My outfit for the day.
The black cloak is actually Teeny's blanket, heehee. It was a bitch trying to snatch the blanket from her tight clutches (while she was still sleeping) that morning k!
But I didn't wear the cloak around, it was too hot.
And yea, it seems kind of sad, I went with Jing's friends, 'cause all my friends are too old for Harry Potter apparently. -_- And we were the only ones to dress up! But it's ok, for Harry Potter we would do anything!
*filled with pride*
The plan was to march to Tesco, as the book was selling for RM69.90, and what I am sure all of you have known by now, the price war between the hypermarkets and M'sia's major book chains. Which, by the way, I so want to spurt a river of swear words to the blasphemy of some people which actually frowned upon buying from these hypermarkets. "
Lose its glamour
", they say. WHAT THE FUCK. The books priced at RM109.90 are more special is it? They can dance on table tops and whistle and chime is it???? Their ignorance really nauseate me, for it's well known that price wars would always benefit the consumers.
And don't let me get started on people who are so keen to spoil the book for other readers. WHAT'S YOUR PROBLEM? What kind of sick satisfaction do you seek??? Putting spoilers in blogs, in comments, in MSN nicknames... Or even hinting about it in conversations, threatening to tell you the ending. Gah, it's people like this who made me shunned the cyberworld till I finished my book. It's people like this who made me rushed through my book just so that NO ONE could spoil the book for me. I couldn't even savor the book properly! :( FUCK YOU ALL BASTARDS.
And the worst thing is, Jing (after finishing the book) went online and saw an acquaintance of hers putting spoilers in his MSN nickname, so she messaged the guy and told him off. She then mentioned that luckily she has finished the book, if not he would be soooo dead, and he had the nerve to answer back "
That's too bad! I am too late in spoiling it for you
."
WHAT THE FUCK YOU TELL ME. People like this should be burnt on stakes. And fed to dogs. And to have their toes cut off with nail clippers. ARGHHH.
And and and. I just can't stand people who are smug about reading the leaked copy of the book. If you do not know, the leaked version is actually photos taken of each page of the book, and made into many, many JPEG files!!! How sad is that!!! And people who read this leaked copy actually have the cheek to be SMUG. Oh my god. It's the most pathetic thing I can think of,
please
!
Anyway, I digress.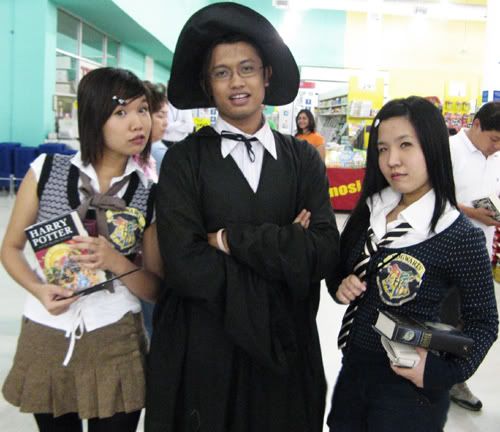 Jing and I at Teso, with a lone wizard.
It's hard to find our type in the Muggles' world k.
And we have pets too! :)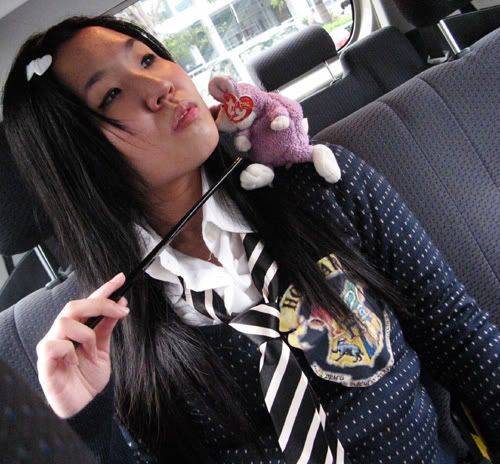 Scabbles, my baby rat.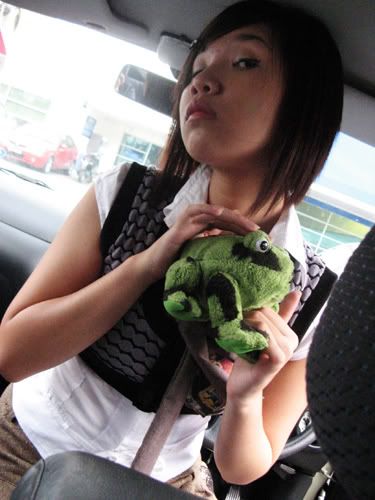 And this is Nivea and her pet toad, HAHAHAHA.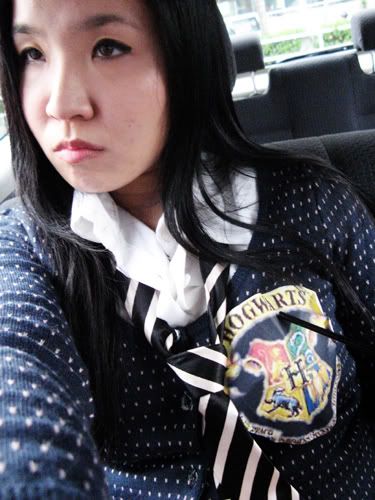 We even have school badges on-- Hogwarts yo!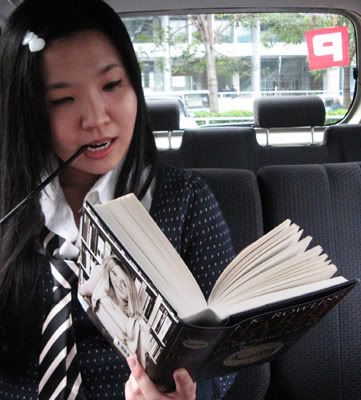 Witches have to study hard too k.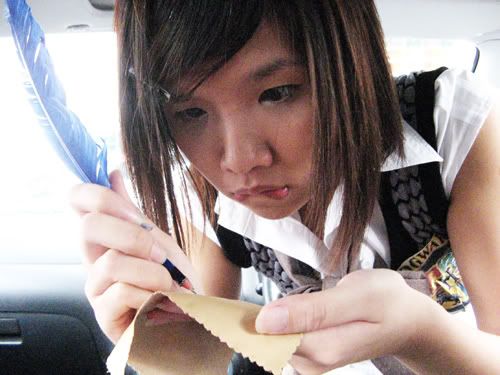 We went prepared, quill and parchment-- how cool is that!! :D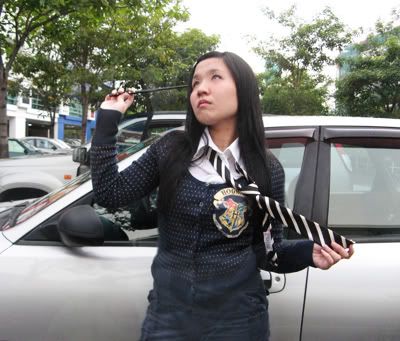 Who should I blast spells at today...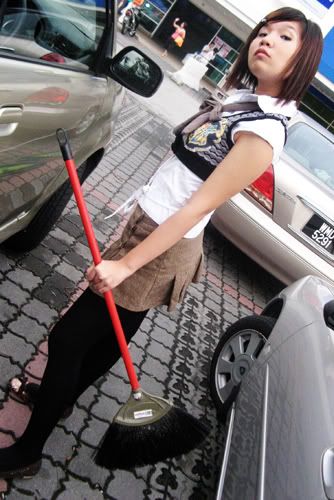 Jing and her broom!
She was supposed to climb onto it, but there were too many people around. -_-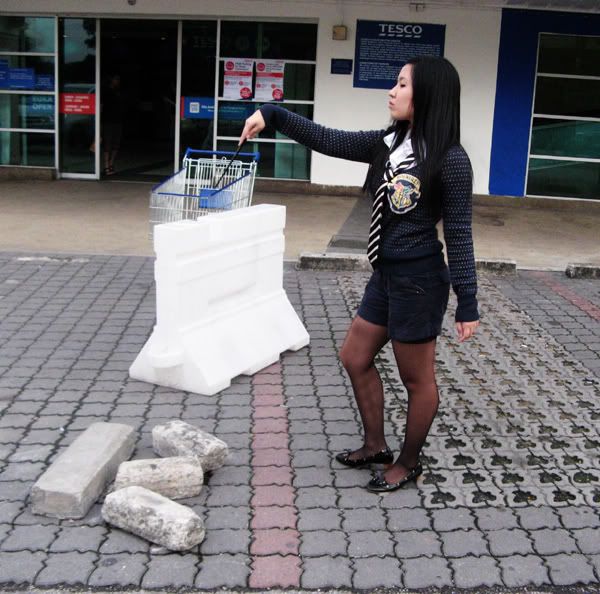 I blasted the rock into small pieces!!
Damn funny, this man walked past while we were snapping shots and waving our wands crazily, and he asked us, "
Can make a prince charming come out ar
??" :P
And I was really pleased with our 'costumes' and props that day! I couldn't imagine it being any better. :)
After Tesco, we zoomed to Kinokuniya for we heard that the bookstore has actually made a Gryffindor entrance, complete with the Fat Lady and all! :) :) :)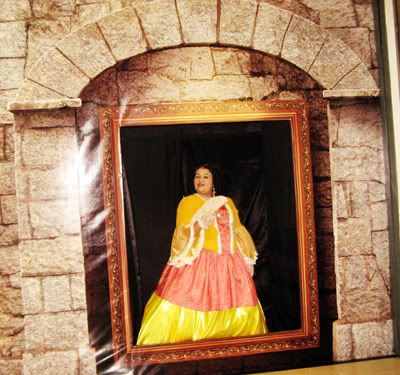 The Fat Lady in her picture.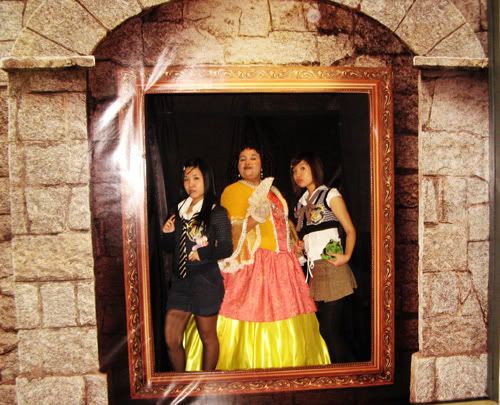 And us in the picture too! :D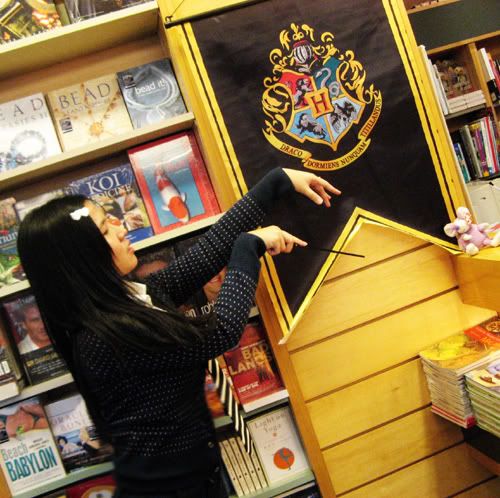 Accio
Scabbles and
lencana sekolah
.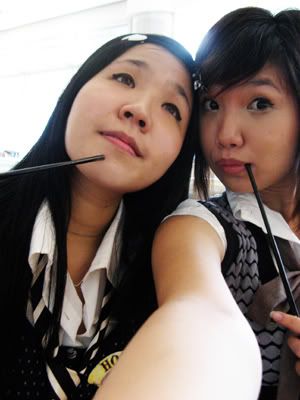 Bimbo witches.
And I had this idea of pushing all my hair in front to take a picture and to caption it "

Hairy Potter

", but I forgot... And now that my hair is so short, I can never do it again! :'(
All in all, it was an amazing experience. :) I know there are those who called the people who actually queued up for the book "stupid", but Jing and I both simultaneously felt that this being the last book in the installment, we owed it to our undying passion for Harry Potter. ;) And if we don't do it now, we'll never ever get to queue up for another Harry Potter book again!
I have finished the book last Monday, and needless to say, it was a page-turner in every sense; and all I can say is that J.K. Rowling is simply a brilliant writer, simply amazing. I am looking forward to reading the book a second time, 'cause that's the beauty of the Potter series, you could re-read and re-read the book, and each time, you would be just as mesmerized; and sometimes you may discover some detail you may have missed previously. :)
That, I didn't really understand the ending. -_- But thank god, I have Smalls' copy just next door. ;) My copy is being held hostage by my brother because he said I am too old to hold a kids' copy of Harry Potter wtf.
Thank you, Ms. Rowling, you have brought me much joy in these 9 years. :)
PS:

If you do not understand any of the things I mentioned about Harry Potter,

go read the book

! You won't regret it! :)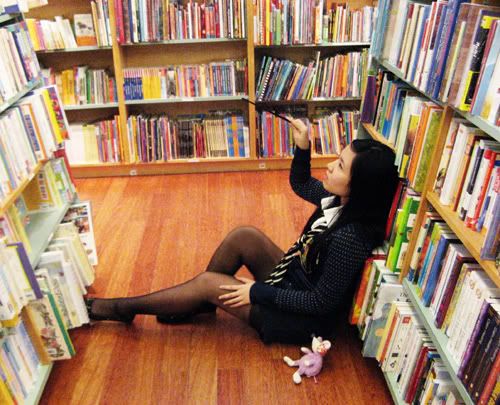 LONG LIVE HARRY POTTER!
xoxo,
A huge Harry Potter fan.