Guess where did I go on Friday the 13th?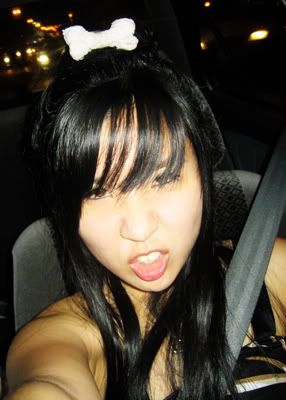 A costume party! ;)
We stayed over at the Duta Vista apartments for a night. :)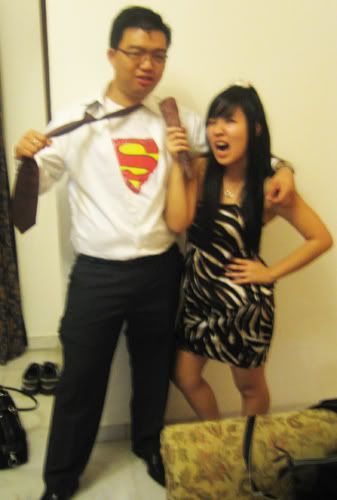 Cave girl and her Superman.
Ben, as Inspector Gadget???
Colin, as a prisoner. That's his prison cell number on his shirt. ;)
He's a super joker!!! Really into his 'role'-- if you ask him how did he met XXX, he would answer back, "
Oh, we were in the same cell
", or if you ask him how was the food, he would compare it to prison food! :D
Ken Hoong as a hobo.
Bah, he was just dressing up as himself!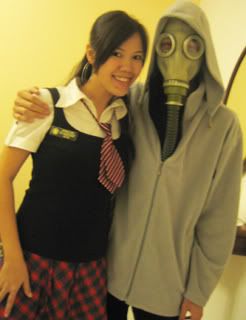 Rebecca and Nick, who was a terrorist, HAHAHAHA.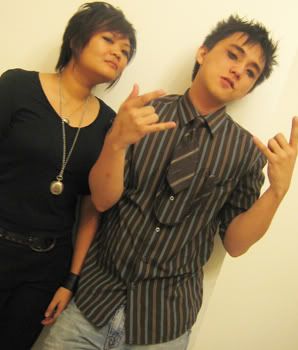 Tammy (goth chick), and Steven (rocker dude).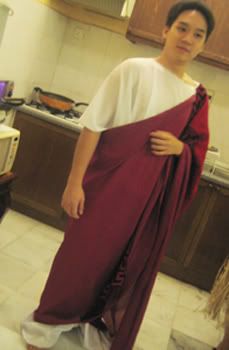 Yew Leong, as an emperor. -_-
I insist that he looks more like the
sami
from Journey To The West!
Hui Ru and Yew Leong, the lovely host and hostess.
It was a joint birthday party for the couple. :)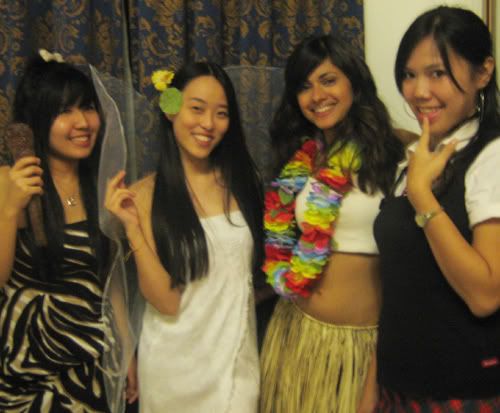 Me, Hui Ru, Shoba, and Rebecca.
I swear to god, Shoba is the most beautiful Indian girl I have seen in real life! Why are there such beautiful people in this world. T_T
And the little bone that I wore in my hair and the club in my hand are all made from papier mache! :D :D :D
All thanks to Teeny *muahhh*
I actually got a lot of compliments that the props were pretty realistic- looking! :)
Ken Hoong: Wow, where did you get your dress from??
Me: Errrr, MNG! I found it by accident!
(I originally planned to get a pirce of cloth from Kamdar and just tie it toga-style)
Ken Hoong: HUHHHH?? MNG sells things like that??? WOWWW!
Later, when he heard people asking me about my papier mache props.
Ken Hoong: Huh? You made them??? I thought you bought the full set of costume from MNG!
-____________-
Men.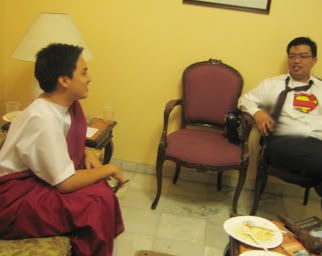 I never thought I would live to see this scene-- The king and Superman.
Quoting Yew Leong: Football unites people. -_-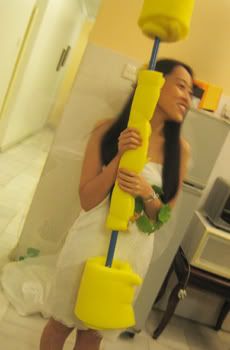 Hui Ru getting really excited over her 'joust'.
We were supposed to use it to duel when we are drunk. o_O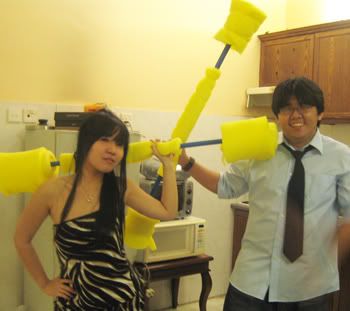 Easy breezy!
And my hair flopped after awhile. -_-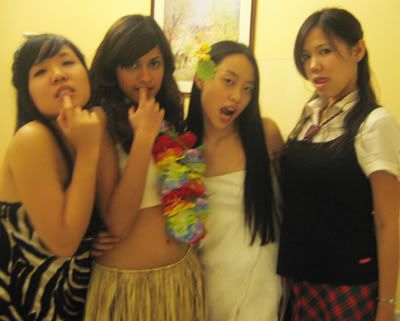 Miang-ness!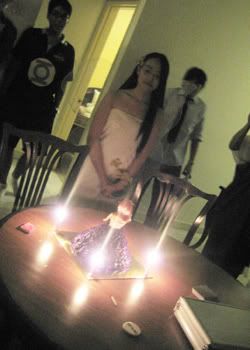 The birthday girl and her cake...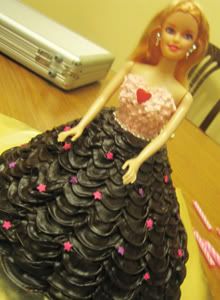 TADAAAA!
I would have died for one of this 10 years ago.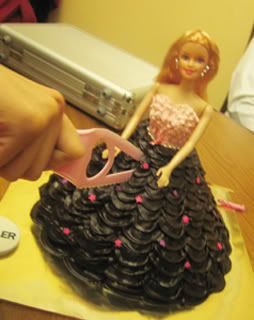 While Hui Ru was cutting the Barbie's skirt aha the cake, everyone was chanting "
Rip it off! Rip it off
!" :P
I asked, "
Does she have legs in the skirt?
?"
And everyone burst into laughter.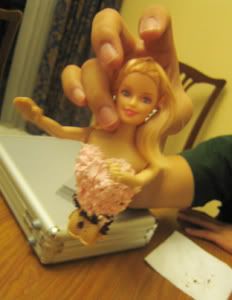 But SEEEEE???????????
I would have been so traumatized if I got this cake when I was 7 years old!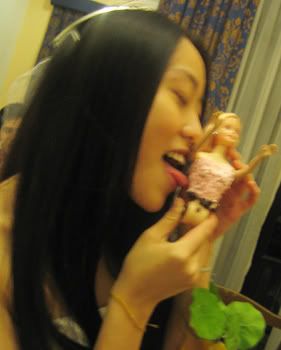 Licking off her 'top'.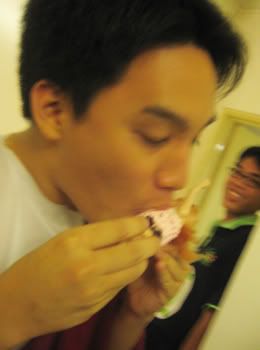 Birthday boy at it.
Doesn't he looked like he was attacking a corn cob???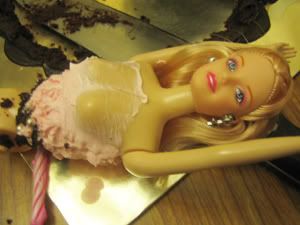 I have wondered since I was a little kid why Barbies don't have nipples.
I have an inquisitive mind!!!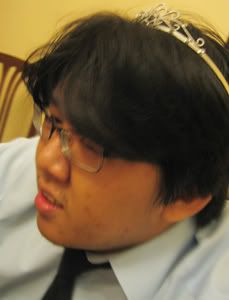 Ben likes being a princess.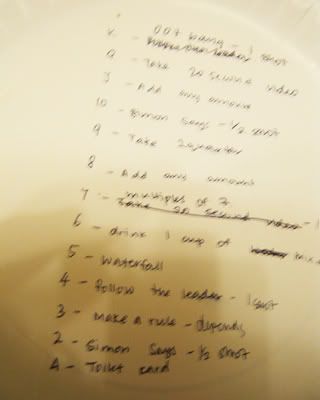 Drinking game-- Circle of Death.
Most fun drinking game EVER! :P But literally no one comes out of the game alive. -_-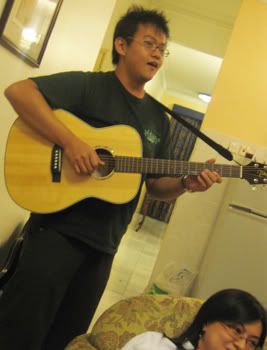 Khai Yao (I hope that's how it's spelled) playing the guitar for a 20-second video as a punishment of the game.
He can play the guitar really really really well! :)
But he has other hidden talents as well.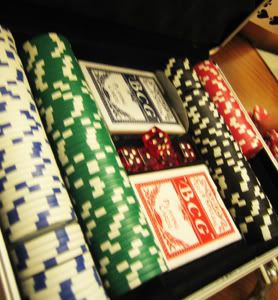 This is his casino kit. -_-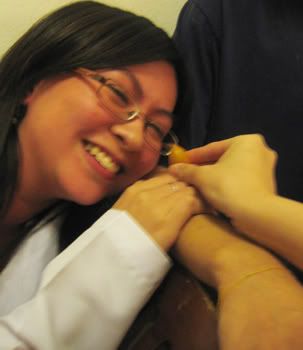 Kimberly, who was more red than a tomato. Literally.
That was a cherry tomato we were holding up against her face! :P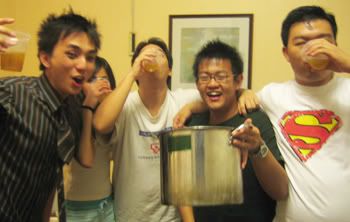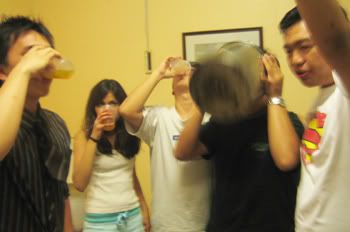 Cheers!
The most screamed word that night was definitely "DRIIIIIINK!"
Some memorable highlights:
- Free-spiritedly pouring liquids (read: ALL types of mixers and ALL types of liquor) into our fruit punch, em, pot, to make the best tasting punch ever. Also the most lethal one. ;)
- The guys toasting each other with bread dipped in Jim Beam. -_-
- Clanging on pots and pans ala chinese opera style to encourage people to drink.
- Singing
Negaraku
and reciting the
ikrar
-- we all still remember the words!!! :D
And giggling uncontrollably and laughing nonstop at things you wonder why you laughed at the morning after. And sloshing liquids as plastic cups from all around the table meet. And trying to force people who insist that they are drunk to drink, and telling people who insist that they are not drunk that they are.
OoooOo uu eeee oooo aaa oo aaa eee ooo
aaa eee
ooo ooo.
Which is cavemen language translated to:
My first costume party, good fun, good fun.