Christina Aguilera cancelled her concert last night. :(
So far, there has been no further news regarding any reschedules. Arghhh. I really hope everything turns out right, 'cause I really, really want to see her in performance. =(
***********************************************

We talked about savory pancakes at Paddington's pancakes at dinner today... So, here we go! :P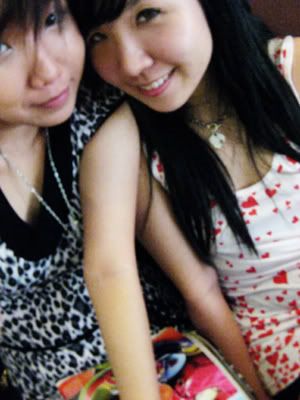 One of those days, when we were hungry and craving for something yummy.
(And didn't mind paying a heftier price).
In fact, for those of you who thinks that Paddington's is expensive, they actually have pretty good set meals-- recently launched, I think! They have different sets for lunch, tea, dinner, and supper, and the menu differs each day! They actually incorporate actual pancakes from their ala carte menu (which sometimes could cost over twenty ringgit), unlike some restaurants which serve rubbish as set meals. The pancake + a drink cost around RM13.90, which is altogether really affordable! :)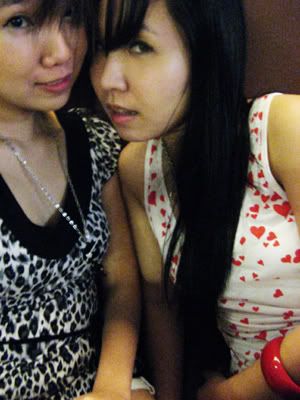 Badly drawn eyeliner. :(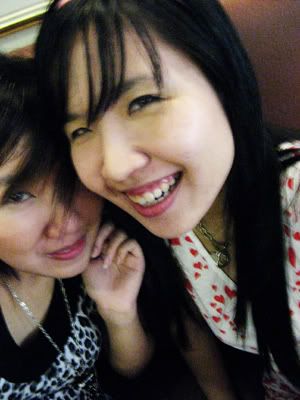 Eh, Jing, why do you look like a different person here!!!
And my orthodontist will freak if he sees my teeth now.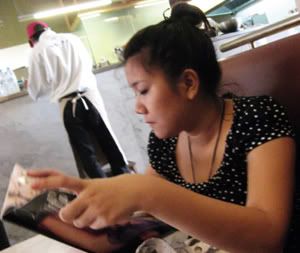 And Teeny looking pissy.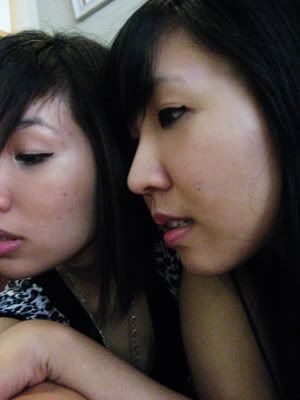 Looking at what Teeny was so engrossed over.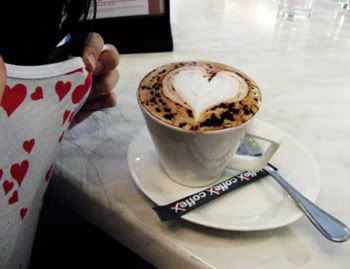 And lookie! My mocha! Cute heart pattern!
I think it was the waiter's pick-up line

la.

*perasan*
And it matched my top! :D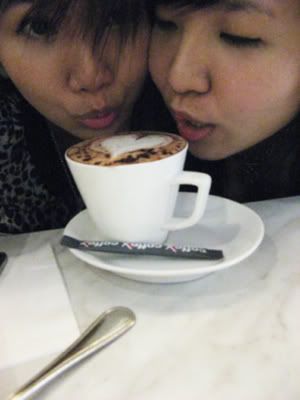 Just to show you that we can pose with anything.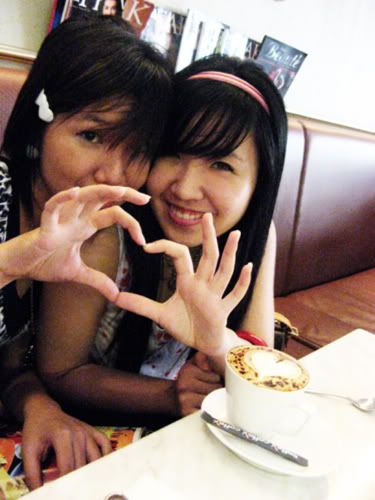 Sisterly love. :)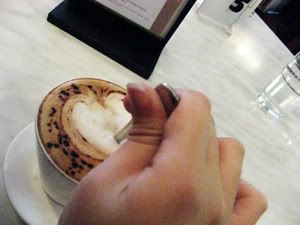 Being very careful while stirring, 'cause I didn't want to disturb the pretty pattern.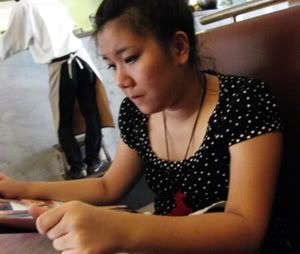 And Teeny looking pissed.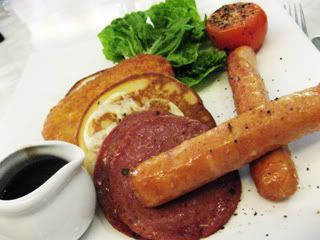 Smalls, this is how the savory pancakes are like!
Jing's pancakes with salami, hash browns, cheese sausages and gravy.
Extremely delicious, (I suspect partly also 'cause it was the only savory platter we had), it was amazing how well pancakes, hash browns and sausages go together as a burger (yea, we 'kiap' them together, haha)! But it was horribly expensive though, RM23.90, if I am not mistaken, so it might not be value for money.
And yea, the reason why Jing ordered such an exorbitantly priced dish was 'cause I paid for the meal. -_-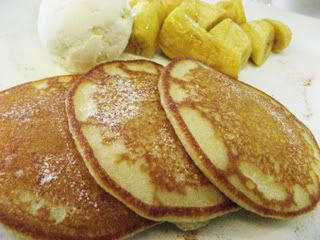 My pancakes with caramelised bananas, ice cream and the FABULOUS CHOCOLATE HONEYCOMB BUTTER!
Seriously, the next time you don't know what to order in Paddington's, just pick anything with the chocolate honeycomb butter. Seriously out of the world.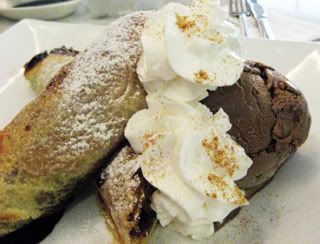 Teeny's double chocolate belgium waffle wrap thingy.
Very, very rich. Not really my thing, 'cause surprise, surprise, I actually don't like chocolate that much.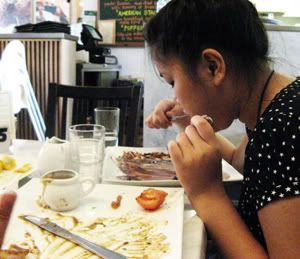 And Teeny looked pissy (even while eating).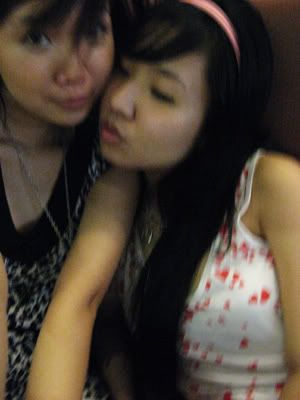 Us again.
The waiters really entertained themselves well looking at us camwhored. -_-
I am telling you, that place is overstaffed!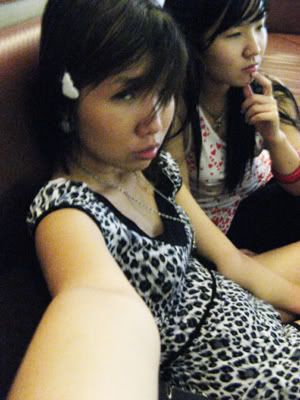 HAHAHA, look at how poser I was!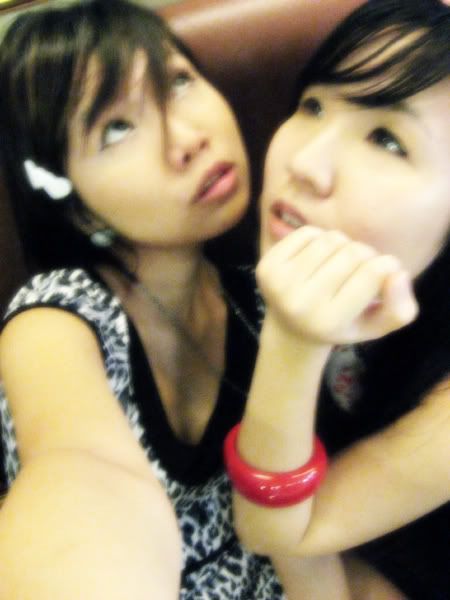 This is obviously a heavily Photoshopped picture, courtesy of Jing. -_-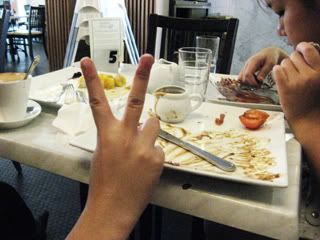 Victory! Told you we are big eaters.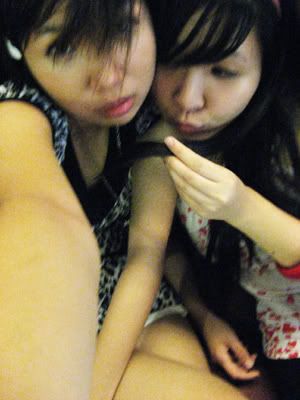 I have a weird fetish for tickling people with my hair.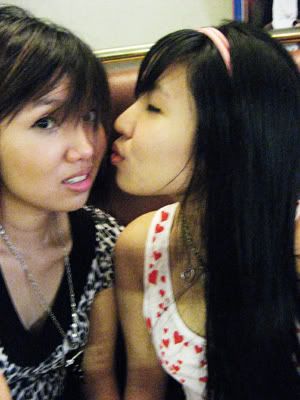 EH FUCK YOU JING WHAT'S WITH YOUR EXPRESSION.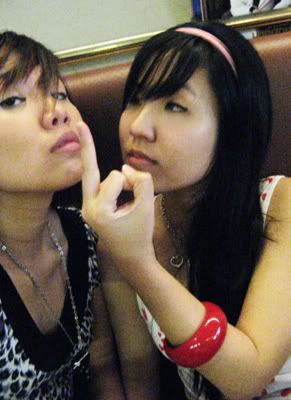 My thoughts exactly.
PS: All I have been doing (and want to do) these few days is watch Project Runway. Done with Season 3, tackling season 2 now.
And I know there are plenty of pictures, pretty narcissistic ones at that, but looking at these pictures make me happy. :)