All I have been doing with my sisters recently is shop, eat, and snap pictures.
Such superficial foundations our relationship is built on, haha.
Paddington's Pancakes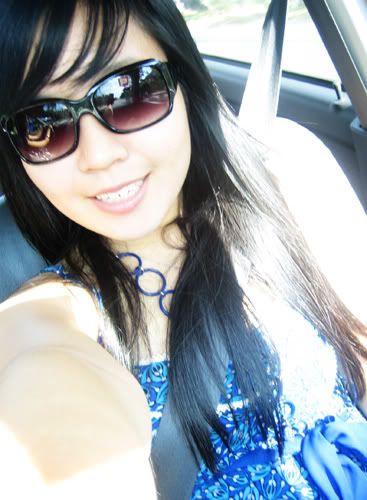 In the car on the way to Paddington's.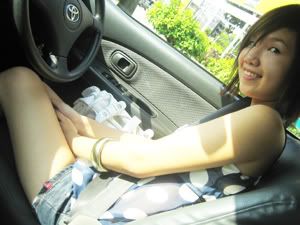 HOR HOR!! Demi camwhore, never keep your hands on the steering wheel!
Shall blackmail you with this picture.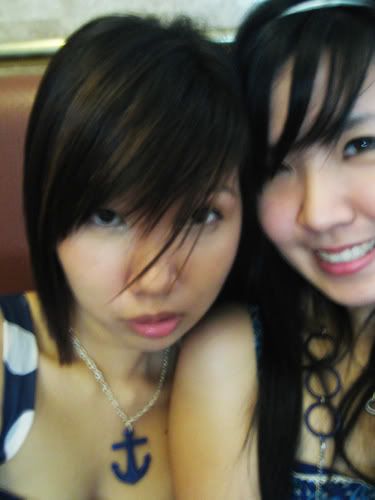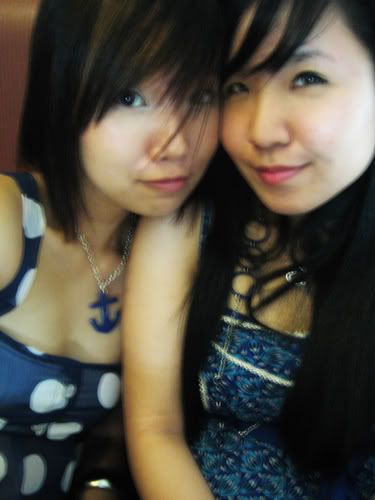 We shunned Teeny 'cause she didn't wear blue wtf.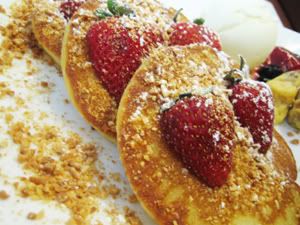 Jing's pancakes, I forgot the name, but it was the cheapest in the menu (
she had to live up to her kiamsap reputation, hee
).
But it was so YUMMY! It came with two cubes of honeycomb butter, and god, it tastes soooooo fantastically good. Like, mouthwateringly delicious. We didn't even care that it was
butter
, that says something! ;)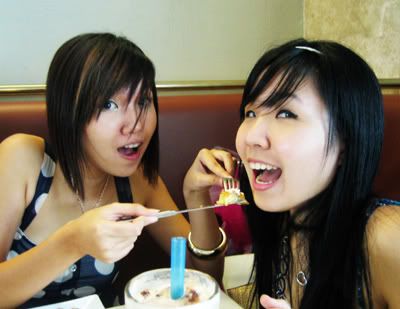 Approval chop.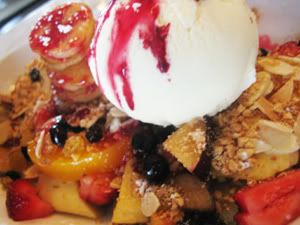 Teeny's dollar pancakes with mixed fruits.
Her
approval chop. :D
My order-- Tiramisu shake.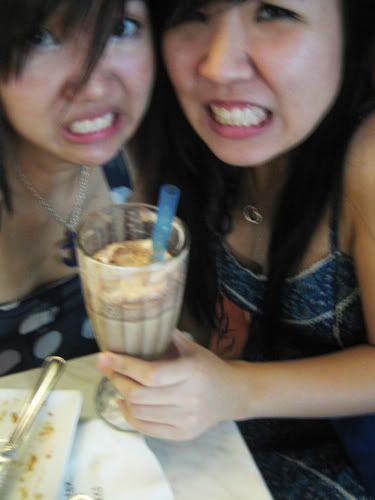 DON'T EVER ORDER THIS.
It tastes horrible! Like milk blended cough syrup, EUUUCHHH.
I was damn sad that I didn't order some pancakes for myself, 'cause their pancakes really looked (and tasted) great. :'(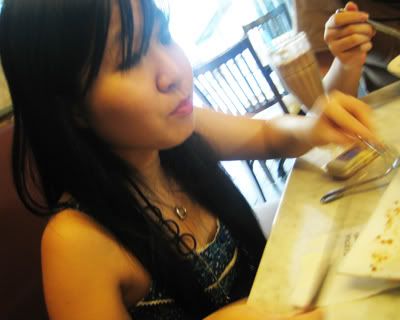 Helping myself to Jing's pancakes.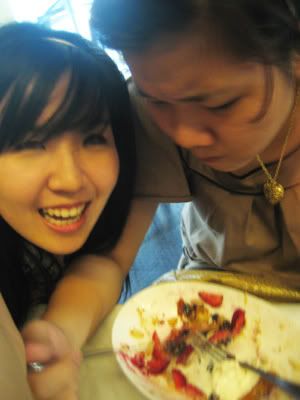 Teeny was super
tak layan
in camwhoring.
Look at her face! -_-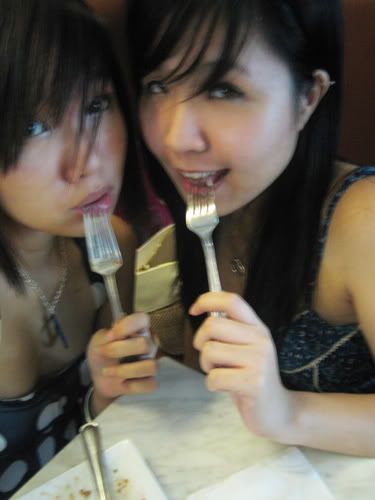 So we helped ourselves.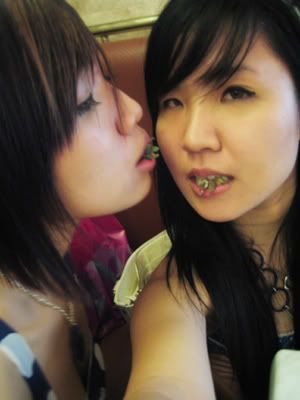 Those are strawberries' stalks. ;)
We actually took more than a couple of shots, so we actually kept the stalks in our mouths for a good whole few minutes... I saw customers seated nearby looking at us in horror, haha!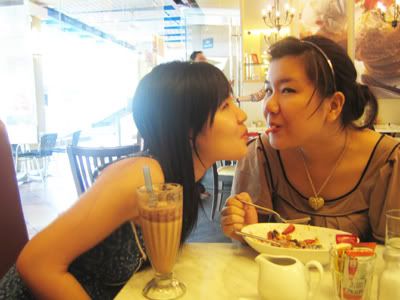 Strawberry kisses.
Random fact about me: I wear cherry-flavored lip balm.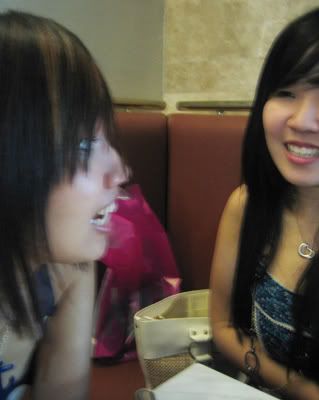 Girlie talk. :)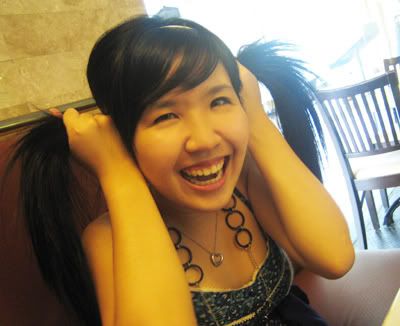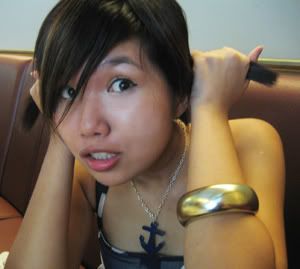 Sailormoon wannabes.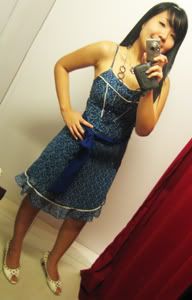 And an impromptu shopping trip to Bangsar.
I was unexceptionally good that day! I only bought a belt on 40% off in Bangsar! Shit, and a top.
Ignore the fact that I bought two dresses in MNG in the Curve before that, ladidums.
I AM TURNING OVER A NEW LEAF! :)
Ms. Read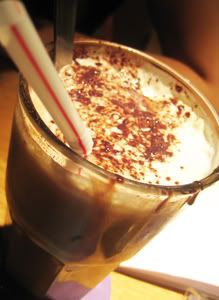 My iced mocha.
I am never going to order drinks again. T_T
This drink sucked big time too, it was powdery, ugh!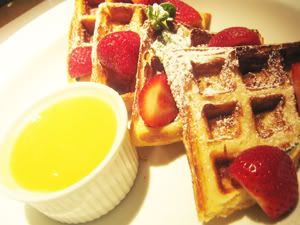 Vanilla waffles with white chocolate sauce and strawberries.
The name sounds really enticing huh? This was actually our second try in ordering this dessert-- it's only offered on weekends, before 6pm.
It was a disappointment actually, especially in terms of the white chocolate sauce. First things first, since when is white chocolate sauce yellowish and clear-ish??? The whole platter tasted like roti canai dipped in condensed milk, much to my sisters' chagrin after I pointed it out, hee.
But maybe I am just spoiled by Max Brenner's belgium waffles, which is about the closest to heaven you can get. :)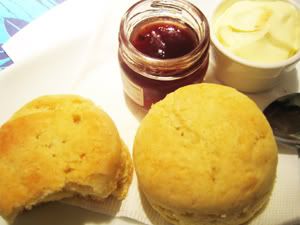 Scones with strawberry jam and cream.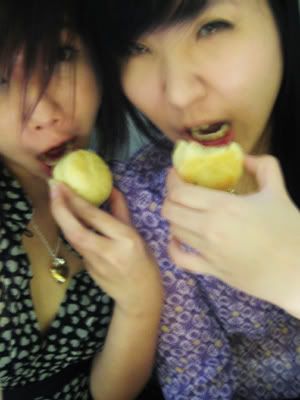 I love Ms. Read scones. :)
It's one of the best around, unlike those rock hard ones that most places sell.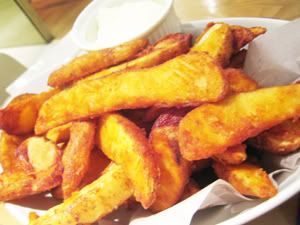 Wedges.
If you're not afraid of putting on a billion pounds and be as fat as a whale, order this! The wedges are really super nice. And at Rm8.90 for a huge basket, it's definitely value for money. :P
And yes, this is how much my sisters and I could eat. T_T
That's why we (and our friends) always pity my dad, for not only does he has four shopaholics (including my mom) int he family, all of his offsprings have ravenous appetites of the hungriest beats.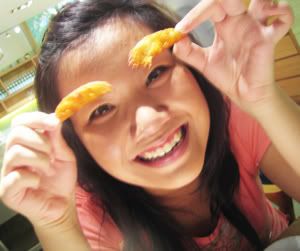 I think her new eyebrows are an improvement to her looks HAHAHA.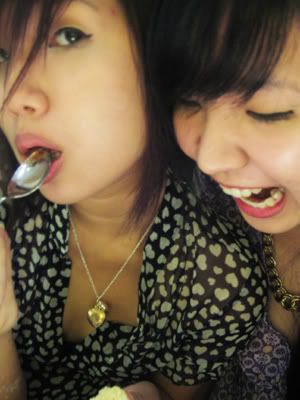 Don't ask me what was I doing. -_-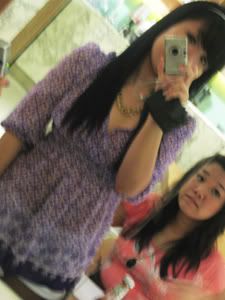 I am getting more and more shameless as days go by-- I just started snapping my reflection in the restaurants without a care in the world.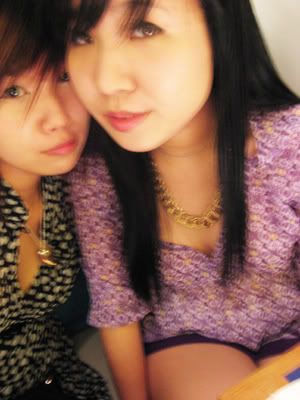 I look like I wasn't wearing pants.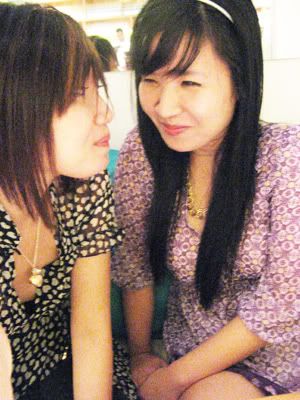 Trying to look lovingly into each other's eyes, but failed miserably.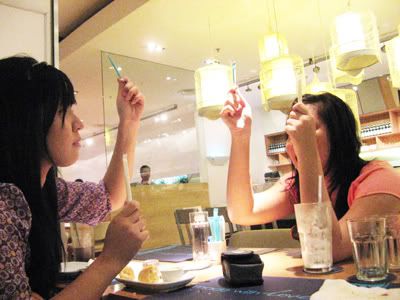 Playing a voting game for Jing's future shopping purchases. The blue packets of sugar was supposed to represent YES, and the white packets for NO. So she would ask, "
Big (bag)
?", "
X

color
?" etc and we would vote accordingly. HAHAHA idiots!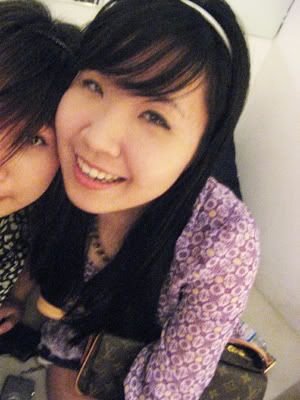 I desperately need a haircut.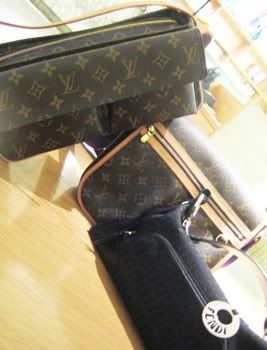 Brats.
No la, we just borrowed mommy's bags. :)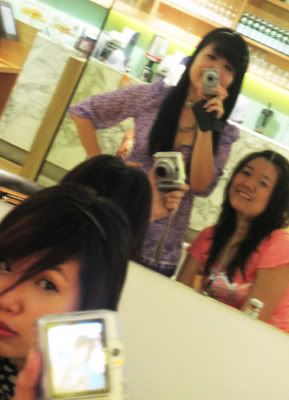 And a group shot. ;)
And sisterhood is watching TVB dramas at 3am on the bed, and when the lead character dies, cry uncontrollably together whilst laughing at each other, and competing who can spurt more tears, amidst teasing each other "
You PMS ar
? through a blurry vision of tears. :)