So, I am back from my skiing weekend.
Or should I call it, the weekend of hell.
More about the boot-camp like getaway when I get the rest of the pictures from Smalls and Mey; for now, pictures from the night I left would suffice.
We were supposed to leave for the trip at 2am, and as of 9.30pm, we were still happily roaming about in Chadstone. -_-
Mey in the changing room.
A reformed Mey, I might add. who shops more than me. ;)
Waiting for her to be done.
Look at how possessive Jac is over her new LV Speedy! :P
She's clutching it as if it's the star of the picture. -_-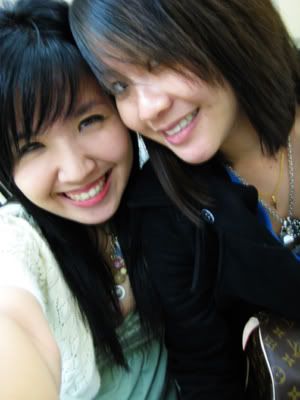 Jac and I, sans attention-hogger LV bag.
Mey couldn't decide what she wanted, so she proceeded to put on a dress that Jac has
already
bought.
Smalls, me, Jac, and the ever-whoring bag.
My lowly bag and the white plastic bag are negligible.
My pancakes at Pancake Parlor-- with bacon and eggs.
Look at the deceiving scoop of cream on top of the pancakes... It's not ice cream, it was actually BUTTER!
Ugh. And to imagine I kept on shoving it into my mouth, out of curiosity of the saltiness of the 'ice cream'.
One of my conquests that night: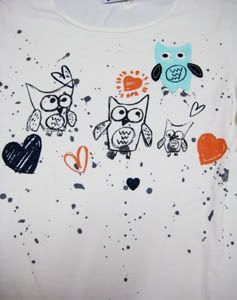 Isn't it the cutest T-shirt ever? :)
All four of us bought the same shirt! 'Cause there are four owls, one to represent each of us, geddit, geddit!
It's pretty obvious that the teensy weensy owl is Ms. Smalls herself, but we are still fighting over who gets to be the cute turquoise flannel owl. I reckon it should be me, since I am such a vibrant character, and I color the girls' life.
*cough cough*
:P
But the other main reason why I bought the shirt is as a tribute to Hedwig in Harry Potter!
Jing, you would understand. T_T
At Toys 'R' Us:
Unicorns!
But our joyous expressions were rather inappropriate for the, ahem, ride.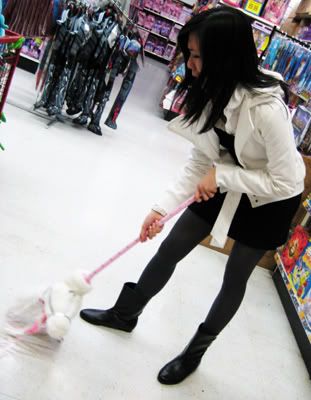 The ever-functional unicorn head.
Begone, dust and dirt!
Shrek baby!
Anyone knows where I can get the free Shrek Baby toy that comes with fast food value meals?
This is against every fiber of my values, principles and morals.
I HATE POKEMEN.
And as link to the incidents of my ski trip...
See the shopping bags in the picture? They are Mey's and mine respectively.
After giddily playing with the stuffed heads, we left our shopping bags in the shop.
And we only realised it after quite some time. -___________-
Thank god the bags were still there when we ran back to Toys 'R' Us. Hurray for honest Australians!
And yea, after such a close call to losing my shopping bags (almost 200 bucks worth of stuff), I dropped my mobile phone while I was skiing.
And I just cut open my handbag to retrieve my personal belongings.
And you wonder why I look back on my weekend with a heavy heart.