Remember
this
bathing incident?
***********************************

Last week, I was in the shower, and after drenching my hair with water, I reached for my shampoo bottle.
Oh shucks, there was not a single drop of my Dove's Shampoo for Normal Hair left.
With a slight grumble under my breath, I wrapped myself in my towel, and went to my toiletries cabinet, because I remember that there is a bottle of new shampoo that I bought last semester.
After scanning all the bottles and junk in the cabinet, I could only see one bottle of conditioner. My grumbling got a little more fervent.
And
then
, I realised, the bottle of conditioner was the bottle that I was looking for-- I wrongly bought a bottle of conditioner instead of shampoo.
-_-
*************************************

Never mind.
The next day, I made a purposeful trip down to Coles, and got my shampoo.
I happily doused my hair with my newly bought shampoo for 2 days-- it was supposed to be extra moisturising, and I was just gleefully waiting for my hair to transform into a cascading waterfall of shiny locks.
However, yesterday, I could be seen complaining and complaining to Jaclyn about the new shampoo.
"
It makes my hair so greasy! So limp! So lackluster! No volume
!"
**************************************

Today, as I stood once again behind the shower curtains, and plop the dollop of shampoo onto my hair, I briefly glanced at the bottle.
Almost instantly, I knew something was wrong.
As quick as the glimpse was, it was enough for me to notice that there wasn't the word '
shampoo
' printed on the bottle's front.
Upon closer inspection, and in true hui-wen fashion, lo and behold, it is a
conditioner
.
So now I have 3 bottles of conditioner, and no shampoo at all.
-_______________________-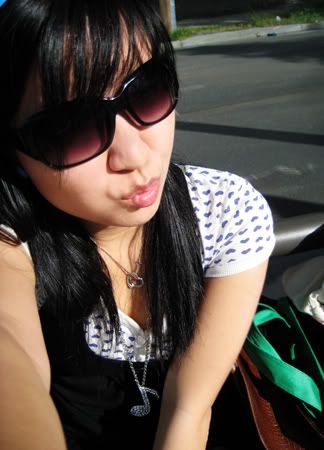 A very grumpy me.