Okay.
Maybe it's better if I just let it be known.
Instead of keeping it to myself.
Yes, everyone. I am prepared to let it out. I just think it's better this way.
I am going on a diet.
Don't laugh!
I know I have been saying that I will go on one for ages, and well,
let's just say Tim Tams still made their way into grocery basket
, but this time I am serious.
I have put on more than 5kgs since I came to Melbourne!!!
And it's time to shed them off.
And the reason why I am revealing it here is 'cause, well, if I let
everyone
know, then I will be sort of forced to adhere to my diet regime, y'know? By broadcasting to everyone that I'm on a diet, I will feel the pressure to actually show
some
results.
Like, if a friend (who reads my blog, presumably) sees me one month from now, and upon seeing the still-pudgy me, will ask me accusingly, "Eh, I thought you were supposed to be on a diet?"
Yes, the idea of the burning shame, and the embarrassment of not succeeding in losing weight..
That's my burning fire, my biggest motivation. -_-
Or at least that's what women magazines suggest, haha. :P
Anyway, I have been good for the past 3 days-- went to the gym yesterday and the day before, very little carbs (I swear, those things are the MOST EVIL OF THEM ALL), no snacks, no supper, no candies. :)
My lunch for today...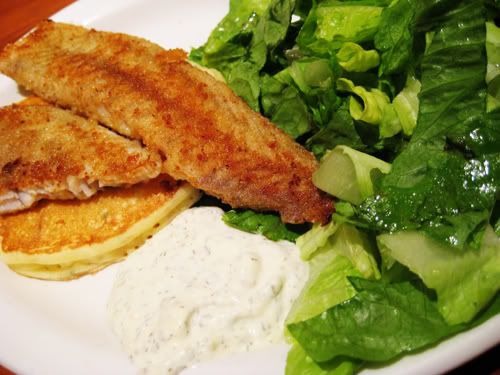 Barramundi fillet (pan fried), with potato pancake, fresh salad and sour cream.
We went to Pancake Parlor, and I am very happy with my order (a little small, but hey, I am a woman on a diet after all). The fish was delish, and and and! I didn't touch the sour cream, and I only had half of the potato pancake (which was about the size of my palm).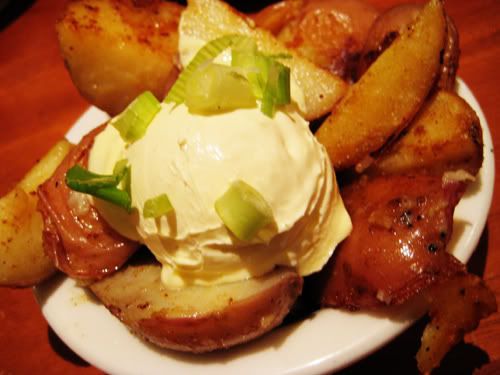 Cottage fries.
It doesn't look like the tradition cottage fries right! It's actually organic spiced potatoes sauteed/roasted to perfection, with the infamous dollop of Pancake Parlor sour cream (sour cream has never tasted this good!). It was Jac's side order, and I always always always steal at least one or two pieces, but today, I refrained. :)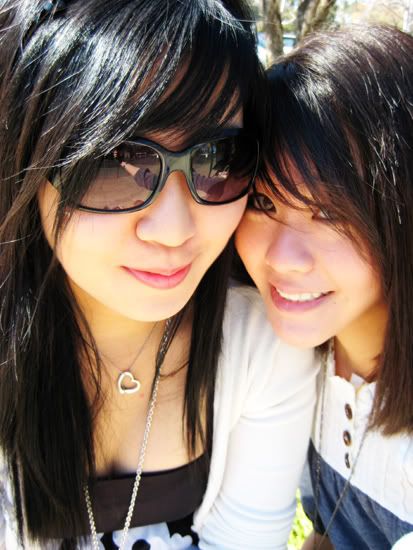 Jac and I at the bus stop. It's a conspiracy I am telling you! Why she made her face looked small, and mine so big.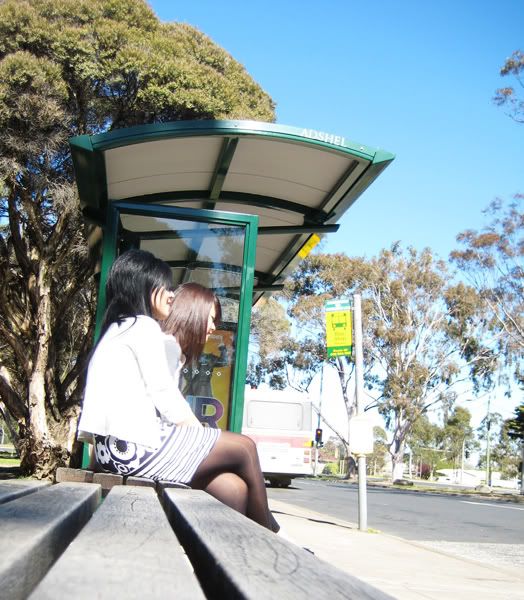 Just another day in spring. :)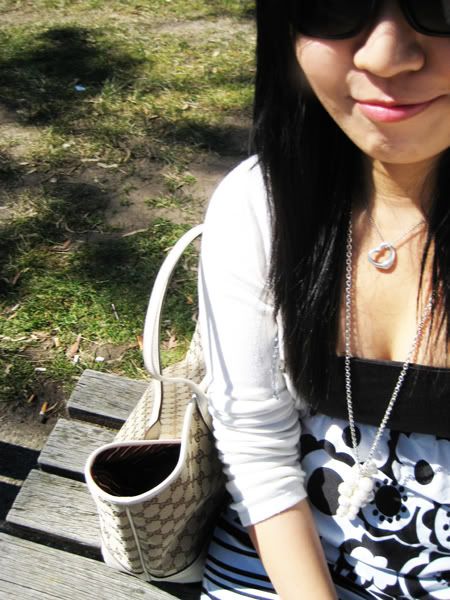 This is for the people who egged me to show them my new bag. ;)
At Pancake Parlor: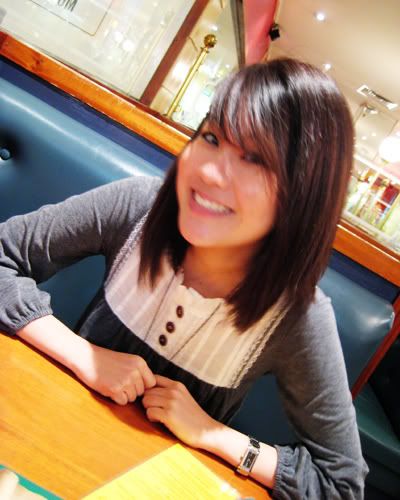 I was very amused, 'cause I took 3,4 shots of Jac (at different times), and she constantly had her arms placed in a perpendicular manner (as shown above)!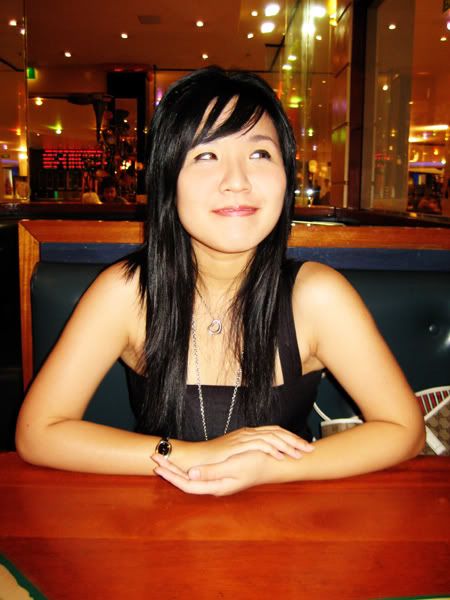 So I copied her. :P
And I have something to confess! T_T
The whole reason why we went out (Chadstone, if you have to know) was 'cause my need to shop was TOO TOO INTENSE.
My law assignment is still dangling and unfinished, but shopping came first. -_-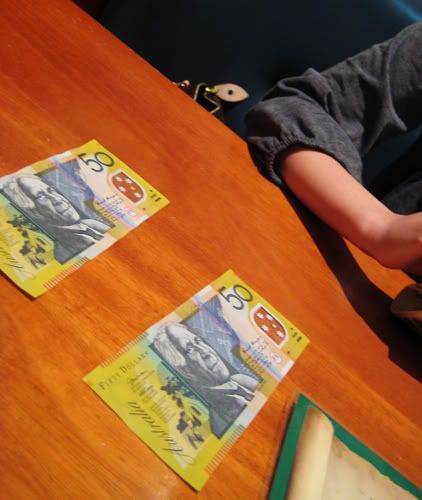 Our modal for the day! Or rather, Jac's modal. T___T
That was the amount that I owed her, and paid her back. T_____T
100AUD okay... T_____T
Don't ask me why I owe her so much money, shush.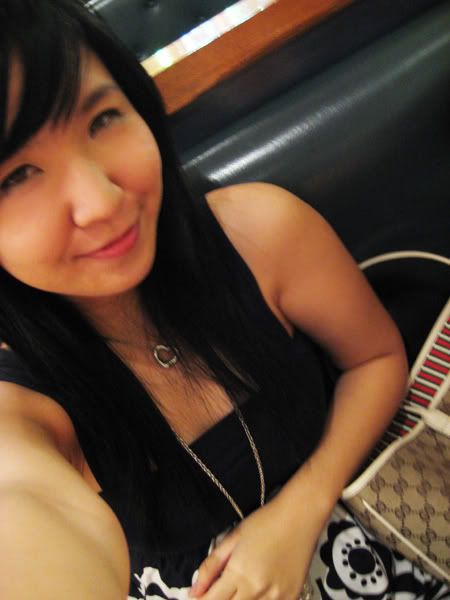 My arm looks funny here.
And here's a picture of me in the fitting room!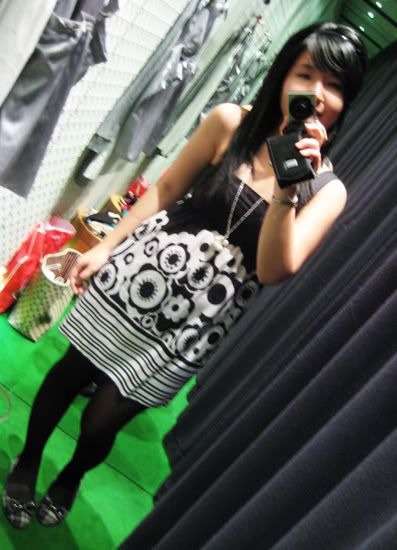 And here's to what I hope to look like in a few weeks' time.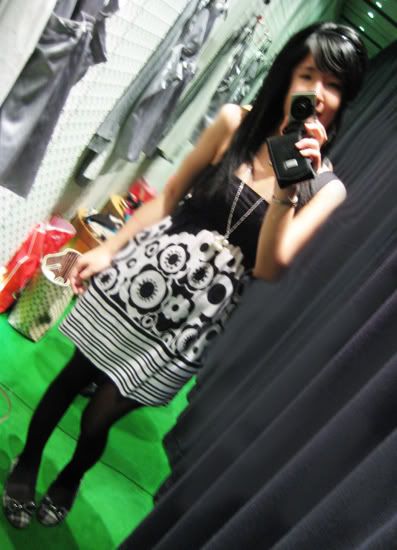 Hahaha!