My morning yesterday started at 7.30am, when Bernard's text message beeped:
"
Looks like gona be a beatiful day!hahaha c u later
"
Muttering some unintelligible grumbles, I pulled my covers over me and went back to sleep.
When my alarm rang at 10am, I woke up with a stretch, and lifted my curtains, just a little, and peeked out.
The glorious sight of sun greeted me-- everything looked greener, lusher; and in my stomach, I knew that it was going to be a good day.


Note: Bernard's text message isn't a pick up line or anything k, it was just that we were debating about the weather the night before. -_-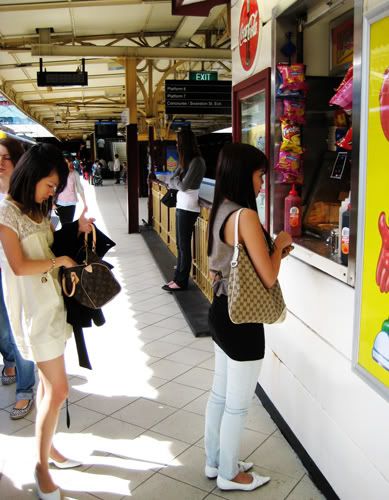 At Flinders station, the girls hungering for some greasy breakfast.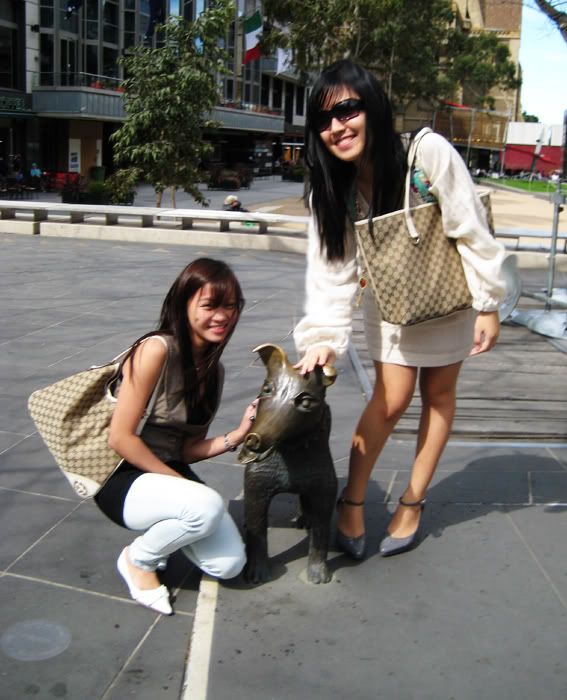 It was such a beautiful, beautiful day!
The light breeze, the gentle caress of sunshine...
And we look like a Gucci ad here, HEEHEE.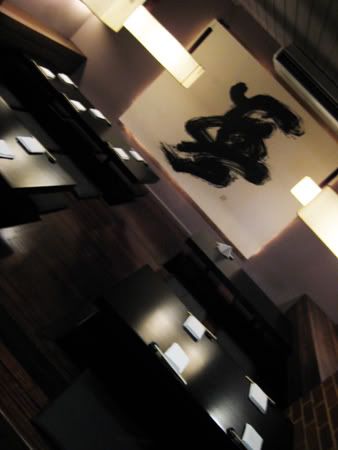 The main mission of the day was Shoya, for our gourmet japanese lunch. :D
I would like to pretend that I know what was written on the giant white canvas, but unfortunately, I really don't.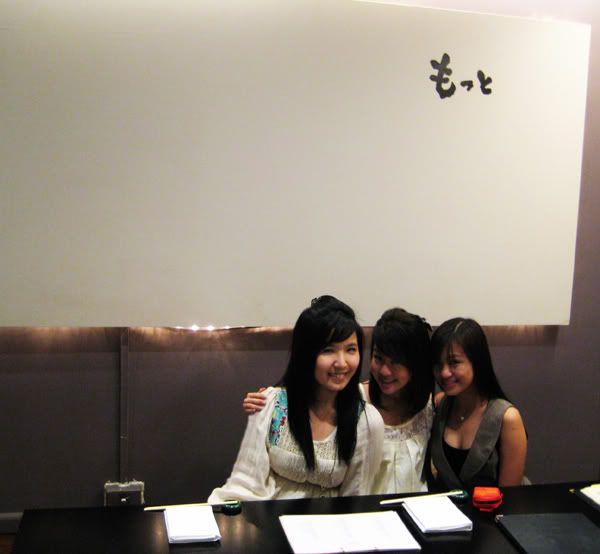 And I
*think*
I know what is written on
this
giant white canvas, which is "just enough" or something equally profound.
And yes, after I graduate, I am going to be a painter, and I just scribble deep words on one corner of all my artpieces. Like "
Just Happy
", "
Just Contented
", and "
Just Do It
".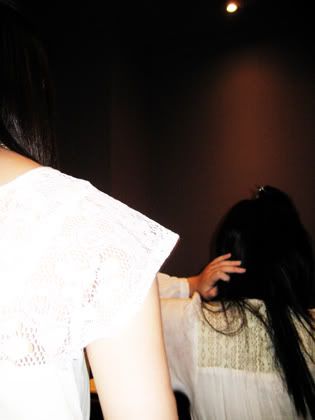 Totally candid shot, I passed my camera to Smalls to snap pictures of Jac and I, and I have no idea what in the world made her think that this is a flattering shot.
But I digress, don't you think I look like those olden days Chinese kung fu hero from this angle!!!
Sorry, I grew up with TVB dramas. ;)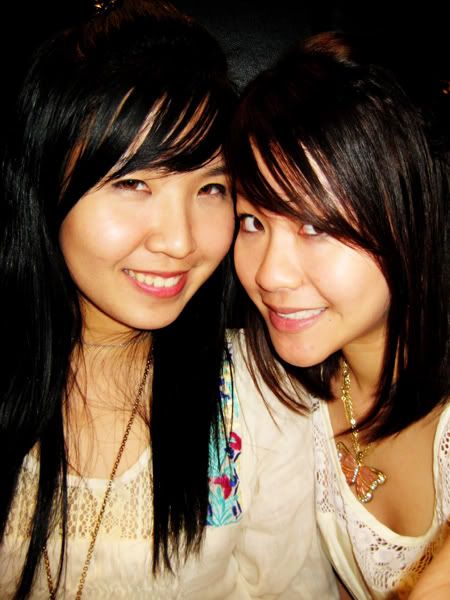 We have decided that we are going to pamper ourselves from now onwards, which is why hopefully our aim to try out one good restaurant per week is going to work out.
Bernard (from work, lunch break) and Azlan (from bed, just woke up) met up with us for lunch too!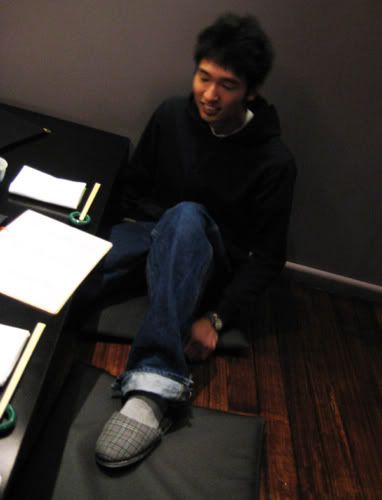 Introducing the new Jimmy Choos, bedroom slippers.
Suit and bedroom slippers, some might say it's a lethal combination. ;)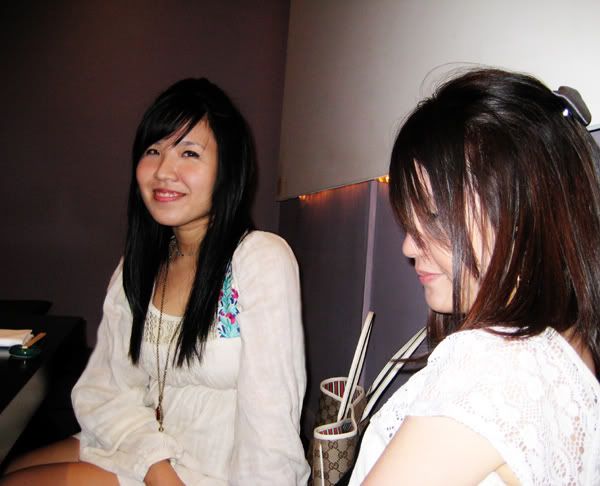 Me trying to look nonchalantly into the camera, and Jac nonchalantly pretending not to.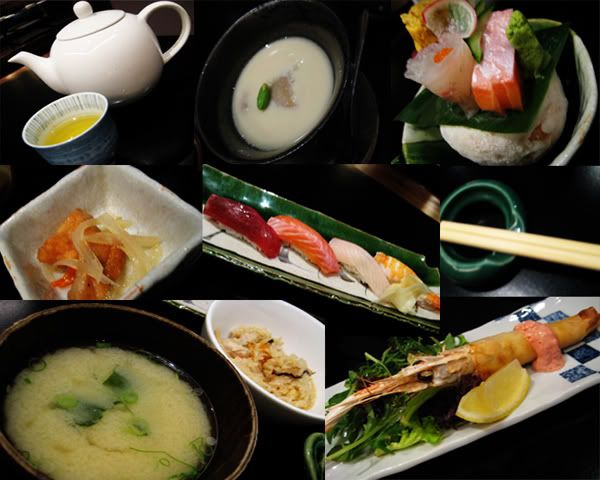 My food! And these are just from
my
set only (
plus one more grilled fish, not photographed wtf
).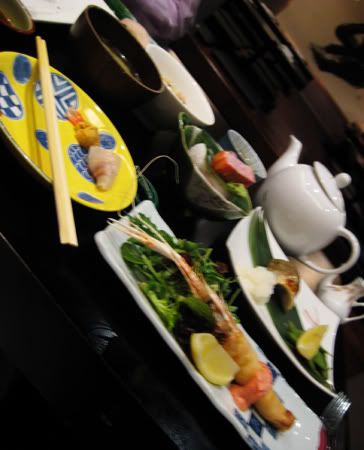 Which was why my side of the table looked like that.
All three of us ordered really huge and extensive sets, and we ended up giving away a lot of our food to Azlan and Bernard... Now I know why they ordered really little! :P
We were waiting for the tram on the opposite side of the road, and the tram was still quite far away (within view); with a stroke of brilliance, we all exchange looks, and said "
The tram is not here yet! Let's RUN over there and take pictures
!"
Giant purse outside GPO.
All pictures taken within 3 minutes, before we RAN back to the other side and scurried up the tram.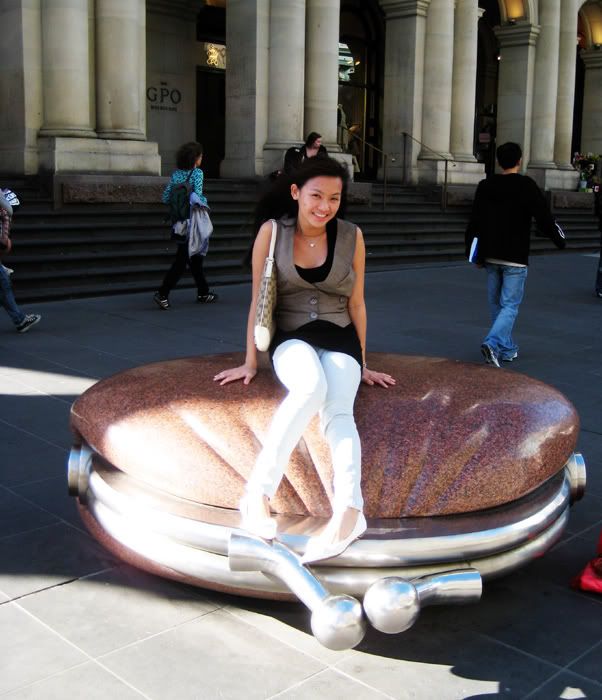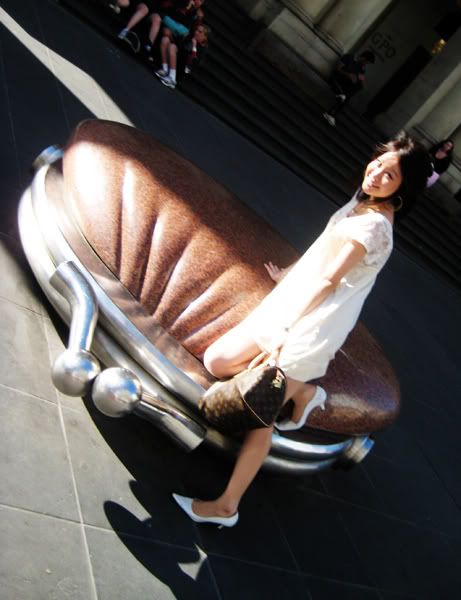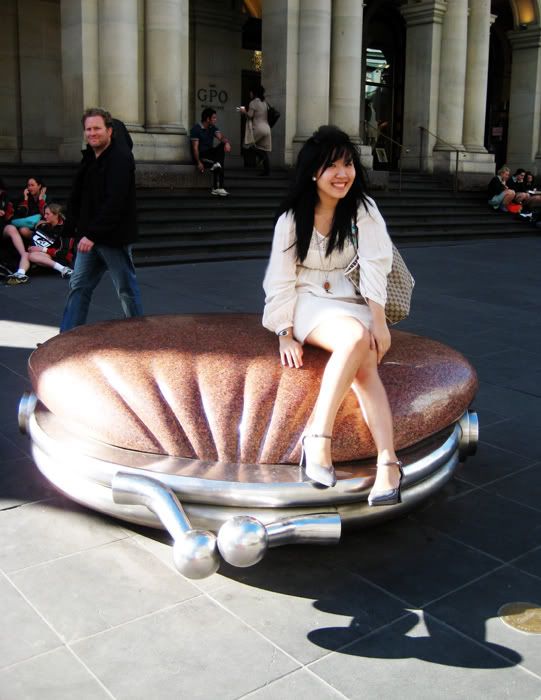 Camwhore pictures during shopping: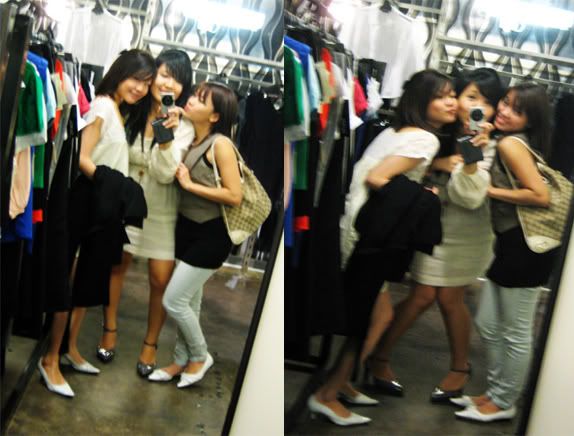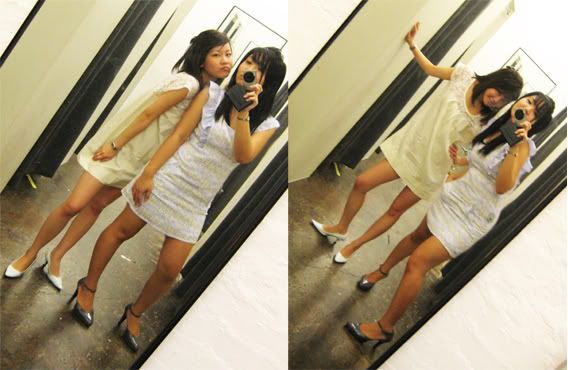 That's a dress that I really like, but Jac '
chupped
' it for herself already. :D
And as luck may have it, we found ourselves at Brunetti-- for the best desserts in town. :)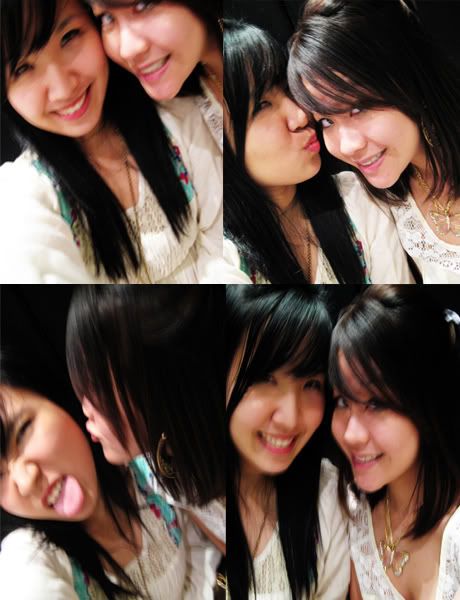 Warming up to Brunetti, hee.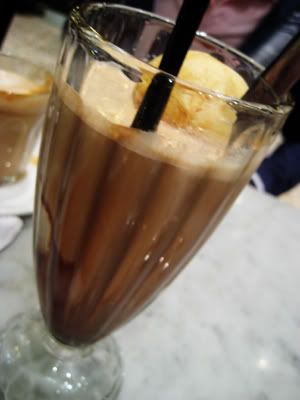 My iced mocha.
When will I learn that iced drinks in Melbourne always have ice cream!!! T_T
It's all self service in Brunetti, and there were a lot of (savoury) pastries to pick from, and you could also order main meals (i.e. pastas and such)...
Needless to say, the selection of desserts was ASTOUNDING... And the best part was, Brunetti actually offers its desserts in really small sizes as well, so it's perfect for greedy people for me who likes to have a little bit of everything! :)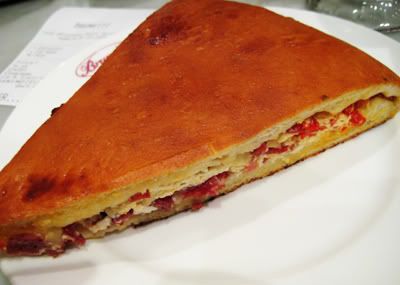 My 'main course'-- there are ham and salami in it.
It reminds me a lot of
kuih kapit
somehow, hahaha.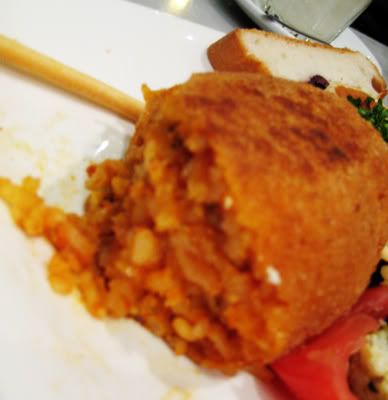 Cross-sectional view of Jac's fried risotto.
Yup, you heard it right, deep fried, with gooey cheese in the middle! :)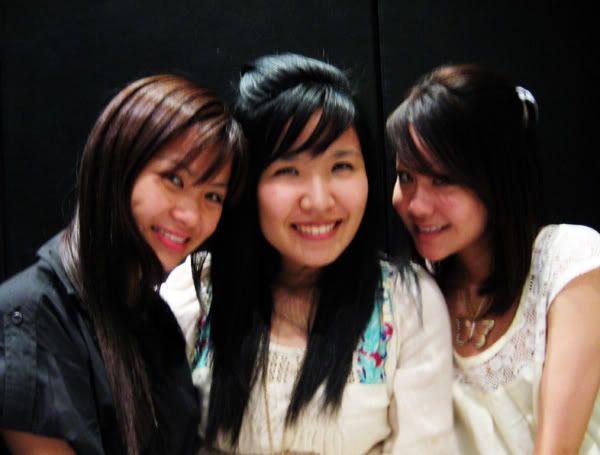 The girls of the day: Smalls, me, Jac.
It's rather worrying-- I detect a making of a double chin in this picture. T___T
And Bernard actually joined us for dinner after work too! But I don't have any pictures of him then... He was too busy (being instructed to) taking pictures of
us
. :P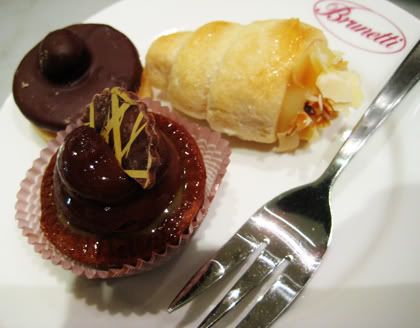 My palette of desserts: chocolate tart, vanilla custard pastry, and a piece of gourmet cookie (chocolate toppings and hazelnut cream).
They are really small (probably slightly bigger than a 50cents coin)
.
I love the fact that I could have a choice of consuming something heavy or light for my main meal, and hence, offering me the freedom (and tummy space) to try more desserts! The moment I was greeted with the long arrays of cakes, tarts and cookies, I told Jac and Smalls: "
You girls won't judge me if I take 6 or 7 pieces right...
"
But I only took three pieces okay, I remembered my diet. T___T
And oh! The gourmet cookie that I had was soooo goood! There IS a difference between gourmet cookies and the normal ones. It costs AUD55 for 1 kg, and just 1 piece like that cost me about AUD1.30, which is really crazy, to think of it. -_-
And I must give the chocolate tart two thumbs up! This might sound totally inconceivable, but contrary to popular belief, I really don't like chocolate that much. I hate chocolate cake and chocolate muffins-- basically, I only like chocolate sauce and chocolate chips, and of course, tim tams. :P The texture and taste of the chocolate tart was really light (hence it was sickeningly sweet), and there was even a dollop of custard in the tart! Some might say I am going bonkers, for I thought the chocolate tart tasted a little like lotus paste mooncake, haha.
I am DEFINITELY DEFINITELY going back to Brunetti, I can't imagine a lovelier place to eat and gossip with girlfriends! :)
And as how all good days go, there's always a perfect end.
And what better end than our own photoshoot at one of the most gorgeous scene in Melbourne. ;)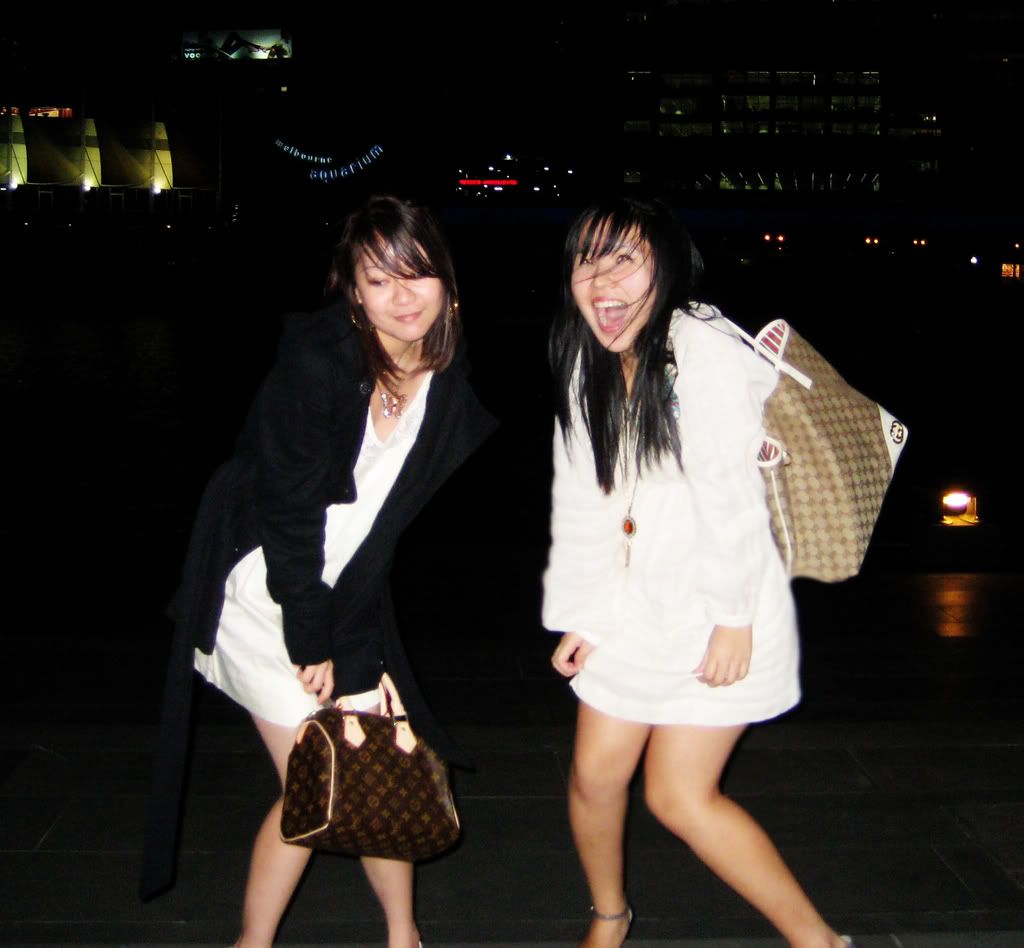 Windy!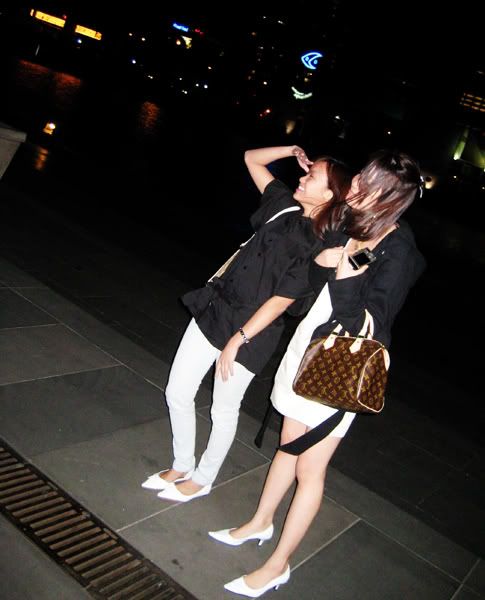 Waiting for someone to offer to take pictures of us (
'cause Bernard has left us then
). :D
Haha!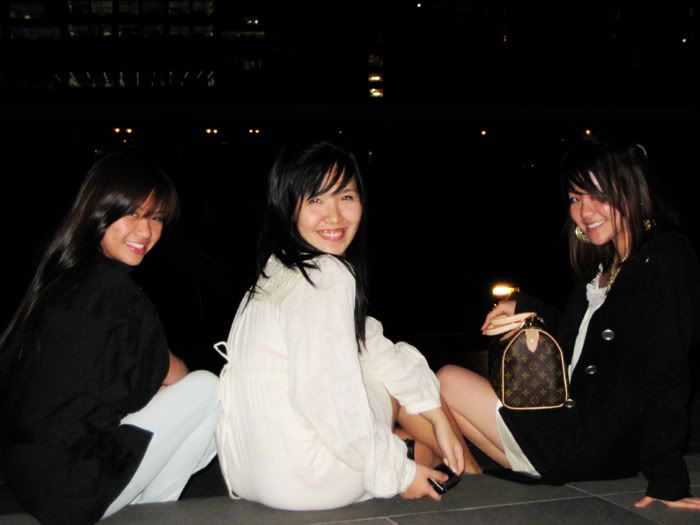 Someone offered to. ;)
And slowly, we realised that waiting for a hero to swoop to our rescue just isn't feasible, and we decided to take matters into our own hands.
Self-timer, baby.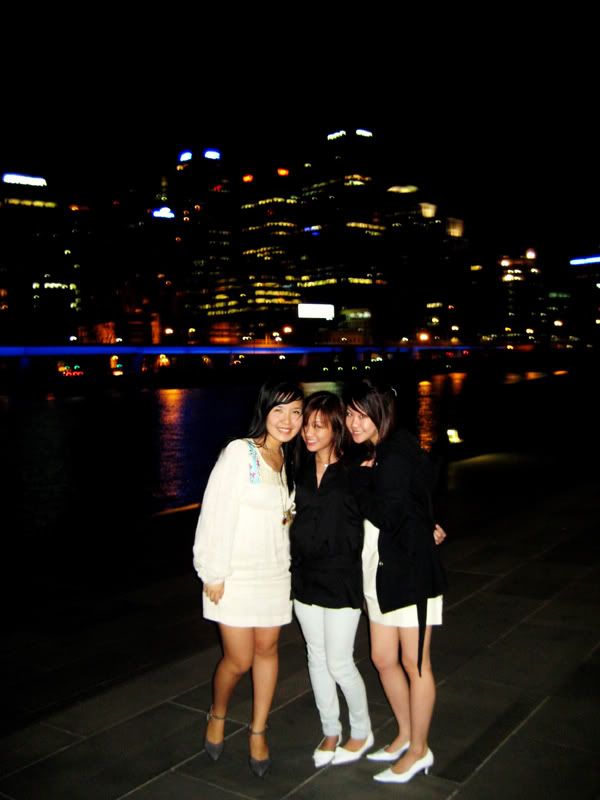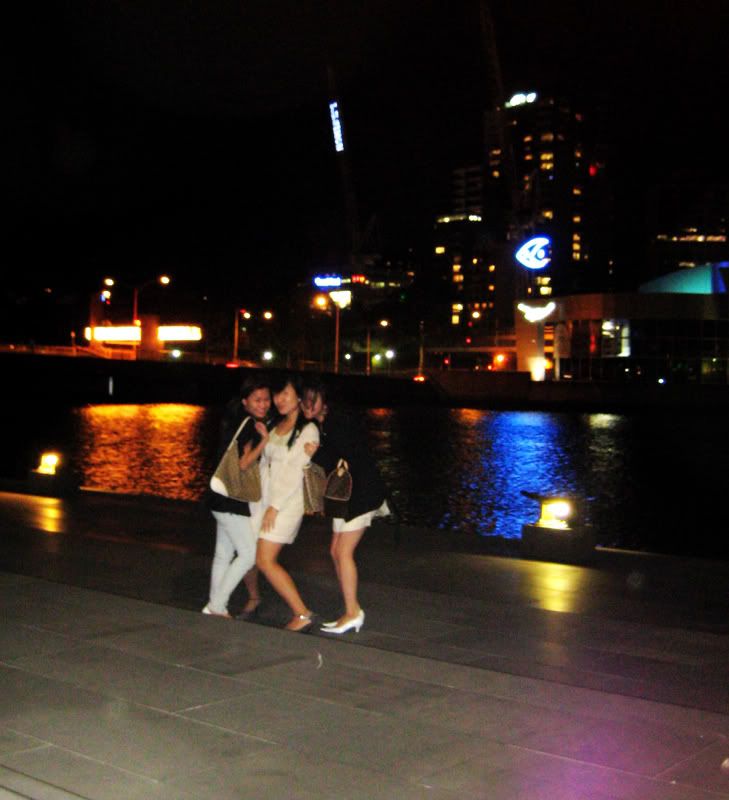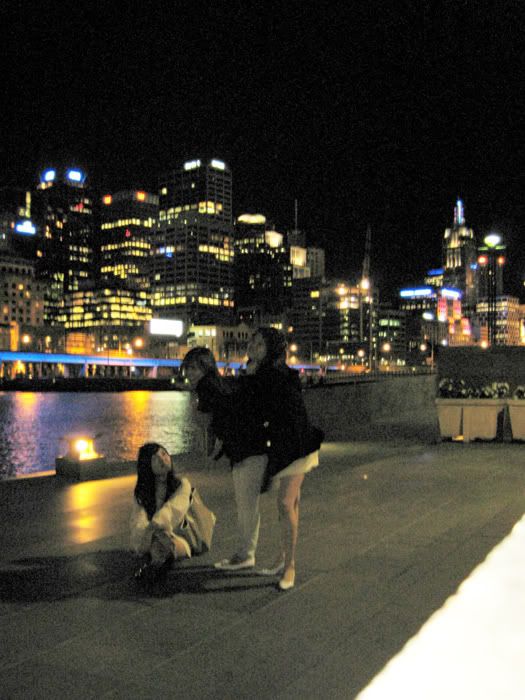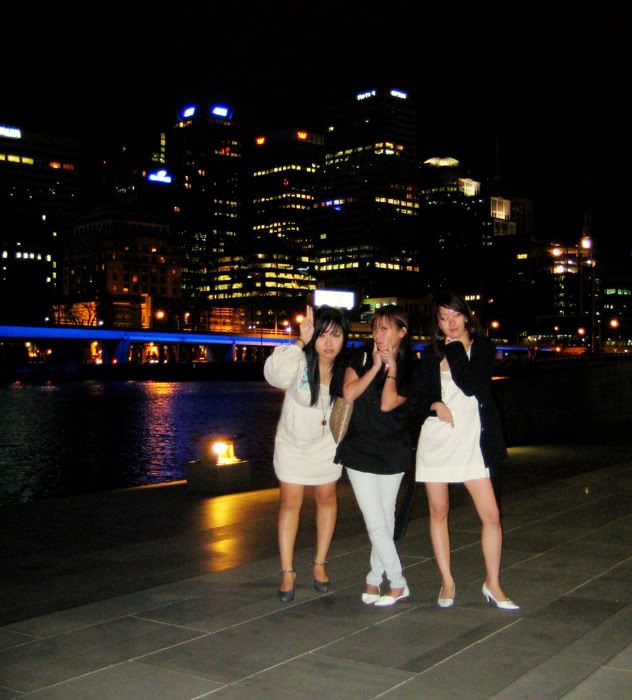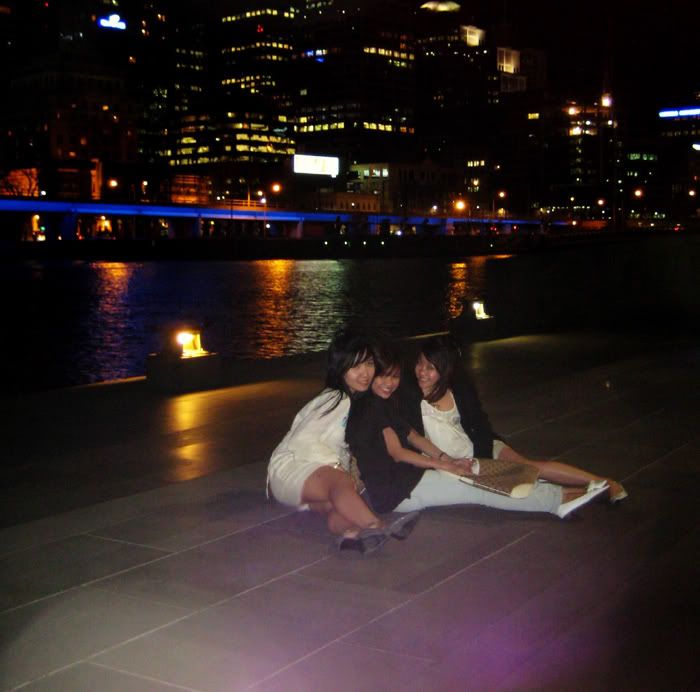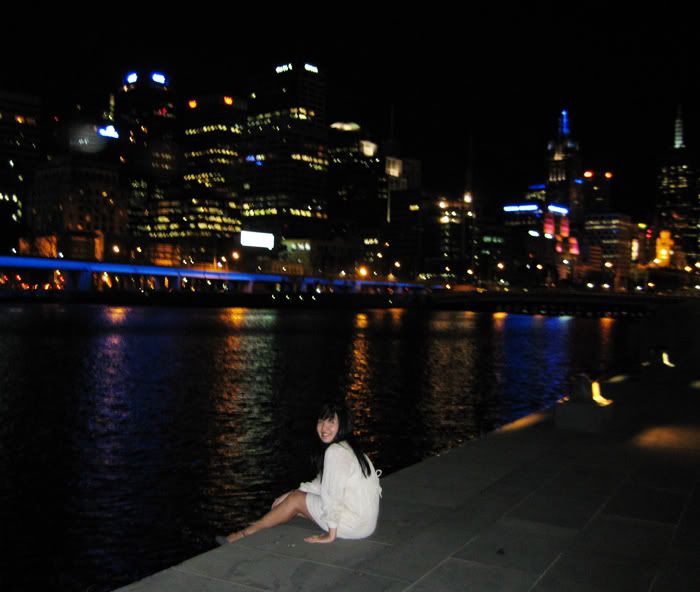 Isn't Melbourne gorgeous at night? :)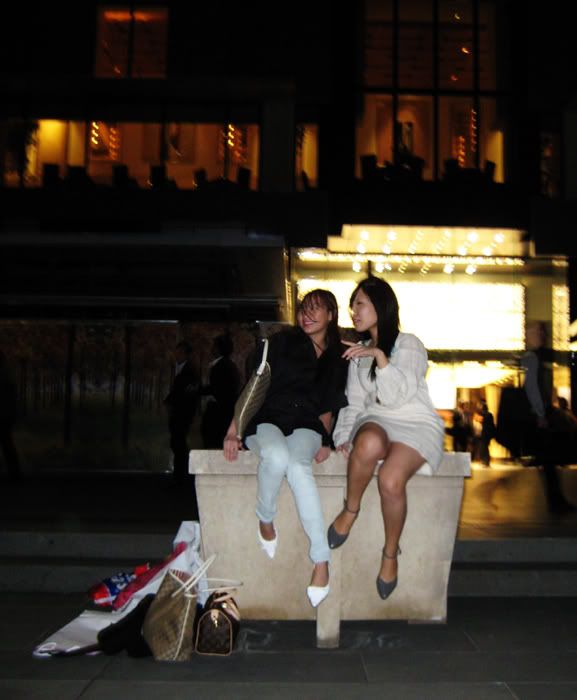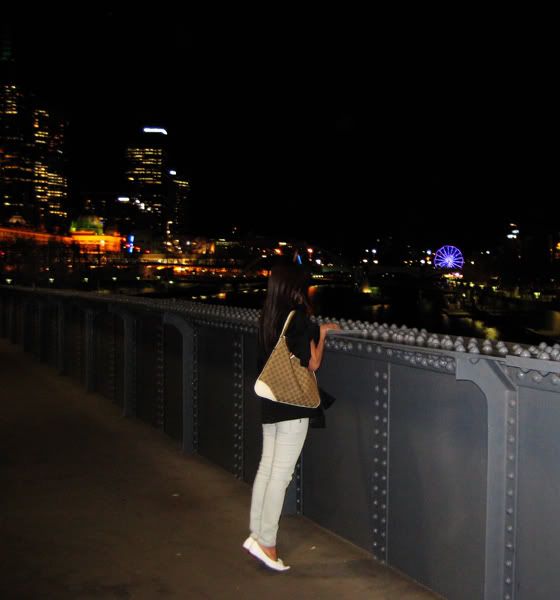 Haha, she could barely peer over the edge!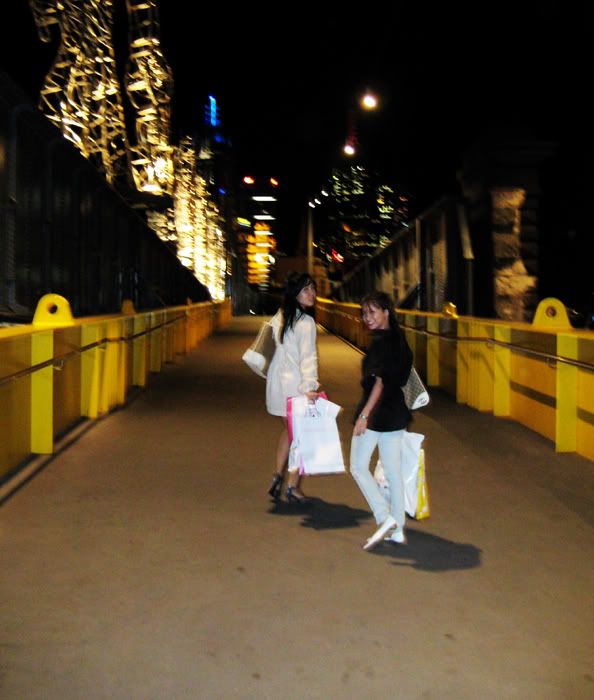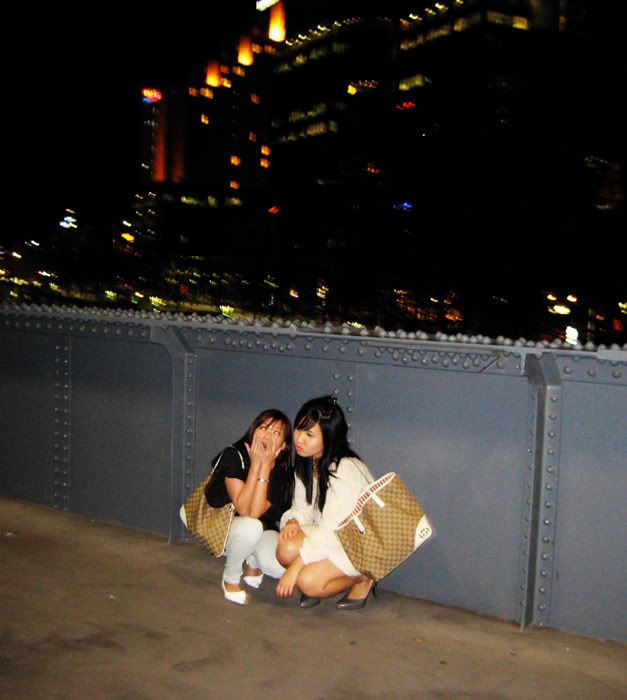 Another Gucci-worthy ad. :P
Days like that, you just don't want it to end. :)