Ok, the plan was like that:
Ball on Thursday,
Ball on Friday,
Saturday, start of semester break.
But due to some misunderstanding, turns out we didn't reserve spots for our South East Flats' Residence Ball, which, incidentally, we only found out on Thursday itself.
I even had my dress picked out already! :(
But our college head warmly invited us to join the after-dinner drinks session, so we decided to make the best out of the situation-- a hearty hot pot buffet before heading to the drinks session.
At hot pot dinner: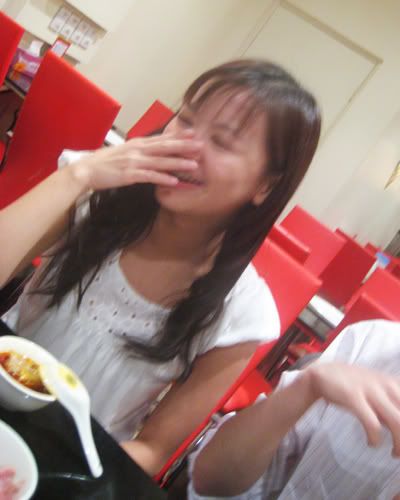 Smalls overwhelmed by the pungent tang of the spicy soup.
Which reminds me, I took this picture of a mountain of tissue paper used by Smalls during the dinner, because she kept on dabbing on her runny nose and tearing eyes, but I accidentally deleted it. :(
They could easily charge us another person's portion just based on her usage of Kotex tissue k! -_-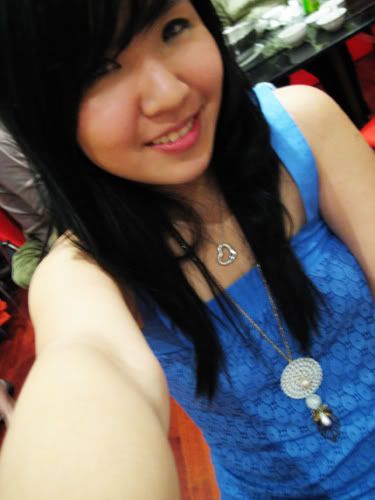 Me.
And oh! Did you notice that I have a solitary curl on one side!!!
We were playing with our hair, experimenting with what to do for our ball on Friday... And as we were running late for dinner, I only curled the front part of my hair, and had to run for dinner.
And well, to cut the story short, one side was curled by Smalls, and the other by Jac.
The curls that Smalls did boing-ed to straightness within 5 minutes, leaving me with an asymmetrically curly look.
T_________________T
Jaclyn looking drunk on hot pot, haha!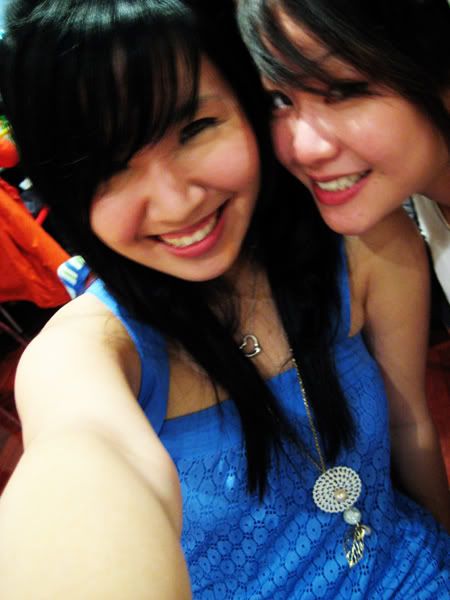 Jac, me, and the lone curl.
We made our way to the residence ball, which has a masquerade theme...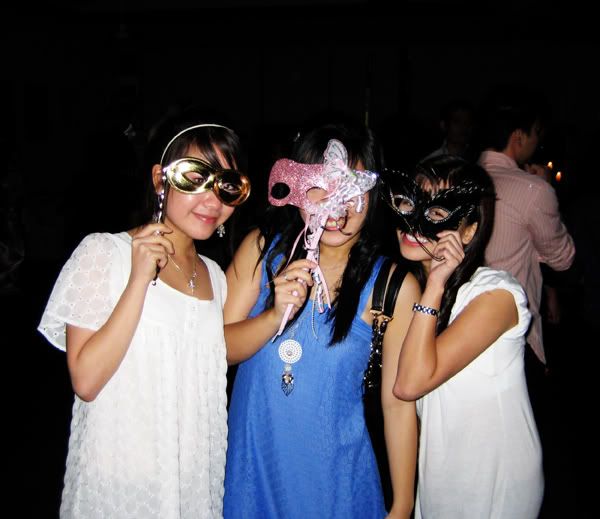 The party crashers who stole masks off people's tables.
The girlies.
Jac, me, Yee Von, Joleen, Nikky, Smalls.
And we felt so underdressed, everyone was in cocktail and ball dresses! T_T
The guys.
Joel, me, Chun Yih, Thean Aik, Jac, Jian Cai.
And oh!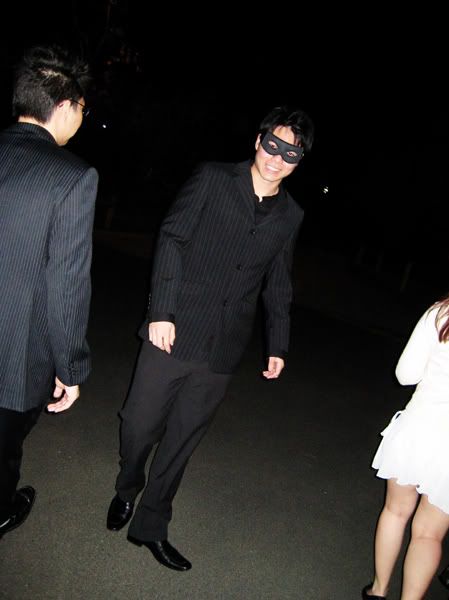 Can you guess which one is this? ;)
And no, Zorro doesn't count.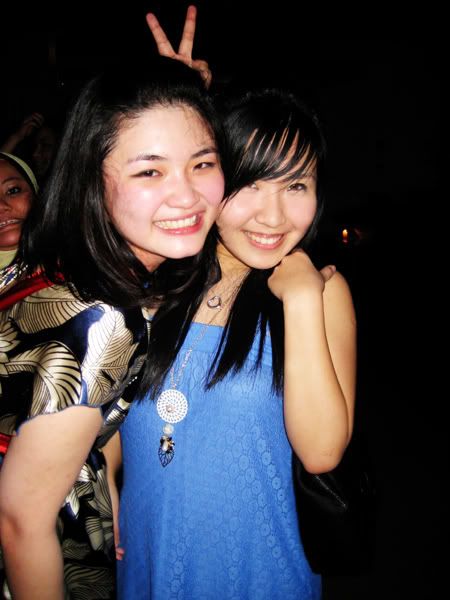 Gah, I forgot her name! :(
Let's hope she never read my blog, hee.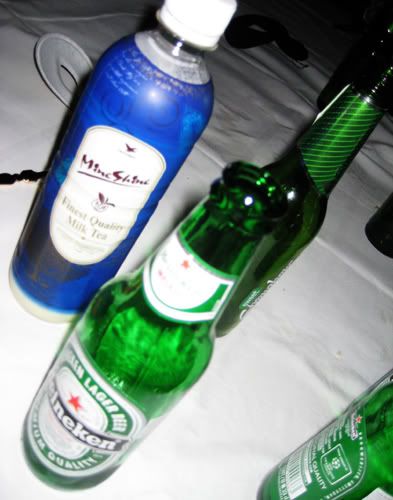 Do you see anything wrong with this picture?
The blue bottle actually reads: Finest Quality Milk Tea-- Jac tapao-ed it from our dinner, and was happily sipping on it during the drinks session while everyone else was taking beer and aolcohol! -_-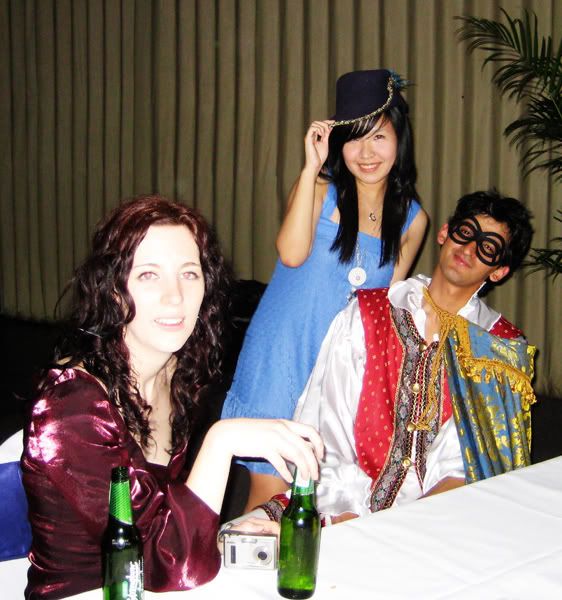 Kash, our residence head, who went all out for the ball.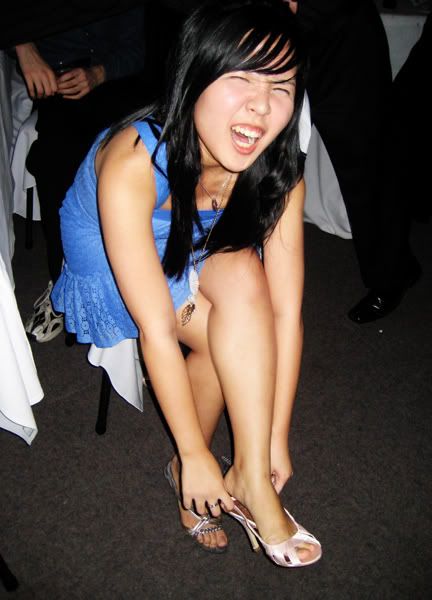 I found out a shoe that someone left behind!
Ugly stepsister wtf.
Need. To. Be. More. Alert. To. The. Camera.
And in case you're wondering, yes, I had more than one curl for my ball on Friday. :)
Will post up pictures once I get them from everyone!
******************************************************

I painted my nails already.
I bought some cute boxers 2 days ago.
I have downloaded The Simpsons, 'cause we said we'll watch it together.
I put on a facial mask before sleeping last night.
I spent 2 weeks thinking of what outfits to wear when we go out.
My legs are shiny and smooth now.
The muffins that I baked are on the cooling rack.
Yes, I am all ready. :) :) :)