Today is a meaningful day to me.
Because it's the first time I officially had Korean food yo! :)
I think I am made of titanium, a minimum temperature of 10 degrees in Melbourne, and I am dressed like that.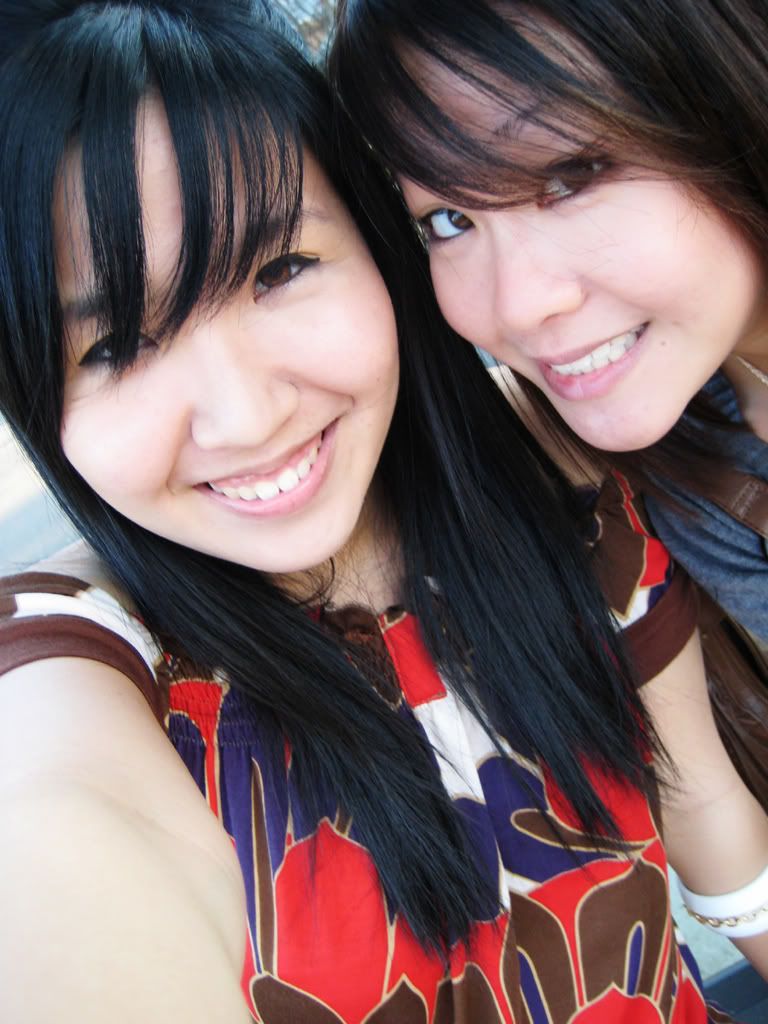 At the bus top, Jac and I.
Why do we look so fair! -_-
And if you're wondering why it is only Jac and I again, it's 'cause someone (
ahem, ahem, Smalls
)
ffk
-ed us at the last minute, and poor Mey has just been really, really busy recently.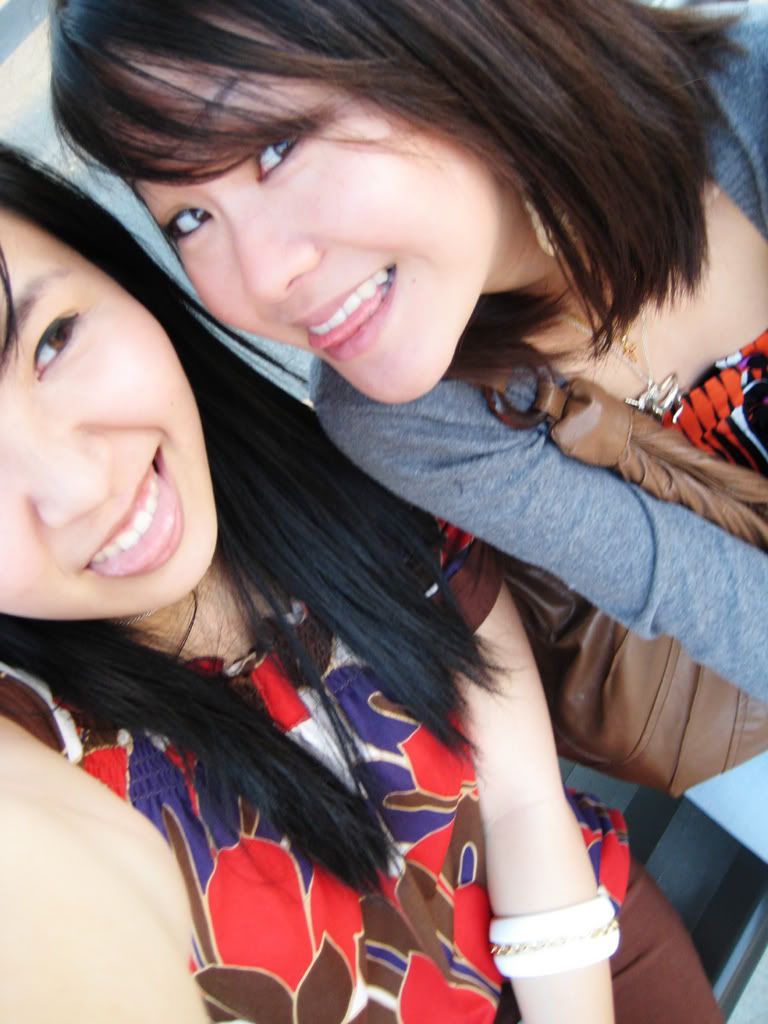 And only Jac and I could spend 45 minutes in a pharmacy looking at nail polish, make up, hair dyes, waxes, tanning lotion and fake eyelashes.
And only Jac will use my hand as a testing base for all the eyeshadows/blushes/bronzers; hence leaving me with an arm full of colorful swabs.
Korean food at Kang Na Roo!
Jac and I read it from a food blog , and decided to try this out.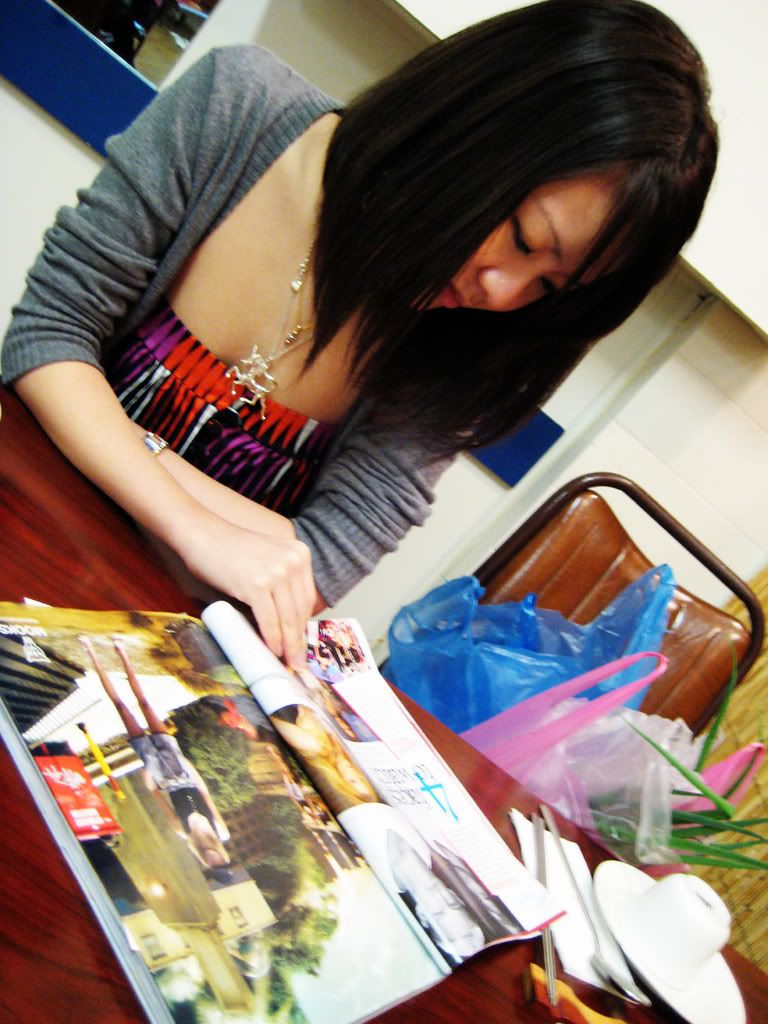 I am very tickled by this photo! :P
This looks straight out of a scene in a charming cafe.. And suddenly you see a bunch of spring onion in the background, haha!
We did groceries

la
.
I am quite freaked out by this. -_-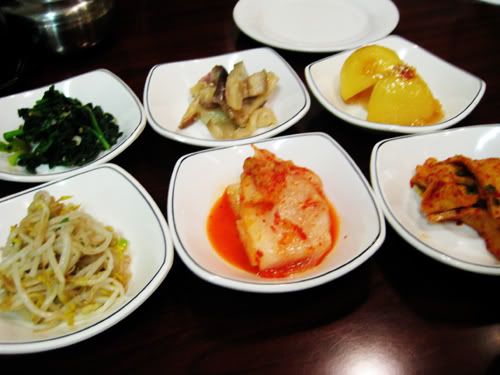 Our side dishes, complimentary with the meal.
I told you, I have never really eaten Korean food, except for once in Sydney (which I totally, totally loved, by the way), but I never really got to know the names of the food I ate, and neither do I know what other Korean dishes are there.
Pretty sad, I know, since I pride myself in being a food lover, I know. :(
But Jac did a pretty good job in educating me, I will say. ;)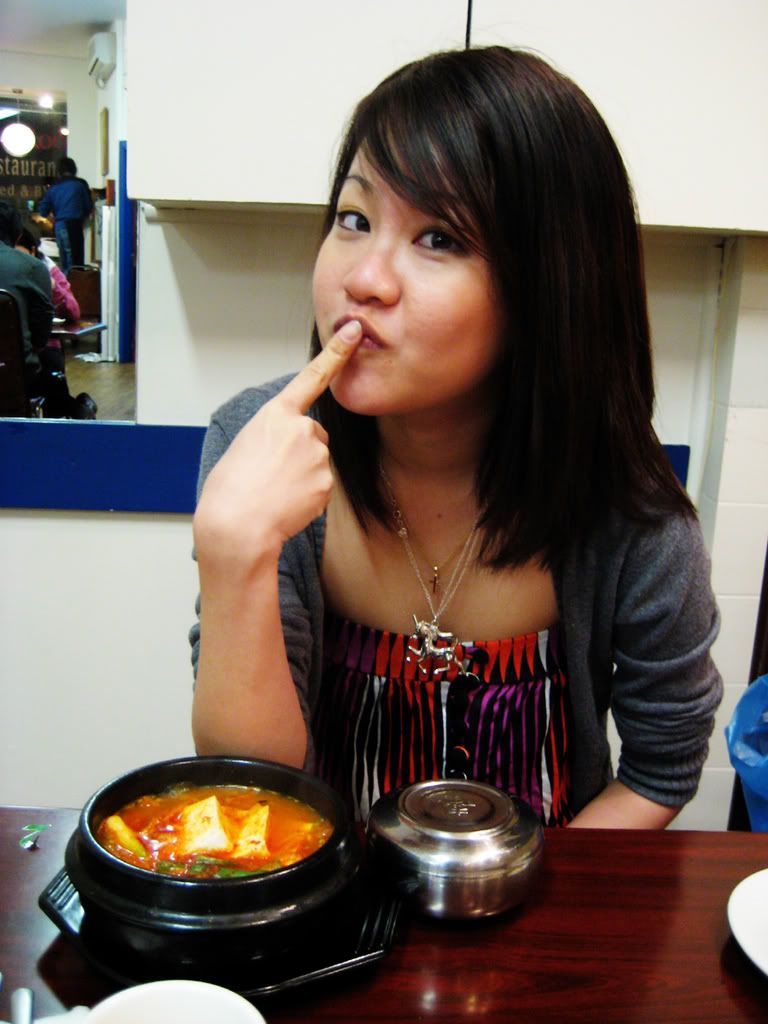 Jac with her Kimchi Chigae.
Which, by the way, IS the dish that I absolutely loved in Sydney! I had it with noodles, but it's the same thing. TRY IT THE NEXT TIME YOU HAVE KOREAN FOOD, if you haven't! I love love love it. :)
But I didn't get to eat much of it, 'cause Jac and I are both sick, so we thought it'd be better if we didn't share our food lest we pass our germs to each other. =(
Kimchi Chigae.
(Basically spicy soup with tofu, vegetable and pork. But OH SO GOOD).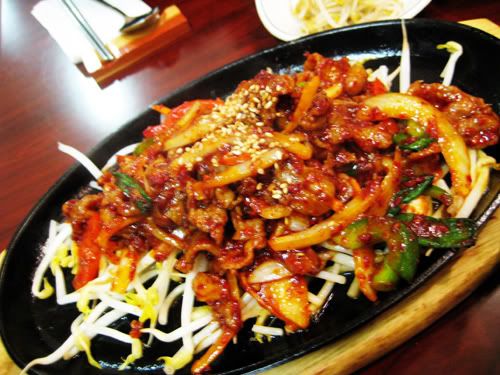 My pork Bulgogi.
According to Jac, this is another Korean must-haves. It's basically pork strips on a hot plate with really spicy and tangy sauce. I loved this too! :)
Thank god for Jac, 'cause if I didn't know better, Bulgogi sounded more like a character from Harry Potter-- like, one of the creatures in the Dark Arts lessons or something. -_-
This is me lifting the lid of my rice-- which incidentally, reminds me of
lor mai gai
(glutinous rice with chicken).
Oh, how I miss it! :(
Like I said, I have never
really
had Koread food before, so I don't know what to compare the food to. But that said, I know good food when I see (taste) it. And hell yea, the food is great! :)
And the owner (a Korean woman with the cutest bob and bangs) is so so so friendly! She was superbly attentive, and very sweet-- offering to bring us more side dishes, bringing us extra napkins even thought we didn't ask for it....
And she also said that I am sexy- though I suspect it's because I am so inappropriately dressed in the cold weather. -_______-
So people in Clayton, go try Kang Na Roo! :)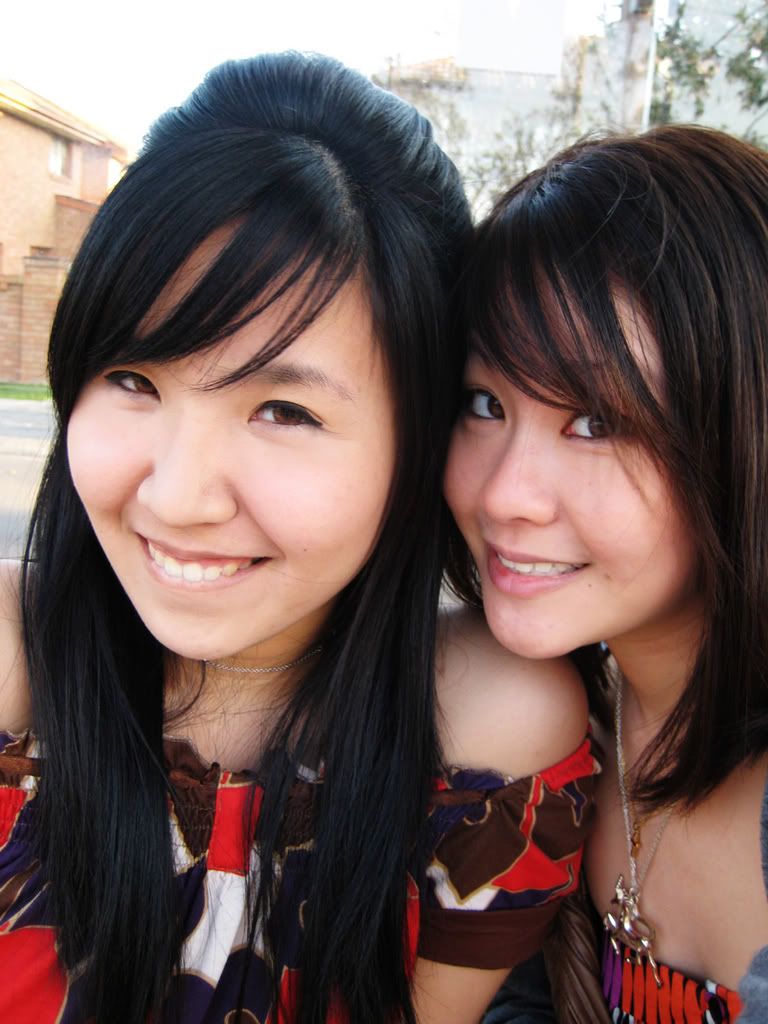 Happy girls.
I am a converted Korean food lover now. ;)
****************************************************


And another highlight of my day:






Something I have been yearning for a long, long time.

















Piggie mooncake! :D :D :D
But the ones my grandma bought comes in colorful plastic cages. T________T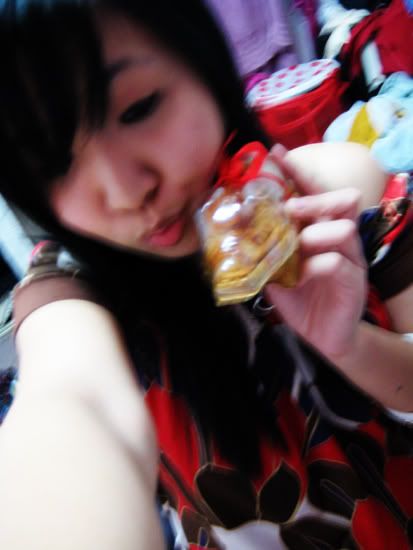 Oh well. Something to remember it by.
'Cause the piggy is in the other piggy's tummy already. ;)