Yay! I am done with my assignment!
I just realised that it is my last written assignment EVER.
Unless I do Masters or something...
And I got so heavy-hearted. T___T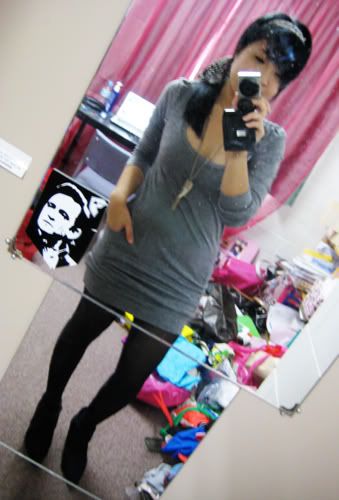 But then I remembered I have an Auditing mid-semester test on Monday, and I felt even worse. -_-
******************************************************

I went on a spontaneous trip for coffee and cake just now! Bernard just messaged me online, "Wanna go for coffee and cake?", and boom! At almost 11pm, he was at our flat, and off we went. :)
Yes, I love little bursts of spontaneity! As long as you give me enough time to plan my outfit and doll myself up wtf.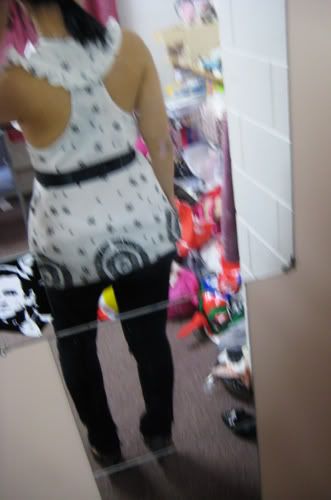 Sorry, I just couldn't resist! I love this tunic top of mine! Tell me it's cuuute. :)
And I just realised my back view is not really flattering. :'(
At Chapelli's.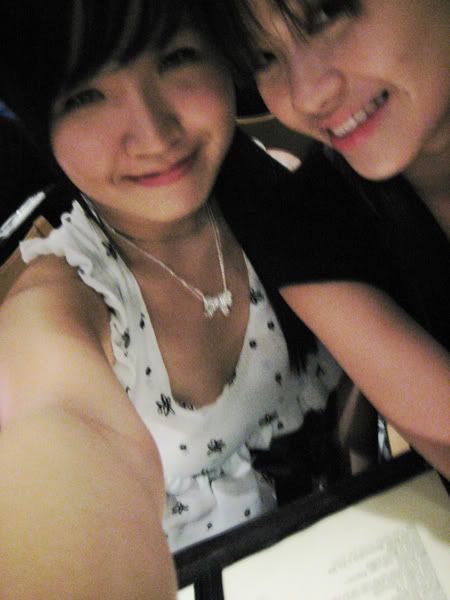 Smalls, who tells me she misses me, although we stay right next to each other.
Apparently we don't see each other enough, and we "just don't talk anymore". Gee, committed relationships are tough, haha!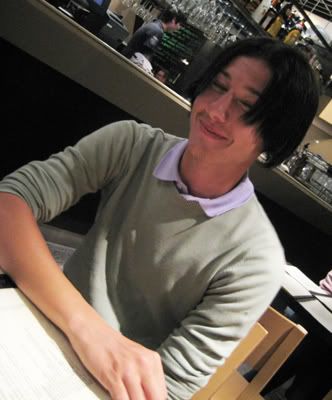 This is Brett, Bernard's friend, whom we met at his birthday bash at Seven a couple of weeks ago.
Actually, when Bernard asked me on MSN to go out for coffee, I was quite reluctant to, 'cause I really wanted to stay in and study for my test. He was trying to convince me (by hinting that I am a geek for staying on a Friday night.. T_T), and I said, unless Brad Pitt is going
larr
. And he replied, yes yes, he would be!
The moment I got into the car, Bernard told me,
NAH! BRETT Pitt
!
Why are my friends like that. -________-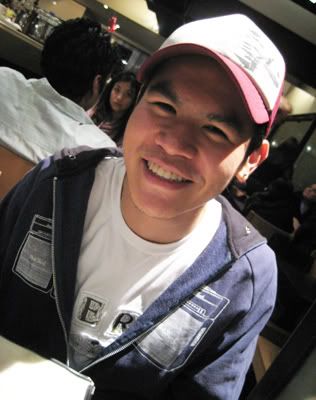 Bernard the idiot.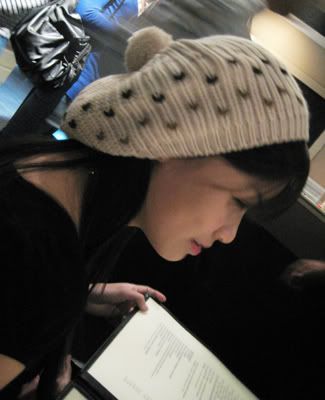 And Smalls damn stupid, she wore her beanie (
we have the same beanie, but in different colors! <3
) covering her ears, and she complained that the material is too thick, thus she couldn't hear anything.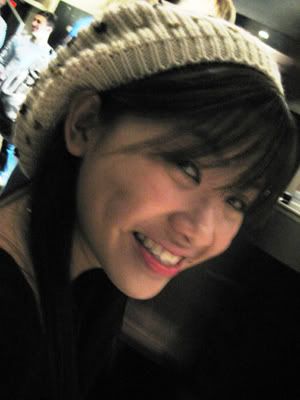 So she wears it like that during conversations, haha!
And I know it's fucking dumb of me to go for "coffee and cake" when I am on a diet. T___T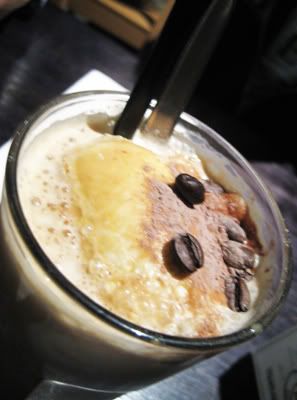 I only had the "coffee" part.
And yes, I realised there is a scoop of ice cream in it, but I didn't know that they put ice cream in iced coffee!! T___T And I could scoop it out, but the coffee was so bitter, I needed something to mitigate the icky factor. And Bernard and Brett were already giving me weird looks because I resisted:
this.
Bernard's cookies and cream cheesecake.
this.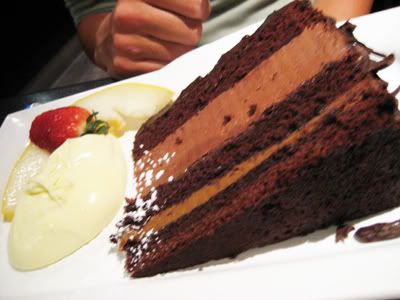 Brett's Mars cake.
and this.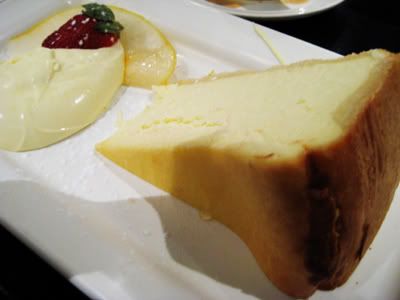 Smalls' baked cheesecake.
YES, EVERYONE Of THEM ORDERED A CAKE. And Chapelli's cakes are one of the nicest in Melbourne k. And each slice is fucking huge.
I deserve a plaque for resisting the temptations! T______T
Ok la, I had a couple of tiny bites of Bernard's cheesecake-- though I made sure to eat more of the crumby part, and less of the cheese. I needed to try it to see whether it's good! :P And hell yea, when my food ban is up, I am coming for one slice of this cookie goodness.
And Smalls really wanted to drop by at Crown, but I wasn't too keen on it as I wanted to go home to study.
Smalls:
You don't want cake, and now you want to

study

???? Where did you keep the real hui wen????
-_________________-
This is a picture of Smalls taking a picture of me taking a picture of the food.
And why does Bernard looked like a ghost!!!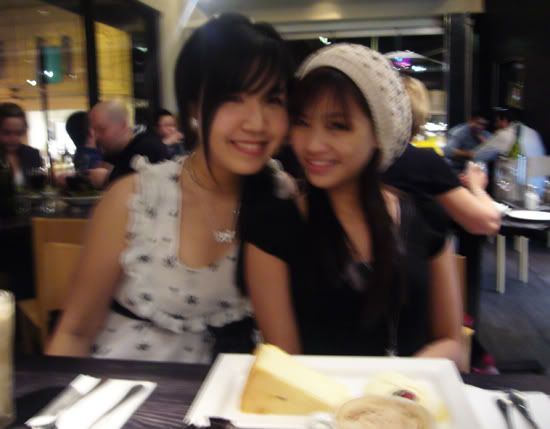 Us again. :)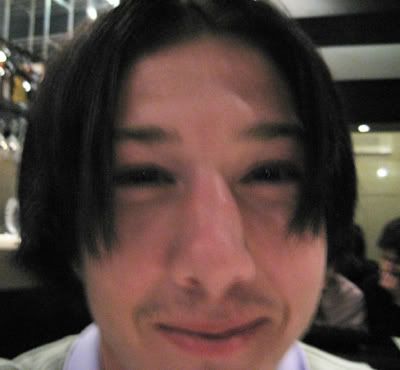 The purpose of this picture is to show you Brett's dark blue eyes.
Which is obviously a failed attempt.
And guess what, most likely I am going to
Camberwell market
this Sunday.
Bernard and Azlan are going, and they invited us along. I rejected them (test on Monday!), but Bernard made a most valid point: if we go to Camberwell, we will have to be up early, and 'cause the market closes at noon, we can get back by noon, and then we can have the whole day to study. It does make sense-- the last time we went to Camberwell, we went to the market, had lunch, and was home by 1pm. I guess it's better than me waking at 2pm, and being unproductive for another 2 hours before settling down to study. And if anything, we don't get to go to Camberwell often, as you definitely need a car for it.
Yea, so I guess Camberwell it is for Sunday. -__-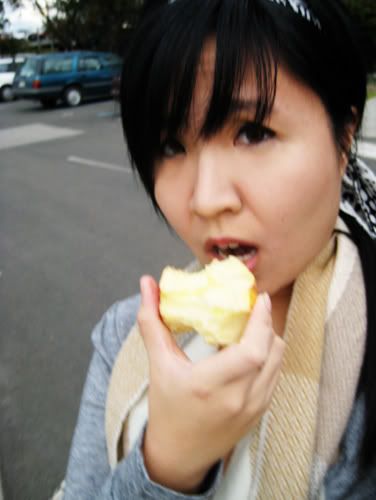 And this is a picture of me finishing my apple.