It's time to downplay the emo-ness of my blog a little. :)
Some bimbotic camwhore pictures from the MUMSU ball the Friday before last week:
The theme of the night was Pirates of the Caribbean: The Black Pearl or something along the lines of that.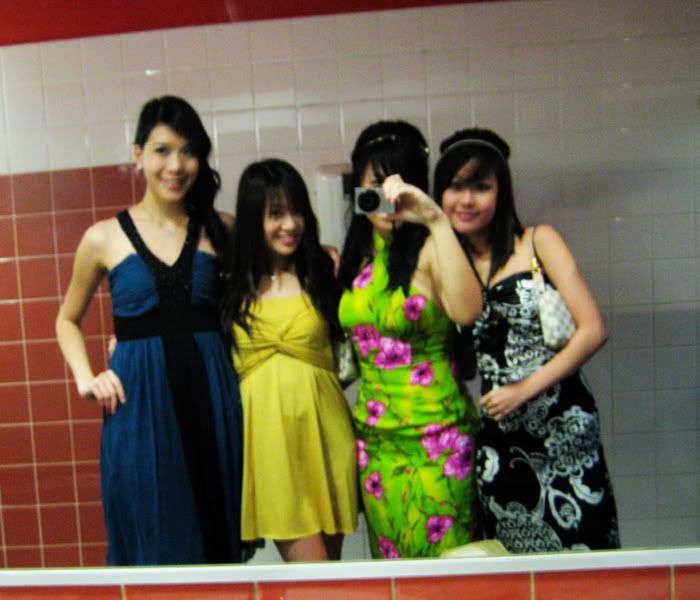 Mey who fitted the theme perfectly, Smalls who claimed that her gold dress symbolises a treasure box, Jac with her appropriately colored dress, and me looking out of place in a cheong sam.
I claimed that I was Chow Yun Fatt's Singaporean wife in the Pirates of the Caribbean, teehee.
The girls at the Melbourne Aquarium.
Yes, you heard it right, the Melbourne Aquarium. Not your typical ball eh? ;)
Left to right: Yee Von, Joleen, Smalls, Nikky, me, Jac, Mey.
At least I could cross one tourist spot off my list.
Err, yea, I haven't visited the Melbourne Aquarium before this, and I have only just been to the museum. And nope, haven't step foot into the Melbourne Zoo before! -_-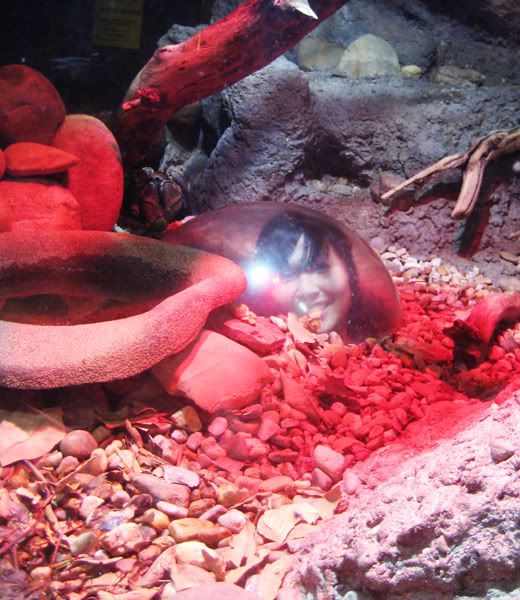 Being tourist-y.
Hey, at least I know how I would look like in an astronaut outfit! Alright, just the headgear.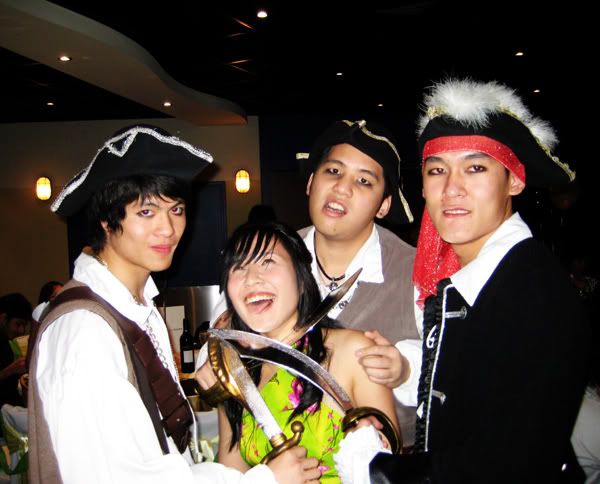 The wench with the almighty pirates.
The most aptly dressed of them all!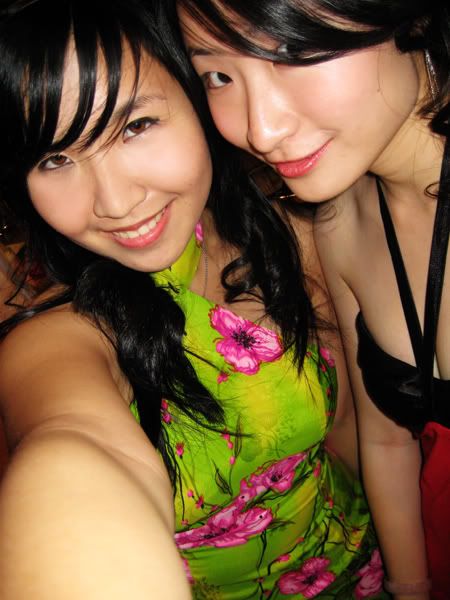 June and I.
Doesn't she look like Mulan!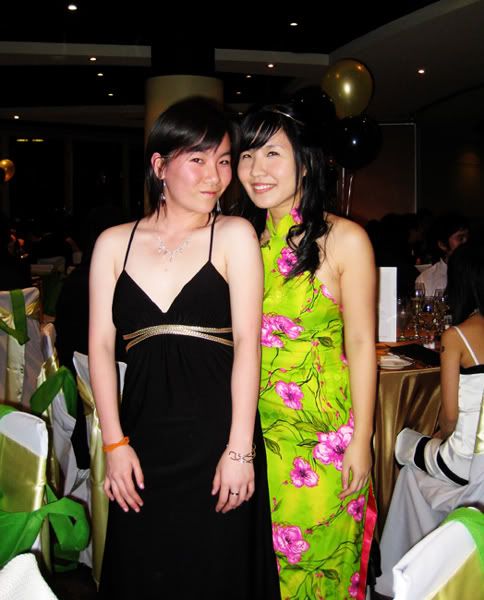 Ada, who just snipped her hair.
Tinkling champagne glasses.
The ball was kind of boring, so we kept ourselves occupied but downing lots of (cheap) champagne. Which lead to uncontrollable giggles and giddy laughter. We are self-sufficient when it comes to fun and entertainment! :D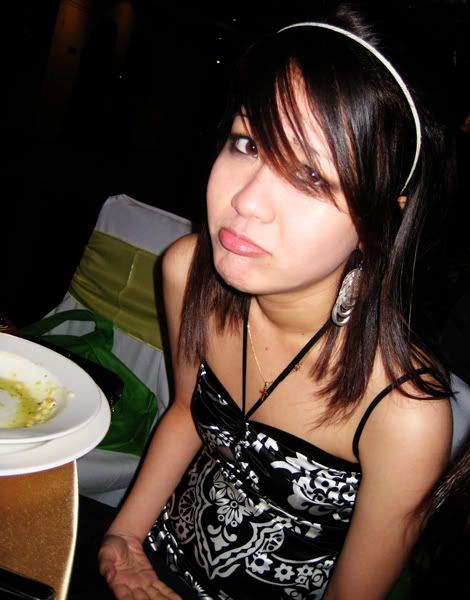 Jac, who was pouting 'cause each course of the meal took an hour to arrive. -_-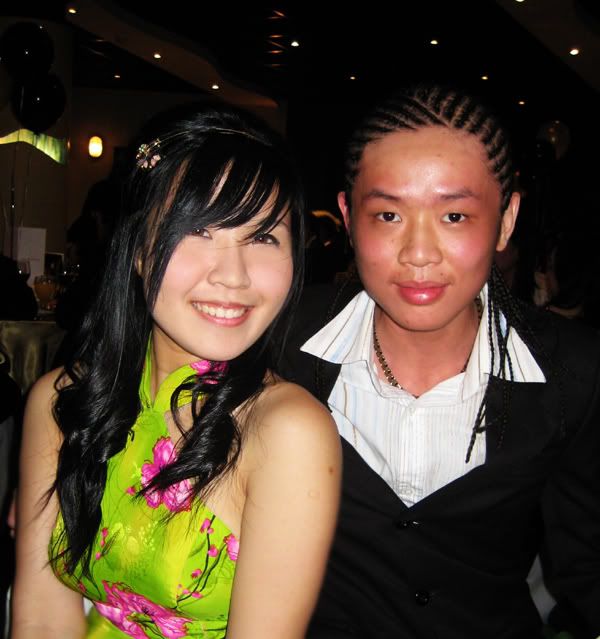 Kevin, with his new cornrows... And who just shaved his head bald recently 'cause the cornrows were hurting his head! :(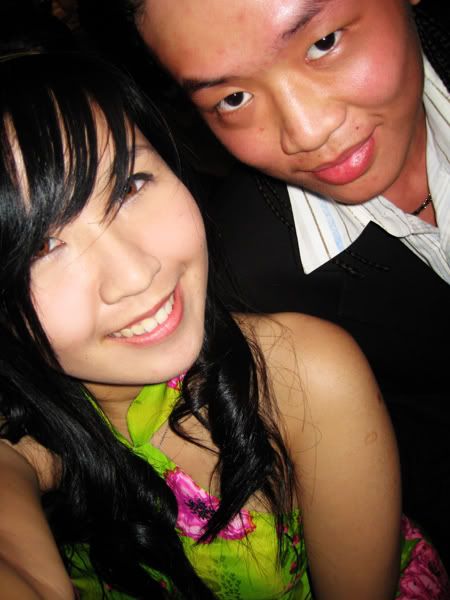 One more picture, 'cause I think I look nice here, hehe. :P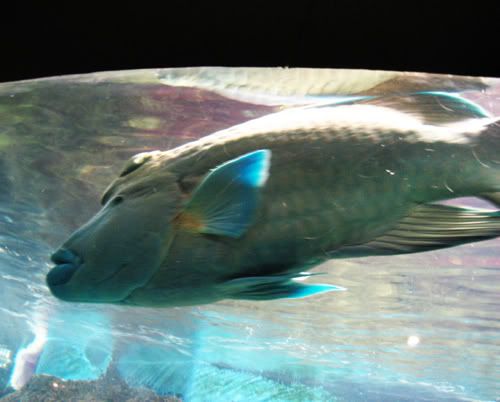 This really stupid looking fish who was swimming blindly in the fish tank facing us during the ball. It is about 1 metre long!
And I found it disturbing that we had a salmon main course, while looking at fishes. T___T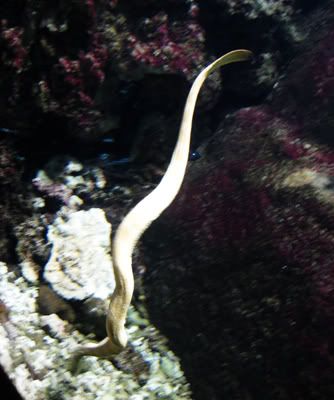 And they had water snakes in the fish tank too!
I hate snakes. T________T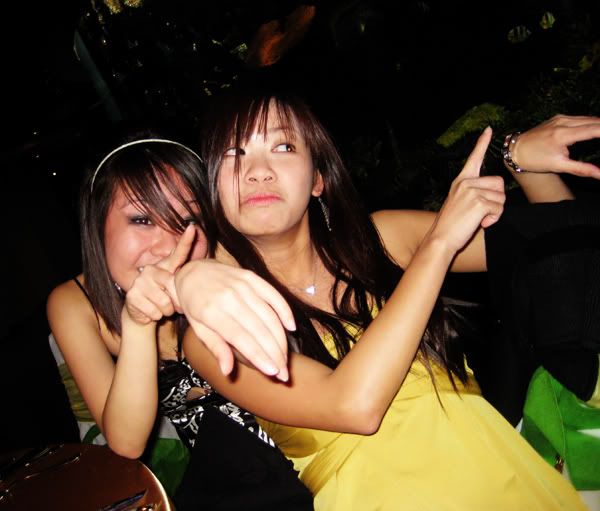 Your one hour is up!
My hungry flatmates.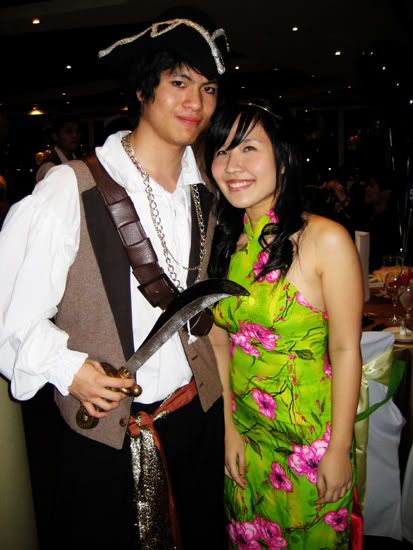 And I got nominated for best dressed! T_T
This was my partner in the faux catwalk we had to do, Peter.
Yen Hou, with Jac, Smalls, Joleen, and me.
We were on table 6 during the night! :)
One of the main attraction of the night-- pole dancing!
I want to learn. :(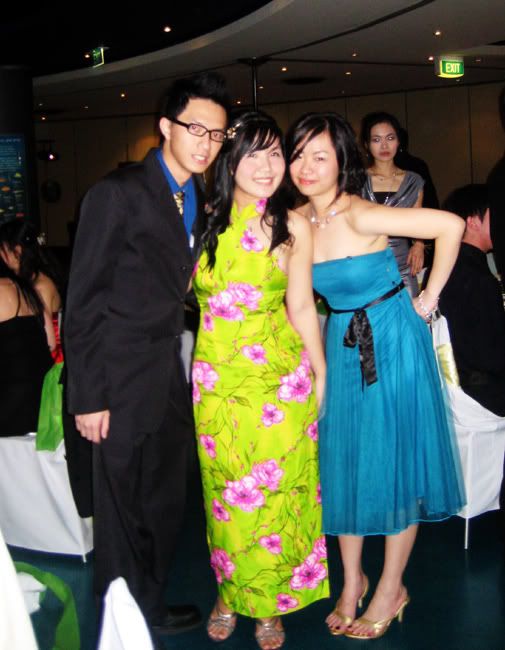 Benjamin, me, Serene.
After party at Lavish: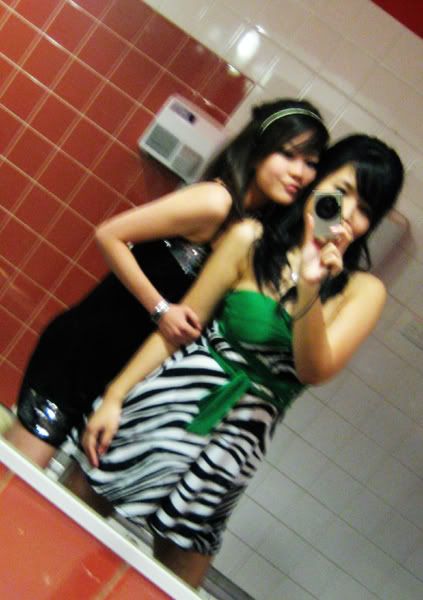 I had to change my outfit-- it is imply impossible to dance in a cheongsam! -_-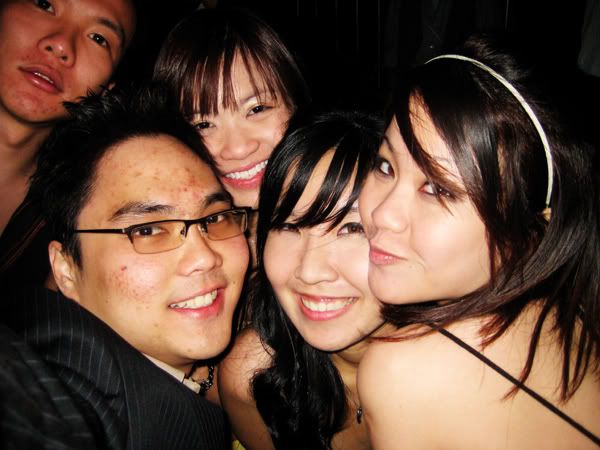 Jian Cai, Joel, Smalls, me, and Jac.
Not many pictures during the night, 'cause clubbing at Lavish sucks balls! :(
Kinky Nichola!
She was the winner of the best dressed category that night. :)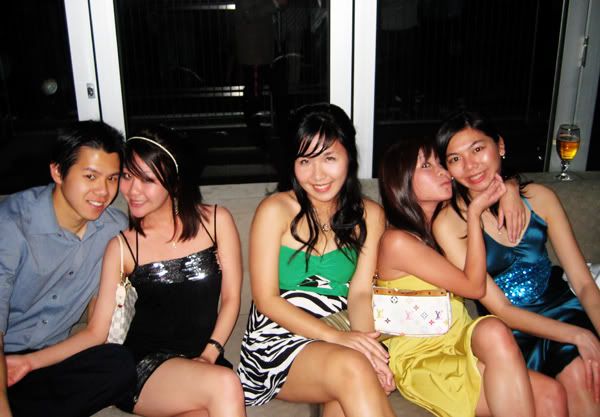 I was the odd one out, everyone had someone. T___T
And that night, I comforted myself that the boyfriend would be with me the next day.
And now he's not here anymore. :(
****************************************************************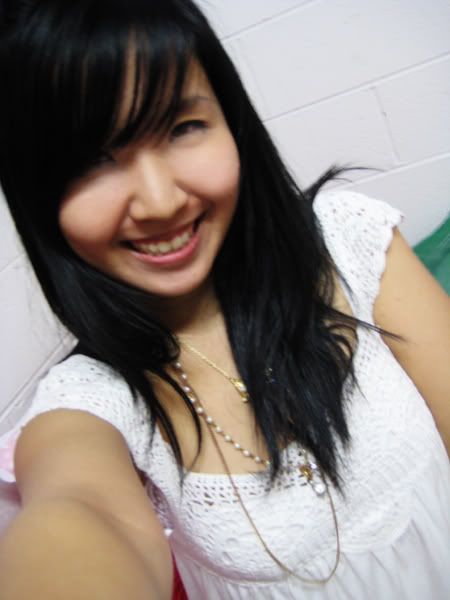 Life still goes on.
And I thank my girlies for easing it for me. :)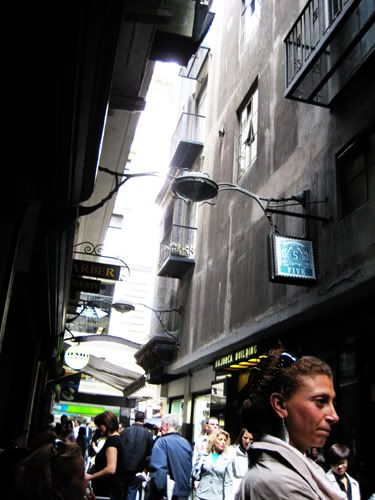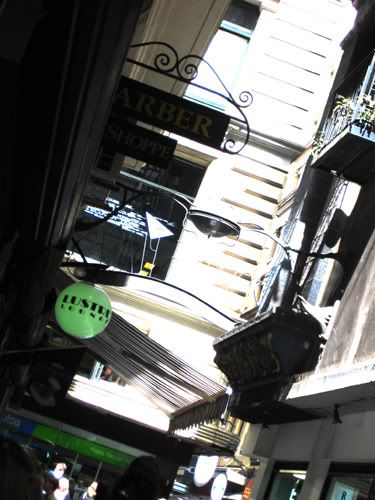 Breakfast at the back alley full of cafes!
The balconies remind me of Paris, Ratatouille, and french music. :)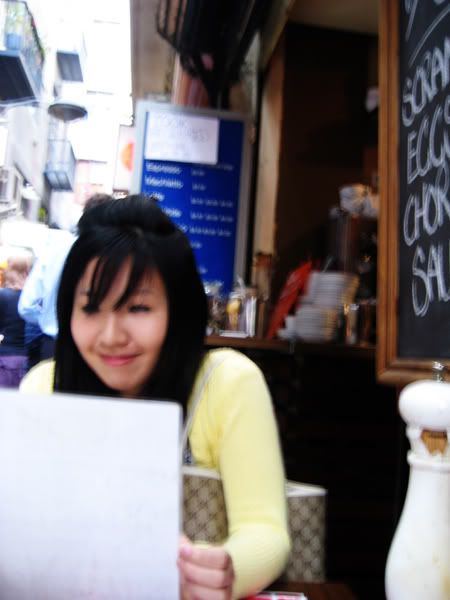 Reading menus.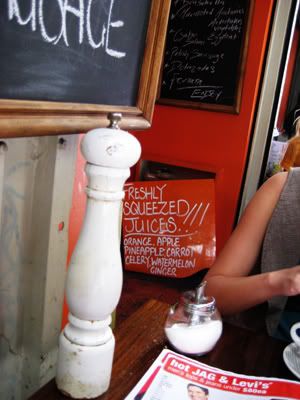 Old school pepper shaker.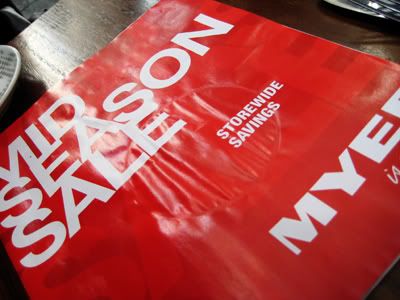 The table that we sat at had the Myer's sale catalogue!
It was fate. T___T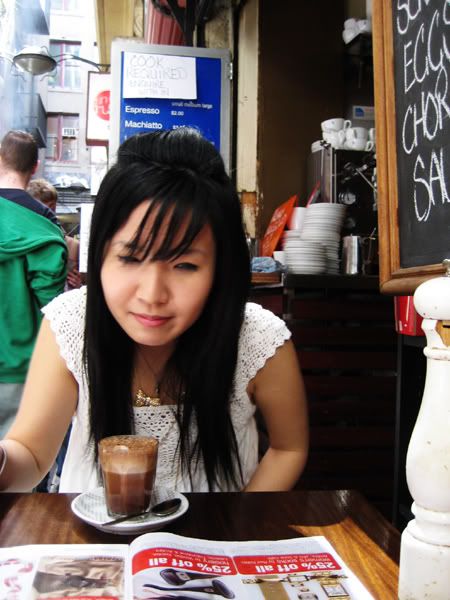 Poring intently over the catalogue. ;)
I ordered the Florentine eggs with salmon, and it came with two pieces of an English muffin; and being the ultimate camwhore I am, I thought it would be funny if I propped the plate against my chest and take a picture of me with the two buns ala boobies style...
Alas, one bun slided off the plate! T________T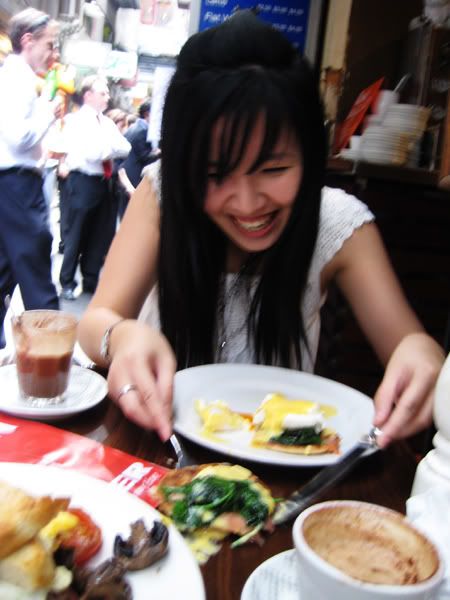 This is me trying to save it.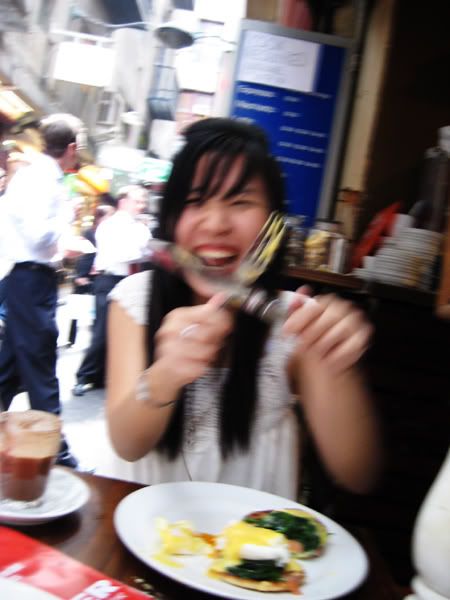 This is me trying to stop Smalls from taking any more embarrassing pictures.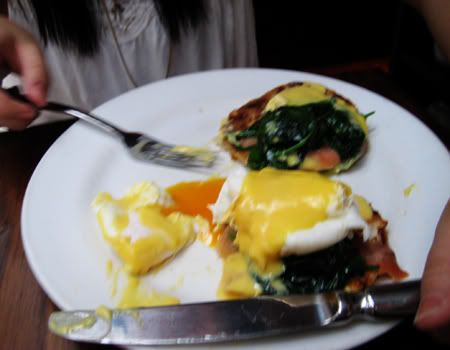 My destroyed breakfast.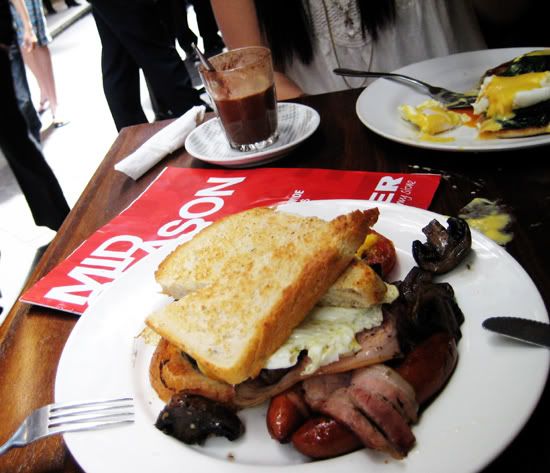 Smalls' whole and untarnished big breakfast.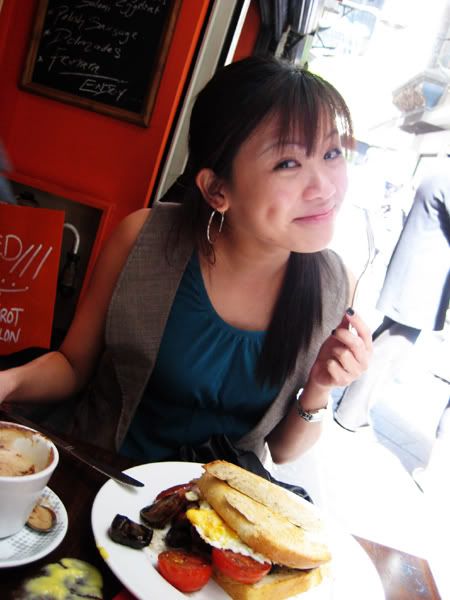 And her taunting me with it. :(
Sugar-replenishing time at Max Brenner:
Mey taking pictures of her new beloved jeans
in public
. -______-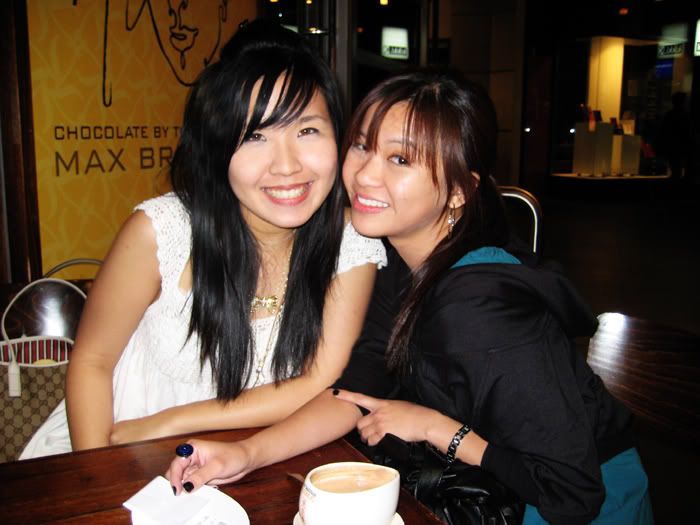 I love you, and I am sure you know it. :)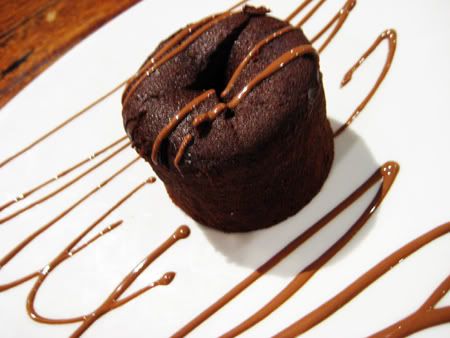 Our lousy souffle.
I swear to god, this was the first time Max Brenner has ever failed me. :(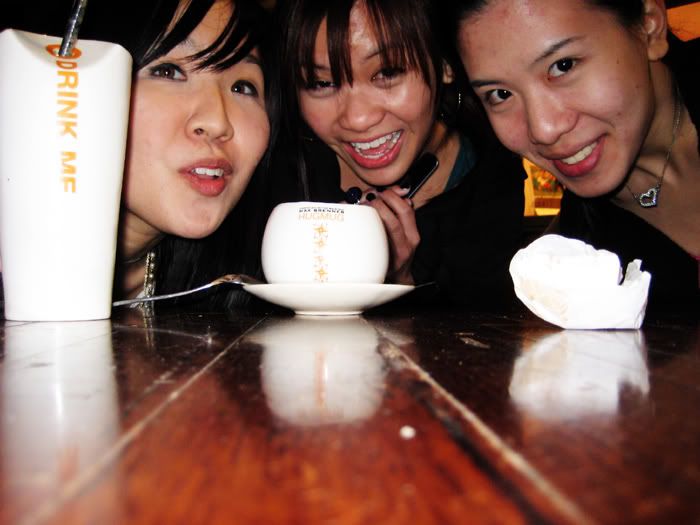 *muaks*
And to retain some of the emo factor of my recent entries,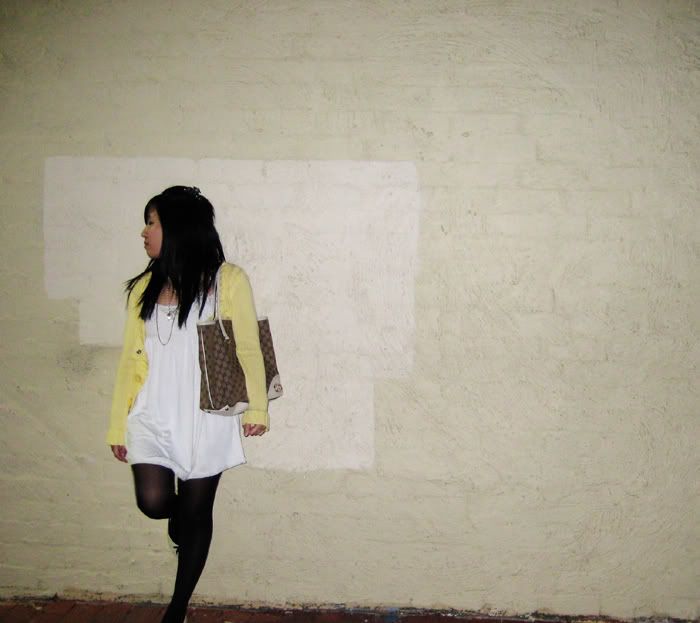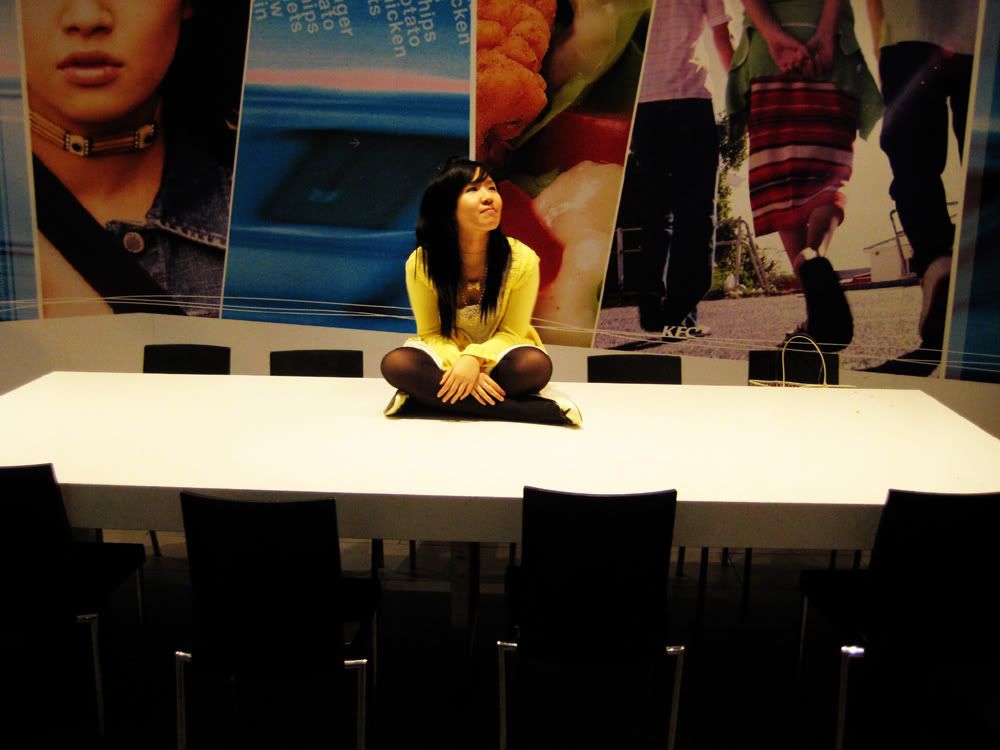 sometimes when i let my mind run free,
it never fails that it goes right to you
and a smile takes a hold of me.