It's kind of weird, that yesterday was the last day of university.
For this semester.
For this year.
For this course.
For this
lifetime
.
Yes, it was my last class ever ever EVER. :(
Yea, sure, technically I still haven't graduated; in fact I still have my finals to think of, before I jump on the bandwagon and proclaim that I am done with uni.

But nah, I am not going to do the 'I am only graduating if I pass my exams' drift; pfft, I know I will pass-- it's just a matter of how well I do.
Such a scary scary feeling, when walking to the last class of my entire university degree yesterday (Workplace Law, if you must know). The sun was beating down on me, but it was all one giant paradox actually, considering I was feeing so gloomy, and get this, emotional.
Emotional for going to class? You must be kidding me.
But it's a terrifying thought, four years have just
flew
past.
And I find it excruciatingly funny that actually, I hate classes. I hate the subjects I learnt. I hate the boring lectures. The monotony of the units. The text-heavy and physically-heavy textbooks. I enjoyed university life because it brought a new bout of freedom, because I got to wear different outfits everyday, because of the variety of people that are thrown your way. Truth to be told, I am the student who can't wait for the lectures and tutorials to be over and done with, the student who taps her feet impatiently within 5 minutes into the class. The girl who dazed and daydreamed, the girl who chats and yaks, in class. I go to classes, only because I had the breaks in between to look forward to, be it a stolen kiss with the boyfriend around the corner of a wall, or a bitching/people-watching session in the cafeteria or computer lab.
But I guess what I would miss most about university is that I would never be a carefree, worry-less student anymore. And trust me, I know all about this. I am a double degree student, which means that my course is 4 years long-- hence, most of my peers have already been working for almost a year. And I look at them, goofy, slacking, fun people, now all serious and haggard. They talk about taxes and down payments and office politics. They wear starchy crisp shirts and ironed down slacks. I even have a friend who talks with a (bad) British accent now to be taken seriously in the office. But they all told me the same thing: Enjoy your uni years while you can.
It scares me that I could never ever have the choice to rebelliously skip a tutorial just because I couldn't get out of bed. I would never be able to run out of a lecture half-way just because I couldn't stand the lecturer's voice. I would never be able to stay out late, and not worry about my performance being affected the following day, because, hey, if I am tired, I would just sleep in class. Never again could I have 3pm tea breaks with my friends. Never again could I look funky and wear headsashes/jeans/bigass earrings/thongs everyday. Never again will I skip to class, walk across the beautiful campus, pass by the throngs of students. Never again will I raise my hand confidently to answer a question that I am familiar or well-versed in.
In a few months time, I would have to be responsible for myself. Coming overseas have taught me to be that to a certain extent, but after starting to work, I would have to bring it to the next level. In fact, sometimes, I feel like buying myself some time, to runaway from the inevitable reality that is awaiting me. I could do a masters course next year-- that would delay me having to work by a year or two, and I don't think my parents would object to it. However, part of me wants to
really
grow up.
Part of me thinks it's time for me to be a big girl.
***************************************************

Anyway, enough with my sob story.
We took pictures on the campus before our last lecture together, kind of to commemorate the emotional day. :)
We had trouble finding photographers ('cause everybody wanted to be
in
the shot), so we had to resort to this. :P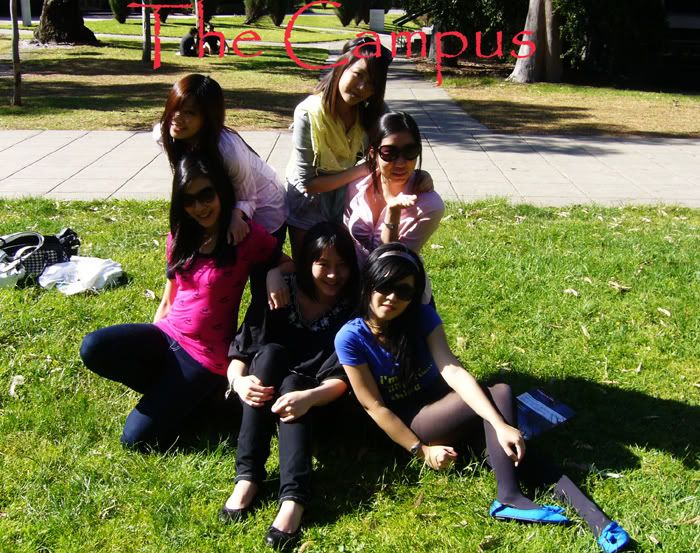 Ala The Hills/The OC/Gossip Girl/One Tree Hill.
Heeheehee.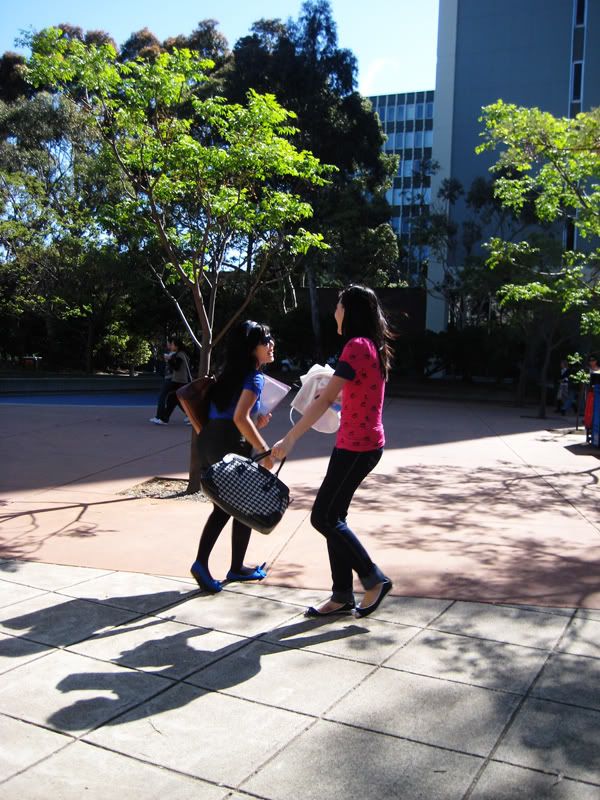 This is a route on-campus that I walked almost everyday.:(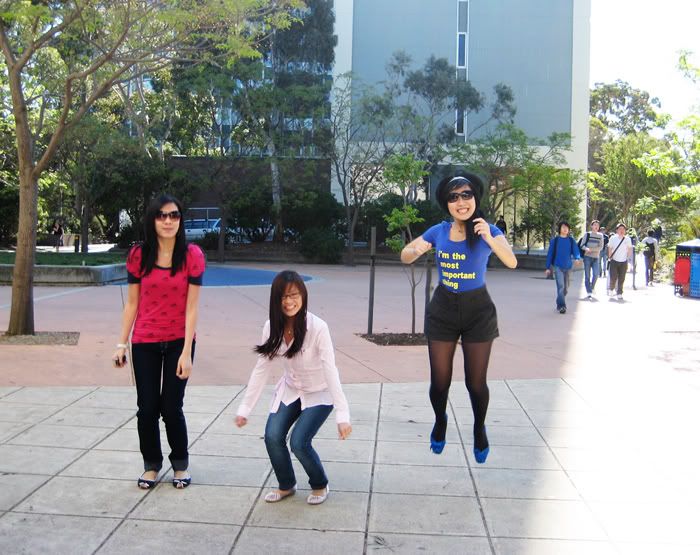 Why do I never look good in jumping shots!T_T
And why I am the only in the air in this picture. -_-
I have a theory!
Mey is too long, thus when the picture was snapped, she was still in the midst of leaping (taking-off stage wtf);
Smalls is too short, thus she has already jumped up and landed when the picture was taken (short torso HAHAHA);
And I was the perfect height, thus, I was caught mid-air! :D :D :D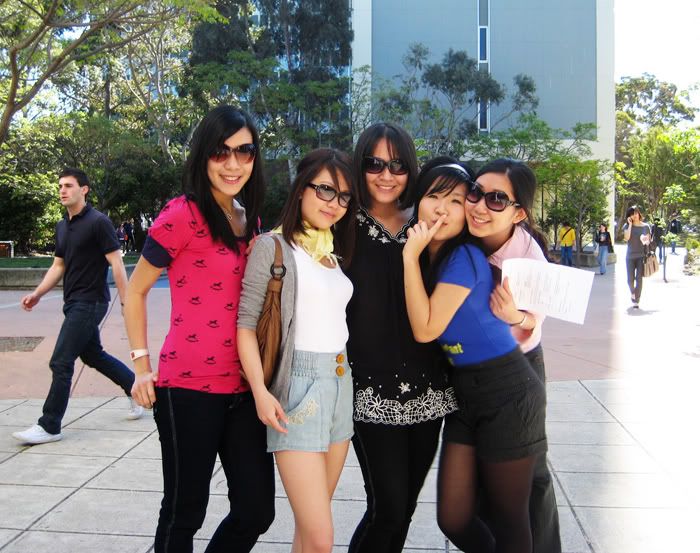 Mey, Jac, Victoria, me, Jocelyn.
My shirt actually read "I am the most important thing in the world", but 'cause I was wearing high-waisted shorts, it covered the bottom few words, and it read "I am the most important thing", HAHAHA.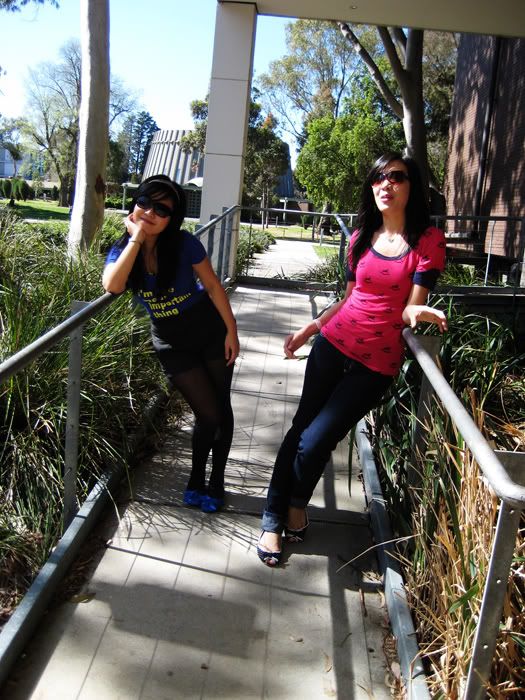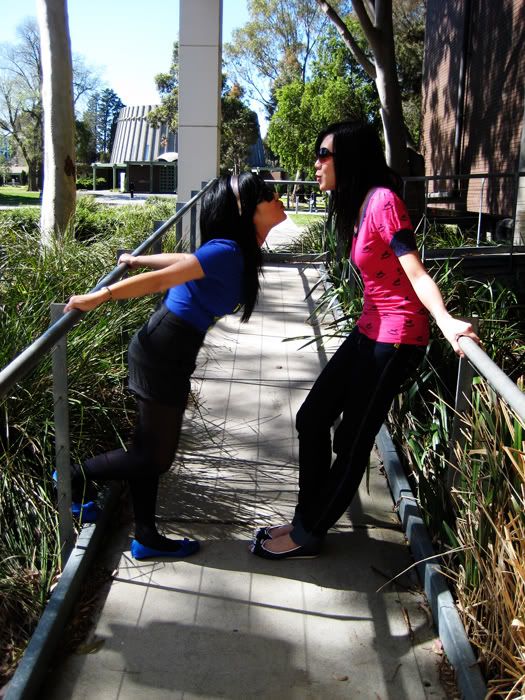 Hello, lover.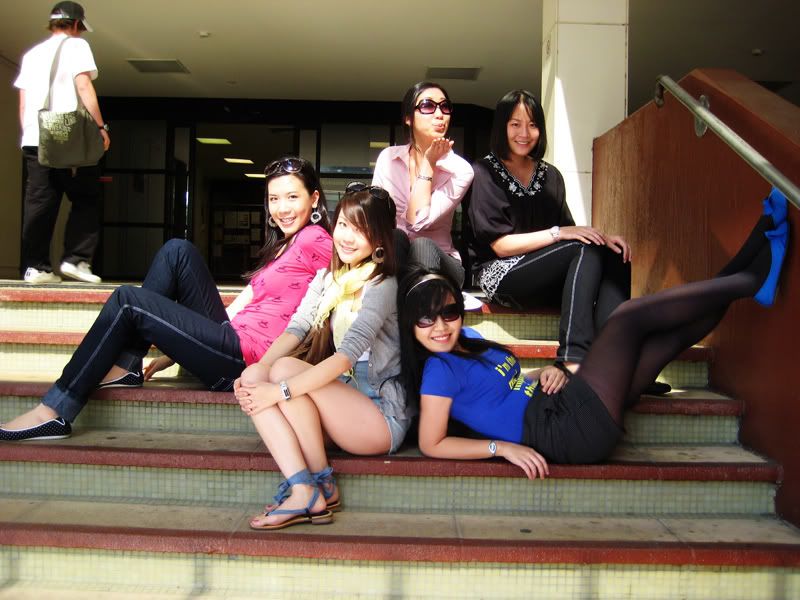 Another attempt to emulate those TV series' posters!
And I am so sorry that I forgot to put a heart-shape chop on Jac's butt, 'cause her shorts rode up so OBSCENELY.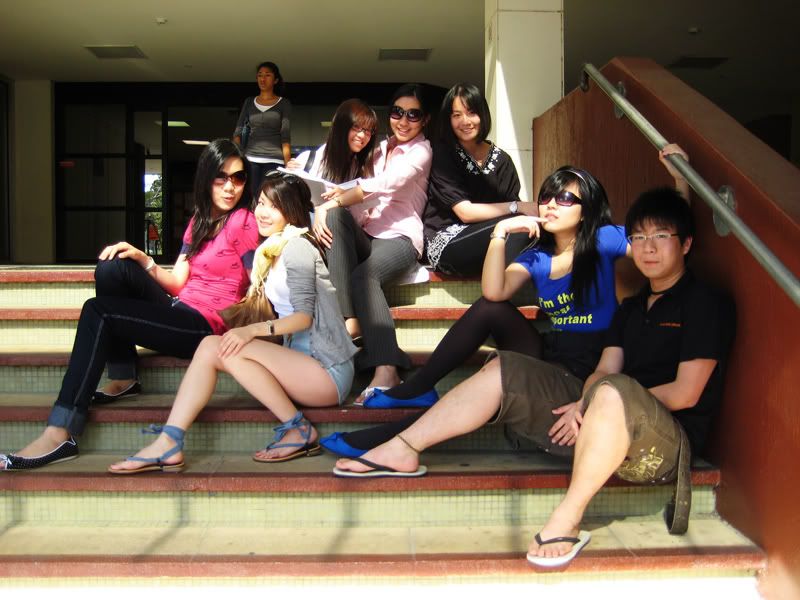 Another promotional picturewtf.
This time with a guy (Han Min)-- if we were really in a TV series, we would a be fighting for him.-_-
And I have always wanted to lie on the grassy lawns in uni! But it was aways either too cold, or no one wanted to do so with me. T___T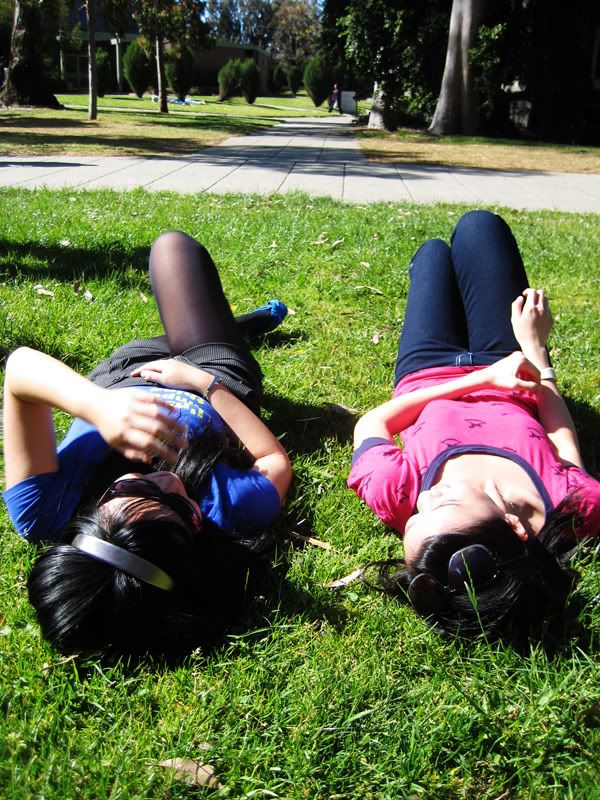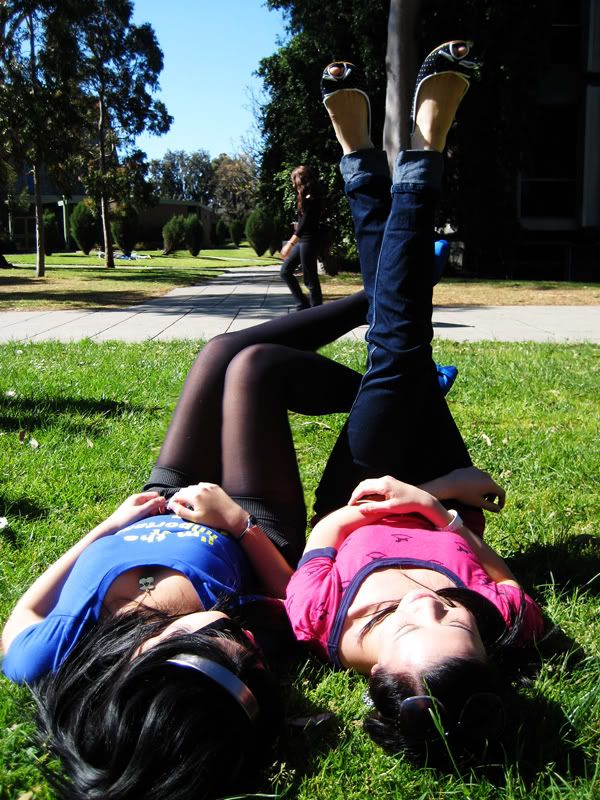 Mmmm.;)
And look at the two spoiled idiots who refused to lie on the grass!-_________-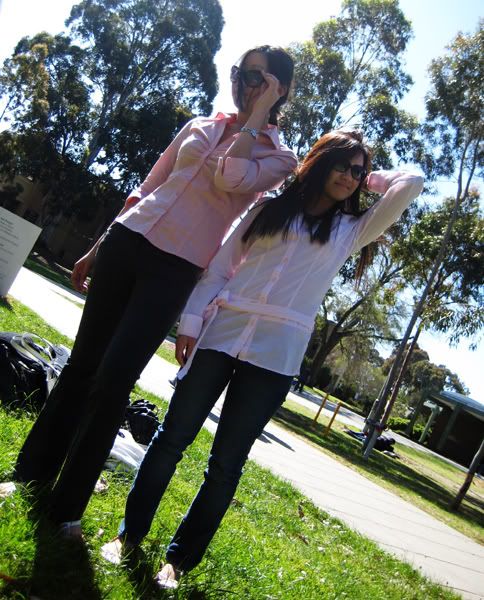 Joce and Smalls.
Eh, I just realised that they are both dressed so similarly!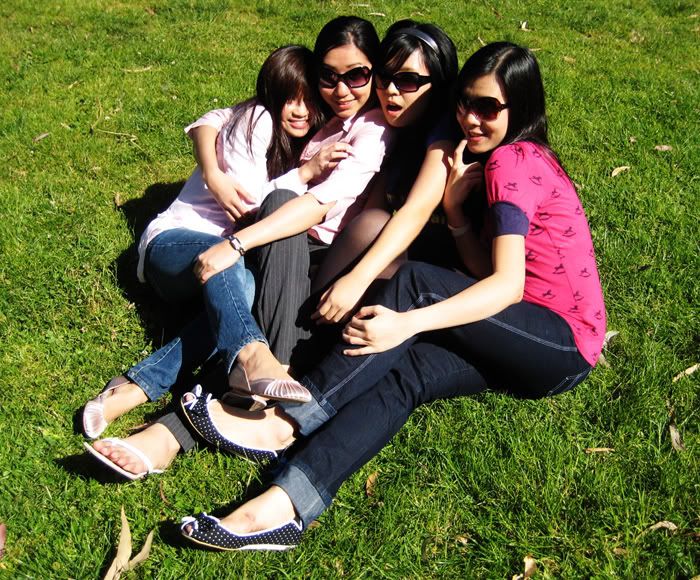 Tangled limbs.
Tanged limbs taken one step further...
My appeal is enough to get Jocelyn to get down and dirty on the grass HAHAHA!
And look at my feet! Joce, you made my toes curl! HAHAHA!
Girl on girl action, wooooo!
Check out the couple making out in the background, hahaha, they must have been so irritated at us! ;)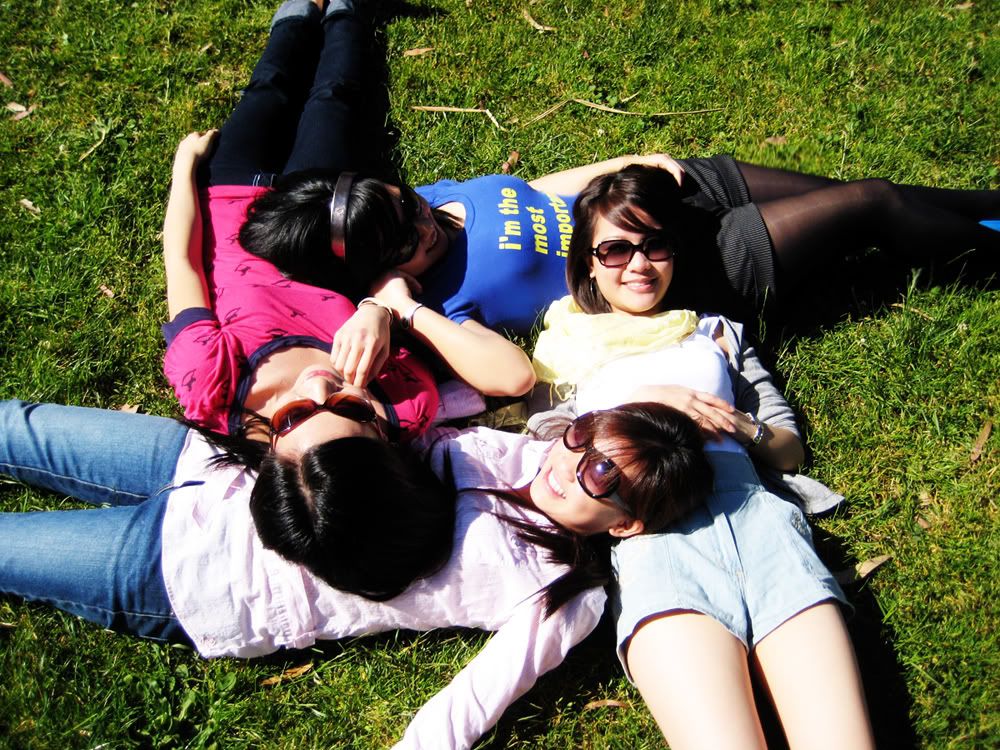 Flatmates, a support system and more. :)
Yea, I really need some pictures to look back fondly, to think back of the good old days, where university days were the best days of my life...
Yea, I think I can attest to that. :)