I swear to god that my books and I are opposite ends of a magnet. We are just RESISTING each other with such immense force!
Anyway, because I simply could not even get CLOSE to my books, here are the pictures from the hat party I was talking about! :)
Saturday.
Warm and sunny but windy. Flying hats!
Royal Botanical Gardens.
Picnic.
Yay!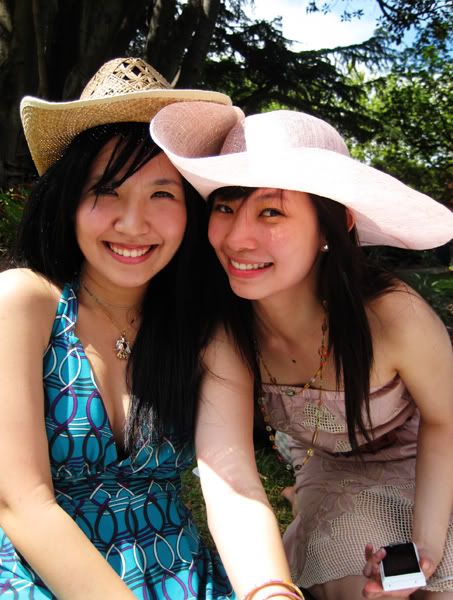 Rebecca, the beautiful birthday girl, who came up with such a lovely idea for a gathering.
And yes, that is my hat! It's sort of a cowboy-like hat, YEE-HAW! :D
In the end, I decided against those flowery, fancy hats, though they would look SO cute in a garden party, just 'cause I know I will just only wear them once and that's it. At least I can imagine pairing this straw hat with sun dresses and denim shorts in summer!
I was actually deciding between this hat and an androgynous-looking one. I was thinking of pinstriped corset and the hat, MMMM! But I figured it would be too overdressed for the garden, but it will look so hot in a club though! :P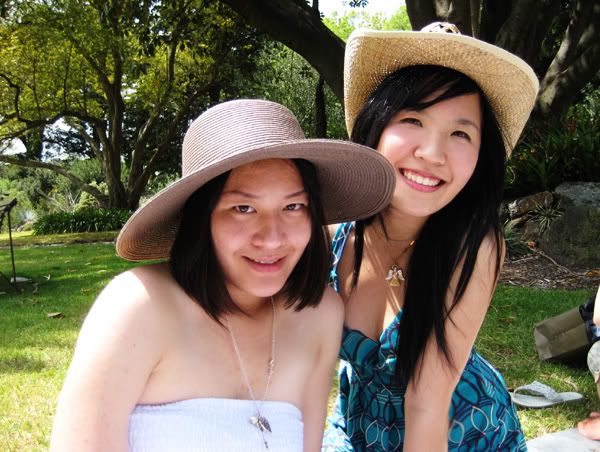 Victoria, my hat-quest buddy.
And why am I posing like a 40's pin-up girl here!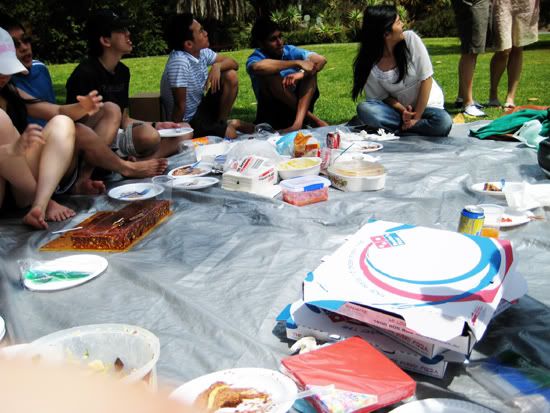 The picnic setting.
The weather was so lovely, and I couldn't help but think of Alice in Wonderland and her tea party! :D
But do you see what's wrong with the picture above???
NO ONE WAS WEARING HATS.
There was a scatter of human beings in caps, but NO HATS!
Are we the only sporting beings left on the earth.
T_________________T
This is what you get for inviting Malaysians wtf.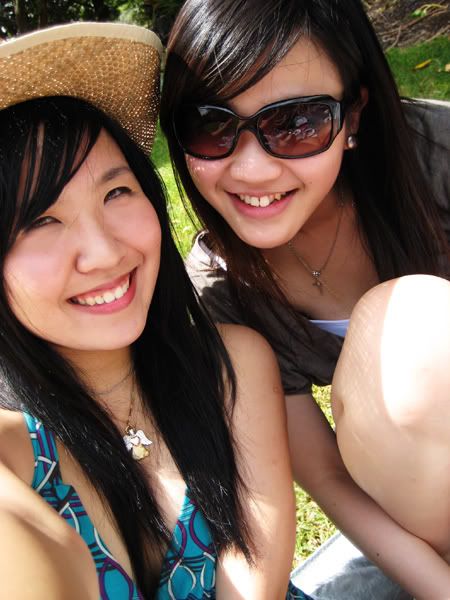 Elaine. NO HAT!
But she is soooo pretty, I would love to bring her home! If not for the fact that she is 5 feet 8. -___-
And HAHAHAHAHA,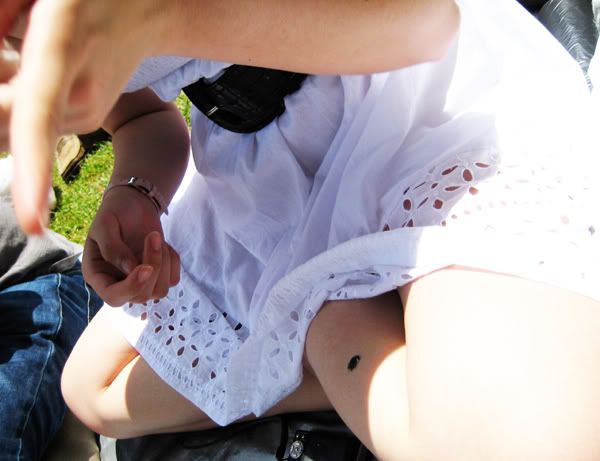 Victoria
kena
-ed bird shit!
And she was wagging her finger at me for taking pictures, haha!
HAHAHAHAHAHA.
She was such an idiot!
We were all eating, and suddenly, she claimed, "There's a bird in the tree!"
And we started looking around, twisting and turning to have a good look at the tree tops.
And she was like, "NO NO, there's a bird in the tree, and it shat on me!"
HAHAHAHAHA, where got people introduce the misfortune in this manner!
And she was extra lucky, 'cause the shit went through the eyelet of her dress; so it didn't dirty her white dress!
The hole is quite small, so it really IS a lucky feat! HAHAHAHAHAHA.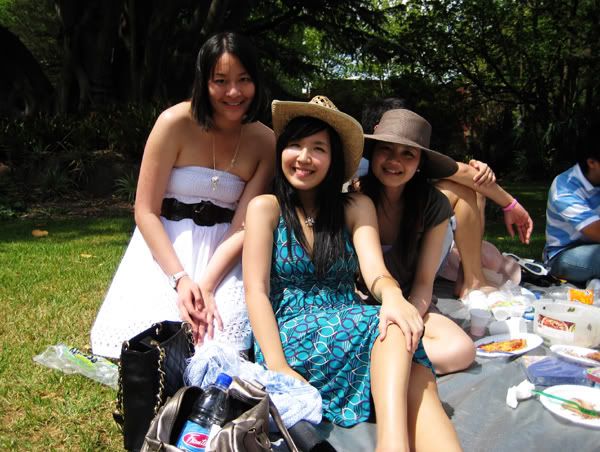 Vic, me, Elaine with a borrowed hat.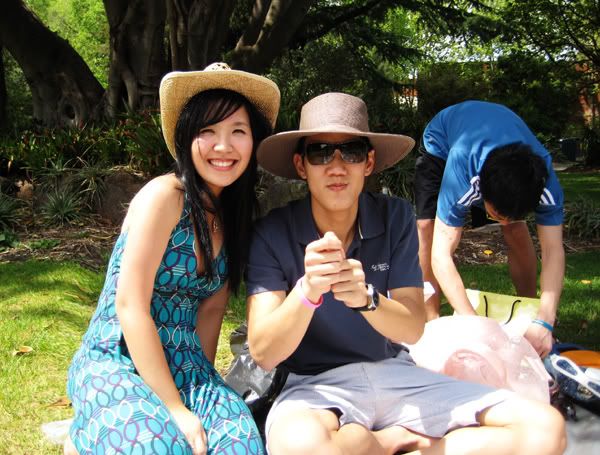 Fang the fisherman. -___-
Victoria's hat was circulated around! :P
I didn't let anyone borrow my hat, because I couldn't take off my hat-- I had ugly hat hair! :'(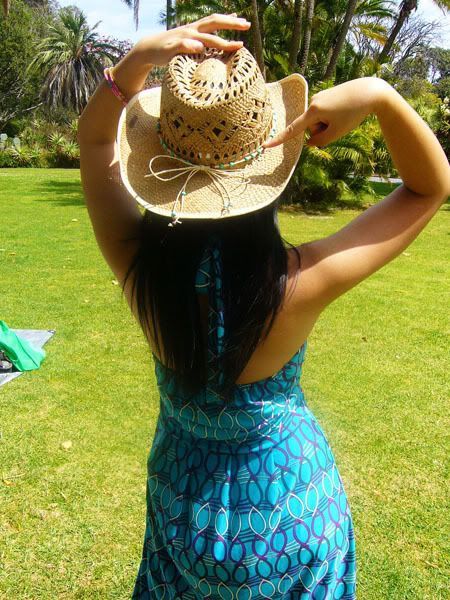 My hat has a cute bow and little turquoise beads!
*heart*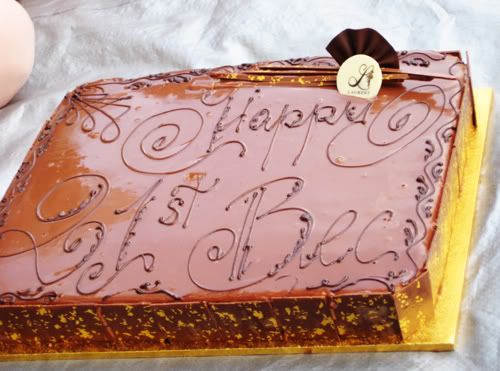 Bec's birthday cake, from Laurent!
Laurent is this famous
patisserie
that I have been dying to try!
Jaclyn,

ahem ahem

.
But I never thought that my first time trying it would be while pressing my hat to my head in case it flies off with the gusting wind, and having my toes tickled by the crisp green grass. ;)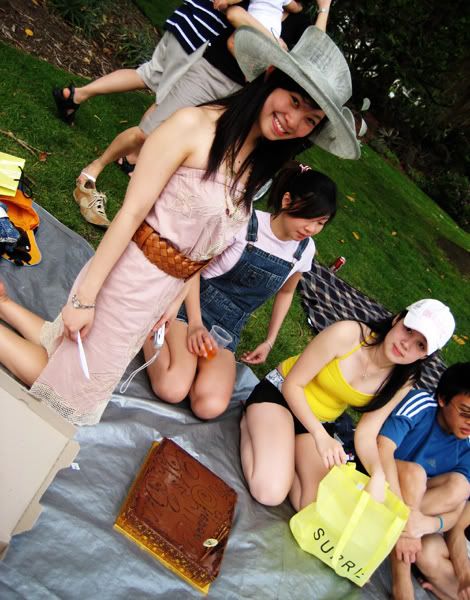 Birthday girl with her cake. :)
I think this was easily one of the best birthday cakes I have ever eaten!
It seemed to look really rich, but actually it was just... divine.
Layers of chocolate mousse and custard? Cheese? Cream? (it was kind of melted, so I couldn't tell) with a chocolate biscuit base, I could devour the whole cake by myself!
*ambitious*
:D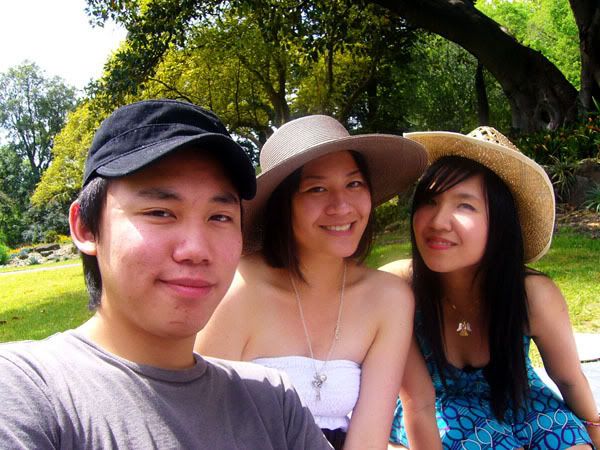 Yihaur, Vic, and I.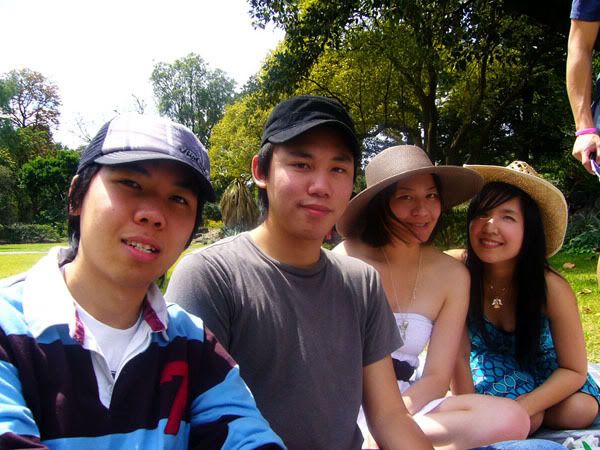 Ivan, Yihaur, Vic, me.
I swear to god that Ivan and Yihaur look alike! But they seem to not fancy the idea, haha.
And oh my goodness, it was so sunny yesterday that I swear I am one shade darker now! T___T
Which was why I went to buy a 30SPF sunscreen just now. T_____T
And one thing about wearing huge ass hats, (besides having to chase after your hat like a game of 'tag, you are it'), is that it gives you a lot of personal space!
Because no one can get near to you-- the brim of the hat is too wide. -____-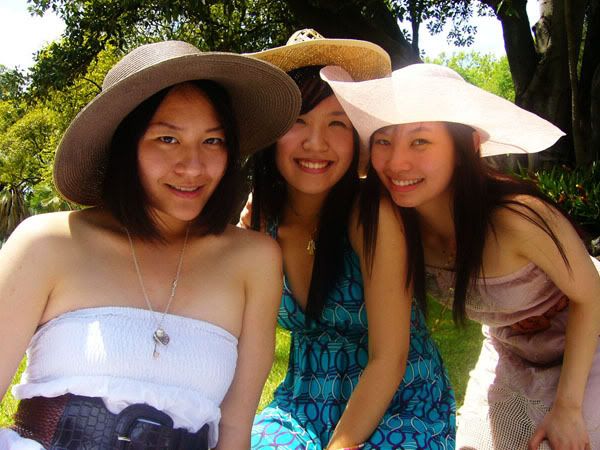 See, you get squeezed out of pictures! -__-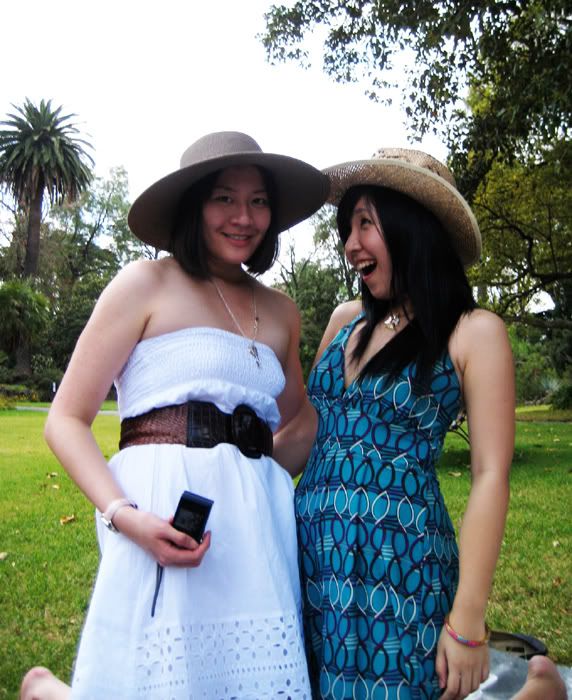 Bumping hats! :P
Plenty of group pictures: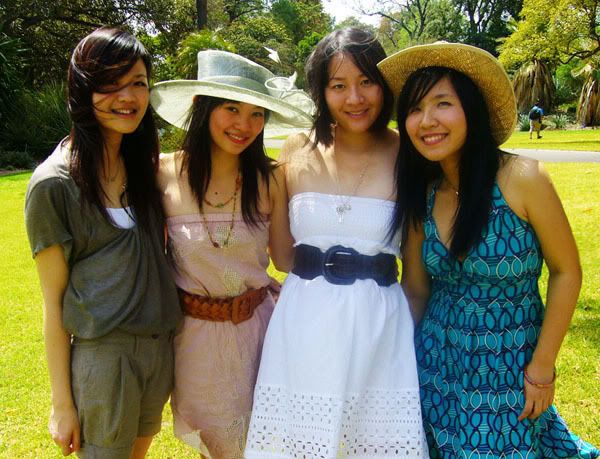 Elaine, Bec, Vic and I.
I am not sure whether you noticed that Bec changes hats... ;)
She was ordinarily wearing this hat (blue-green), and someone gave her a pink hat during the party, so she had two hats! Wardrobe change wtf.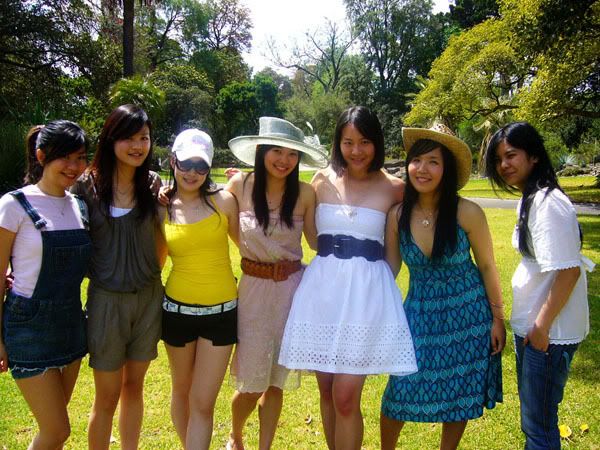 The girls.
I don't know the first girl's name :( , Elaine, Jo, Bec, Vic, me, Cheryl (not really sure how to spell it!).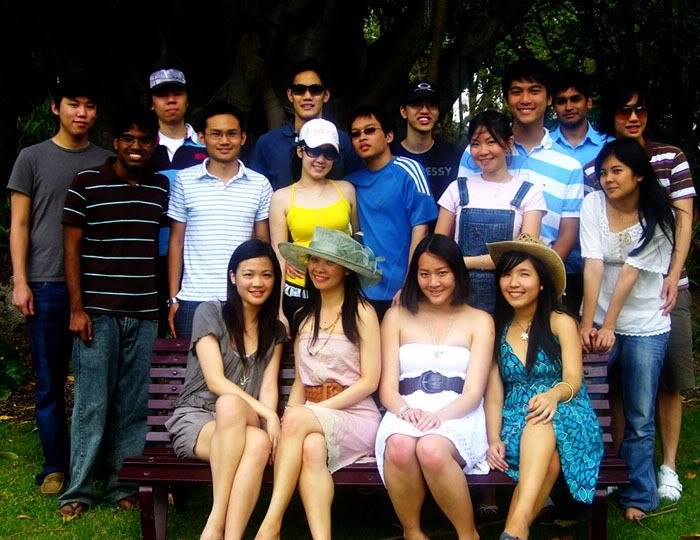 Everyone.
It reminds me of a class picture!
Then we who were sitting down would be the discipline teachers, gosh I am lame.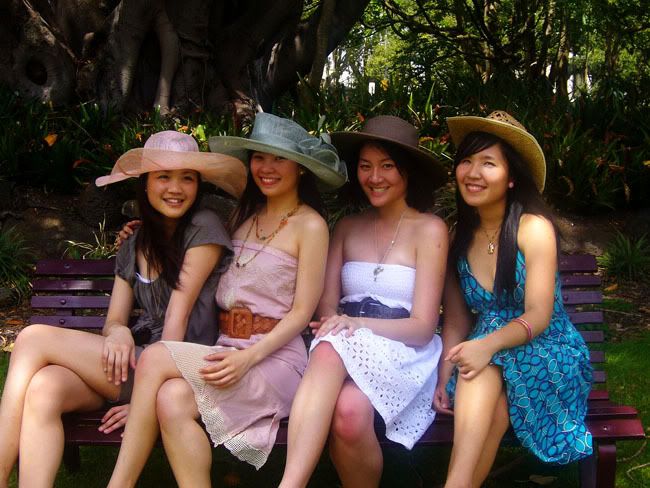 Hat ladies! Prim and proper. And dainty. And feminine.
HEEEEE.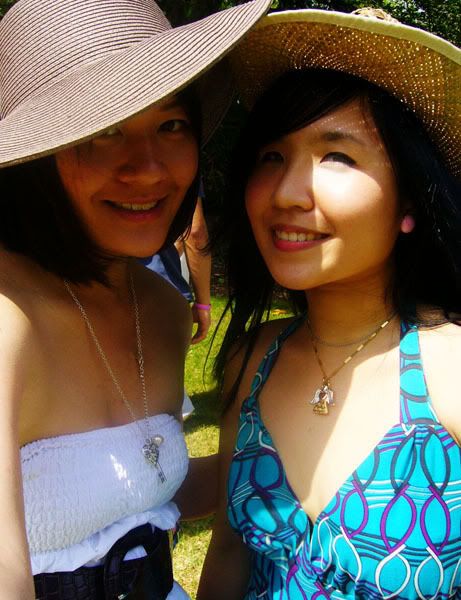 Why is my right boob three times the size of my left boob here. -_____________-
Vic, me, Yihaur, Sri Lankan dude (I forgot his name, but I
do
know that he has a fan club on facebook wtf), Bec,Ivan.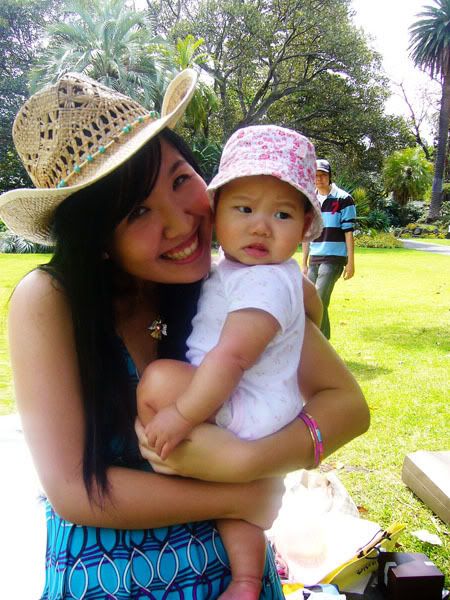 Bec's niece, Isabelle, who followed the hat theme too!
*heart heart heart*
I love babies! Clean, powdery babies, haha.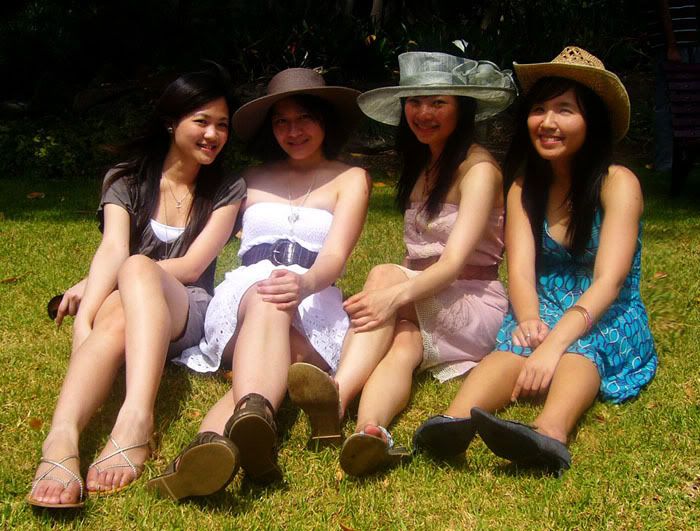 Why do I sit so unlady-like! :(
When I asked Elaine why didn't she wear a hat, she said that her housemate discouraged her from doing so, because she said that "Nobody will wear, don't bother!"
PFFFT.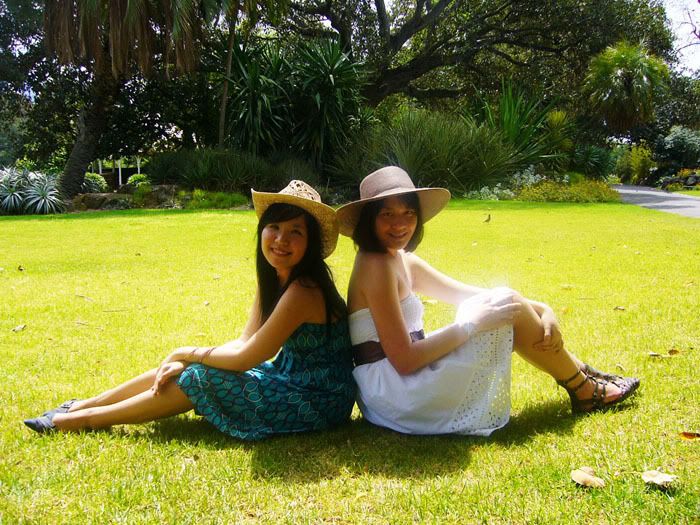 Brokeback Mountain.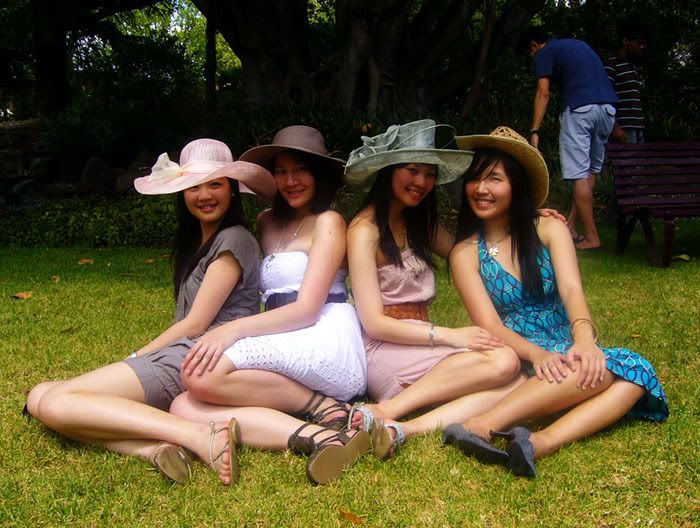 Do you like our poses! Geometry, hehe.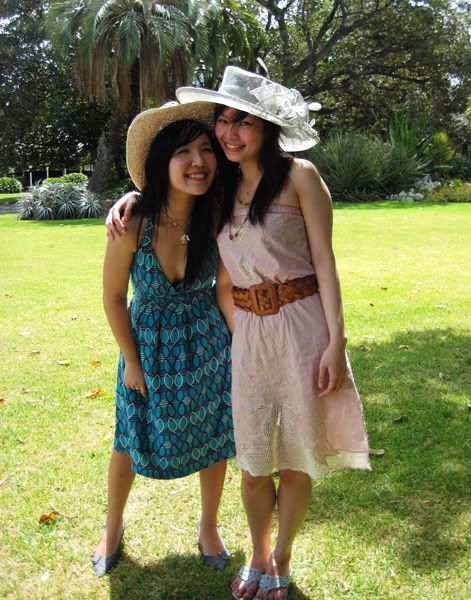 Happy birthday again, Bec! :)
And like I told you, the best present I can give you is by hunching and making you look (and feel) 10 feet tall, haha!
And I just got this in my email...
I think I am going to wear my hat now, pair it with a checkered top and boots, and make a video called "
This boots are made for walkin
g
".
Ciao!