This was the day I went shopping alone, as mentioned in the previous entry.
Speaking of which, I can't believe what a lame title I named the entry! "Shopping with you"??? Arghh. This is what you get when you blog at 4am. Bah.
Anyway, as I was saying, I shopped alone, and I am starting to discover that I do the most damage when I am alone, simply 'cause there's no one to control me. Not that anyone can, nyehehe.
But thank god I met Victoria (whom I was supposed to meet for tea later that day anyway) halfway through me flicking my thumbs over the colorful plastic baubles in Diva. Lonely no more! :)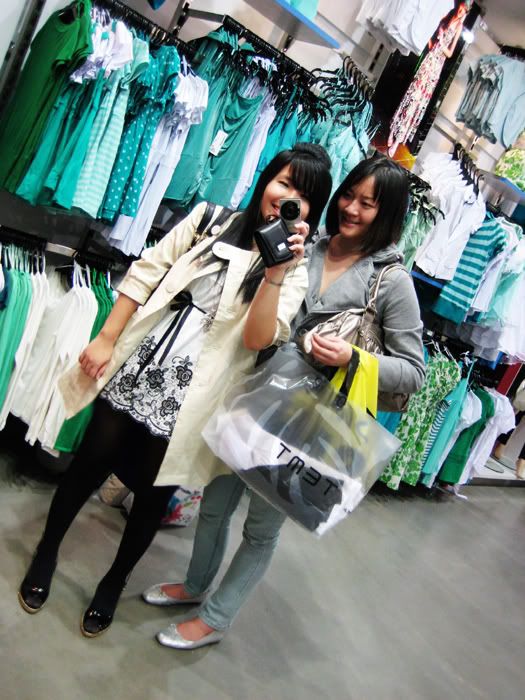 Victoria and I.
Look at the arrays of colorful clothes! SPRING IS HERE! :D :D :D
We adjourned to Bluefire (at Melbourne Central) for tea with Rebecca.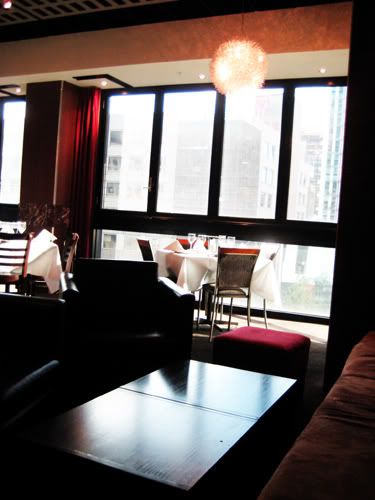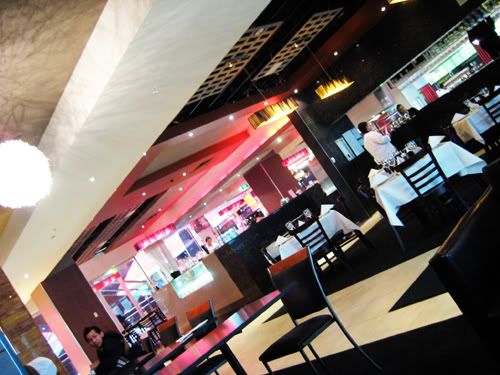 Lovely place, isn't it?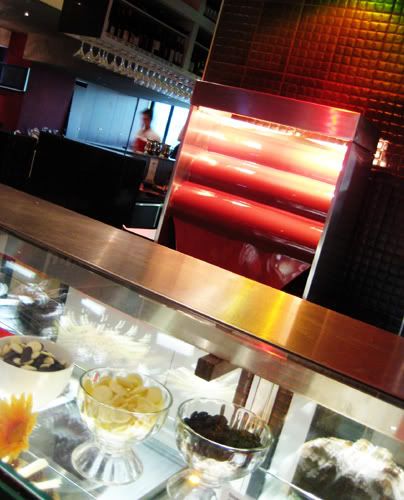 And
that
, is a cascading velvety waterfall of pure chocolate.
The sight sends shivers up my spine! ;)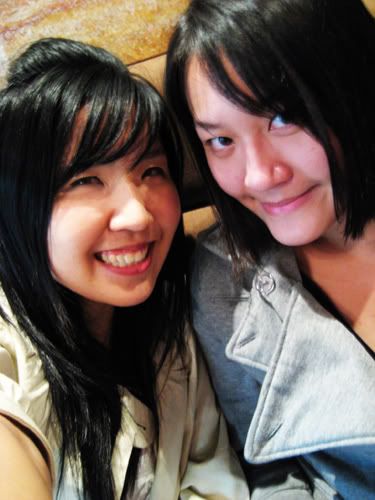 Victoria, who recently just lopped off her long hair for her cute bob.
Everyone is jumping on the bandwagon now to sport stylish bobs.
It makes me itchy, I want too! T_T
But my face is too round to carry it off. :(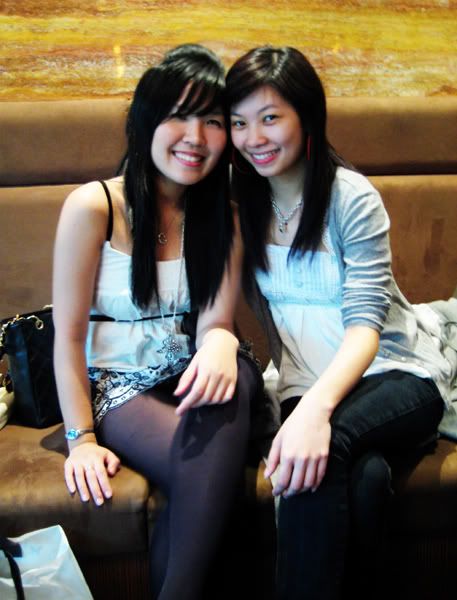 Rebecca and I.
This girl is sick and conveniently forgets to mention it, and shares desserts with us!!! -_-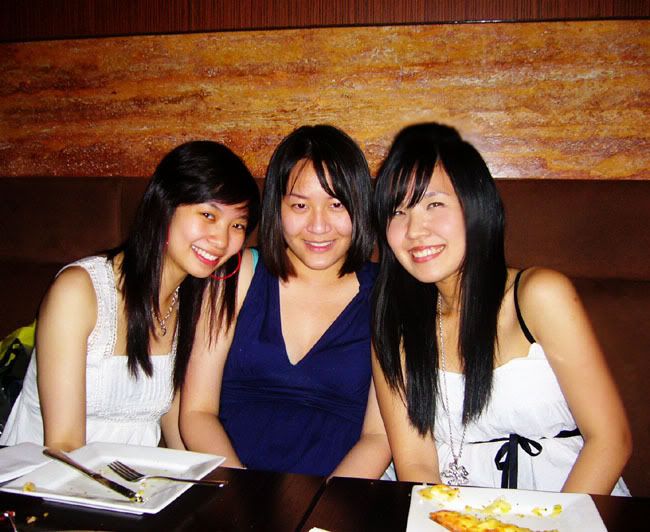 Group pic!
HAHAHA, Vic's bra was showing the whole day (deliberately or not, only she will know :P), but I just realised that she photoshopped away her bra from the pictures she sent me! ;)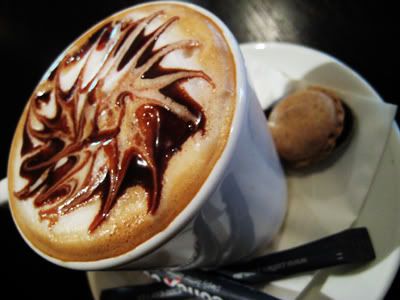 My mocha.
Which looked like drain water next to Victoria's silky hot chocolate, churned in a tall elegant glass. =(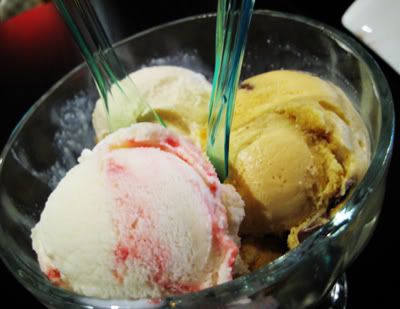 Ice cream! Honeycomb, white chocolate and rasberry and Granny's apple pie.
The ironic thing? They all tasted like
santan
(coconut). -___-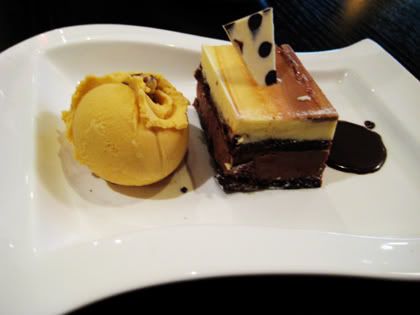 Chocolate Marble Slice.
The amount of chocolate sauce given is pathetic! This is what you get when you try too hard to be gourmet wtf.
Nice-ish, but no spectacular. Desserts have to be orgasmic for me to keep yearning for more!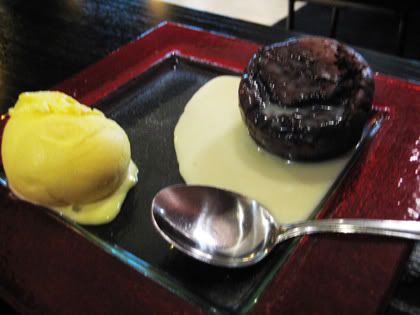 Chocolate molten cake.
The biggest LIAR in the world!
Chocolate molten cakes are supposed to have thick, warm chocolate sauce ooze out when you gently cut into the chocolate sponge... This one, on the other hand, had nothing in it! Grrr.
And because we aren't your typical "Ooh! Aah! What if I put on 1 gram!" girls, after burping delightfully when we were done with our desserts, we eyed the the table next to ours who was feasting on a pizza.
A quick exchange of (greedy) looks, and this was what we got:
Atlantis-- feta cheese and jumbo prawns and whatnots.
Jumbo, being the operative word here, because I think they meant 'jumbo' relative to a baby anchovy.
And heehee, this picture tickles me so!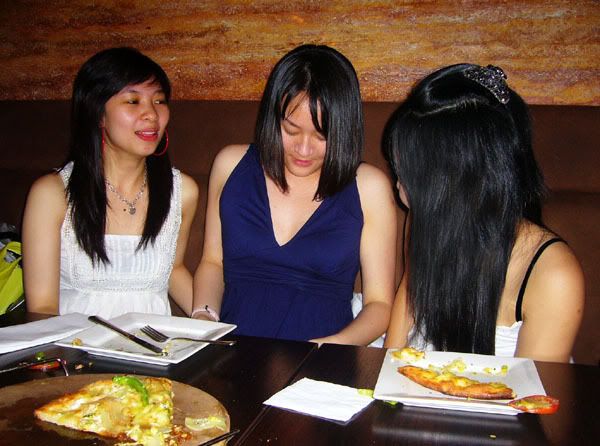 Victoria deciding on Cs or Ds for her boob job, heh.
No la, she was just checking to see whether her bra was showing. :P
******************************************

We also went 'clubbing' at Equinox on the same night. Open brackets intended, because with only Smalls, Mey and me, it felt more like a girly night with loads of booze. -_-
A very last-minute affair, because we found out that it was free entry, and free flow of Soho for ladies, and we thought, heck, why not.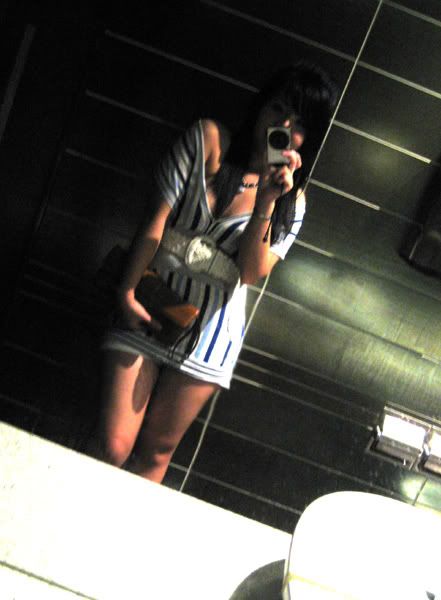 In the toilet.
The thing was, it was only Smalls and I at first, 'cause Mey would only join us much later. We were so bored that we gulped down the free Sohos like fish to water. ;)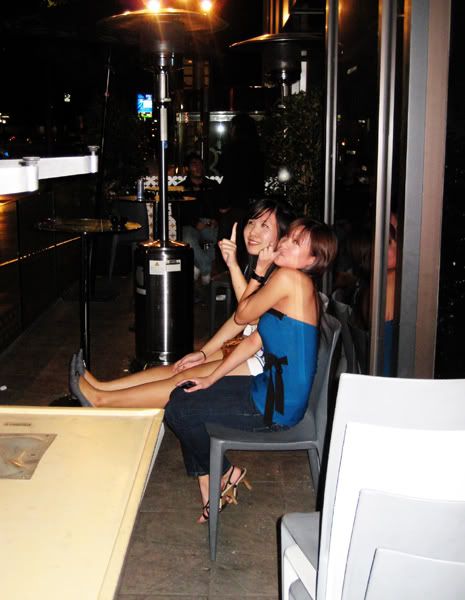 Which explains this.
This is the outdoor smoking area, and before we went out, it was filled with chimney-like guys, puffing away on the evil sticks of nicotine. But within minutes of Smalls and I giggling on the chairs, the area emptied. -_-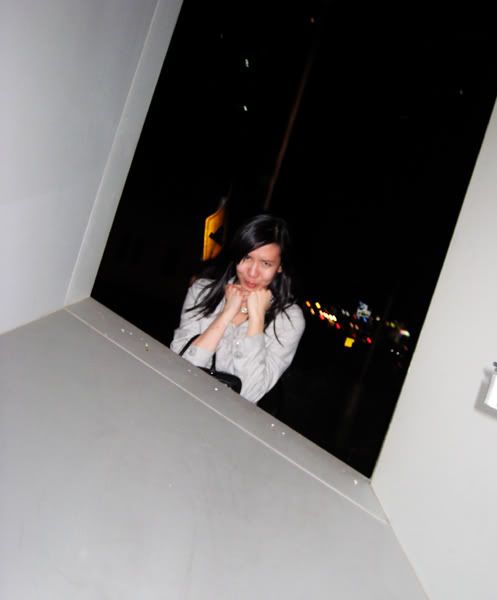 Mey! Outside of the club.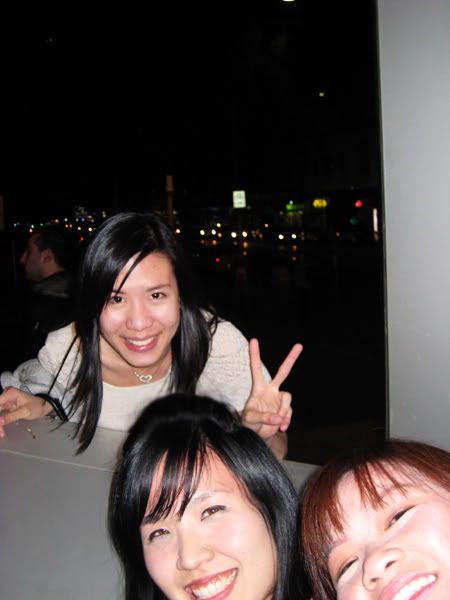 Togetherness, although she was out, and we were in! :D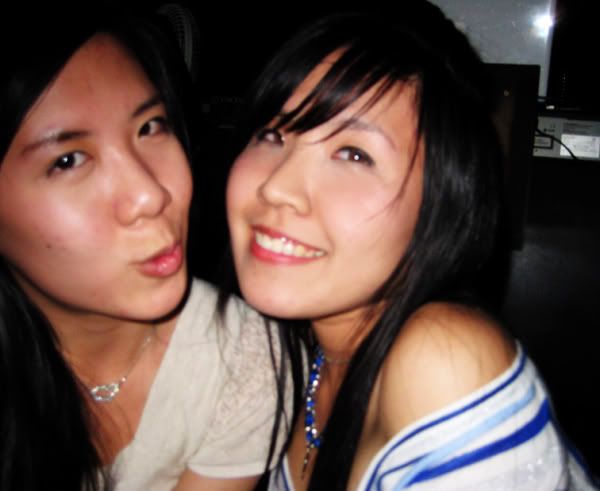 Taking a break from dancing.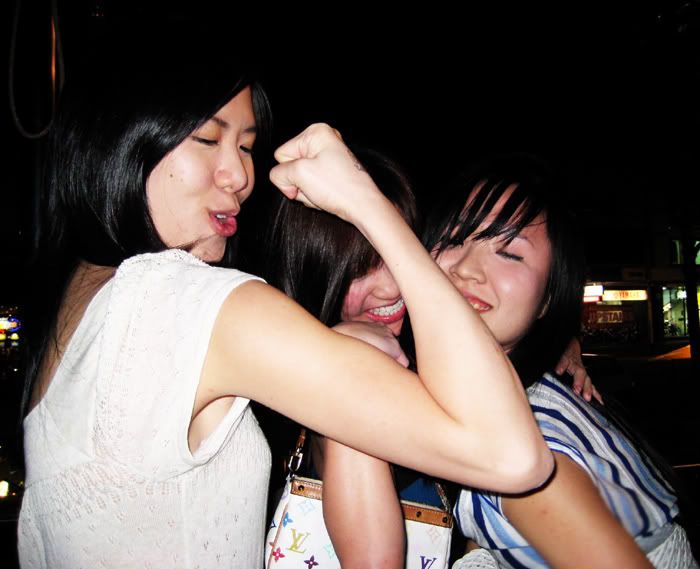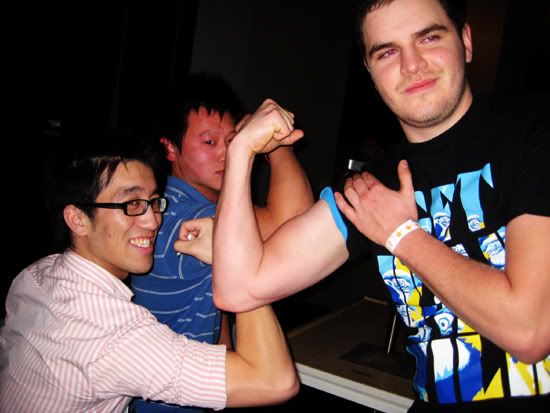 Comparing biceps with strangers. -_-
I am done with the clubbing scene for awhile, I think. At least, till this Saturday, since there are invitations for yet another clubbing outing. -__-
And look, I have cheekbones! Yay!