My parents think that I am a responsible, hardworking daughter; one who knows her priorities.
Seriously, if they see me, they will weep.
One week to one of the hardest exams in my Accounting degree, and I am flocking off with Jac to the city for the entire day. Get it out of our systems, we claim.
Well, get it out of our systems, we did. ;)
Remember some time ago, Jac and I made a pact to go to a nice restaurant every one or two weeks? Well, the vow sort of fell apart, what with our busy schedules and skimpy budgets. But for our last fling out, we decided to renew our vows wtf.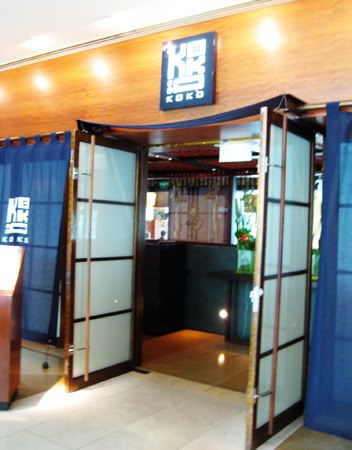 Enter Koko, at Crown.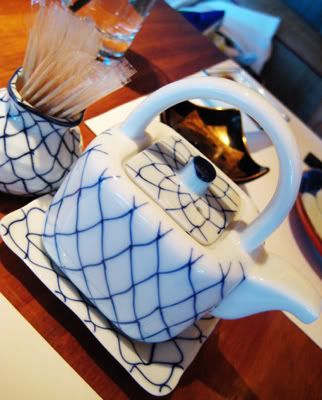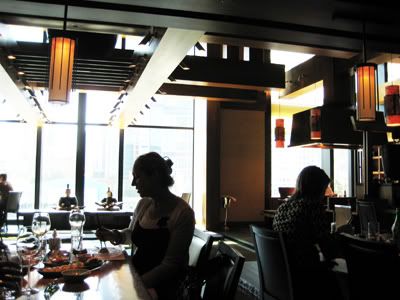 We were offered a window seat, and it would have been a magnificent view, facing the Southbank. But it was too couple-y for us! :(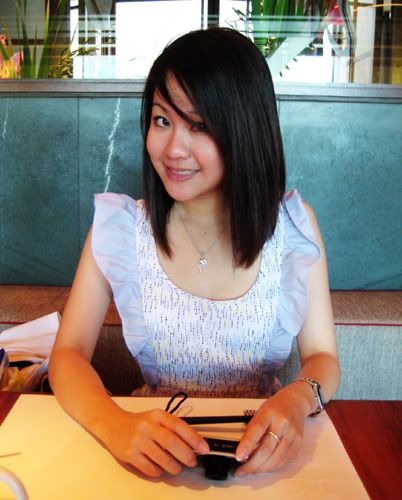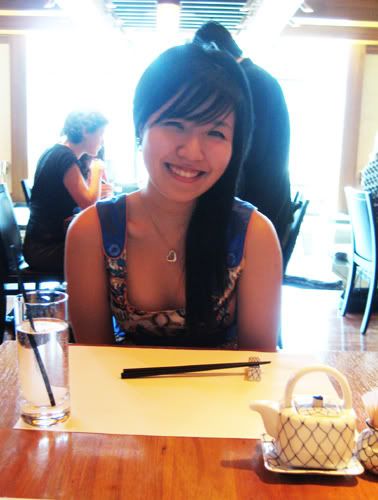 I wore my hair on one side, because I was only wearing a earring one side. -_-
I have lost one side of almost all of my earrings! T____T
Our really mouthwatering food...
Appetizers:
Beef rolls.
I have no idea what the beef was wrapped in, it tasted tough and chewy... But the beed slices inside were succulent and juicy, and I could taste all the flavors in it!
And the sauce, oh the sauce! It complimented the beef rolls and the spinach really really well.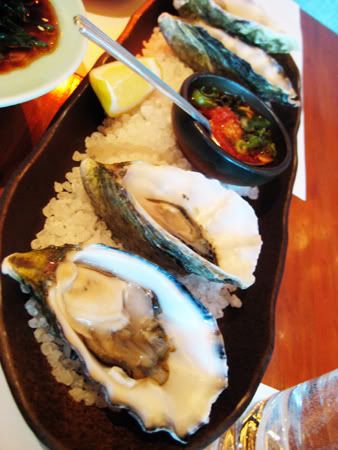 Fresh oysters with spicy chilli dip.
I don't eat raw oysters very often, had some pretty nasty experiences with unfresh oysters. But the chilli dip gave a nice zest to the oysters! Very fresh. :)
Mains: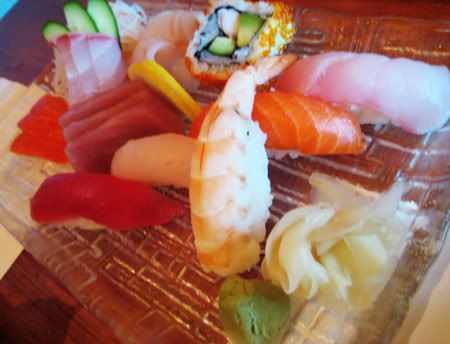 Sashimi and sushi platter.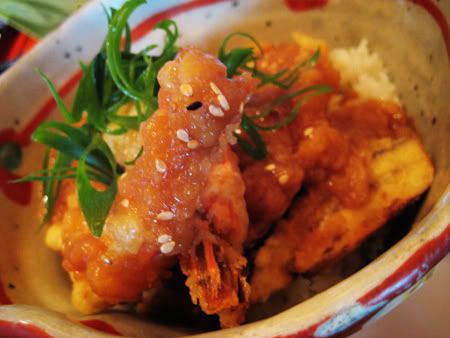 Tendon, which is pretty much tempura with this interesting looking clumpy sauce.
A very safe choice, it tasted pretty much typical.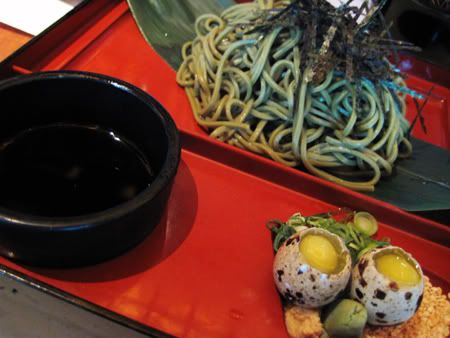 Jac ordered a separate soba noodles for herself.
Sometimes her appetite could be pretty scary! -_-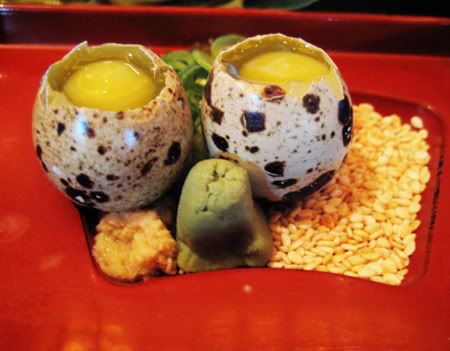 Raw quail eggs!
We were wondering what to do with it, haha.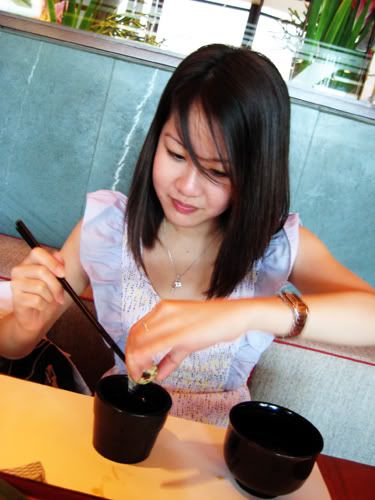 Jac scooping the raw egg into her soba.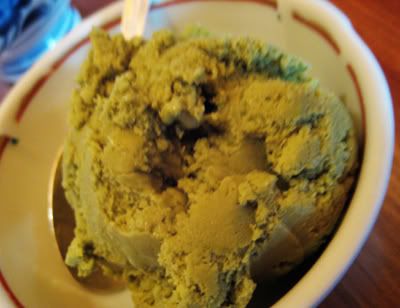 And green tea ice cream! Have been craving for this for a long time.
The perfect end to a fantastic meal! :)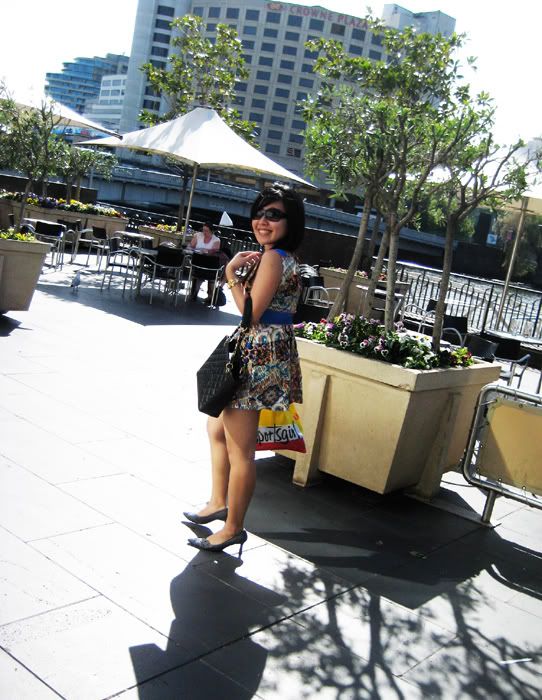 And the weather was so beautiful today! I am talking about warmth (rare in Melbourne), breeze, sun, and people in shorts and dresses. I am talking about "FUCK YOU, CARDIGANS AND JACKETS!". I am talking about light wind rustling your skirt as you skip and bounce, without breaking into a single drop of sweat.
I pity those who stayed in today.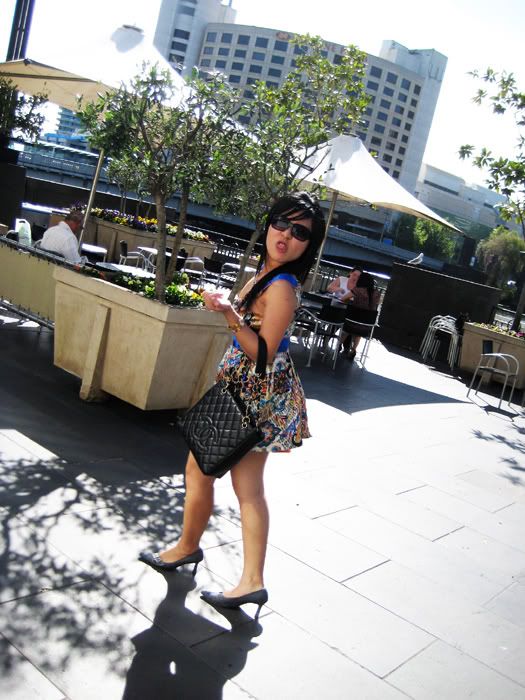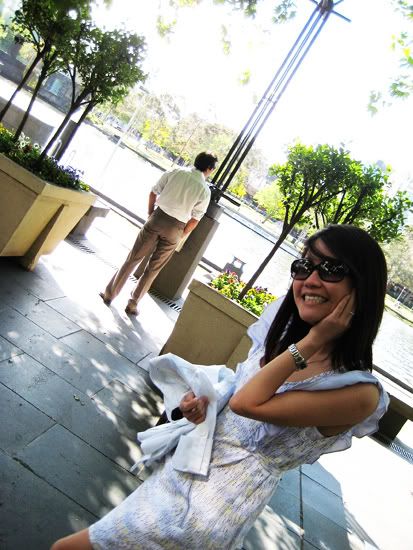 And our day was kind of unproductive, I guess, considering we spent almost 2 hours for lunch, and another 2 hours in Gucci, haha. But I did end up with a good and solid assembly of summer clothes wtf.
And and and! I lost my pashmina and my favorite cardigan! T__T
I left it in one of the shops, and I only remembered it after I left the city. How could I have been so careless! T___T
Jac is going to the city tomorrow, help me pray that it would still be there or the sales assistants kept it for me okay. T______T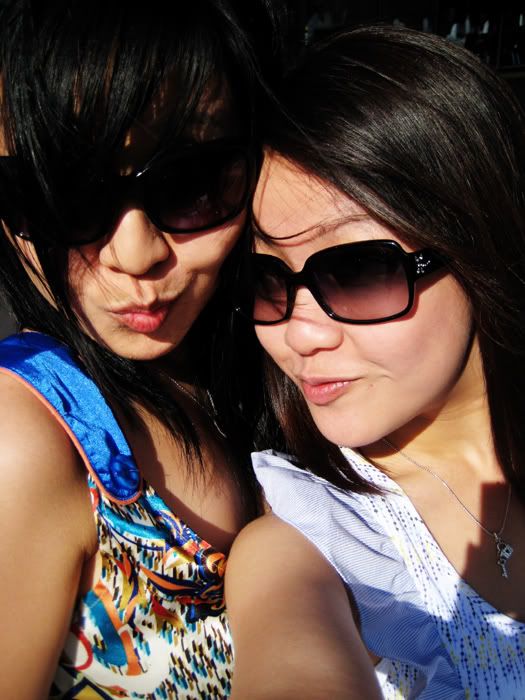 And oh Jac, I lurrrrrveee this photo!
We both look so cheeky and hawwwddd.
*heart*
Yesterday was the last straw.
Now, it's finally confirmed that we are two peas of a pod! :P
It's scary how we always eye the exact same things, and how we buy the exact same things when we go shopping separately. The yellow Dotti scarf, the VG embroidery dress, the heart shape-print cardigan, the Ice dresses, and let's not even get started on the endless Sunny Girl cream/crotchet dresses we have. Truly my best shopping partner in Melbourne. :) And only now, could we go all out and just buy the same outfits openly, because soon we would be in different continents, and it wouldn't really matter whether we have the same outfits. :'(
And not to mention how we look so good together, that everytime we go out together, we get some sort of perks. Free hot chocolate for Pancake Parlor the last time, and a 15% off for the Collin Street boutique for no reason this time. Hell, we look so good together we are planning to get married wtf. Then we can share our bags! *
MMMmmmmm
* Hahaha!
You will be one of the things I will miss most in Melbourne. =(
I love you long time!
*************************************************

Anyway, I am in a dilemma!
I am in love with these two Gucci bags!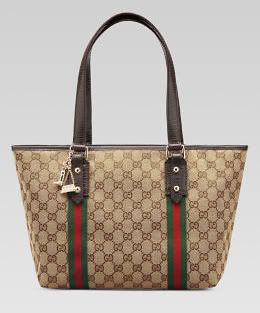 I know, this looks quite similar to my current Gucci, but oh, I love the charms! And I love the green and red stripes... If I get this, I would get a smaller size, so that it would look a little different from my bag.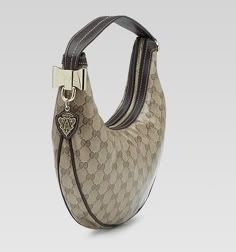 I love the bow on this! SO CUTE.
And it would be nice to have a hobo for a change.
But it's made of plastic, instead of the usual canvas. It's good 'cause the canvas dirties so easily, and if it gets wet, may lord save you. Downside, the plastic may look tacky in some people's eyes.
Another downside, this is more of a seasonal item. Is it a better idea to get something classic instead?
And yes yes, I know, Gucci AGAIN?
Shouldn't I invest on a LV instead, since I haven't got that in my collection.
But well, I don't want to jinx it yet, but I
*think*
, I
*hope*
, a LV bag is coming my way pretty soon. :D
BUT, there is one LV that I am absolutely salivating over...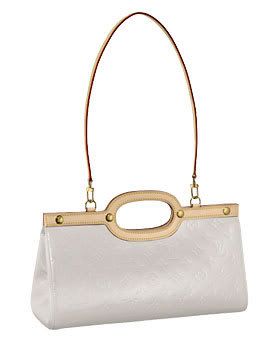 LV
Monogram Vernis Roxbury Drive
I LOVE this bag SO much. It's definitely a must-get in my list.
Very very versatile, so many ways of wearing it.
Just need to save enough money now.
*pffft*
A downside? The white vernis is pretty difficult to take care. :(
So should I screw the Gucci(s) and straightaway get the LV Vernis?
Or should I get one of the Guccis first, and slowly save for the Vernis?
If so, which Gucci???
Feedback, people, I need FEEDBACK! :D