In exactly 12 hours' time, the plane would be taking off.
With me in it.
The last night in Melbourne, and what do I feel.
Excitement and anticipation; as usual, I miss the people back home.
A sense of relief, maybe? The past few weeks have been fun, but lonely at times.
Deep pangs of sadness... I don't want to leave.
Or do I?
I've foreseen that on this day, this night, the finale to my entire Melbourne adventure, I would be swallowed in a deep sea of emotions, huge pools of turmoil-- flinging me right to the deep end. Wallowing, threading, swimming in misery; weighing down because of my heavy heart.
But how would I have known, that I could feel this way. I feel so much, but yet I feel nothing.
A sense of numbness, maybe? Because saying goodbye was inevitable.
Or a stroke of denial.
Who knows.
To put my feelings into words, analyzing them, reaching in to put them on display seems like an insult what I feel. So I shan't even try.

These pictures are meaningful to me because they were part of our to-do list: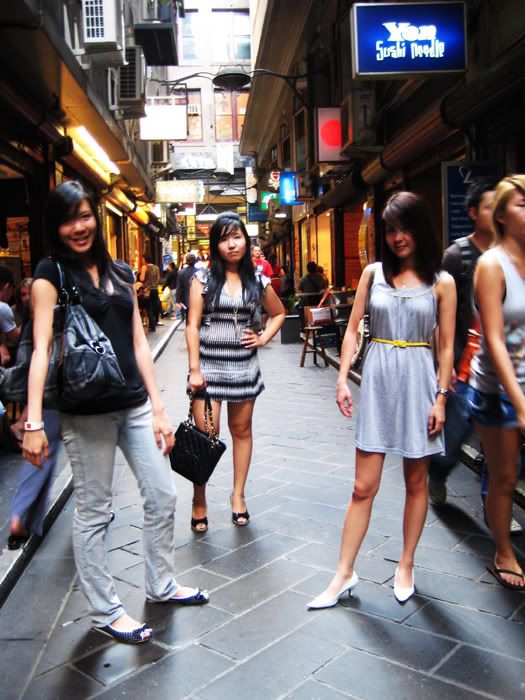 'Photoshoot' in Flinders Lane.
Graffiti lane.

I know it's not final. It's not as if I'll never come back.
But how do you just uproot yourself from a life that you've slowly but surely built up?
How do you say goodbye to a place that you've been starting to think of as home.
Now I understand why YC calls Melbourne her surrogate motherland.
My heart breaks because I am leaving memories behind, the people that I have grown to love so much, and can't imagine not seeing anymore. And I cry for the fact that I am leaving just a little bit of me here.
So I guess this is it, then.
A brave front. A silent sob, a lingering backwards glance, and a whispered goodbye.