I think I am an insomniac.
My mom said no CNY clothes, until I clear away the 6 huge boxes and 4 giant suitcases of clothes I brought back from Melbourne lying in the living room; the 3 massive mountains of dresses and tops on my bedroom floor that my boyfriend brought back from Melbourne for me in September.
Little does she know that I still have clothes with a friend in Melbourne, who is coming back to KL for CNY. And the 5 bags of new clothes that I recently bought stashed in my wardrobe. And the other few shopping bags which I have cleverly hidden the aforementioned 3 massive mountains of dresses and tops.
My solution? Dump everything in my brother's room. Heck, guys don't need much wardrobe space in the first place. And they are messy to begin with anyway.
I have some stuff on my mind. Not sure how to place those thoughts.
I am happy, though, Happy for someone dear to me, whose life is falling back into place. :)
I want to post up pictures of Jac's
real
b'day celebration, but too many pictures.
Therefore, just a few scattered retard pictures. More lovely, lovely pictures from the same day, but I am too tired to think straight.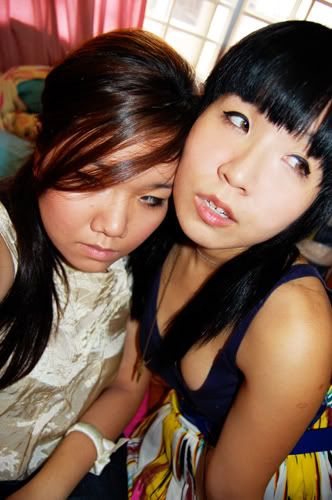 Jing, ever ready for the camera.
Mid-way through some fun pictures.
Teeny asked me why are my calves so muscular. T___T
Told you the pictures are retarded.
On a side note, I got a new wallet today. ;)