Birthday girl and her Graveyard.
Which lead to her 'death'... of sobriety that is.
One week ago, Jac's official birthday, and
final
celebration!
Final being a not so absolute term, because I suspect that girl has more celebrations up her sleeves, what with the 4 or 5 celebrations before this. -__-
At Decanter, Hartamas:
Some of the girls!
Back: Nadya, Julie, Jac.
Front: Me, Amanda, Sharon, Mey.

It was supposed to be small gathering with a few friends, but the invitations spread; a friend of Jac's from SMKDJ shared the same birthday as well, hence he celebrated it along Jac, thus, there were so many people! In fact, the whole Decanter was filled with people for the birthday girl and boy. Our own private party! :)
Jensen, the birthday boy. Both are quite gone here.
Tube top buddies! :P
The day I could fit back into my sister's high waisted shorts, I nearly weeped in joy.
Jac's sexyback. And oh my god, Julie is SO SO SO CUTE HERE! I want to pinch her until she dies!!!!
Hello, I am your sailor girl.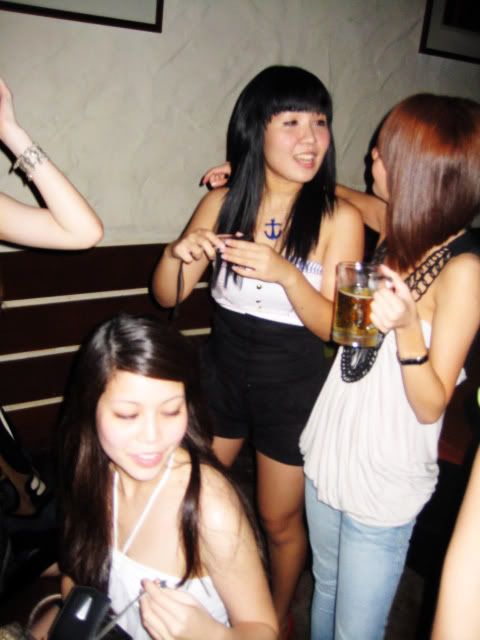 Birthday girl and I, gazing lovingly into each other's eyes, haha.
Joelyn, Sharon, me. My limbs looked quite long here! *glee*
Julie, me and my patent red clutch, Julie.
The way Amanda is grabbing Mey's head possessively in the background is so cute!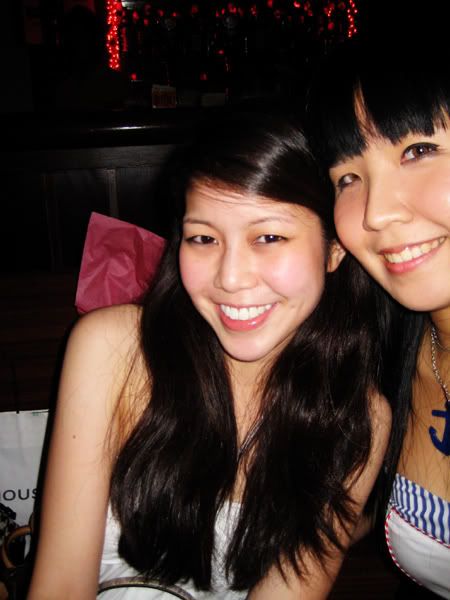 Sharon, who lost a lot of weight through pilates.
I WANT TO GO FOR PILATES. NOW.
Michelle! Who just came back from Melbourne.
More affectionately known as 'Ah Ma', because of her auntiness, haha. Oh, I have missed this girl so much!
Aziah, isn't that the prettiest name! And she wore blue eyeshadow! I have this thing where I feel that it's really difficult for Asians to carry off colored eyeshadow, but she looked good!
Bobbi Brown once said that she never develops any eye colors that do not belong to the human face in the beginning. Hmm, I kind of have the same sentiments.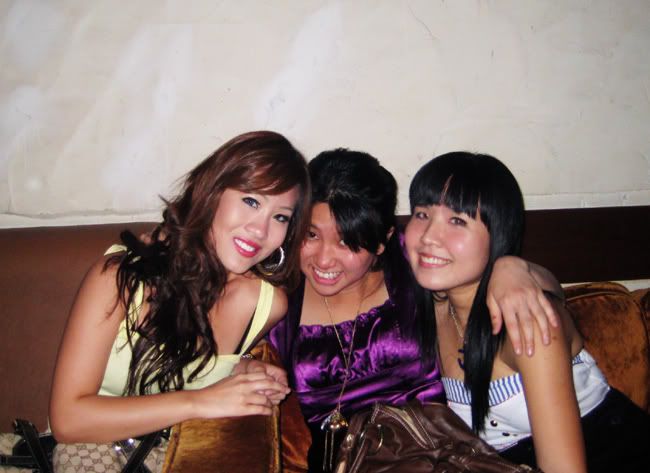 Khing Yiing and Michelle. Khing Yiing has the niicest Barbie curls, so pretty!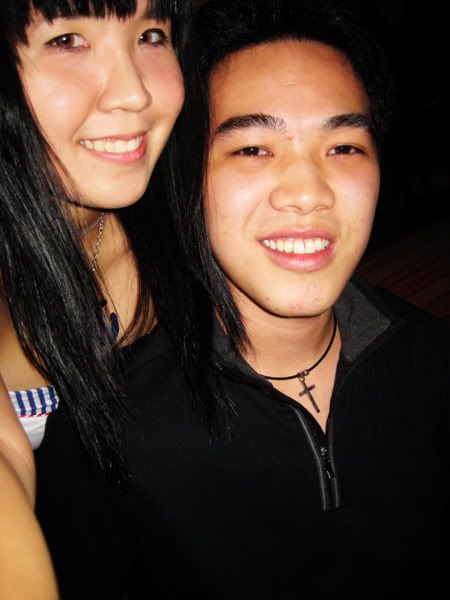 Brian, who said that I always talk 20 decibels too loud. T___T
OOOOOHHH, damn hot right this picture! It's all about the angles, heh.
With my tall Mey Mey!
Obviously
I was tiptoe-ing.
Yen Hou, who is going back to Melbourne this coming Sunday. :(
I am so used to having everyone
here
, that I can't get used to the idea of people having to leave, that some people have other future undertakings. :(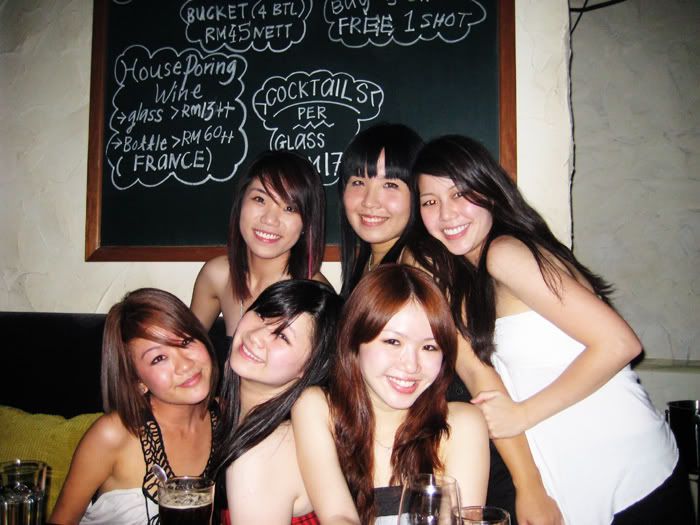 Girls, with Jac. Amazingly, she was SO gone, but she was still standing for the most part of the night! Impressive.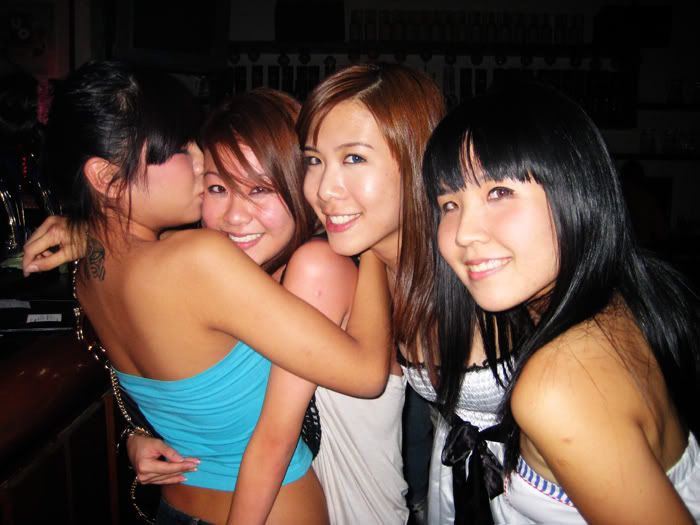 With
Sonia
, a drunken Jac and Mey.
Jensen, and his birthday cake! He could barely stand! Poor thing la, why always the birthday boy/girl gets forced to drink so much that they can't even remember what happened for the most of the night! -_-
Jac and her birthday cupcakes!
Haha, poor thing, she got swept to the sidelines, it looked more like Joelyn's birthday HAHAHA.
And dear, see, no Secret Recipe cakes! :P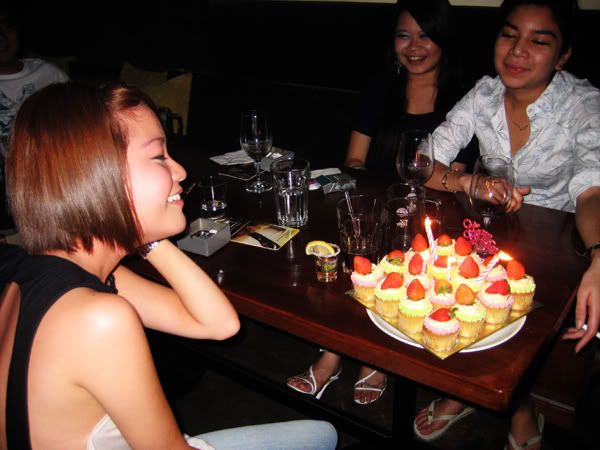 Jac half-gone, being very bewildered by the cupcakes...
... So bewildered, she didn't know how to eat it. HAHAHA, she is so cute
la
!
With Jensen, the birthday boy, and Jason, who claims to be the best-looking guy in DJ for 5 years straight. -_-
With Ti Cheng, who calls me 'bulldog'. -_________-
Because I was
ganas
during a game of Captainball on the beach. -___________-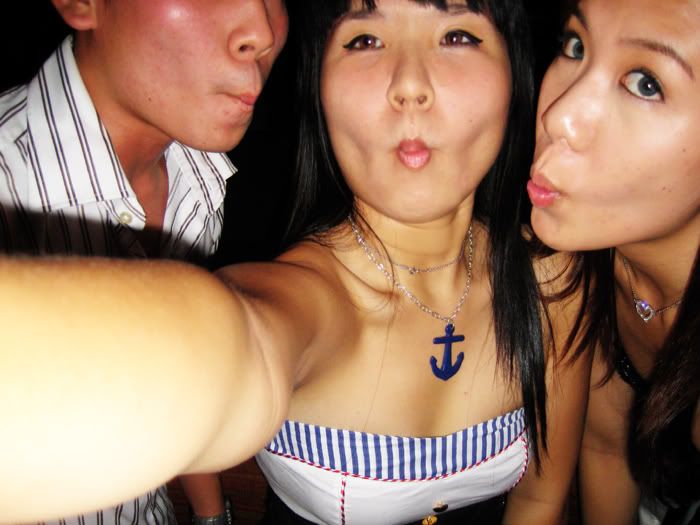 Acting stupid-- trying to compete who has the most protruding cheekbones. :P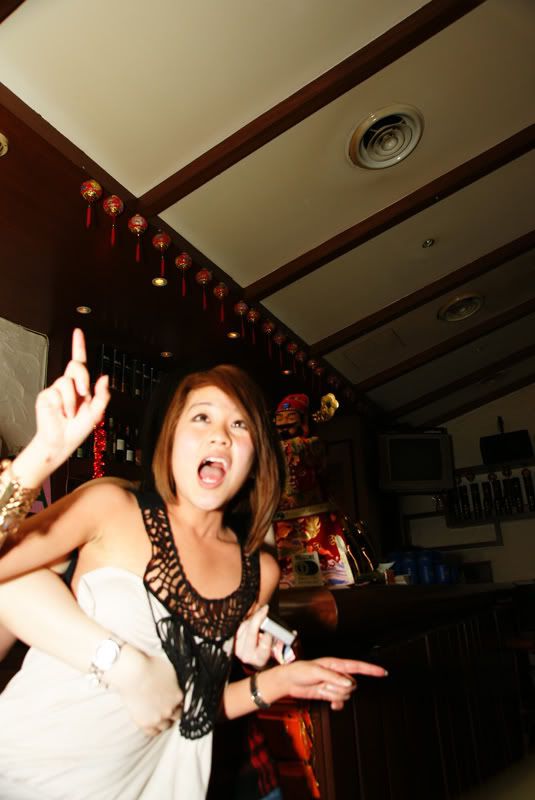 But cannot be as stupid as my dear friend, Jaclyn Wong la, HAHAHAHAHA
My dear, you crack me up with all the pictures of you that night! HAHAAHAHAHA.
Jac's exact words:
You put any don't call me friend ahhhh
HAHAHAHAHAHA.
Don't angry, my dear, you know I lupp you long time!
Hope you had a great one. And I look forward to seeing you drunk again this Thursday, HAHA.
Why I so cool wan arrr.