I am sure it's not a secret anymore, how much I love bazaars and flea markets and vintage clothes and digging for treasures.
Hello, Junkyard Sale Season 2!
The waiting area.
Vintage, baby! I like. :)
Blurry picture of one of my favorite racks. That's Teeny fighting for clothes with me there.
A smack of jellyfish's awesome and absolutely funkayyy accessories!
You can find them on myspace. :)
Sorry for the blurry picture.
Cuppacakes cupcakes for sale as well!
Sisters. But nemesis and rivals when it comes to shopping wtf.
Very very cute hanger, haha.
Gives me plentiful of kinky bondage ideas WTF.
Poor boyfriends waiting for their girlfriends...
... because they were all busy digging, digging! :P
Saw
Kellster
there. :)
And
SimpleCheryl
as well! :)
So cute, they were both wearing fedoras together!
Mountain of clothes!
But I was quite lazy to sift through. It was so bloody hot inside, and I swear to god, I was coated with a film of sweat throughout! Wearing painful heels also make me grouchy. :(
Wheeee! The most awesome lights EVER.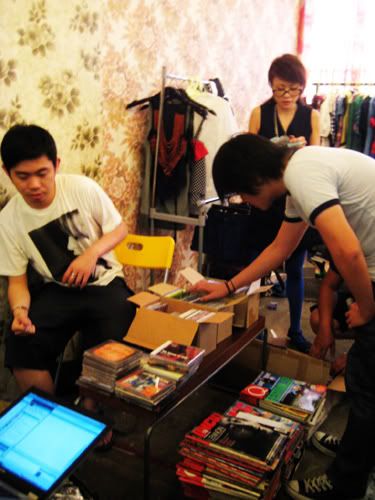 Old CDs for sale as well! And that's
YC
in the background, selling really nice vintage clothes, albeit at slightly steep prices. Aah, I miss Camberwell market in Melbbourne! :(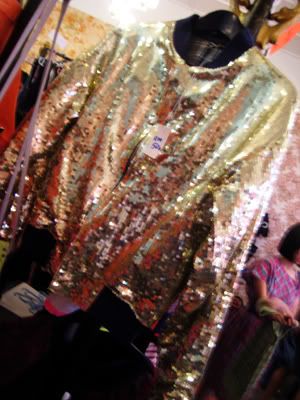 Funky! Moonwalk costume, heh.
I was midway-paying this seller (scrambling for dollar notes in the most unlady-like manner) , and she told me just out of the blue, "You shop a lot."
Caught offguard, I denied it. "No, I don't!!!" But a bit sheepishly la.
And she said firmly, "You do".
And we were just ping-ponging "You do!"s And "I don't!"s. -_-
Finally I asked her why, and she said she was looking at me running up and down the shop, and she could tell.
-____-
My finds for the day! :)
Vintage goodies up first.
I know
la
, this looks a bit like a curtain. But I am damn inspired by
Enchanted
, HEEHEEHEE.
And for those of you who don't get it because you have yet to laid eyes on the movie, AIYO GO WATCH LA!
Vintage long dress, I am going to cut it real short, then it'd be cute right!
Love those kitschy buttons. :)
Summery dress! My sisters insisted that it looked like the dress I was wearing (refer to pictures above!).
But it looks so much like the infamous J.Lo Versace gown, I couldn't resist!
HAHAHA.
Moving on to the non-vintage goodies...
The trimmings and sash are actually made of denim, which adds a pretty interesting touch to the dress, I feel. :P
This top is actually emerald green in real life.
Love the slanted row of buttons (did you realise it? :P)! Would looks so good with a high waisted skirt/pants/shorts. And I think it's pretty appropriate for work (worn tucked in), so yay!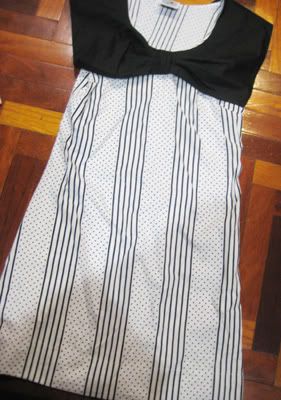 I love the bow-like peter pan collar!
Mmm, vests, can't get enough of 'em. And I love the cute twist at the hems. ;)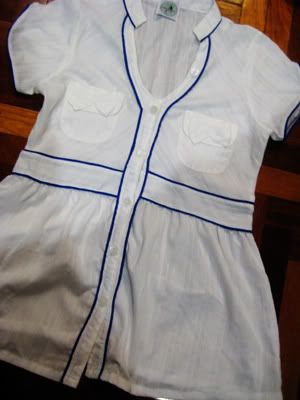 Cute bows on the pockets of this shirt dress! I use the word 'dress' loosely, because it's actually quite short. And sheer. :(
But bows, AAAHHH! Love love!
Silk smock with cute cloud patterns!
Don't you just feel so HAPPY when you look at this dress? Like you want to float to cloud 9! Heh. Lame pun.
I have had an obsessions for cute button earrings for the longest time.
I asked Teeny, "Eh, these earrings nice or not?"
She answered me, "Ok la. Looks quite
lala
! Hahahahaha!"
WTFFFF. -____________-
(In case you didn't get it,
lala
refer to ah bengs and ah lians. If you don't know what an ah beng/ah lian is,
click
! It can also means shellfish in Chinese.
-_-
)
And I have a WTF purchase!
Hahaha, it's a brooch! But isn't it SO SO SO SO cute! :D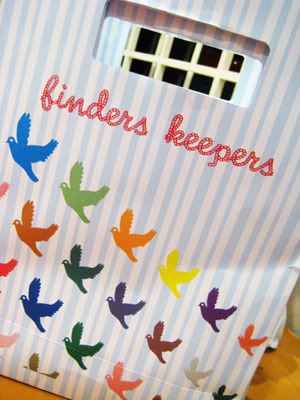 And I like one of the paperbags we got today!
Finders keepers.
That's sure my motto! :P