I went to MAS Kargo yesterday to retrieve all the things that I've shipped from Melbourne!
With the help of my crew...
... my very macho boyfriend.
Such an apt uniform HAHAHA!
And now I am united with the 6 boxes of clothes and shoes and bags that I've sent across the oceans. My life is complete. :) :) :)
I told my dad I really needed to ship books back, 'cause he was really against me shipping. What he didn't know was, out of the 6 boxes, there were only 3 books, out of which two were storybooks, HEH.
****************************************

I have an uncanny knack of torturing myself with delectable food pictures during my darkest, hungriest moments.
At Paddington's House of Pancakes, better known as PHOP.
We went to PHOP before we went to SHOP, HEEHEE.
Teeny and Jing. Teeny looked so pretty here right!!! I think I want to get gray contacts too!
My hot Mocha (some things never change), cheapskate Jing's sky juice wtf, and Teeny's Macchiatto!
She got cheated, because she thought Macchiatto is something like cappucino... But instead, it is a caffeine shot of some sort!
Macchiatto:
an espresso drink with a teaspoon or two of steamed milk on top
-Dictionary.com-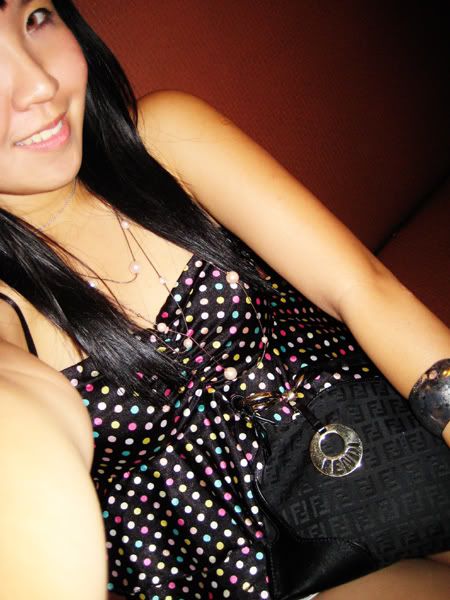 I don't know whether I am paranoid, but I seem to think that without my bangs, I look hotter! -__-
FOOOOOOD: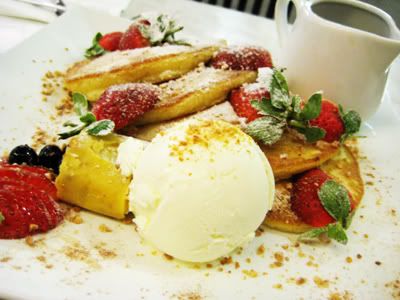 Strawberry pancakes! With ice cream! And chocolate honeycomb butter! And maple syrup! Heaven tastes pretty close to this. ;)
My big mistake wtf.
Blintzes (a type of pancakes) with minced meat filling.
This tasted so wrong on so many levels... Like tasteless chicken stuffed into limp wanton skin. This will teach me to be adventurous with food. :(
And Teeny couldn't even try this dish! 'Cause usually she is the MPPJ of the family wtf.
BECAUSE? She is going to be vegetarian for 1 whole month! HAHAHAHAHAHA. She prayed for her foundation year results, and that's what she promised in return. It has only been 3 days, and already she is damn grouchy because of the lack of meat! The Hoe family are all carnivores wtf. I told her to be careful, because what if she gets kwasyiorkor wtf HAHAHAHA.
The three sisters. can't you see Teeny's hairy arm!
And I am very happy! I got to see Jac today. :) :) :)
Though we saw each other on NYE, she was drunk for most of that night, so today's intelligent conversation (about clothes and boys wtf) was a refreshing change. And I was sooooo good! We managed to get her whole birthday outfit in less than 2 hours! So much so that she has nicknamed me in Facebook
Productive Wen
. -____________-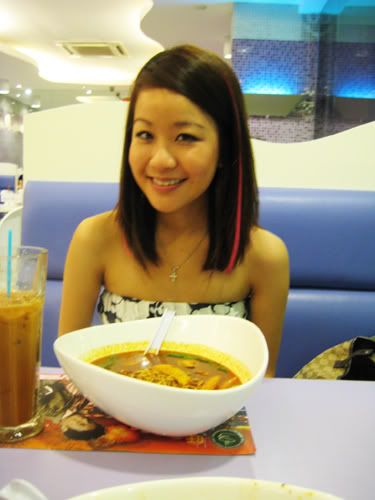 Jac with her funky pink hair extensions.
Woman, you need to put on more weight! :(
We both had the same dish-- some noodles in spicy soup.
I LIKED THE SOUP! :)
Errr, no pictures of me in Wong Kok Char Chan Teng (where we were) because we met Ti Cheng and Shannon, and they started making fun of me and my bangs . T___T
Whenever I start talking, they gesture to their foreheads and make funny faces. T_____T
So, pictures of me taken before Jac came in her mom's van:
Girls, I need some huge huge huge beauty advice!
I was with Jac at some beauty counters just now, and almost everyone (the sales assistants) clucked their tongues at my face, and told me that my complexion is congested. :(
My skin condition has severely deteriorated in the past 2 months, and my skin seriously needs some TLC.
Thus, I need you girls to recommend me any facial products that you find effective, or even better, miraculous wtf. I am so desperate I am even thinking of using SKII, although I have heard horror stories that once you use it, you can't use other beauty brands, because your skin will then fall apart wtf. Is Shishedo any good? I vaguely remember some people recommending it before.
And oh! Do recommend good facials too! My skin really really needs some pampering. :(
My skin and I thank you first! :P