I got an interview for a job I've applied for in S'pore! YESSSSSSSS!!!

A dose of self validation. :)



I got the call while I was buying milk in Petronas (the petrol station)-- I recognized the number flashing on my mobile phone's screen as a Singaporean number, and being caught off-guard, I ran out to answer the phone with the bottle of milk in my hands...

that I haven't paid for yet

. -_______________-

Luckily halfway talking, I realized I still had the milk in my hands, and hastily ran back in to place it back on the shelves! Luckily the sales assistants didn't realize and came chasing after me! What if petrol stations have alarms that will go off and halfway being impromptu-ly interviewed, the alarms start blaring fiercely and cashiers and security guards come running out to pounce on me!!!

I tell the interviewer, "

Sorry, can I call you back next week? I am going to jail now

" ar. -__-
***************************************************

Enough with Burger Kings and Carl Junior. Gourmet-like burgers are the new in thing.
Presenting you, with the newest burger joint in town--
The Daily Grind
in Bangsar Village I.
I had the weirdest soup I've ever tasted!
Apple of cream and mint toasted baguette.
The soup is just the strangest concoction-- you slurp it onto your tongue, and you taste cream soup swirling on your taste glands, but soon after, an apple aftertaste follows. The next spoonful, you find your tongue being greeted with a light apple tang, however a creamy mixture follows. Very strange indeed. I couldn't quite decide whether I like it. However, the soup is slightly sweetish, which put me off a bit, because I don't like my savoury foods to be sweet.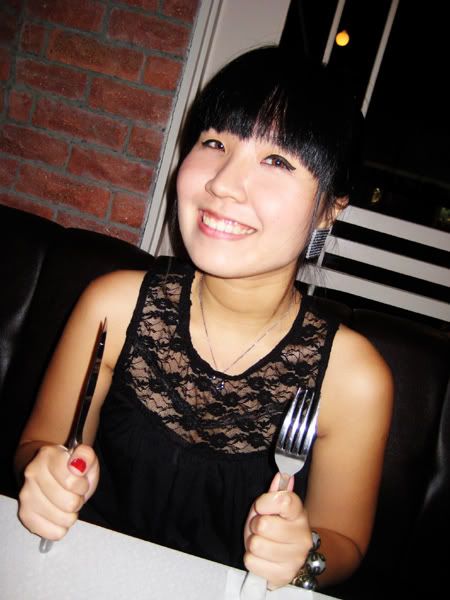 A ravenous me.
When I stepped into the car, the boyfriend asked me why was I wearing all black when it is the Chinese New Year season.
I swear, my boyfriend is a 50-year old trapped in a 22-year old body.
My traditional boyfriend docked in red. -_-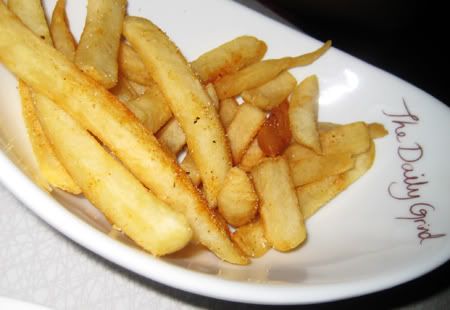 Side dish-- very yummy fries!
This was complimentary, if I am not mistaken. Freshly cut potatoes, fried to perfection, and doused with seasoning. Oh, bad carbs at its finest glory!
But we were real idiots, because the fries were meant to accompany the burgers (because the burgers aren't served with the fries as a dish). but we thought they were appetizers and gobbled them up along with the soup. -___-
The Daily Grind
make
their own sauces. I only tried the ketchup (I'm a ketchup girl all the way, I eat 4 packets of ketchup with a packet of 6 pieces nuggets wtf), and it was delicious! It has an unique tanginess that i couldn't quite place.
Now to the highlights of the meal!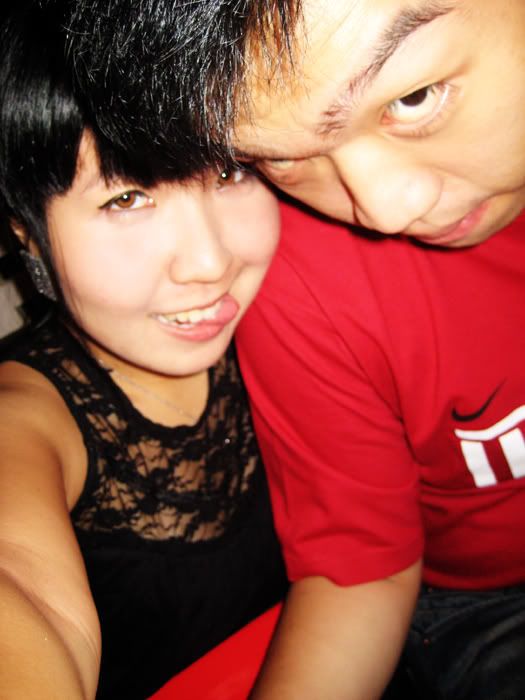 Heh.
Our burgers
la
. :P
The boyfriend's double cheese chicken burger.
The poor thing, he doesn't take beef, and he told me that this was his first ever double cheese burger in his entire life. T______T
The burger was
delicious
. Seriously, I think it's one of the best burgers I have ever eaten. From the oozing golden cheese, the home-made pickles and onions, the soft brown buns with the crispy sesame seeds, the tender chicken patties, all two of them... WOW.
My salmon burger.
The salmon patty is lightly grilled on the outside, and it's actually raw on the inside! Sashimin-style. :) This burger is slightly bland for my liking, though the freshness of the salmon is undeniable, and how often do you get salmon burgers? :P
The burgers in The Daily Grind start from around RM20, and it ranges to about RM30-ish. In fact, they have a foie gras burger which cost RM55! Pretty hefty price for burgers, but then again, you don't get burgers of such premium quality often. Definitely worth a visit. Or two. ;)
**************************************************************

Anyway.
Here's to someone who has been there every step of the way for
my
daily grind. :)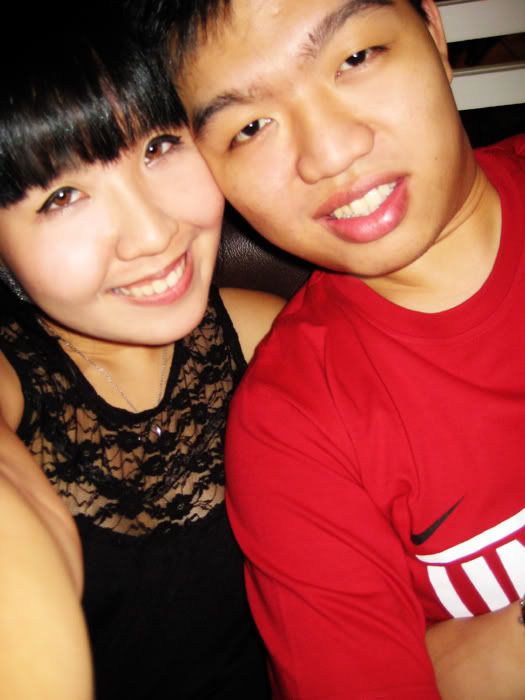 I can't believe we are
50 months
old today
! :) :) :)
I am not touching his groin

la

!
Happy 50th, bee.
You are my burger bun, and I am your patty. :)