I am officially on a shopping ban. :(
My mom orchestrated a yelling fest at me both last night and this morning, and the crux of all the screaming and shouting is:
1. Why the hell do I buy so much clothes (I use 'much' because I think the amount of clothes I own has reached an incomprehensible leve;).
2. Where the hell am I going to keep all my clothes. The boxes and luggage bags in the living room is temporarily stored in my brother's room in conjunction for CNY, but this is just a short term solution. I have green light to get new wardrobe closets though. ;)
3. How dare I ask for more money to shop and to buy CNY clothes when I already have so many items I haven't worn before.
So the ultimatum is clear; Stop shopping,
or else
. :(
****************************************************

Anyway, the last you will hear from my shopping escapades for some time.
Let's see how long that will last wtf.
Lap Sap sale in
Palate Palette
!
Lap Sap is translated to junk or rubbish from Chinese.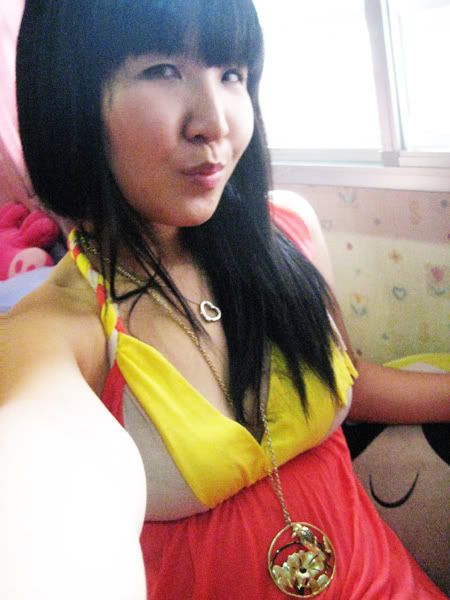 My outfit for the day. Wearing a practically backless dress during day time is something I would only do in Melbourne! -_-
And I always feel damn stressed on what to wear to these junkyard sales, because needless to say, there would be plenty of fashionistas and fellow fashion junkies present, so you might get the head-to-toe look-over! Cannot look bad in front of other people. Cannot lose!!! Wtf.
But I was feeling damn drowsy, hence just simply pulled on a dress. T__T
Upon reaching the lane where Palate Palette is located, Jing and I were worrying about parking, because the lane was very narrow, and there were roadblocks placed all over. However, as we were nearing the place, this security guard run up and started diligently removing a few roadblocks, to make space for us to park. Jing and I smirked, and we were like, "
Haih, pretty is like that wan la
!" wtf.
And then when we got out of the car, the security guard came up to us, palm stretched outwards, and asked for "
lima ringgit
" (5 bucks). T__________________T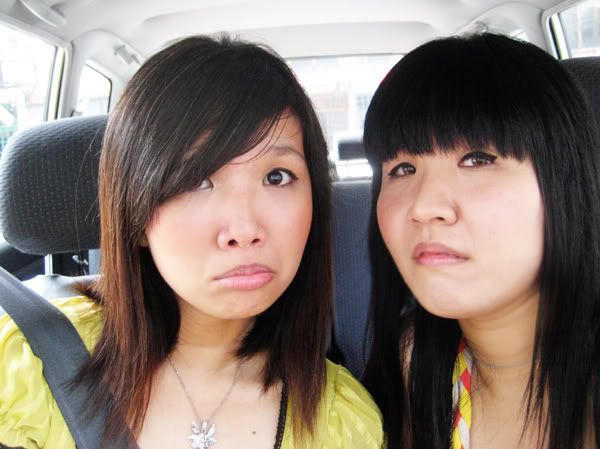 Are we not pretty enough! T__T
And we actually reached Palate Palette too early! The sale was supposed to start from 1-7pm, and we reached roughly at about 1pm-- we didn't want to miss out on any goodies! But when we stepped foot into the place, most of the 'stalls' (each individual dining table was a stall) were't even set up yet! And it was obvious that a lot of the sellers haven't even arrived. T___T
So Jing and I and Joshua (Jing's bestie) make a quick browse-through of the stall already opened (which is one wtf), and we made way out for lunch. Nagasari Curry House wtf. Palate Palette is too espensive ok! :(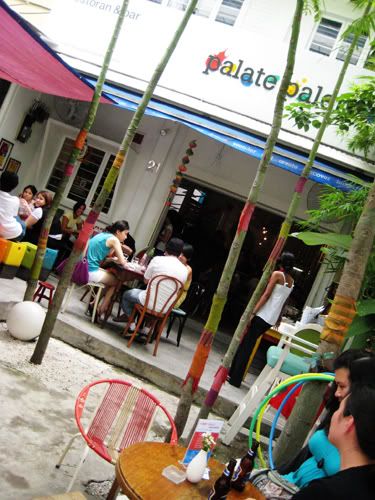 The entrance of Palate Palette. It's definitely a cool chill out place!
ALL MY FRIENDS, please make a date with me soon to go there aight! :)
I love those round old chairs... My mom's wooden house where she grew up in Johor has those as well. And do you see the colorful plastic hula-hoops! Damn random.
And random, Palate Palette was! :P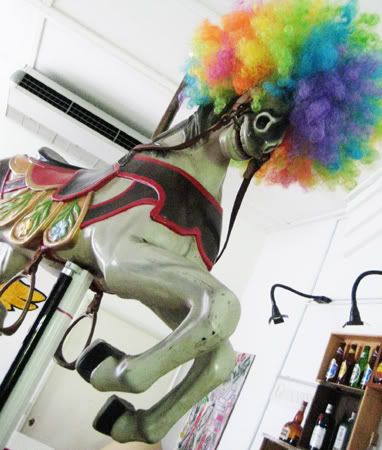 Carousel horse with colorful afro perched proudly on the bartop.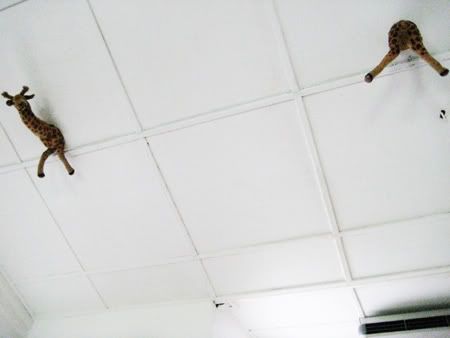 Mr. Giraffe, I see you!
Not many people noticed this!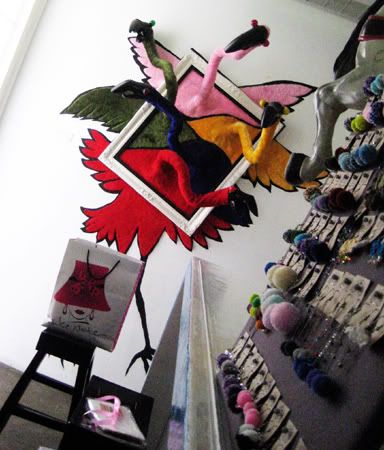 Colorful flamingo heads jutting out from the wall. An artpiece of some sort?
Not to mention the chandelier made of paintbrushes hanging at the entrance... Sigh, I didn't really explore the place
la
!
Heh, the lighting was good.
And my hair looks messy here... So it looks a little wavy? What do you think if I perm my hair next?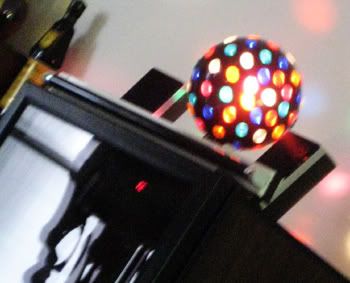 Tralala, disco ball. Saturday night fever, BAYBEH!
The dreses looked like they are dancing under the twrling disco ball!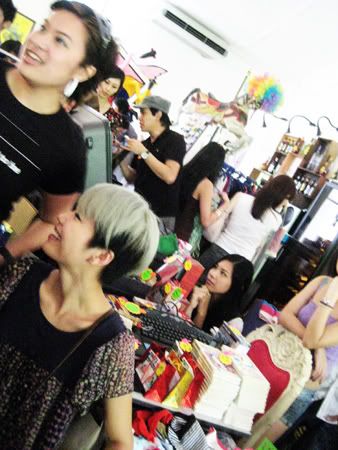 Fellow shoppers in the Lap Sap sale. Most of the sellers are so good-looking, and dressed so well! :)
And I LOVE the hair of the girl sitting down-- she is totally ROCKING a hair color I would never dare to touch with a 10-foot pole!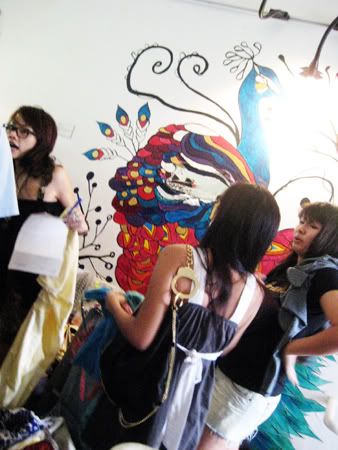 Peacock! I like funky murals like that. I want them in my bedroom!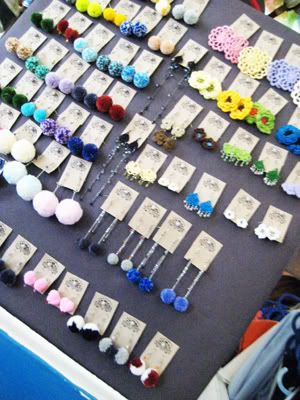 Furry ball earrings. Kind of creepy. Reminds me of CRITTERS! Omigawd.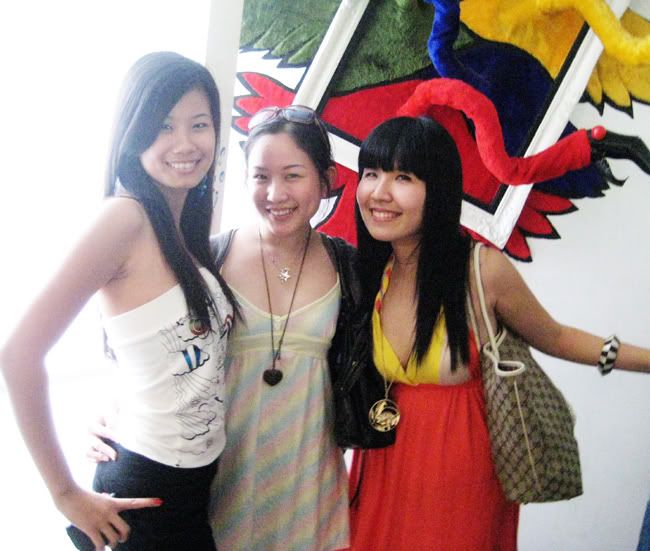 Met
Cheryl
and
Shervin
there as well! :)


And erm, this is going to sound really weird, to the so extremely pretty girl from Aussie who came up to me that day, the one with the funky yellow batik skirt! I am SO SO SO sorry I was so disoriented, and so RUDE! I didn't even ask for your name! I was too groggy from a lack of sleep. :(
But you are so HAWD, and it was nice meeting you!
*hearts*
And as usual, moving on to my buys!
Cream lace corset.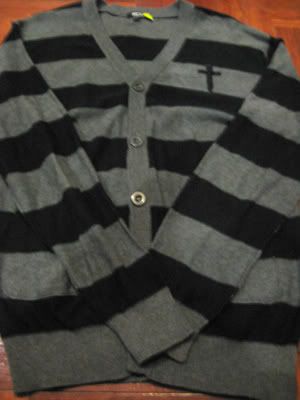 Oversized men's striped cardie, have been looking for one of this soon! :)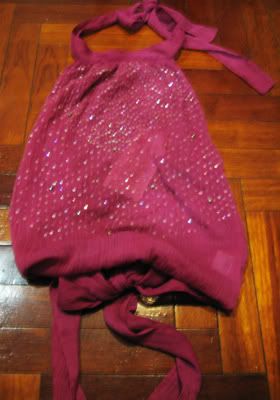 Backless chiffon top with a generous sprinkling of shimmery sequins and diamantes with a back-sash!
But it's sheer, so I have yet to find out how I am going to wear this. -_-
Vintage dresses:
Polka-dotted dress with a 80's feel.. I love the fishtail hem!
Wearing this with a red corsage in my hair would make it so Sex and the City, hehe!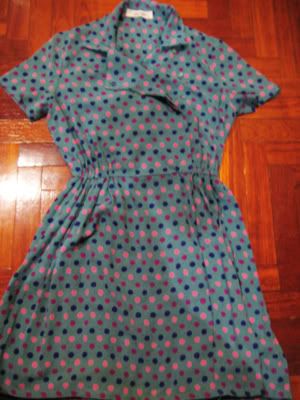 Cutesie vintage dress with a lovely turquoise shade!
Eh, I just realised both the vintage dresses I bought are polka-dotted.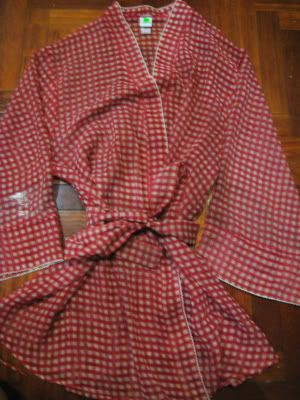 This is my regret of the day.
It's actually a sheer bathrobe, but I was too ambitious and was planning to get it and wear it as a dress/top(with a slip underneath), but when I tried it at home, it looks like... a bathrobe! -_-
Haih, never mind la, looks like its only function is to seduce the boyfriend. Though I suspect the picnic-blanket look won't bode well with him wtf.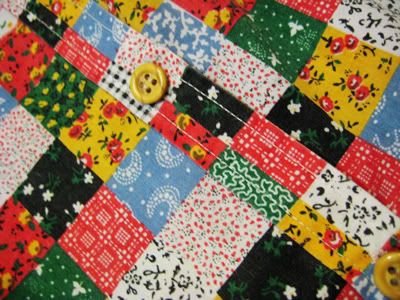 Patchwork shirt with wooden buttons. So cute!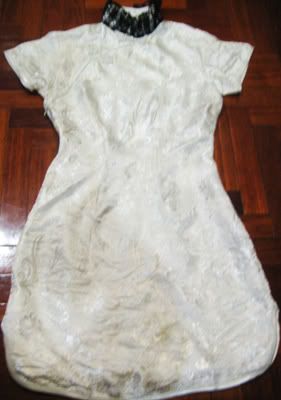 Silk white cheongsam. The owner actually revamped this conservative piece a notch, by adding black lace onto the mandarin collar. A rather interesting touch, I'd say. And I think she altered the dress as well, 'cause it's so fitting and indecently short! :P
Plaid jacket, with a ruched bottom and a matching belt, love the slanted zipper, love the fit. It's a tad too thick to be worn in M'sia, but oh, it will look so good with tan boots! I want Melbourne now. :(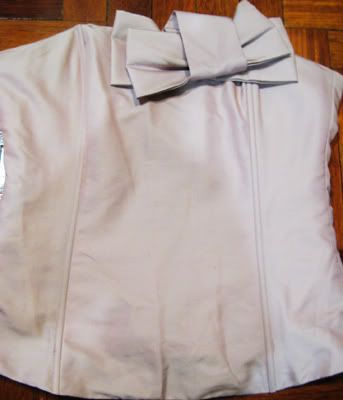 Lilac corset with bow. A little too tight, this one. Must. Try. Clothes. Before. Buying.
And a bad!
A white silk evening bag. Love those pleats! I saw a similar clutch in Lulu Guiness which I fell in love with. :)
And that, is the tale of buying other people's
lap sap
to add to my own
lap sap
.
Sigh.
Stay strong, hui wen.
Stay strong.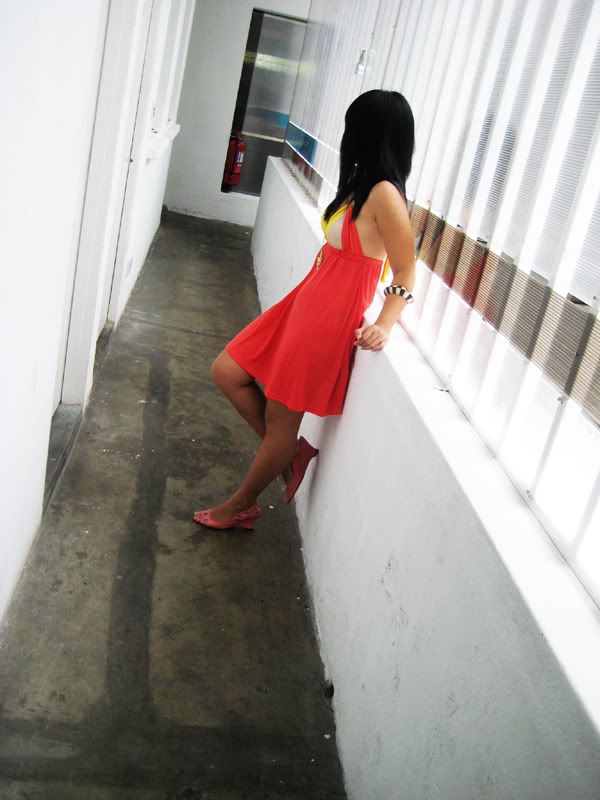 You can turn a face away from shopping.