Ok people, I swear to god I will do something about the "Bandwidth exceeded" problem! Happening too often nowadays. -__- Am waiting for the boyfriend to get a credit card so I can upgrade my Photobucket account. I can hear him shivering in his pants now, haha. No
la
, my credit card doesn't take Internet transactions. SOON people, SOON!

And I
would
rectify the problem of the non-showing pictures, but as mentioned, my computer in which ALL our files were stored in crashed. :( Crossing my fingers that the recovery of the hard disk will work. :(
**********************************************

Jac: Eh, I feel like eating chicken rice balls! Jom, let's go Malacca next week!
Me: OK!
Less than a week later, 4 girls, armed with vague (and differing) directions from boyfriends and buddies and
no map,
embarked on their adventure of all things kancil and Parasmewara...
FIELD TRIIIPPPP! :D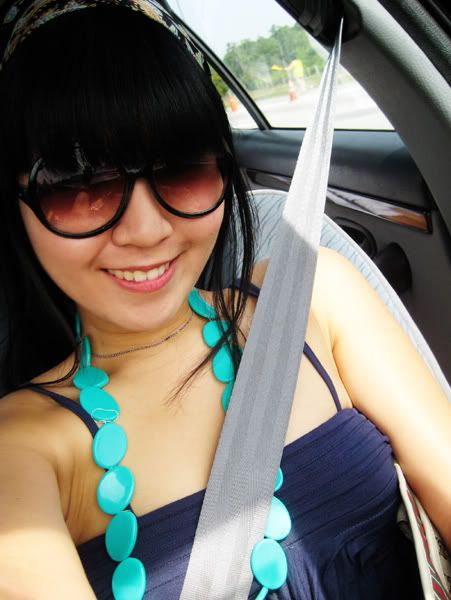 In the car.
Don't know why I was put in the front seat, my navigation skills are ... non-existent. T_T
But it was damn exciting k, because we were all under pressure to reach Malacca in one piece! When everyone heard that only the four of us are finding our way there, they all shook their head and told us good luck. -_- Even when Smalls found out that no guys are following us, she brought along her Topshop card because she thinks we will end up in KLCC after all. -____-
But we brought along our passports just in case we ended up in Thailand la wtf.
But here's to proof to all those people who lacked faith in us!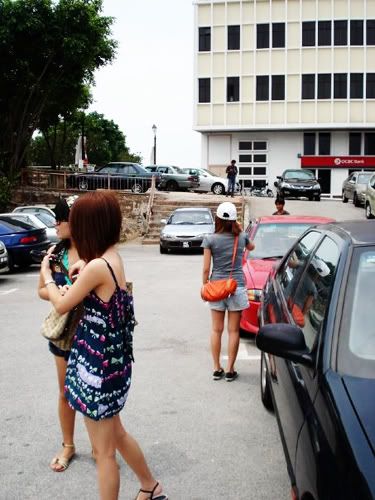 US IN MALACCA! HAHH!
And why we all pose so well!
First stop, chicken rice balls!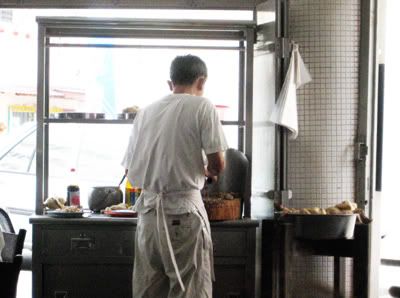 The famous chicken rice ball shop.
The shop is renovated and brightly lit, compared to the last time I was there about 7-8 years ago!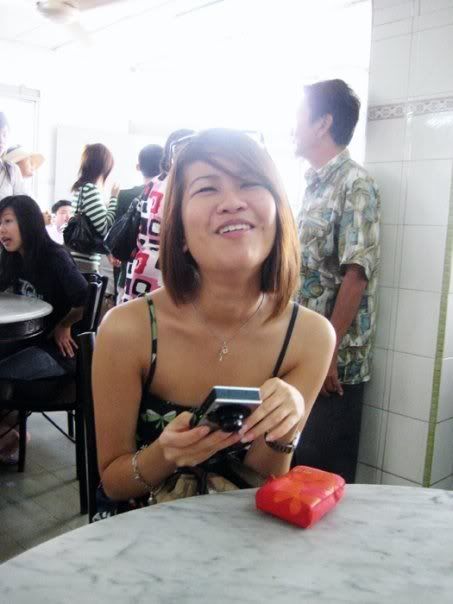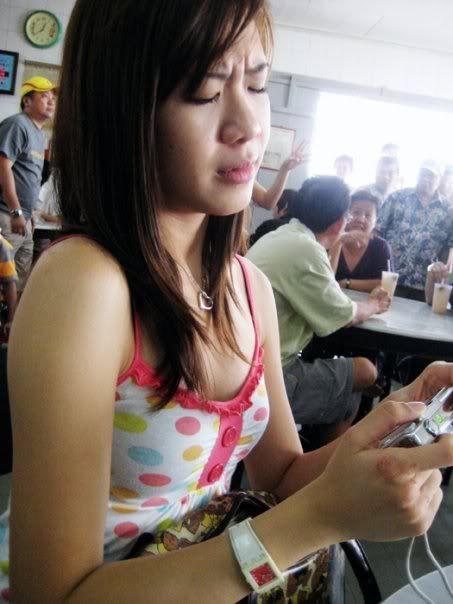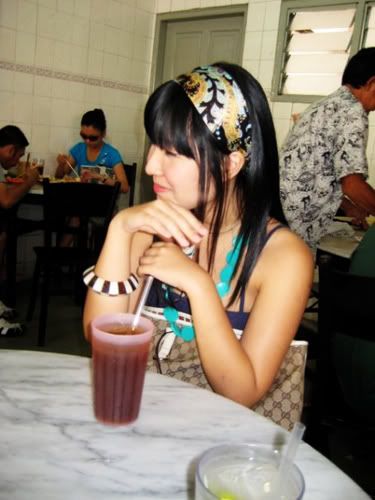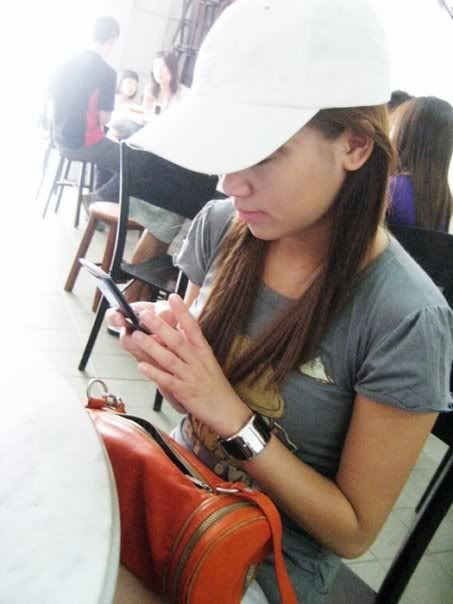 (clockwise from top-left) Jac, Mey, Smalls, me.
Everyone had such cute expressions here! Except for me la, I was putting on a miang move for Jac, haha.
Chicken rice balls!Err... Heh.
The
real
chicken rice balls. :D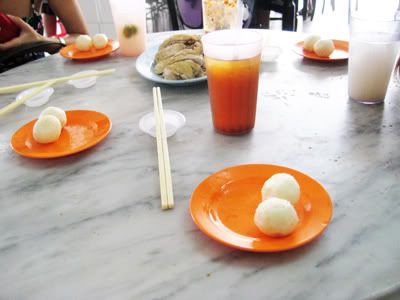 LOOK AT MY STUPID WEIGHT-CONSCIOUS FRIENDS.
Everyone only got TWO measly rice balls. -_________-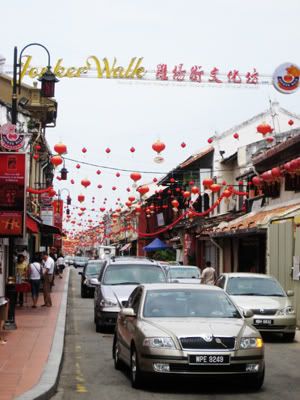 We dropped by at Jonker Walk, which incidentally was where the chicken rice ball place was situated at.
The process of me saying HI wtf: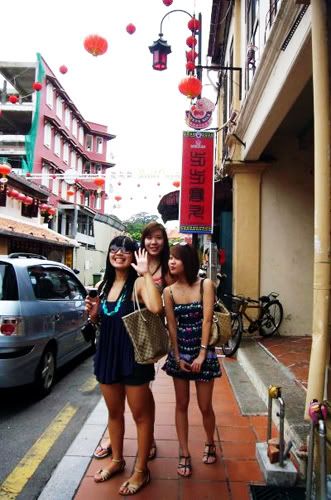 Notice how everyone else remained stagnant. -__-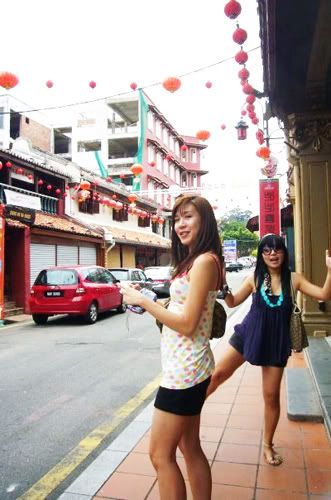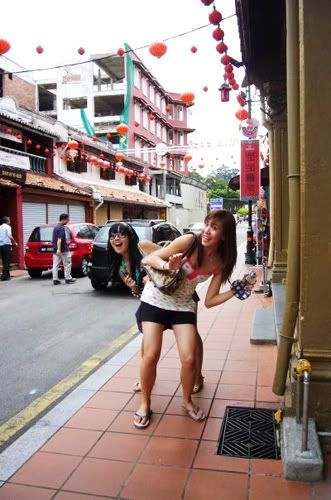 Sigh, why am I like that.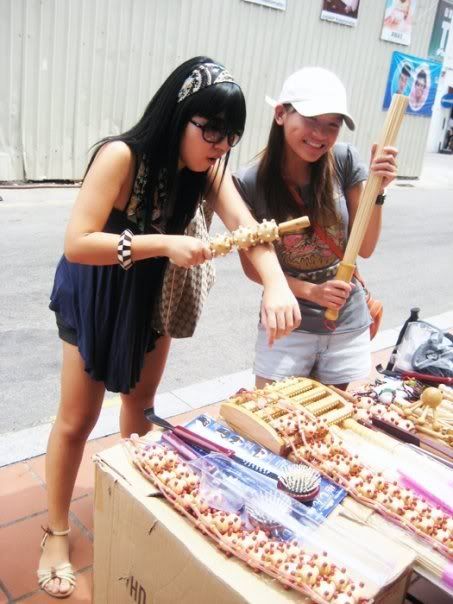 Being amused by all the different massaging props. Malacca people are so creative! Everything also can be used to aid in massaging wan!
Radars to outer space wtf.
Enjoying the little massaging devices: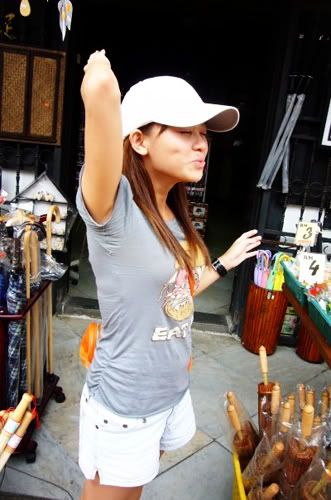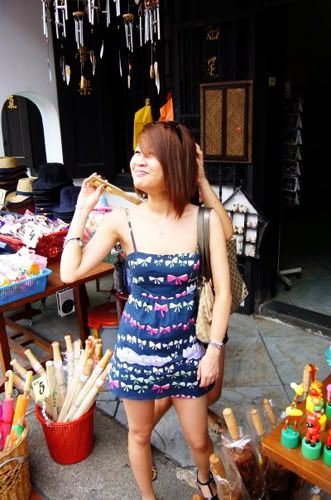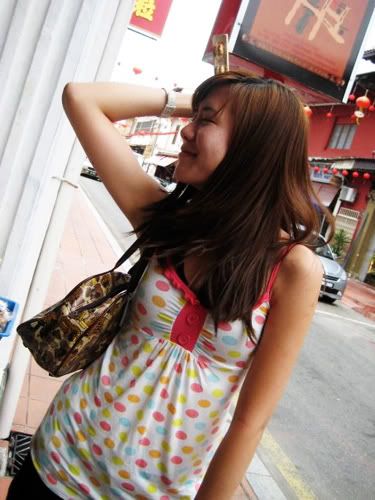 Jac couldn't put on a convincing enough "ENJOY" face, therefore I was behind her giving her a scalp massage to help her out, HAHAHA!
And Mey looked like she was in a shampoo commercial! :P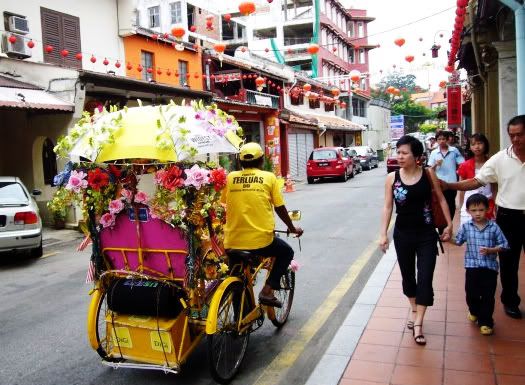 I damn wanted to ride in the little
beca
s, but it would cost RM35 for one trip.
I wanted to ask whether I could take the trip right back to Kl wtf.
Wanted to pose demurely
ala
geisha with the pretty paper handpainted umbrellas, but alas, of all the umbrellas that I chose, I picked one which was
flat
... Hence making me looked like I was carrying a big leafy frond. -_______-
Mey picking her Valentine's day present for Sai Meng, HAHAHA.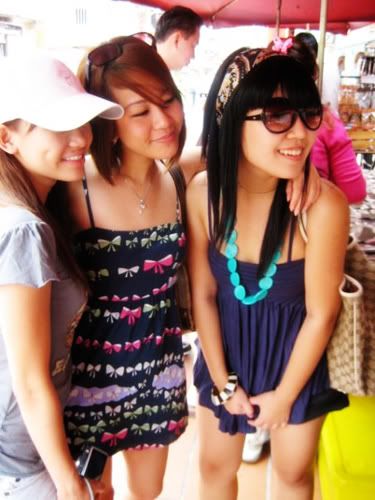 Easily distracted.
And I swear to god, there is something in Malacca's air, all of our pictures looked so good! I amma going to move to Malacca already, hehe.
We were craving for cendol! This shop is damn cool, it's called the No.1 Kopitiam! And it's address is really No.1 on Jonker Walk. ;)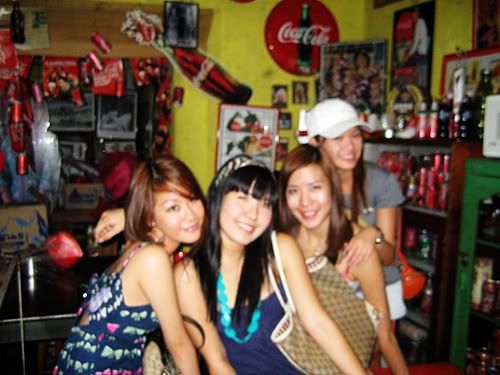 Colorful, whimsical shop interior.
Err...
Then horrr....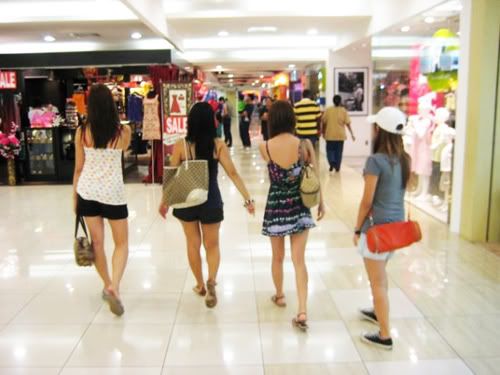 We went shopping. -_________________-
Haha, sorry la, where the flat hair flat goes, there will always be shopping wtf.
Each of the girls bought a nose-clip, which apparently could enhance your nose shape, thus leaving you with a higher, sharper nose bridge!
I didn't get one because my mom said I have a hawk nose. T___T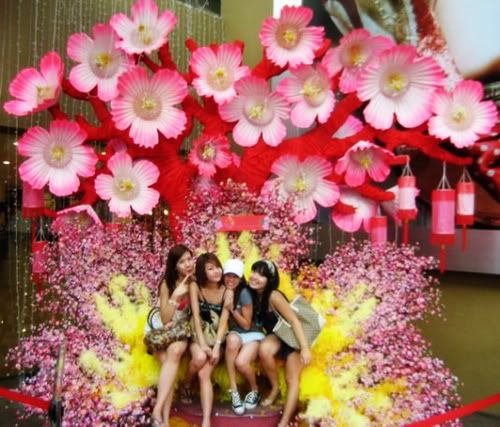 Cheesy ugly display outside Dataran Pahlawan (Malacca's newest shopping mall) which resembles a Big Bird platter.
Deep in thought and talk.
EH, look at that Jac!!! Wear top as dress again. -___-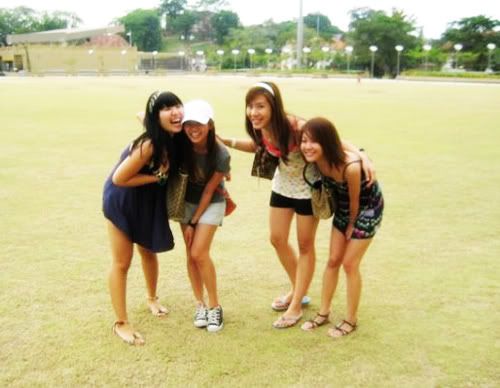 Just like the good old Melbourne days. Happy happy joy joy. :)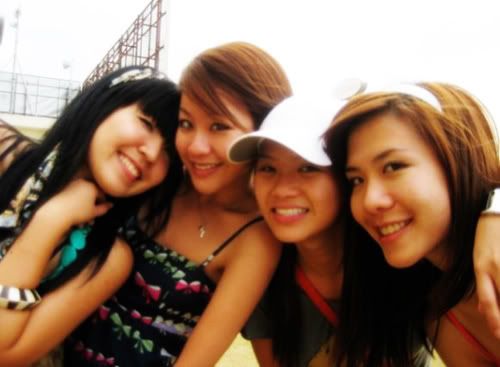 Flat Hair Flat forever!
Means no perms or curls arrr! wtf.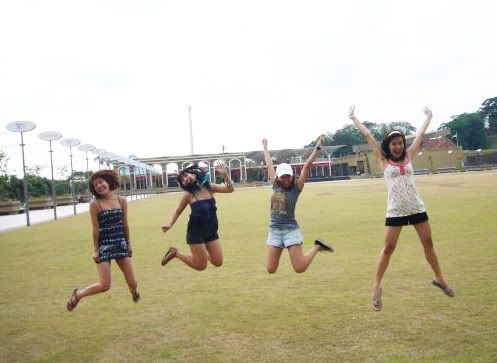 Jumping pictures make me smile. :)
And Jac trying to hold on to her TOP to not reveal her lady bits make me laugh. Hahaha! :P
Final efforts in proving to everyone that we
really
went to Malacca.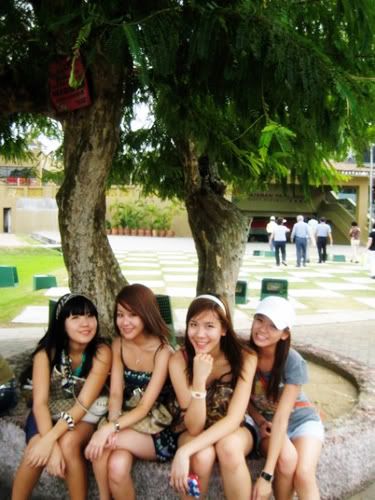 Flatties with the pokok Melaka (
Malacca tree
).
Kucing Melaka wtf.
A Famosa!
Or what's left of it.
HAHHAHA doesn't it look like Mey has the giant metal rod sticking out of her? HAHAHAHA!
This picture was posted on Facebook, and someone commented:
Four girls and a cannon? Hmmmm.
-________________________________-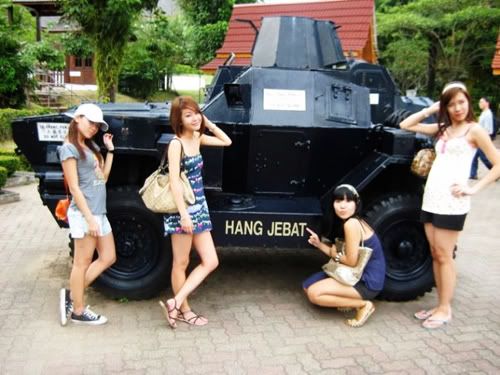 Hang Jebat!
More concrete evidence of all things Malaccan, haha.
More food!
I don't recall ever not eating in Malacca. -__-
Cendol at Tan Kim Hock. The other girls had the durian cendol, which they were transported to heaven while devouring it.
But I don't eat durian, so normal boring cendol for me. :(
Satay celup.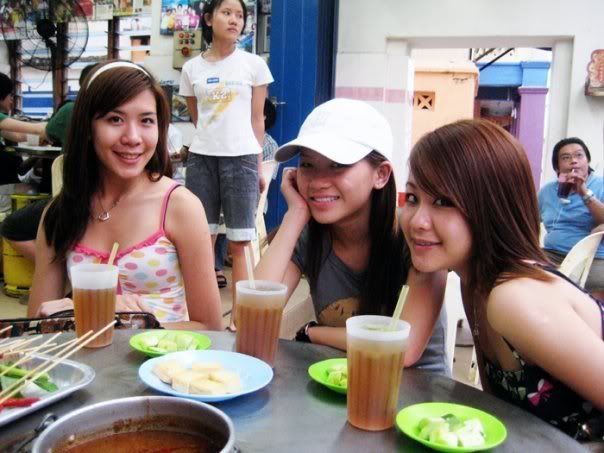 Us and Thomas, Mey's old primary school mate!
What a small world, we bumped into him coincedentally, of all places...!
And he brought us around-- the best cendol, the best satay celup, and the best pineapple tarts... And all the gorgeous pictures he took for us, without uttering a single word of complain... THANK YOU, THOMAS! :)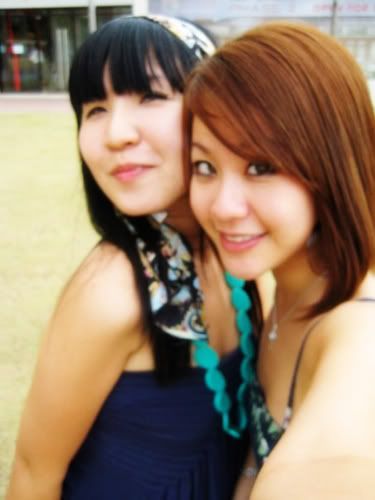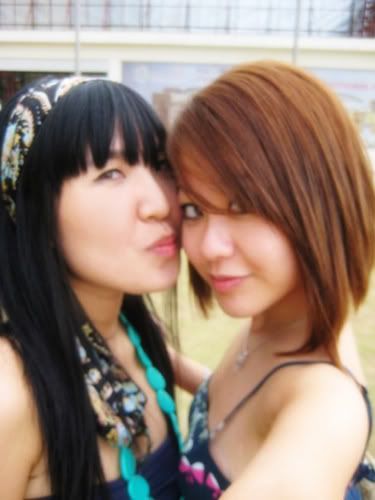 Jac is leaving in 2 more days. :(
Don't go laaaaa.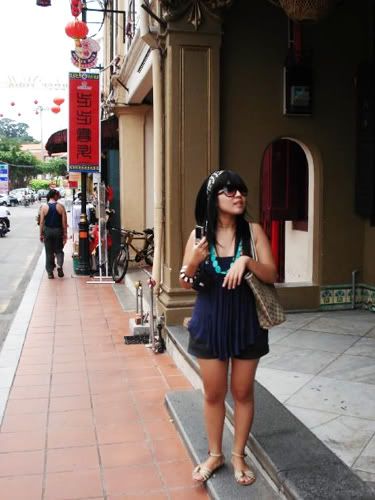 If not, I will be lost and alone. :(