I tried a really, really interesting restaurant that day. :)
Soho, at OU.
The chinese name of Soho translate to 'new cooking ideas'.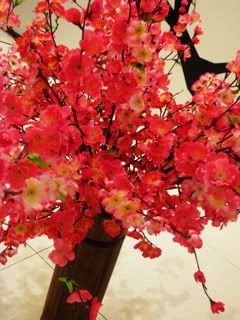 Chinese New Year is coming, I can see the signs!
And hear the songs wtf. Seriously
la
, every mall is playing really irritating CNY songs! I am all for getting into the festive mood, but hearing "Gong Hei Fatt Choy" being chanted to trance music, or even worse, blared eerily in isolated carparks! Nerve-gritting.
AND! CNY is only a few days away, but my house is completely devoid of any CNY goodies! Where are my peanut cookies! My
nga gu
! My prawn crackers! My jam tarts! My honeyed conrnflakes! Where where where! T___T
The restaurant has a black and white minimalistic theme:
I seriously don't know who those faces on the chairs are... The first one is.. Adam Sandler? The second one looks like Bruce Lee wtf. And the third chair has... Jing on it, 'cause they have the same hairstyle. Heh.
And like Teeny said, I think it's a little weird to be leaning against people's faces! But I am so narcissistic that i don't mind imprinting my face on all my furniture of my future home HAHAHAHA. Ahem.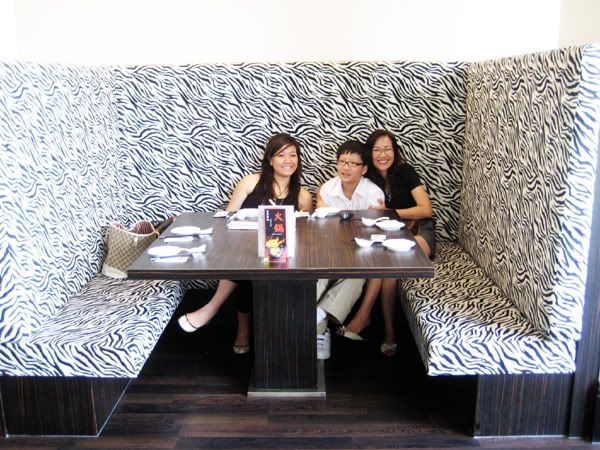 So we sat on the funky zebra print booths. :)
That's Teeny, Fat Brother, and mommy.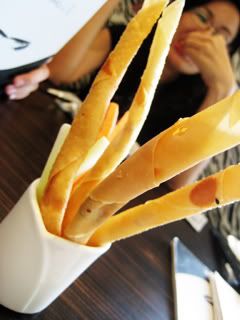 The appetizer (am not sure whether it's complimentary though).
It's crunchy bite-sized carrot and cucumber sticks and delicately rolled spring roll skin. A very interesting appetizer, I would say. :)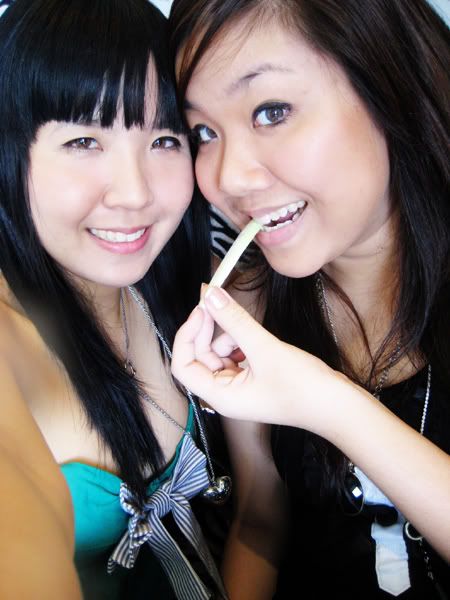 With Teeny. Jing couldn't make it for lunch as she had classes.
Soho really lived up to its name "New cooking ideas". The menu consists of an extensive arrays of dim sums and Chinese noodles/rice/porridge, but with a twist. The fusion ideas are simply creative! There's even goose liver
chee cheong fun
! And duck spring rolls! And all kinds of wonderful concoctions!
Our food:
Egg white tart.
Interesting eh? I guess it's a healthier option to the original version. A tad dry for my liking.
Teeny's strawberry and vanilla tea.
Which tasted like strawberry milkshake only what! -_-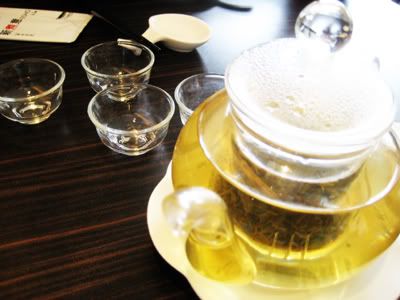 Jasmine tea for every0ne else.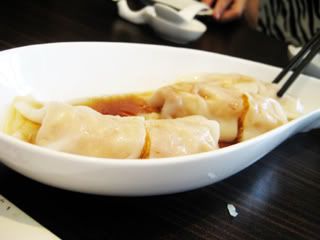 Chee Cheong Fun
with beancurd and fishcake wrapped in it!
The sauce is just ingenious! Although Teeny said it's just soya sauce and fish sauce wtf. And it's a very clever variation of the Hong Kong
chee cheong fun
(usually with either
char siew
or prawns).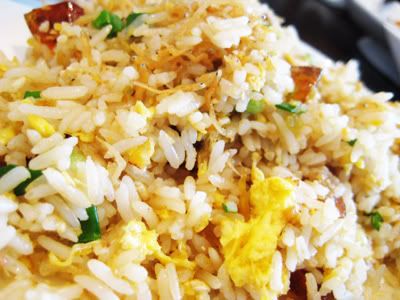 Tri-egg fried rice with anchovies.
This was ordered for Teeny's benefit, since she is still on her vegan diet (she is going off the diet on Feb 3rd, we are under strict orders to present her with a KFC bucket at the strike of 12am WTF).
Poor thing had to sift through all the mini anchovies!
Fried
yee mee
with chicken in black bean sauce.
Tasty, although I am not a big fan of black bean sauce. But I steered away from both the rice and noodle dish, as I was (am!) still on my low carb diet.
But I'll take break for CNY la, hehe.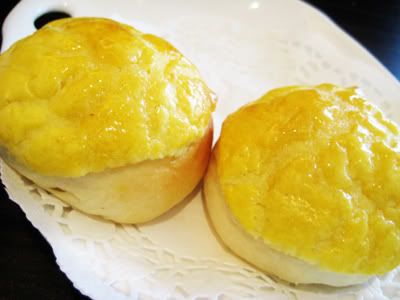 Bo Lo pau! Or loosely translated to pineapple bun.
it has a biscuit-y crust over a bun filled with custard and pineapples! Nice when it's hot. :)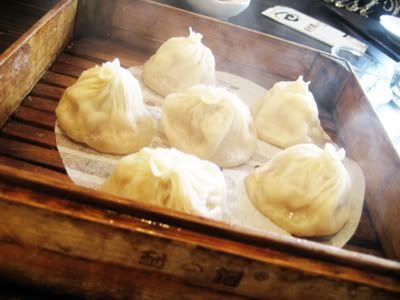 Siew Long Pau
!
I love it when the soup in the dumpling flows all over the tongue... :) The secret to eating this dim sum is to remove it from the platter without it breaking (trust me, this is not easy, as the dumpling skin is very soft!), and there are two ways to eat it: 1. to bite it into half (because it's quite a huge piece), and risk having the soup dripping all out, and hence losing out on the essence of this traditional dim sum; or 2. pop the whole dumpling into your mouth, and bite into it, and enjoy the burst of flavors of the soup, but risk burning your tongue!
I eat via the first way
la
, my mouth so small. :P
Sunshine bun!
Break open the soft yellow bun, and find a gooey sauce made of salted eggyoke oozing out like hot lava! Mmm. But the one in Little Dim Sum Place (in SS2, same row as KTZ) is nicer though!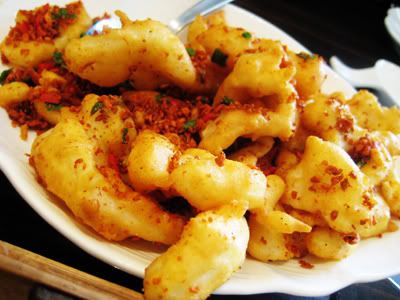 Fried squid with chilli and pepper.
Fried chicken wings stuffed with glutinous rice!
I have tried this dish at other places as well, and I guess Soho's version lost out a bit.
I will try to blog about those places which I have tried better variations of this dish!
But anyhow, it's definitely worth a try if you haven't try it before. :)
Oh my god, I didn't realise how much food we ordered! -_____- The Hoe family can

really

eat wtf.
And yea, I do realise that we didn't order any of the fusion dishes I was raving about, my mom is old-fashioned like that!
Soho's dishes aren't really priced cheap though, a dish of dim sum (usual serving size, like 3-4 pieces) can cost up to RM18!!! And even their congee is around that price range. Maybe it's not suitable as a daily affair, but it's worth a visit. ;)
And oh! One interesting tidbit about Soho, it's atually opened by the same founder of Bread Story! I think her name is June, and she's a young woman. To have such a successful empire (I am sure it's no surprise that Bread Story is doing very well in M'sia, it basically started a new chapter in term of bakeries!), and to start such an innovative restaurant, all at a young age... Aaah, when will
my
success story be written!
Anyway, my success story at the moment wtf: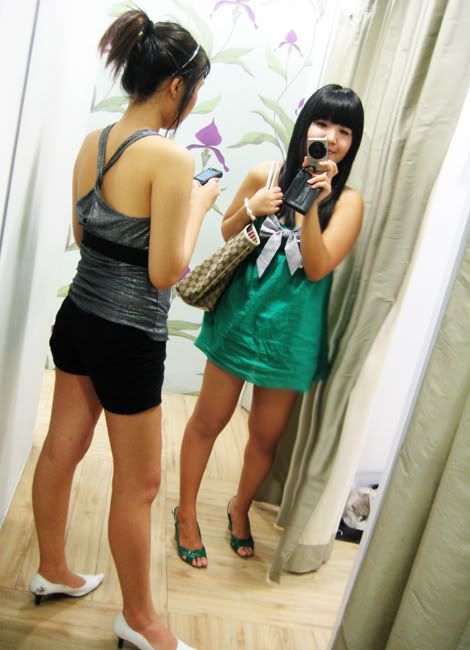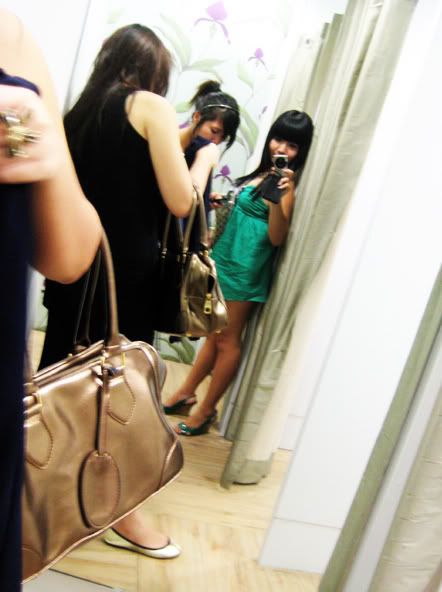 I refrained from spending in Topshop. Hurrahhh!